A landscaper's toolbox is never complete without a string trimmer. This tool deals with areas a lawnmower cannot reach. For a string trimmer to properly work and do its job efficiently, it needs the right trimmer line.
If you will be dealing mostly with medium-sized weeds, you will need the best .080 trimmer line.
Having the right trimmer line inside your string trimmer will allow it to complete your job as seamlessly as you can get and in a convenient manner.
7 of the best 080 trimmer line
Anleolife 1-Pound Commercial Square – A durable and efficient square line suitable for light to medium-duty trimming tasks. This is compatible with some of the most popular string trimmer models!
Arnold Maxi-Edge Commercial Grade Trimmer Line – This heavy-duty trimmer line is made of high-quality materials and provides excellent cutting power for tough weeds and grass.
DEWALT 0.080-Inch By 225-Feet – This long-lasting and reliable trimmer line is compatible with a variety of trimmer head models and offers excellent efficiency and durability.
Cyclone 0.080-Inch – This versatile and economical grass trimmer line is perfect for light to medium-duty trimming tasks and provides excellent cutting power.
Oregon 21-380 Gatorline – A highly-durable and efficient high-quality trimmer line with a round line design for optimal cutting efficiency.
Weed Warrior Pulverizer Twist – This innovative trimming line and weed wacker string features a twisted design for improved cutting power and reduced noise.
Makita T-03866 Twisted Trimmer Line – An excellent option for electric and battery-powered trimmers, this twisted trimming line offers efficient cutting power and quiet operation.
The first, we want to suggest the Anleolife .080-inch string best trimmer line. It earned several positive reviews from customers thanks to its high quality.
What makes it outstanding is probably the multi-sided shape, which improves the cutting efficiency. Plus, it helps you cut through heavy weeds and grass quickly.
The multi-sided cord is better than not only round trimmer lines but also square cross-section ones due to the sharper edges.
This square trimmer line is made of tough nylon 66 copolymer and plasticized materials for added strength and resistance. That said, it won't need frequent replacement trimmer line other cheap string trimmer lines.
Along with 557 feet of line, there is bonus cutting tools included in the purchase of these best string trimmer lines.
This Anleolife multi-sided trimmer line is perfect for almost all gas and electric string trimmers, including Stihl, Weed Eater, Craftsman, Black + Decker, etc.
The only downside is the strings tend to get brittle in cold weather. If you finish all the trimming before winter, everything shall be fine.
Overall, this is an excellent multi-sided cord for trimming your lawn. It will meet all your demands unless you expect it to chop down trees or so.
Pros
A multi-sided cord with sharp edges shaped line
Suitable for thick grass and heavier weeds
High-cutting efficiency
Great for larger yards
Tough materials for improved resistance
No need for frequent replacement trimmer line
Less cutting time
Cons
Hard-to-wind spool
The twisted line can often be a problem
Tend to be brittle in cold weather
If you are seeking a budget model that can carry out light commercial landscaping, this Arnold unit is definitely the ideal option.
Are you curious about its features?
Via the specs, we know that this is a .080-inch string trimmer line, which can deal with light jobs around the house, for example, trimming the lawn.
The line comes in a 6-point star shape that improves the cutting strength significantly.
In addition, the spool is compatible with most straight and curved shaft string trimmers on the market. You can buy this perfect replacement line with confidence no matter what brand of weed eater you are using.
The purchase includes 140 feet of line for 7 refills, coupled with a cutting tool. Plus, you will receive detailed instructions and extra tips from the manufacturer.
Such a thoughtful brand!
All in all, if you want a commercial-grade string trimmer line for an affordable price, you should go for this Arnold Maxi-Edge. 
It is not outstanding in terms of durability, however. If you have rocky areas or rugged terrains in your garden, we would suggest a more durable string trimmer line.
Pros
The commercial-grade trimmer line
Universal design
Makes low noise level
Suitable for thicker grass
6-point star shape for added power
This DeWalt 0.080-inch by 225-Feet String Trimmer Line is a light-duty trimmer line suitable for cutting grass in such areas as beside mulch beds or near close edges.
This wound-style trimmer line is tough and durable. It can easily cut through weeds and grass without almost any hesitance.
This trimmer line is made from impact-resistant and flexible material for a longer lifespan. It comes in an aerodynamic design providing superior efficiency when used in cordless cutting.
It works best in trimming and edging grass.
A user says this is an amazing .080-inch twisted string trimmer line. It easily, effortlessly, and efficiently cuts 2 to 3 feet tall weeds. He says it did not need any rewind when a similar job required 5 to 6 rewinds for the same job.
There also was no welding that needed to be done on the line.
The DeWalt 0.080-inch by 225-Feet String Trimmer Line comes with a length of 225 feet for many grass and weed trimming sessions.
Pros
Strong and durable
Highly efficient and works well for cordless cutting
Durable wound design
Highly affordable
High-strength core
Cons
Limited to home use
Does not fit all string trimmers
#4. Cyclone 0.080-Inch – Best for industrial landscaping
This Cyclone .080-Inch-by-200-Foot Grade 6-Blade Trimmer Line is made from special copolymer nylon material that is durable and long-lasting. The construction design of this green trimmer line makes it suitable for commercial use.
This 1/2-pound and green trimmer line features a patented and unique six-blade design responsible for its super-efficient cutting power.
This line trimmer is a favorite of landscape professionals because of its superior cutting power.
A user says the trimmer line that came with his string trimmer was crap because it kept tangling in the spool. He says that when he got the Cyclone trimmer line, he was able to cut 2,000 square feet of grass with one rewind.
This star-shaped Cyclone .080-Inch-by-200-Foot Grade 6-Blade Trimmer Line only requires a few winds to fill complete filling the spool.
It also is not prone to irregular winding, which can delay the feeding into the spool.
Pros
Highly durable
Suitable for those who need more cutting power and less noise
Flexible design
Excellent value
Great for light commercial work
Easily loads without any binding
This 1-pound Oregon 21-380 Gatorline .080 string trimmer line comes in the color green. It is made from strong and durable commercial-grade copolymer material.
This Round Gatorline from Oregon does not easily tangle, making it easy to feed on the spool. It comes in a 413 feet roll for many grass-cutting sessions.
A user says this is a sturdy trimmer line. The trimmer line that came with his string trimmer broke after every few minutes of use. He is happy to say that with this Oregon rounded lines, he experienced minimal breakage. Since it is long-lasting, he says he is getting the best value for his money.
The Oregon 21-380 Gatorline .080 string trimmer line is not as stiff as the other trimmer line brands. It is more flexible and will therefore last longer.
Pros
Strong, sturdy and durable
Suitable for commercial use
Suitable for a large yard
High strength inner core
Efficiently cuts through weeds and grass
Cons
Tends to be brittle or weak
Tends to break fast
When it comes to weed trimming and edging, it's important to use a tool that can deliver consistent performance.
Fortunately, the Weed Warrior Pulverizer Twist is a great option that lives up to its promises. Whether you are a professional landscaper or a homeowner trying to clean up your yard, our durable and robust bi-component weed trimmer line is guaranteed to surpass your expectations.
One of the key advantages of the Pulverizer Twist is its scientific engineering. Made from durable nylon resins, the twisted design of this line maximizes efficiency and aerodynamics to reduce line flutter and vibration.
Another advantage of the Pulverizer Twist is its universal fit. This line is ideal for use on a variety of string trimmers, including electric, cordless, and gas-powered models. Its compatibility with brands such as Echo, Stihl, Husqvarna, and Redmax makes it easy to use with the tools you already own.
While it performs exceptionally well for moderate grass and weed density, you may need to upgrade to a heavier duty product for tougher jobs.
Pros
Durable nylon resins
High strength inner core
Universal fit
Compatible with brands including Echo, Stihl, Husqvarna, and Redmax
Cons
May not be suitable for heavy-duty use with extremely dense grass and weeds
Can break easily
More expensive than some lower quality options
The Makita T-03866 Twisted Trimmer Line is a premium co-polymer nylon trimmer line that provides industry-leading durability and long-lasting multi-purpose use.
Designed specifically for cordless string trimmers, this trimmer line offers longer run time compared to other standard trimmer lines in the market.
This trimmer line has a 10-point star design that effectively cuts tough grass and weeds. It also has a professional grade aerodynamic twist design that reduces high-frequency noise commonly found in other trimmer line shapes.
Moreover, the high flexibility and wear resistance properties of this Makita T-03866 trimmer line make it a reliable option for landscaping professionals and homeowners who want to achieve a perfectly manicured lawn.
However, one disadvantage of this product is that it may be slightly pricier compared to other standard trimmer lines in the market. It may also take some time to get used to the 10-point star design if you have been using a different design for trimmer lines.
Pros
Industry-leading durability
Long-lasting multi-purpose use
Highly efficient in cutting tough grass and weeds
Reduces high-frequency noise
High flexibility and wear resistance for reliability
Cons
Slightly pricier compared to other standard trimmer lines
May take some time to get used to the 10-point star design
Maximizing your trimmer line
The trimmer line is the cutting edge of a string trimmer. The type of trimmer line you use affects the efficiency of the string trimmer- what it can cut and how it can cut.
Not all trimmer lines are created equal. Some brands are more durable than other brands and can create more even cuts.
If you have medium-sized yards and, therefore, medium-sized weeds, a .080-inch trimmer line is your best choice. Given this need, you will also need to choose a string trimmer that fits in .080-inch trimmer lines.
If you already have chosen the best trimmer line, you should know how to take care of it to prolong its use.
Here are some tips on how to handle your trimmer line.
1. Store away from direct sunlight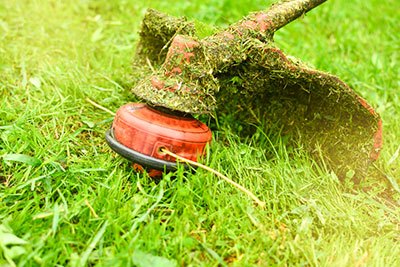 Too much exposure to direct sunlight more often affects the durability of the trimmer line. It will also cause the line to be brittle.
Make sure to store the trimmer line in cool and dry storage space.
Just in case the storage line gets brittle, just submerge it in water for 24 hours.
2. Knowing the limits
Trimmer lines come in a variety of diameter sizes.
Each size handles a particular level of work pertaining to the area size as well as grass and weed thickness and size.
If you are working with middle-sized weeds, a .080 trimmer line is more suitable than a .065 trimmer line which is only for small weeds.
Using the wrong-sized trimmer line will only overwork your string trimmer but will not be able to do the job right.
While your trimmer line is tasked to deal with hard-to-reach areas, be careful when using it near edges and hard surfaces.
3. Be mindful of weight
Lighter trimmer lines (those that are only one pound) are intended for simple cutting jobs.
The added weight (3 pounds) of heavy-duty trimmer lines for simple jobs will cause you unwanted strain and fatigue. Choose the right trimmer line weight for the intended use.
If you constantly use your string trimmer, it is a wise idea to have a roll of trimmer lines ready.
Trimmer lines will break after some use, and you should be ready to insert a new one when this happens so as not to hamper your job of dealing with weeds.
If you use a .080-inch trimmer line, here are the best brands.
FAQs
Is .080 trimmer line good?
Yes, .080 trimmer line is a good choice for light to medium-duty trimming tasks such as edging and trimming grass and weeds. You will get a cleaner cut with less effort and time trimming.
Can I use .080 trimmer line?
Yes, you can use .080 trimmer line with most gas and electric trimmers that are compatible with this size of line.
What is the difference between .080 and .095 trimmer line?
The main difference between .080 and .095 trimmer line is the thickness or diameter of the line.
.095 trimmer line is thicker and more durable than .080 trimmer line, making it better suited for heavy-duty tasks such as clearing thick brush and weeds.
However, .080 trimmer line is more than adequate for light to medium-duty trimming tasks and is often more economical and easier to use.
Conclusion
We have just shown you the top 7 best 0.08-inch string trimmer lines on the market. Have you picked up a suitable model yet?
For us, we believe the Anl​​eolife model is the best of the best in this list. It comes in a multi-sided shape and sharp edges providing superior cutting power.
Thank you for reading!
A ANLEOLIFE 1-Pound Commercial Square .080-Inch-by-557-ft String Trimmer Line Donut,with Bonus Line...*
Multi-side Cords Slice through heavier weeds and thicker grass quickly and efficiently, Cutting less time
Made from tough nylon 66 copolymere, plasticized materials for added impact power & strength in boosting resistance to damage
Perfect replacement line for all gas and electric trimmers, including: Husqvarna, Ryobi, Echo, Stihl, Weed Eater, Craftsman, Black and Decker, and most other makes
Robust, Efficient and Easy to use, keep your garden looking tidy and neat
Includes a bonus cutting tools for convenient and quick line cuts