Do you have an enormous farm/garden/lawn that needs to be provided with pesticide, water, or fertilizer? Any manual method will cost you plenty of time and effort to complete the task with not-so-satisfactory results.
Luckily, we have reviewed the best ATV sprayer for all gardeners and farmers, as well as compiling the necessary information and knowledge about this helpful equipment in this article.
Just read and learn!
Take away key points:
The ATV sprayer or spot sprayer is great for completing your daily tasks and fertilizing the ground with your lawn tractors and other models
The spot sprayer has an adjustable nozzle and you can control the flow and optimal pressure of the liquid to meet your requirements
The spot sprayer models are durable and reliable for more extended uses
What is an ATV sprayer?
To know what an ATV sprayer is, you need to know about the all-terrain vehicle (ATV). An ATV is a motorized vehicle engineered with four non-pneumatic or low-pressure tires to travel on any terrain.
As such, an ATV sprayer is a type of sprayer that is specifically designed to be attached to all-terrain vehicles or towed behind tractors that users drive to distribute liquids such as water, fertilizers, pesticides, or other chemicals along the path.
In this way, the tool combined with the vehicle will help you water a vast area (e.g., farm, pasture, lawn) and hard-to-reach places (e.g., fence lines, potholes, road ditches, or field borders) quickly and effortlessly.
The basic components of an ATV sprayer include a tank, a pump, a switch to control the flow, a tool to spray liquids, and multiple nozzles.
Why should you get an ATV spot sprayer?
Here are the main reasons to use the best ATV spray pattern:
1. Convenience for large-scale use
I'm sure you would agree with the fact that it would be extremely daunting to just even think about manually spraying insecticides and fertilizers on your entire lawn.
With ATV sprayers, you are spared from this hassle, as these generally cover a significantly larger area compared to manual spraying.
Aside from allowing you to do so, this also helps to spare you much more time for other, more worthwhile things.
2. More even distribution of pesticides and/or fertilizers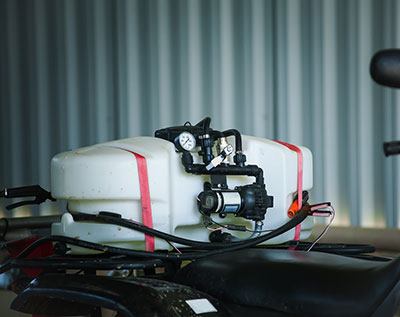 A disadvantage associated with the manual spraying of pesticides and fertilizers for your garden or lawn is that they may not be distributed as evenly as they should.
With that said, you are allowed a more even distribution of these substances onto your grass or crops.
This helps promote better crop and produce health, given that either spraying too much or too little on them could be the cause of their eventual death if you use this kind of sprayer for produce
3. Less time spent on lawn care and maintenance
The good thing about ATVs is that you are able to cover a much wider area with much less effort, compared to manual means, where you would have to walk from one point to another and go back and forth just to check on whether or not the plants are all sprayed.
There may even be some instances when due to the long hours we spend walking, we may end up spraying an area twice.
Not only will this cause waste of fertilizers or pesticides, but this would also cause wasted efforts, and in some cases, the overdose of the grass or produce, which could affect its death and end up killing it.
4. ATV sprayers are portable
Another great advantage of ATV sprayers is that they are obviously portable. Most of the models available in the market are not just built for the back of ATVs, they also allow you to carry them on a backpack as well.
With them being removable from the back of the ATV, you can be assured that ATV sprayers are easy to refill and empty with the necessary contents.
These ATV sprayers could actually be filled and attached as a backpack, but this would cause you back pains halfway through.
5. They are fun and easy to use
ATVs are basically just like toy cars for adults. With that said, maneuvering is not as difficult in comparison with traditional cars. Accelerating and reverse motions are both doable with the press of a few buttons.
Most of the ATVs out in the market nowadays are built to tackle rough terrain, with you being spared in terms of the effort that driving across these fields entails.
Despite the relative ease, proper care and safety still have to be observed as with all other vehicles, given that ATVs have much fewer safety features compared to conventional vehicles.
The best ATV sprayers money can buy: Our top 6 favorites
If you need the best ATV sprayer for your needs, check our comprehensive list. You will find the best model for your standards.
The Ironton ATV spot sprayer is ideal for its durable construction, spray gun, and nozzle. Corrosive chemicals cannot damage it, and you can use the different chemicals in the UV-resistant ATV spot sprayer.
However, one gallon is a small amount for the pressure and pumps.
$$ – Precision Products TCS15 Spot Sprayer
An excellent ATV sprayer for easy filling and lawn tractors. The durable and UV-resistant ATV sport sprayer is a reliable model, ideal for different pesticides, double filters, hose nozzle, and pressure-resistant unit. The spot spraying is also adjustable, as the good ATV sprayer offers a versatile design for gallon marks and adjustable uses.
Still, the ATV sprayer might leak in the hose.
$$ – Master Manufacturing SSO-01-015A-MM 15 Gallon Spot Sprayer
Best ATV spot sprayer for the user-friendly nozzle, UV-resistant, and pressure-resistant material, and durable for different chemical parts. The material is also reliable for various robust applications.
Nonetheless, the ATV spot sprayer has specific control issues.
$$$$ – NorthStar High-Pressure ATV Spot Sprayer
The North Star ATV spot sprayer is better than most ATV sprayers due to its versatile functions. The North Star UV-resistant spot sprayer has an adjustable nozzle and hose, working well under more or less pressure, and you can adjust the flow to meet the needs of your ATV spot sprayer. The ATV sprayer also offers the best spraying power without damaging the nozzle.
Nevertheless, the North Star spot sprayer is too expensive.
$$$ – Chapin 97300 15-Gallon 12v Deluxe Dripless EZ mount ATV Spot Sprayer
Best Chapin ATV sprayer for the pumps, UV-resistant tank, and hose nozzle, for more chemical reactions. The pressure points cannot damage the ATV spot sprayer. You may also use the ATV sprayer in the vertical direction if the conditions allow you.
Anyhow, the ATV spot sprayer might be loose.
$$$$ – 25-Gallon ATV Tank Sprayer
The ATV sprayer is ideal for easy filling, UV-resistant material, and an adjustable nozzle. The ATV sprayer is chemical-resistant, and you can use different pumps with the model. The pressure and chemical parts cannot harm the ATV sprayer.
You will find the boom ATV sprayer heavy and expensive.
Brand: Ironton
Tank volume: 8 gallons
Weight: 10 pounds
Best for: double filters
This tiny-size sprayer by Northern Tool is a decent choice for homeowners who only need a light-duty tool to look after their little garden.
The tank capacity and water pressure are quite low as it is intended for domestic use. The equipment operates on a 12V pump just like most models, but the maximum pressure is merely 40 PSI, and the highest rate is 1 GPM.
In our test, it actually sprayed up to 20 feet horizontally and 12 feet vertically.
However, this 8-gallon tank is well-built with non-corrosive and chemical-resistant materials. In addition, it is UV-proof and compatible with any type of pesticide. There are level marks for users to observe the amount of liquid inside the tank, too.
As most people would do, what we like most are the adjustable nozzles that can help in a wide array of works. Users can easily switch between cone and stream patterns when necessary.
These nozzles are also made from high-quality Viton and Santoprene so that they are fully chemical-proof. Moreover, you can control how they work with remote control, so there is no need to take off your seat on the ATV.
Pros
Compact and lightweight
There is a remote control
The tank is easy to fill, mix and clean
Adjustable nozzles
12-month parts warranty
Brand: Precision Products
Tank volume: 15 gallon
Weight: 16 pounds
Best for: piston pumps
The TCS15 from Precision Products Inc. is another excellent choice that we want to introduce to you.
It is available in two models with high capacity: one's tank is 15 gallons, and the other's tank is 25 gallons. When fully filled, these high-volume tanks are sufficient for you to spray water/pesticide/fertilizer over a huge area without reloading.
Sporting a plain look, this equipment can be attached to either ATVs or other light-duty farm vehicles, as well as carts. The strong base holds it firmly on the vehicle so that it will not drop down even when it overcomes rugged surfaces.
Plus, the tank is rather opaque, allowing you to look at how much liquid is left. Crafted from high-quality Polyethylene, the tank is corrosive-proof and features drain plugs and gallon calls.
The 12V Shurflo pump supplies enough power to create the highest water pressure of 60 PSI and a rate of 1-1.8 GPM. You can remove the 8-inch power harness and use the heavy-duty clamps to operate the device on a 12V battery.
Pros
Easy to use
There are high-volume tanks
High-class tank material
Fully pre-assembled
90-day warranty
Cons
There might be drip and leak
Brand: Master Manufacturing
Tank volume: 15 gallons
Weight: 19.66 pounds
Best for: translucent polyethylene tank design
The Master Manufacturing SSO-01-015A-MM delivers the top-notch performance of the line Everflo 12-volt diaphragm pump. Can you believe that it can spray fluids at a rate of 2.2 GPM? Yes, it is true.
Just sit on your seat on a four-wheeler, a UTV, or any other commercial vehicle comfortably and drive around. The robust spray gun can distribute liquids up to 30 feet horizontally and 25 feet in vertical directions.
Such power can help you to spray not only trees, flowers, and grasses but also hear-to-reach areas such as fence lines and crevices thoroughly and quickly. It will save you more time and effort when you need to cover a broad space as well.
If you are wondering if you can use this appliance to spray chemicals like herbicides and insecticides or not, it is totally approved by experts.
Since we found many customers complained about different faulty parts, the manufacturer seemingly has some problems with the quality control process. However, the product is still backed by a one-year warranty, so it is still worth buying overall.
Pros
The boom brackets, shut-off boom valve, and pressure regulator are easy to use
The transition between the nozzles, boo, and the hose is user-friendly
Approved for use with herbicides and insecticides
High spraying speed
Cons
There are quality control issues
Brand: North Star
Tank volume: 16 gallons
Weight: 35 pounds
Best for: backpack sprayer and drain plug
You must be impressed with the familiar 12V engine that we saw in most models, but it offers an incredible output of up to 2 GPM at open flow and under 200-PSI pressure.
This configuration lets users deliver the stream of water as far as 30 feet. Combined with the strong water flow, the adjustable nozzles can spray liquids in the shapes of atomized mist, narrow streams, or wide cones.
In fact, this very best ATV boom sprayer gets such a high capacity because it is equipped with a high-end plunger pump of the NorthStar NSQ Series. This pump is also engineered to be durable and highly resistant to corrosive chemicals.
On top of that, the tank is UV-stabilized to stand against the harm of the sun and other sources of ultraviolet light. Thereby, the liquid inside will not be transmuted, and the tank will not be faded.
Regarding convenience, the regulator comes with a fluid-filled pressure gauge, which permits you to control the pressure properly.
Furthermore, there is a regulator bypass valve for stirring chemical liquids to improve the effect.
Pros
Amazing spraying power
Durable UV-stabilized tank
Three different spraying modes
Come with extra attachments
Brand: Chapin International
Tank volume: 15 gallons
Weight: 23.2 pounds
Best for: awn tractors and spot spraying
If what you are seeking is ease of use and versatility, the Chapin 97300 is the product you should opt for. Configuring and mounting it on not only ATVs but also lawn tractors and UTVs is always easy as pie.
The renowned brand of Chapin International Inc. did not let us down when offering a range of unique features comprising the drip-free lid and amazing spraying distance at both vertical and horizontal directions.
Thanks to the great 12v diaphragm pump, the sprayer is able to spray water and chemical liquids at 2.0 Gallons per minute, 60 PSI maximum pressure, which covers up to 26 feet horizontally and 30 feet vertically.
Besides, the double-filtration system will prevent any residue from blocking the nozzles for uninterrupted spraying and facilitating a longer lifespan.
The 15-gallon heavy-duty tank is made from premium materials resistant to corrosion and chemicals. This tank is of moderate size and relatively translucent for users to manage the amount of fluid inside. It's 5-inch opening also aids in refilling and mixing liquids quickly.
Lastly, the sprayer comes with a 7-foot coverage spray boom, so you do not have to make it yourself.
Other accessories include a 15-foot reinforced hose, a Comfort Grip lock, and a manifold with a pressure gauge.
Pros
Easy to use
Drip-free
Double filtration system
Long-lasting
There are many handy attachments
Cons
The frame holding the tank is loose
Brand: Fimco
Tank volume: 25 gallons
Weight: 31.2 pounds
Best for: rear rack and pressure regulator
This Fimco sprayer has a bulky tank of 25 gallons, which is sufficient to use for any farm/lawn within one or two times of being fully filled. Nonetheless, it also increases the weight to more than 31 pounds, three times the standard weight.
Above all, the power this monster brings about is fantastic, nearly comparable to machines used in heavy-duty industries. It provides a flow rate of up to 3.8 GPM and 45 PSI of water pressure via a 15-foot hose made of EPDM rubber.
You do not need to worry about durability because all the materials used to craft the equipment are of great quality to endure tons of impact. How can one of the most robust sprayers be made from junky plastic?
Running on the 12V diaphragm pump, the distance that the sprayer can deliver liquids to is 35 feet horizontally and 26 feet in vertically directions.
Pros
High capacity
Superb flow rate
Premium materials
Adjustable cone spraying pattern
Cons
Extremely expensive
Very heavy
How to pick the best ATV sprayers?
Here are the crucial factors to consider when choosing the best ATV sprayers.
1. Tank capacity
It is needless to say that the tank capacity determines the number of times you have to refill it to complete the job.
For example, if you work on large areas, a 15-gallon or 25-gallon tank will make sure you can distribute pesticides over the farm with only 1 or 2 times refilling the tank, while an 8-gallon one requires you to do so 3-4 times.
Therefore, choose a high-volume tank if you have a huge area to spray fluids.
2. Flow rate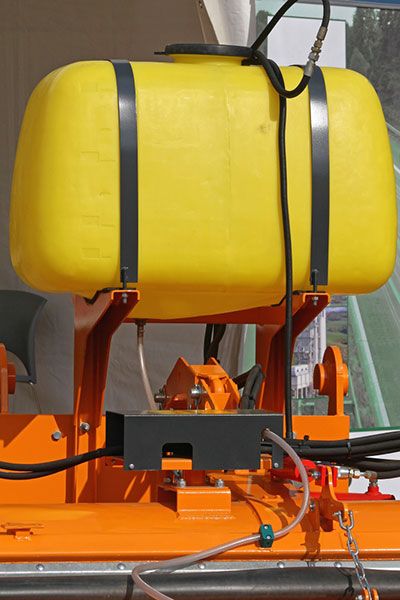 If the appliance offers a high flow rate, the water will come out more quickly and vice versa. Look at the rate of gallons per minute (GPM) on the product and make sure it is sufficient for your tasks.
Typically, you should have a minimum flow rate of 1 GPM, and 1.5 – 2 GPM is the most ideal. However, depending on the requirements of different projects, you can opt for an ATV sprayer with adjustable flow rates.
3. Durability
It is critical to inspect the materials that parts of the sprayer are made from.
The tank should be crafted from high-quality plastic and resistant to UV as well as chemicals. The valves and nozzles need to be made of metal like brass.
When it comes to buying ATV sprayers, you ought to pay more to get good products rather than spending time and money repairing or replacing them.
4. Spraying capability
Do you need any specific spraying patterns such as cone, mist, stream, or all of them? If so, you need a model with customizable nozzles.
Besides, calculate the distance you need to spray in vertical and horizontal directions because this figure is highly variable according to various models.
And if you are confused about boom and boomless sprayers, models with a boom will provide a much longer spraying distance in comparison with boomless ones.
FAQs
Which is better: boom or boomless sprayer?
Boom sprayers are great for precision spraying and are ideal for food plots, while boomless sprayers are better suited for rough or wooded areas.
Boomless nozzles provide less control over drift than a boom sprayer, but they are perfect for ditches and uneven terrain. They also work well with systemic herbicides where hitting a plant with a few drops will kill it.
Ultimately, the choice between a boom or boomless sprayer should be based on the specific needs of the job.
How many gallons per acre for an ATV sprayer?
You will need about 20 gallons of water per acre. This works out to 3 or 4 pints of glyphosate, depending on the size of your ATV sprayer tank. With a 25-gallon tank, you can expect to cover two acres.
What size ATV sprayer do I need?
For smaller areas, a 15-gallon ATV sprayer is designed to handle up to 1 acre of coverage in one sitting.
For larger areas, a 25-gallon ATV Sprayer can provide more coverage with its choice of 30′, 45′, or 60′ boom sprayers.
How to hook up ATV sprayer?
Follow the procedure:
– Connect the electrical hook-up to the end of your pump and clip the clips to a fully charged battery.
– The red wire must be connected to the positive terminal on the battery, while the black wire should be connected to the negative terminal.
– Attach your sprayer hose to the pump outlet and secure it with clamps.
– Make sure that all connections are tight and secure before proceeding.
– Attach your spray wand or spray nozzle to the end of your hose and you're ready to start spraying!
How to calibrate an ATV boom sprayer?
Follow these steps:
– Mark the area you will be spraying and measure the boom's effective spray width in feet.
– Fill the spray tank approximately ½ full with clean water and measure the swath width (SW) in inches.
– Collect samples of the sprayed water and calculate your rate by dividing the amount of liquid applied per acre by the gallons per acre used.
– Calculate calibration plot area (effective spray area).
How to prime a Chapin ATV sprayer?
Refer to the procedure below:
– Fill the tank with water and then turn on the pump.
– You may need to press the primer button several times until you hear a humming sound, which indicates that the pump is primed.
– You can now add your desired liquid into the tank and start spraying.
How do you make a sprayer boom?
The product you purchase is a boomless sprayer, but do you want a better spraying distance? It's time to learn how to make one!
Necessary tools
– A 10-foot Polypropylene hose with 3/8-inch OD
– Two T compression connectors. One is 3/8 x 3/8 x 1/4-inch (F thread), and the other is 3/8 x 3/8 x 3/8-inch
– A 3/8-by-1/4-inch Elbow compression connector (F thread)
– Several spray nozzles (the count depending on your needs), a 1/4-inch fan
– A hose clamp for the 3/8-inch tubing
– Two 1 x 0.125 x 24-inch flat steel bars
– A 3/4 x 3/4 x 16 gauge x 60-inch square steel tube
– Three zip-ties
– Two 1-inch-wide-by-1.75-inch U-bolts
– Three 0.75-inch-wide-by-1.75-inch U-bolts
– Two 5/16-by-1.75-inch bolts and nuts
– Spray paint and primer
– Three fan spray nozzles
– Drill and bit
– Teflon tape
– Vise clamp
– Razor knife
– Screwdriver
– Wrench
– A welding torch (Acetylene is the best) fitted with a rosebud
Step 1
– Use the welding torch fitted with a rosebud to heat the two pieces of 1 x 0.125 x 24-inch flat steel bars (just keep the torch around 8 inches away from one end).
– Once the steel turns to be soft enough, bend it to a square angle. 
– Leave the metal cool down.
– Use the drill to create two holes on the short end so that later you can attach a 1-inch-wide-by-1.75-inch U-bolts on the ATV rack.
– Drill one hole on the long end to bolt a 0.75-inch square steel boom.
Step 2
– Use the vise clamp to hold the 3/4 x 3/4 x 16 gauge x 60-inch square steel tube firmly in place and drill it into two holes that are approximately 12 inches apart or any position suitable for you to mount it onto the ATV rack.
– Fit bolts into the square steel tube, then join it to the sole hole on the long end of the flat steel bars that you bent before.
– Add the washer, and use the screwdriver to fasten the nuts.
– Apply primer and paint on the metal boom to protect it from corrosion.
Step 3
– Cut the 3/8-inch tubing into three pieces. The first one is 19 inches long, the second one is 15 inches, and the last one is 2 inches in length.
– Join the sides of T compression connectors to the 2-inch and 15-inch pieces.
– On the side attaching to the 2-inch piece, connect the 3/8-by-1/4-inch Elbow compression connector to the center spray nozzle and the 19-inch tubing in order.
– Connect the 3/8-by-1/4-inch Elbow compression connector with the outer nozzle on the same side. 
– On the other side, attach the 15-inch piece to the T compression connectors and fit the Elbow compression connector on the end for spray nozzles. Orient spray nozzles downward.
Step 4
– Use zip-ties to connect the square steel tube and the Polypropylene tubing together.
– Utilize Teflon tape to stick spray nozzles on the threads.
– Use the 0.75-inch-wide-by-1.75-inch U-bolts to secure the compression connectors totally in the downward orientation on the spray bar.
Step 5
– Use two 1-inch-wide-by-1.75-inch U-bolts to mount the boom that you have just crafted on the ATV rack.
– Join the Polypropylene tubing with the T compression connector and the outlet of the sprayer pump.
– Use the hose clamp to consolidate the connection of the pump.
So, the best ATV sprayer is…?
The best ATV sprayer is the Ironton ATV Spot Sprayer.
The Ironton ATV spot sprayer uses a larger tank with an adjustable spray gun and the spray nozzle to meet your standards and complete all tasks effectively.
The Ironton ATV spot sprayer is also affordable and versatile for multiple uses and easy filling of the tank size, so it's suitable for a large area.
Choose the Iron Ironton ATV spot sprayer as your main spraying task tool.
Ironton ATV Spot Sprayer - 8-Gallon Capacity, 1 GPM, 12 Volt*
1 GPM Ironton pump with durable chemical-resistant Santoprene and Viton components
8-gallon tank is UV-resistant and compatible with virtually all pesticides
Gallon marks molded into tank make it easy to monitor fluid levels
Tank has a 3 1/2in. opening and an easy-empty bottom drain
Approved for use with Roundup agricult
Conclusion
Our best ATV sprayers are crucial for your tractor, as they are adjustable, with easy priming, easy filling durable tank material, and overall ease of use.
You can use the for spot spraying or move them for easy access to different areas and cover all the parts with a large amount of spraying materials, chemicals, or fertilizer.