Do you need to spray some liquids over a medium space? A bottle sprayer will be too small, while an ATV sprayer is redundant. Then, your most suitable choice must be a backpack sprayer.
The best backpack sprayer we review here would meet your expectations or even exceed them. Keep reading, and you will see that right below.
Take away key points:
Best backpack sprayers come in various models – battery-powered backpack sprayers, motorized sprayers, regular sprayers with hand pump models, piston pumps, diaphragm pump units, etc.
Choose the best backpack sprayers to meet our needs and choose according to their quality, not the price
There are factors to consider before the final purchase, so pay attention to the overall benefits
Why use backpack sprayers?
These are the main reasons to use a backpack sprayer:
1. Has a lot of power
The best thing about using backpack sprayers is that they are very powerful. This is because the source of their energy comes from a battery supply.
It's with this that the supply of power remains constant throughout the entire time that you're using it.
This makes it easier for you to work on your plants and finish spraying them in the fastest time possible.
2. Multi-purpose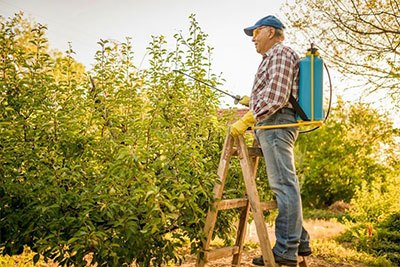 Another cool thing about backpack sprayers is that they are very versatile. It's with this versatility that they remain the popular choice for most gardeners.
They are versatile because they can be used for a variety of purposes, from using them to water plants to spray fertilizers and even insecticides.
You can pretty much put anything you want on these backpack sprayers because they'll have no problem handling it.
3. Convenient and portable
These backpack sprayers are very convenient to use because you can easily bring them with you.
They're not that difficult to handle because you simply just strap them to your back. They are very portable.
You don't have to worry about using them for an extended amount of time because they won't strain your hands or arms.
Best backpack sprayer on the market: Our top 10 recommendations
These are the best backpack sprayers you can find on the market:
$$ – BLACK+DECKER Battery Powered 4-Gallon Backpack Sprayer
Best battery powered sprayer with padded shoulder straps and adjustable spray pattern for weed killers. The spray nozzle makes it ideal for a decent spray pattern.
$ – D.B. Smith FIELD KING 190328 Backpack Sprayer
Best Field King Max sprayer for tank capacity with an internal piston pump and foaming nozzle to keep your work optimal. The shoulder straps are adjustable for wearing up to eight hours. The Field King Max is the top backpack sprayer for its design and durability. You can use the Field King Max sprayer for various tasks.
$ – Roundup 190314 Backpack Sprayer
Best four-in-one system for weed killers, fan spray, and different spray nozzles for different applications. The professional backpack sprayer is great for residential and commercial uses with adjustable shoulder straps for more working hours.
$ – CHAPIN 61500 Backpack Sprayer for Fertilizer
Best manual pump sprayer with the hand pump and thick padded shoulder straps for longer working hours of the manual sprayers. The tank capacity of the best manual backpack sprayer is also ideal for more square-inch areas and you can adjust the manual diaphragm pump for your needs.
$$$ – Invatech Italia New Mister Duster Mosquito Sprayer
The most versatile backpack sprayer with the widest pressure system. You can adjust the sprayer to work with more or less pressure and water flow for your standards. The pump is also versatile.
$$ – SOLO 425 4-Gallon Professional Piston Backpack Sprayer
Best versatile backpack sprayer for your needs. The commercial backpack sprayer is ideal for versatile tasks and due to its versatility, the Solo backpack sprayer is better than other commercial backpack sprayer models.
$$$ – PetraTools Powered Backpack Sprayer
Best PetraTools backpack sprayer with the battery-powered sprayer system. The best battery-powered backpack sprayer is ideal for its working hours and prolonged battery lifespan. So the battery-powered backpack sprayer offers more durability and sturdiness for longer uses.
$ – Jacto XP312 Backpack Sprayer
Best comfort benefits with ergonomic design and deluxe padded shoulder straps to ensure maximum working hours and more durable uses, that most sprayers, especially regular ones lack. These top backpack sprayers will offer piston pump models, so you can fully manage them easily.
$ – Rainmaker Backpack Sprayer
Best for the economy and different spraying modes to make the spraying system more manageable and adjustable to your needs. Efficient for fewer working hours.
$ – Greenwood 4 Gallon Backpack Sprayer
Most durable and sturdy backpacking sprayer for various needs and versatile construction. The solid and reliable system makes it effective and efficient for various working standards, without any worry about external factors and conditions.
Brand: Black and Decker
Tank volume: 4 gallons
Material: Polypropylene
Best for: backpack straps
The battery-powered backpack sprayer is a great choice for anyone looking for a reliable and efficient way to spray their garden or lawn.
Featuring 20V Max* Lithium Ion Power, this Black and Decker sprayer can work hard for you and spray for up to 4 hours, or 50 gallons per charge.
The ergonomic design of the battery-powered backpack sprayer makes it comfortable to wear and carry around while you work. It also has a next-generation high-performance motor that provides consistent power throughout your spraying session.
The Black&Decker battery-powered backpack sprayer is lightweight and easy to use. It weighs 39% less than competitive units, making it easier to maneuver around your garden or lawn without feeling weighed down.
The cushion grip shut-off with lock-on feature allows you to easily control the amount of liquid being sprayed and the adjustable nozzle lets you customize your spraying experience.
Overall, we highly recommend the BLACK+DECKER Battery Powered 4-Gallon Backpack Sprayer for anyone looking for an efficient and reliable way to spray their garden or lawn. This sprayer is lightweight, powerful, and easy to use so you can get the job done quickly and efficiently.
Plus, it comes with a one-year warranty so you can be sure that your purchase is protected in case of any issues.
Pros
easy access pump
shutoff valve
large tank mouth
spraying power and constant pressure
three-stage filtration system
pump lever
easy filling
Brand: D.B. Smith
Tank volume: 4 gallons
Material: brass
Best for: brass components and internal pump for maximum spraying pressure
The Field King Professional 190328 comes with a leak-proof pump design. Therefore, you will never waste liquids or spill noxious substances on your body.
The pump of the sprayer is also connected to an inner agitator. This tool will mix the components inside the tank when you use the pump. As such, you can both save your effort and ensure the uniformity of the spray solution at the same time.
Perhaps what impresses us most in this product is its nozzles. Apart from the four different nozzles in the box, users can use TeeJet nozzles for more flexibility and functionality.
With the amazing maximum water pressure of up to 150 PSI, you can manage the flow rate, droplet size, and spraying patterns as you wish without effort.
Besides, the shut-off assembly provides a lock-in mechanism to minimize the tension that your spraying hand has to bear.
While the 4-gallon backpack sprayer is built to last, fixing or substituting broken components is a snap. The downsides are an uncomfortable backstrap and a lack of lumbar support and pressure gauge.
Pros
No-leak pump design
Budget-friendly
Internal agitator
High water pressure
Components are easy to fix/replace
Cons
No pressure gauge
No lumbar support
Brand: Roundup
Tank volume: 4 gallons
Material: poly
Best for: four nozzles and weed killers
This unique 4-gallon backpack sprayer gets a round shape and uses a bigger pump to generate inner pressure and spray out fluids much faster. Therefore, although it is a manual pump, you will not spend much effort.
The hose system features an integrated in-line filter to eliminate clogging up for continuous working. And the spray wand is corrosion-resistant and can even withstand heavy-duty chemicals for a long time.
The tank has a set of adjustable padded straps and lumbar support for optimal fitting and comfort. More conveniently, the reversible pump handle is appropriate for both right-handed and left-handed people the same.
Its nozzles are also as striking as those of the Field King Professional 190328. The backpack sprayer also accepts extra Tee Jet nozzles.
In the box, there are three nozzles included for you to choose from: poly adjustable nozzle (you can switch between fine mist and solid stream), low-volume flat fan (for restricted areas or foliage), and high-volume flat fan (for wide areas such as fields or lawns).
Still, you will likely be satisfied with the quality and versatility of this product if you do not care too much about customer service.
Pros
Long-lasting
Comfortable and easy to wear
Three interchangeable nozzles
Reversible pump handle
Brand: Chapin International
Tank volume: 4 gallons
Material: brass, PE
Best for: padded shoulder straps and tank capacity
Basically, the Chapin 61500 is an excellent manual backpack sprayer at a relatively low price. That said, if you just have to spray your little garden/field less than three times weekly, it should be the best option for you.
As you get used to the backpack sprayer, your task will be less tough. Nonetheless, if you have to do this frequently over a vast area, engine-powered models should be more favorable.
It also offers padded straps and lumbar support so you can feel more comfortable, just like wearing a normal backpack. Given that you will not use this 4-gallon sprayer for too long, it will not have much impact.
Furthermore, the wide mouth on the tank helps users fill and mix liquids with ease. The 2-stage filtration system will filter the chemicals you pour into the tank very effectively.
There is no need to worry about debris and dirt blocking the nozzles. You are able to remove and clean the in-tank filter when necessary, too.
Pros
Affordable
2-stage filtration system
The pump permits both right and left-handed operation
There is a built-in pressure gauge
Offer lumbar support
Brand: Invatech Italia
Tank volume: 3.7 gallons
Material: poly
Best for: turbo pump
The Invatech Italia New Mister Duster Mosquito Sprayer is an excellent choice for anyone looking to protect their home or business from pesky mosquitoes.
This powerful backpack sprayer is equipped with a revolutionary fan system and a 4.3 HP engine with an 805 CFM tunnel volume, allowing it to reach up to 32ft in mist output.
The pressurized turbo pump ensures that the liquid disinfectants, fertilizers, herbicides, and pesticides are evenly distributed across the area being treated.
The machine itself is lightweight and easy to maneuver, making it perfect for use in both residential and commercial settings.
Additionally, the 3-year warranty provides peace of mind that your purchase is protected in case of any issues.
The professional backpack sprayer has padded shoulder straps so you can use it for an extended period. And the spray nozzles allow you to manage the motorized backpack sprayer to meet your needs.
The electric backpack sprayer is ideal for all uses. The spray nozzle system and motorized pump work well for robust applications.
All in all, we highly recommend the Invatech Italia New Mister Duster Mosquito Sprayer for anyone looking for an effective way to keep mosquitoes at bay.
Its powerful engine combined with its ability to reach up to 32ft makes it an ideal choice for those who need a reliable mosquito-repellent solution.
Pros
powerful sprayer
durable
motorized model
continuous spraying
faster actions
Brand: Solo
Tank volume: 4 gallons
Material: HDPE
Best for: wide pressure range
Solo 425 has a good balance between utility and affordability. Behind the eye-catchy design, the piston pump provides a decent pressure of 90 psi.
Like the above products, in addition to its 4 nozzles (Plastic Adjustable, Hollow Cone, Fan Spray, and Jet Stream), this one also accepts TeeJet nozzles, so you can select a wide array of spray patterns.
Although it is not so rare, we still appreciate the interchangeable pump levers for both left-handed and right-handed operations. Meanwhile, the 48-inch nylon-reinforced spray hose is long enough to reach difficult areas.
One more useful function is the lock-on/lock-off feature of the shut-off valve. In detail, you can turn the wand on and leave it spraying without having to use your hand to keep it on constantly.
What we dislike about this sprayer is its back strap. Because the included felt back strap is uncomfortable, you had better buy a harness to replace it.
Pros
Inexpensive
4 nozzles available
Allow TeeJet nozzles
The shut-off valve features a lock-on/lock-off feature
Decent pump
Cons
No pressure gauge
No lumbar support
Brand: Petra
Tank volume: 6.5 gallons
Material: alloy steel
Best for: battery backpack sprayer system
The Petra HD5000 backpack sprayer is a shining figure in the category of custom-molded backpack sprayers. It has a durable steel cart, and the sprayer is customized to fit the cart.
Under the cart are two big flat tires for optimal mobility. Importantly, you have a devoted place to store the wand and the extra-long 100-ft hose.
While the pump capacity of 70+ PSI is moderate, it is adjustable, too. Plus, you will receive two wands: a plastic acid bleach wand and stainless steel one. The good news is both of them are very sustainable and chemical-resistant.
For those who use a sprayer frequently or who are simply lazy, this is not a manual model. It runs on a lead-acid battery that can run for 8 hours consecutively once fully charged with the AC charger.
As a bonus, customers will receive a free 4-ft hose in the package as a gift from the manufacturer of Petra. If you find the 100-ft hose too long, this is a good replacement.
Pros
Easy to drain
Multiple attachments
100-ft and 4-ft hoses
6.5-gallon capacity
Brand: Jacto
Tank volume: 3 gallons
Material: stainless steel wand
Best for: jet stream nozzle
The next, this product on our list should not be overlooked. The Jacto XP312 has a translucent yet UV-resistant container. As a result, you can observe the level of liquids inside it while they are not affected by the UV ray from the sun and other sources.
This tank is smartly engineered with contours and lower lumbar recess to match the back of users. There are some airflow grooves for the air to circulate through your back, too.
With the padded straps that are also quickly adjustable, you will have an unmatched feeling of comfort. Wearing this 7.7-pound backpack sprayer will be a breeze.
The inline piston pump is inside the container to minimize your exposure to harmful chemicals. Additionally, it has a Santoprene piston seal and can operate for at least 1000 hours or more.
However, despite the fact that the 8 pumps of this backpack sprayer can supply a fairly good pressure range of from 45 to 85 PSI and the tank is only 3.5 gallons. It seems not to be sufficient for heavy-duty jobs.
Pros
Good ergonomy
Continued hydraulic stirring when impacted
UV-resistant translucent tank
Reduce chemical exposure
Excellent shoulder straps
Brand: Rainmaker
Tank volume: 4 gallons
Material: poly
Best for: interchangeable spray nozzle
As you can see from the name, the Rainmaker 708902 backpack sprayer will bring about artificial rain in your garden or farm.
The difference is that the components of these rains can include not only water but also other chemical liquids such as fertilizers, herbicides, and pesticides.
There is a built-in filter to remove dirt that may clog up the nozzle. And the wide mouth on the top of the tank lets users fill and mix liquids in the tank effortlessly.
It seems to be quite common on this list, but we cannot help not to talk about its four interchangeable spray nozzles. Needless to say, you will manage to choose any from four different spray modes with the trigger lock-on option at any time you need.
Moreover, the manufacturer improves the comfort of users with shoulder straps. Even when the 4-gallon tank is filled, you can wear the backpack sprayer without fatigue.
Sadly, the 4-foot hose is too short of reaching farther and hard-to-reach spots, although it is more maneuverable and saves more space.
Pros
Ergonomic design
Multi-functional
Wide mouth
Well-padded shoulder straps
Brand: Greenwood
Tank volume: 4 gallons
Material: Polyethylene
Best for: sturdy construction
Not so different from the products above, the backpack sprayer from Greenwood also features a 4-gallon tank and 4 nozzles used to spray water, fertilizer, herbicides, and pesticides in different applications.
Nevertheless, what distinguishes it from the others is the commercial Polyethylene material. Besides, the Polyethylene tank is further reinforced with chemical-resistant viton seals to safeguard wearers from dangerous substances.
We found the adjustable shoulder strap quite convenient. It can be extended or retracted to fit your body and is long-lasting enough to serve for years.
The funnel top is very large for quick and easy filling and mixing of fluids. All steps, from pouring chemicals into the container, mixing them, operating the pump, and starting to spray, take us less than 5 minutes.
For more convenience, the sprayer has a built-in filter and an anti-overflow top. No liquid will overflow out of the tank, and no solid will clog up the nozzle.
Pros
Made of durable Polythene
There are chemical-resistant viton seals
Have an integrated filter
Large anti-overflow funnel top
Cons
It is tricky to find replacement parts
Buyer's guide: How to pick the best backpack sprayers
Here are the crucial factors to consider when choosing the best backpack sprayers:
1. Battery-powered pump or manual pump?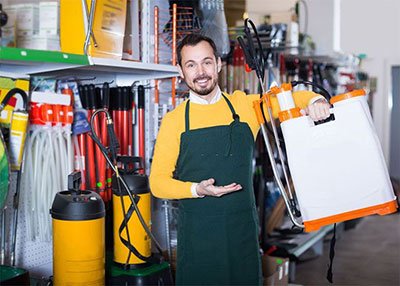 As a rule of thumb, whether you need a manual or a battery-powered backpack sprayer must depend on the volume of your daily work.
If your tasks involve spraying for longer than one hour per day, an engine will save your effort dramatically.
The ease of use and extra comfort can be worth every extra penny you have to pay. But if you just have to do this work for around 20 minutes less than 4 times weekly, an electric motor is more to be luxurious rather than necessary.
Besides, an engine-powered backpack sprayer typically supports maintaining pressure, flow rate, spraying pattern, and overall spraying quality without much of your involvement.
On the flip side, manual backpack sprayers are prone to fluctuations in all parameters each time you crank the pump. If you are inexperienced, you can hardly fine-tune the backpack sprayer.
And under circumstances where you need to carry out professional work, an engine-powered backpack sprayer would come in handy.
As such, from our point of view, you should only purchase a manual backpack sprayer if you rarely spray liquids and the sprayed areas are not too large.
2. Spray patterns
If the wand of your backpack sprayer does not feature a nozzle, liquids will merely be emitted in a single stream. When you add a nozzle to the tip of the wand, it will break the stream into smaller droplets.
According to the nozzle design, those tiny droplets will form different shapes to fit various spraying purposes of yours. The most prevalent patterns include flat-fan, extended flat-fan, even flat-fan, hollow cone, full cone, mist, flood, etc.
Besides, the size of the droplets, when they come out of the nozzle, may range from very fine to extremely coarse. To find out the suitable size of liquid droplets for each application, you can look for information on the Internet or the package of the chemicals.
Then, you ought to pick a backpack sprayer that allows you to use the appropriate nozzle and pressure to create the right spray pattern and droplet size.
Usually, too fine droplets will drift, and too coarse ones cannot travel far enough for uniform distribution. It is best for you to buy a backpack sprayer that permits users to calibrate these parameters.
3. Pressure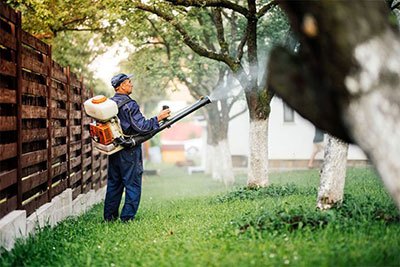 It is challenging to assess the perfect pressure for optimum accuracy and equal distribution. You are likely to go through a number of different experiments before you find out the best number.
However, we still have some helpful advice. In most cases, the pressure of between 20 and 60 PSI is sufficient. If you have high positions to spray vertically, consider something that can increase the pressure to 90 PSI.
4. Brands
One helpful tip that will aid you effectively in picking a high-quality backpack sprayer is relying on reputable brands.
Therefore, here we give you some famous names in the field that have produced the best backpack sprayers: Chapin, D.B. Smith, Roundup, Jacto, Rainmaker, Petra, Beaugreen, Greenwood, Hudson, SPS, Stihl, Solo.
FAQs
How does a backpack sprayer work?
Any backpack sprayer will have a pump that is powered by an engine or human force to draw liquids from the tank to the chamber.
Inside the pressurizing chamber, Viton seals and valves are responsible for holding fluids under a specific pressure (depending on models) until the user presses the trigger to open the valve on the stick.
Once the valve on the stick is opened, the nozzles will spray out liquids in different flow rates and patterns depending on their settings.
How far can a backpack sprayer spray?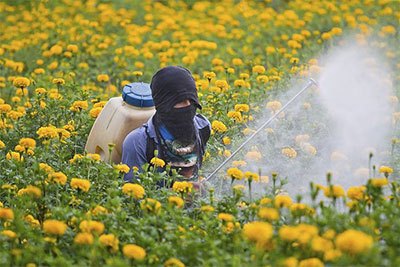 When it comes to how far a backpack sprayer can spray, we need to mention both the vertical and the horizontal distances.
Typically, the most powerful backpack sprayer can emit liquids as far as 10 to 40 feet horizontally.
And depending on your aiming angles, a backpack sprayer can reach as high as 6 to 30 feet vertically.
How much will a 4-gallon backpack sprayer cover?
A 4-gallon backpack sprayer can cover up to 23 tanks on a single charge, depending on the type of sprayer.
The Field King 190515 backpack sprayer is ideal for an enthusiastic amateur landscaper and can cover up to 4 hours on a single battery charge.
With the right nozzle, you can also adjust the pressure from stream to mist, allowing you to reach farther and cover more area with each tank.
How much does a backpack sprayer weigh?
Backpack sprayers come in a variety of sizes and weights, depending on the model. For example, the SR 450 Backpack Sprayer from Stihl weighs 28.2 lbs, and the SOLO 425 4-Gallon Professional Piston Backpack Sprayer weighs up to 45 lbs.
Does Makita make a backpack sprayer?
Yes, Makita makes a backpack sprayer. The Makita DUS158 18V LXT 15L Backpack Sprayer is a cordless garden sprayer powered by an 18V LXT Li-Ion battery. It has a maximum pressure of 0.3 MPa and includes a paddle switch under the handle for easy operation.
Does Stihl make a battery backpack sprayer?
Yes, STIHL makes a battery backpack sprayer called the SGA 85. It is a powerful battery-powered sprayer with high operating pressure and variable pressure adjustment.
With an AP 100 battery, it boasts 8.5 hours of run time on a single charge. It has an ergonomic carrying system, padded straps and chest straps for comfortable use.
The container capacity is 4.5 gallons and the working pressure is 14.5 PSI.
How much does a backpack sprayer cost?
There are several standard price ranges for backpack sprayers that we can divide into the following tiers:
– Low tier: $50 – $70
– Medium tier: $80 – $100
– Higher tier: $100 – $400
Can you put bleach in a backpack sprayer?
Yes, you can put bleach in a backpack sprayer, but it is important to make sure that the materials of the sprayer are suited for bleach.
Materials such as brass and aluminum should be avoided when using bleach in a backpack sprayer.
Additionally, some professional-grade backpack sprayers come with diaphragm pumps specifically designed to handle bleach.
It is also recommended to use a paint roller with an extended handle and Concrobium as a first pass when cleaning with bleach.
How do you clean a backpack sprayer?
Here are the steps:
– Use Dawn dish soap and water to flush the system.
– Empty out any liquid remaining in the tank, then fill it up with clean water. Examine the wand tip for sediment buildup and clean it if necessary.
– Add approximately 1/4 cup of dish soap to the tank and shake it around for a few minutes before spraying it all out of the nozzle.
– Use a microfiber cloth to wipe down the exterior of your sprayer, as this can better trap and hold dirt and debris than a standard rag can.
How to replace the hose on the Ryobi backpack sprayer?
To replace the hose on your Ryobi backpack sprayer, follow these steps:
– Turn off the sprayer and disconnect it from the power source.
– Release the pressure in the sprayer by turning the pressure relief valve counterclockwise until no more liquid exits the nozzle.
– Locate the hose and remove it from the sprayer by carefully pulling it off the inlet valve
– Take the new hose and attach it to the inlet valve by pushing it on firmly until it clicks into place
– If necessary, use a hose clamp to secure the connection between the hose and the inlet valve.
– Turn on the sprayer and test the new hose to ensure it is functioning properly.
The best backpack sprayer
The best backpack sprayer is the BLACK+DECKER Battery Powered 4-Gallon Backpack Sprayer. The sprayer offers the best performance, benefits, and quality features for users, and due to its advanced design, it's much better than similar backpack sprayers.
BLACK+DECKER Battery Powered 4-Gallon Backpack Sprayer, Battery and Charger Included*
Part of the 20V MAX System; 1 System - Endless Tasks. Power for your Style
20V Rechargeable Lithium-ion Battery - Sprays up to 50 gallons of liquid per charge
Viton Seals - Can withstand harsh chemicals preventing wear and potential leaking
Professional Shut-off with Comfort Grip, Lock & Filter - Can be operated with heavy-duty work gloves
21" Non-corrosive Poly Wand
Conclusion 
We hope our guide was helpful to choose the best backpack sprayers for your best results. Read the reviews slowly to find the great backpack sprayer for your needs.