With the raising of environmental awareness and significant technological improvement of battery-powered appliances, noisy, fuming gas engines have fallen to the bottom shelves in the markets.
Still, many old-fashioned homeowners stick to reliable gas-powered devices, preventing the risk of buying a cat in the sack. And, It's a reasonable practice, I must say, but not really applicable to all devices.
Hear me out.
Battery-powered leaf blowers are quieter, significantly easier to start, and effortless to maneuver with. They now come with honestly high airspeed and more than satisfying voltage, saving you time and effort of untangling the annoying cords or carrying the super-heavy gas blowers around.
Furthermore, the upgraded brushless motor enables flawless functioning, while the long-life lithium-ion battery takes care of the run time.
In order to make things clear for everyone, we decided to crack the code of the best battery-powered leaf blower, so keep reading and find out why it is worth buying!
Top 10 best battery-powered leaf blower reviews
#1. Makita XBU02PT1 – The best-rated battery-powered leaf blower
Let us introduce to you the best battery-powered leaf blower, 2020 selection – Makita XBU02PT1, with the highest customer rating on Amazon and admirable characteristics.
With the growing demand for cordless devices, Makita accepted the challenge, releasing the line of the most potent battery-powered home devices on the market, including this leaf blower that has power comparable to a 24cc gas-powered blower.
First of all, this blower kit includes the leaf blower, dual port rapid optimum charger, and four Li-Ion 18V LXT 5.0Ah batteries.
It is powered by a brushless Makita motor with variable speed that is electronically controlled to optimize the use of battery energy, resulting in a 50% longer run time per battery charge than other tools. Or, to be more precise, it provides 28 minutes of continuous run time at mid-speed.
When it comes to the charging time, it takes forty-five minutes to charge two 18V Li-Ion batteries, which is excellent. Plus, as you get four batteries in the set, you are always backed up when you have large surfaces to clean.
Now, the motor delivers 120 mph air velocity and 473 CFM air volume. And a selection dial with a variable speed control trigger lets you choose among six different stages of air velocity/volume.
The product has a sound pressure rating of 61 decibels, and it features Makita Extreme Protection Technology (XPT) engineered to improve functioning in harsh conditions.
Overall, this is one high-quality cordless leaf blower featuring an optimized motor to deliver excellent performance and long battery life.
Pros
Powerful
Four batteries
Variable speed
Quiet
Protection technology
505 longer run time
#2. Greenworks 40V 150 MPH – The best cordless leaf blower for small to medium yards
Next off, here we have a compact but strong battery-powered leaf blower designed for quiet operation and efficient cleaning of medium surfaces.
Greenworks is never a bad choice when it comes to any home device as they have a long experience on the market, producing only the highest quality products, with not much difference in power between gas-powered and electrical appliances.
When it comes to this leaf blower, in particular, is an excellent choice for small yards, shops, or garages. Powered by a GMAX 40-volt 2.0 amp-hour lithium-ion battery, it provides around fourteen minutes of continuous run time. For some additional runtime, this device is also compatible with GreenWorks G-MAX 4 AH battery.
Furthermore, a variable-speed motor lets you choose among six different speeds, delivering up to 150 MPH (135 CFM), which, to be honest, is not enough air volume for large yards. However, on midsize hard surfaces, it works like a charm.
Smooth, basically noiseless operation is another reason why you should consider this device; plus, as it weighs only 3.3 pounds(7 lbs with the battery), it is effortless to maneuver with. Also, a two-piece blower tube adds more control to blowing and sweeping, making the job a piece of cake.
Pros
Lightweight
Noiseless
40V battery
Variable speed
Two-piece tube
Cons
Not strong enough for large surfaces
Blowers and vacuums kind of go together. When you blow the debris away, you want to vacuum it in order to leave the surface entirely clean.
Well, KIMO thought of it and designed a powerful two-in-one leaf blower/vacuum tool to make your job as effortless as possible.
What makes this device extremely powerful is an all-copper motor, along with the turbofans, as they provide up to 13000r/min power that will blow away not just dry leaves but also snow, wet leaves, and any kind of debris from your garden.
Furthermore, KIMO Long Life 20 Volt Lithium Battery provides twenty minutes of run time at the top speed, while the charger takes only sixty minutes to charge the battery again fully. Also, the original KIMO 2.0 Ah battery has a long life with 1000 charging cycles guaranteed.
The blower transforms into a vacuum in minutes. Just put the blow tube in the air inlet and the garbage bag in the air outlets, and you're ready to go; your blower becomes a super-powerful vacuum.
What you get for the price is the device, one 20V KIMO battery, one KIMO fast charger, and 1 Blow Tube w/ White Ring. Two reusable collection bags and instructions. Finally, the product comes with a 24-month warranty.
Pros
Two-in-one design
Long battery life
Blows away wet leaves
All-copper motor
Easy to use
Next, we have one extra-strong device, maybe the most efficient among the cordless leaf blowers, WORX WG584 40V Power Share Turbine. With an upgraded motor and genuinely significant air volume, it can clear the largest surfaces with no effort.
What makes this device exceptional is the jet engine type, providing more power than the conventional brushless motors but without making excessive noise. It has variable speed, 14300 to 21900 RPM, and a turbo option for when your pavement makes you angry.
When at speed three, it delivers 80 mph of blowing power while the air volume measures 470 CFM. This is a genuinely high air volume that will enable you to finish your job more quickly with little to no effort.
Now, the blower weighs 7.3 pounds, which is excellent for a device of this kind; plus, the 40V Turbine with ergonomic funnels can be operated single-handedly.
Now, when it comes to the battery, the blower runs on two 20V lithium-ion batteries, providing around 25 minutes of run time. Also, the batteries are interchangeable with other Worx devices. The approximate charging time for two batteries is about 150 minutes.
In conclusion, what we have here is one honestly powerful battery-powered device with an improved design that enhanced the efficiency significantly, hands down one of the most powerful cordless leaf blowers and my favorite.
Pros
Jet engine
Lightweight
Quiet operation
Variable speed
40V lithium-ion battery
Easy to use
Turbo
Here we have another device from a reputable manufacturer with many years of existence on the market – DEWALT 20V MAX Blower for Jobsite.
It's a decent, robust device designed for smaller surfaces, job sites, shops, small gardens, or garages, but it does not have the potential for large, demanding surfaces.
First of all, this offer is a tool only; therefore, pretty economical for those who own some Dewalt device already, as their batteries are interchangeable. It is powered by a Dewalt 20V lithium-ion battery.
The first thing I noticed about this device is its compact, lightweight design that makes maneuvering quite effortless both for men and women. It weighs barely 2.5 pounds and operates almost noiselessly, so it's an excellent solution for those who have grumpy neighbors.
Now, the motor has a variable speed, with a maximum airflow of 100 CFM, while the airspeed measures 135 mph.
 So, as we have previously mentioned, this won't be powerful enough to blow away wet leaves or snow, large surfaces, etc., but it will work just fine on small to medium hard surfaces.
Furthermore, a variable speed trigger enables the adjustment of the blowing power used while the trigger lock reduces fatigue.
At last, this blower includes a three-year warranty.
Pros
Variable speed trigger
Lightweight
Quite
Warranty
Easy to use
Compact
Cons
Not powerful enough for demanding jobs
Here we have another genuinely strong cordless blower from Litheli, and despite its still modest popularity on Amazon, it is most definitely worthy of attention.
With a powerful motor, upgraded design, and long battery life, it provides exceptional performance and meets the highest demands.
At the core of this tool, we can find a brushless motor with no load speed and excellent conversion efficiency. You can adjust the airspeed from 72 – 122 km/h (45 MPH -76 MPH), while the turbo mode provides air volume up to 480CFM.
Furthermore, modular air ducts and ergonomic design make maneuvering extremely easy, mainly because the product weighs only 2.65 kilograms.
Plus, the operation is honestly quiet; it produces noise levels of less than 66 dBA, while the hyper-stream air nozzle removes any kind of debris from hard and soft surfaces.
The product runs on a 40V MAX 2.5Ah Lithium-Ion battery that provides around 30 minutes of runtime and has an approximate charging time of one hour.
Finally, this cordless blower comes with a battery and charger, and it has a 5-year tool warranty and a 3-year battery and charger warranty.
Pros
Brushless motor
Three-speed settings+ turbo
Quiet operation
Lightweight
Long runtime
Warranty
Cons
Some customers found the battery disappointing.
#7. East 20V Li-ion 2 Speed MAX – The best lightweight battery-powered leaf blower
What we have here is the most affordable choice when it comes to the best cordless leaf blowers with an ergonomic design and long-life Li-ion battery.
This fantastic cordless blower comes from East and operates on a 20V MAX 2Ah Lithium-Ion battery that provides around 15 minutes of runtime when fully charged. The offer also includes a charger, so when you're done, charge the battery, and you're ready to go again.
I have to say that this is a mid-range device designed for small jobs; not quite powerful, but pretty efficient for limited surfaces and dry leaves.
The advantages are the compact design, little weight, therefore, easy maneuvering. The product weighs less than five pounds with the battery, so it could be the right choice for your elders.
It provides two airspeeds, 50mph and 120 mph, and has genuinely quiet operation. Its ergonomic design entirely removes leaves and debris from driveways, patios, garages, or other hard surfaces.
At last, the product includes a two-year warranty, so it definitely is a choice worth considering, especially If you're looking for a budget-friendly solution.
Pros
Affordable
Warranty
Lightweight
Quiet
Ergonomic design
Get your job done with this incredibly strong battery-powered blower that is the closest counterpart of the gas-powered models. With a remarkably strong motor and excellent airflow, it is hands down the most powerful cordless blower on the market.
If you wish to switch from gas-powered blowers to battery-powered ones without sacrificing performance, this is the product for you.
This absolutely ingenious product has a jet motor and 80V 2.5Ah battery, providing 580 CFM at 145 MPH, which is the highest air volume we have seen in cordless leaf blowers by far.
Furthermore, the battery gives around 22 minutes of runtime when at high speed, while the quick charger fully charges the battery in only forty minutes.
With variable + cruise speed selection, you can remove debris from both hard surfaces and grass, while quiet, almost noiseless operation won't cause any distress to your family or neighbors.
The product is a bit heavier, it weighs 10 pounds, but the comfort over-mold grip makes the maneuvering more convenient.
With just one charge, you can clean up to one acre, and it's a cordless device we're talking about here. As you get a four-year warranty for the device and 2-year warranty on the interchangeable battery, you'll grow to love this device!
Pros
80V battery
The highest air volume
Long runtime
Fast charge
Turbo option
Jet motor
As we are moving closer to the end of our list, the products are not decreasing in quality. Another top-notch cordless blower comes from Milwaukee, and it patiently waits to bring the ultimate makeover to your yard.
Milwaukee has a long history on the market, producing its merch since 1924. and ever since improved to bring only the best experience to its customers.
This blower will get the job done perfectly. It encompasses a brushless motor, providing better energy consumption and remarkable results.
Powered by an 18V lithium-ion battery, it provides around 20 minutes of continuous runtime, while POWERSTATE™ Brushless Motor delivers 450 CFM air volume and 120 MPH airspeed. This is enough power even for large surfaces and stubborn, et debris.
Furthermore, the product weighs less than seven pounds and therefore is extremely easy to work while being powerful enough to clean from farther distances, 15 inches at max.
What differentiates this tool from the other blowers on the market is the REDLINK PLUS™ Intelligence which uses total system communication between battery, charger, and machine, protects the device from overload and optimizes the performance.
Pros
Smart technology
Brushless motor
High power outlet
Excellent air volume
Affordable
With so many remarkable blowers on the market in this branch, making this list was not an easy job. Countless products, many different manufacturers, and versatile customer reviews made me think about what models are worth mentioning.
However, in the end, I couldn't resist putting another Greenworks model on the list, as they genuinely have the best quality and incredible specifications.
If you carefully examine this product, you can see it is almost the same as the eight products on our list – Greenworks BL80L2510 80V Jet Electric Leaf Blower.
The only difference is that this model does not have a jet motor, but the brushless axial motor delivers a bit less power but runs for a longer time.
This model provides 70 minutes of continuous runtime when on speed one, which is the longest runtime measured by far. On average speed, it gives 28 minutes of efficient blowing, which again is impressive.
Powered by an 80V Li-ion battery, it is a decent gas equivalent. The motor delivers 125 mph airspeed and 500 CFM air volume with more torque and quiet operation, rated at only 60 decibels.
Finally, the tool weighs around 8 lbs, but it has a cushions handgrip and has proven to be pretty convenient for maneuvering.
Pros
80V battery
Excellent performance
Long runtime
High air volume
Cushioned hand grip
Interchangeable battery
Top reasons why you need a battery leaf blower
1. There are backpack models
One of the best things why these battery leaf blowers are such a big hit to gardeners is that they can be carried on your back. It's portable.
And what's cool about it is that most battery leaf blowers have a strap enabling you just to hang it on your back.
2. Lightweight and convenient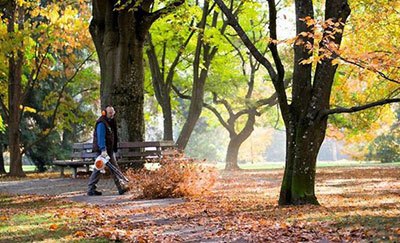 What makes these battery leaf blowers stand out among other gardening maintenance tools is that they are very lightweight.
Why? It's because it is specifically designed to help gardeners have an easier time maintaining their lawns.
3. Lots of feature options
Then there are the many feature options you can choose from. This gives you the freedom to use the battery leaf blower in whichever way you want. For sure, this will help make it easier for you to take on your lawn's dried and fallen leaves with style.
4. Low maintenance
These battery leaf blowers are also very easy to maintain. These are low-maintenance tools where you don't need to worry a lot if it breaks down because it likely wouldn't.
It's as simple as that. These are simply tools that don't have any complicated wirings or mechanics.
5. Helps clean lawns faster
Now here is what seals the deal with battery leaf blowers – they are fast cleaners. Gone are the days when you have to rake the leaves manually, pick them up, and throw them in the bin. It's because these battery leaf blowers do all of that.
The buyer's guide
Choosing the best device on the market can be tricky, mainly when you're limited to the unique content of your wallet.
But worry no more because we composed a simple buyer's guide with all the essential information you should know before you buy one. Keep reading.
Firstly, let's talk about the advantages of battery-powered leaf blowers in comparison to gas-powered and corded leaf blowers.
Well, for starters, these models are the most affordable on the market. They require little to no maintenance, which is a significant plus in comparison to the gas-powered models.
Furthermore, battery-powered leaf blowers create no emission and have a quiet operation. While they are a bit heavier than cordless models due to the weight of the battery, they are still lighter than gas-powered ones and give you complete freedom of movement, unlike corded models.
Now, what should you care for when buying a battery-powered leaf blower?
1. Battery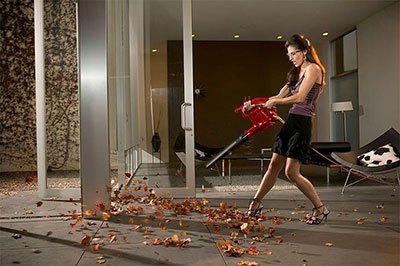 Within the cordless leaf blowers, you will mostly find Li-ion batteries with voltages between 18V and 80V.
Li-Ion batteries are the best choice on the current market as they have a high energy density, low self-discharge, and no memory effect. Most importantly, they are rechargeable.
What you should check in regards to the battery is the run time and the charging time. The runtime implies how long you will be able to use your device in one charge, while the charging time shows how long your batteries take to charge fully.
2. Motor
The old motors used to have carbon brushes that transmitted the charge from the battery to the very engine. During this process, some of the costs were lost in friction, so the energy was not used efficiently.
Nowadays, devices have a brushless motor that magnetically transmits the charge and uses energy more efficiently, so you might want to choose these.
Also, here you want to check the CFM (cubic feet per minute) that shows you the air volume or simply says the amount of air the device manages to blow at full power.
Tools with air velocity under 200 CFM are not powerful blowers. The targeted CFM you want to go for is around 400.
3. Weight
As these devices have batteries, they are a bit heavier than their cordless counterparts. So it's recommendable to check the weight with and without batteries.
They mostly weigh from 5-10 pounds, but be sure that 10 pounds weight with the battery won't affect the ease of maneuvering at all.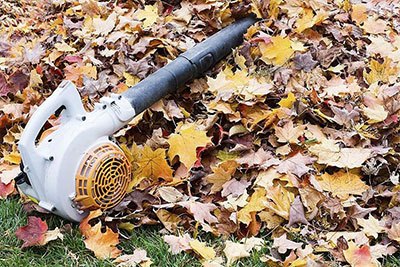 4. The level of noise
As we have already pointed out, one of the advantages of battery-powered tools is the quiet operation, so you must be wondering – How quiet?
​The best models can operate at noise levels of around 60 decibels, which, for you to imagine, is quieter than your vacuum cleaner probably.
FAQs
What is the best battery-powered leaf blower?
After considering everything, we have concluded that the best battery-powered leaf blower overall is Makita XBU02PT1.
What is the most powerful cordless blower?
With an 80V Li-ion battery and brushless jet motor, the most powerful cordless blower indisputably is Greenworks BL80L2510 80V Je​​t Electric Leaf Blower.
Final thoughts
Somehow we managed to bring this extensive but informative article to an end. If you paid close attention, now you know all there is to know about the best cordless leaf blowers on the market. Our final duty is to remind you of our top pick – Makita XBU02PT1
This blower has a brushless motor and two Li-Ion 18V LXT 5.0Ah batteries. At high speed, it provides 28 minutes of runtime and 473 CFM air volume.
It is powerful enough to clean both hard surfaces and wet leaves, and as it has speed control, everything is in your hands. Don't worry about the noise, as it is virtually noiseless.
Makita XBU02PT1 36V (18V X2) LXT® Brushless Blower Kit with 4 Batteries (5.0Ah)*
Delivers up to 28 minutes of run time at mid-speed (15,800 RPM) using two 18V LXT 5.0Ah batteries
BL Brushless motor delivers up to 120 MPH air velocity and 473 CFM of air volume
Sound pressure rating of 61 dB(A); measured per ANSI B 175.2 standard
Zero emissions and reduced maintenance; no need for gas or oil
6-stage air velocity/volume selection dial with variable speed control trigger