Bush hogs are one of the most powerful, versatile, and reliable pieces of machinery used for agricultural purposes.
However, having a good bush hog requires having the right blades in order for optimal performance and efficiency; otherwise, you may face costly repairs and higher fuel costs in order to complete your tasks.
In this blog post, we will provide an overview of the top 5 best rotary cutter blades available on the market today, helping you find out which option is best suited for your needs as well as giving you valuable advice regarding maintenance, upkeep, safety tips, and more!
Take away key points:
Choosing the right blade is crucial for achieving effective cutting and optimal performance.
Factors to consider when selecting a blade include blade type, size, and material, as well as cutting conditions.
Common blade types include standard, medium lift, high lift, and mulching blades, each with their own unique cutting capabilities.
Cleaning the rotary cutter blade with a wire brush after each use on regular basis will prolong its use!
The best bush hog blades 2023 for your needs: Top 5 reviews
Rancher Supply Blades – One of the best high-quality steel blades, capable of enduring any type of cutting task! However, you should be aware of the compatibility with bush hogs.
Replacement Bush Hog Rotary Cutter Blades – The best replacement blades for bush hog. These sharp blades have passed impact testing standards, so they are durable and reliable for all tasks!
Pro Parts Replacement Blades for Bush Hog – The Pro Parts replacement blades are excellent if you are looking for a reliable USA-made product! They are compatible with lots of bush hog models.
Woods Replacement Blades – The replacement blades are a terrific product you can rely on! They serve in versatile operations and are compatible with Burshbull Series bush hog!
Generic Replacement Blades Compatible with Bush Hog – The best affordable option for finishing and grooming mowers. They are easy to install, however, they are not compatible with all mowers.
If you're looking for best bush hog rotary cutters that won't let you down, the Rancher Supply's sharp blades for bush hogs are definitely worth considering. These sharp blades are made of high-quality steel, which means they're tough enough to handle whatever you throw at them.
Whether you need to clear large fields or trim overgrown vegetation, this rotary cutter blade are designed for the durability you need to get the job done.
In terms of dimensions, the Rancher supply blade measures 4 in. x 24-3/4 in. x 1/2 in. with a 1-1/2 in. bolt hole. The width at the edge, the widest point, is 4-1/2 in., making it well-suited for a range of different jobs.
One of the key benefits of the Rancher supply sharp blades for bush hog is their compatibility with a range of mowers and ag cutters. Part number 7555 is designed to fit bush hog mowers as well as some modern ag cutters, which makes them versatile and adaptable for a wide range of different tasks.
Pros
Durable and reliable sharp blades made of high-quality steel
Compatible with a range of mowers and ag cutters
Good shape retention
Cons
May not fit all bush hogs, depending on the model
Need to be cleaned regularly for debris
When it comes to replacing rotary cutter blades, it's important to find a product that is reliable and of high quality. The Bush Hog brand replacement rotary cutter blades are an excellent choice for anyone looking for a sturdy and effective replacement option.
One of the best things about these cutter blades is that they are Original Equipment Replacement Blades, meaning they are designed to fit perfectly onto your existing Bush Hog rotary cutter. They are sold as a set of two, which is ideal for anyone who needs both cutter blades replaced.
These blades are compatible with a range of Bush Hog models, including Models 6, 12, 105, 205, 255, 266, 305, 502, 600, RB-60, Squeeler 60 and more. This makes them versatile and adaptable for a range of different tasks.
Not only are they mill certified for quality, but they have also passed impact testing standards and have been heat treated to a Rockwell C of 38 – 42. This means you can be confident they'll stand up to whatever you throw at them.
Pros
Original Equipment Replacement Blades
The high-quality design resists premature wear and tear
Compatible with a range of Bush Hog models
Cons
Not suitable for all bush hog models
Next up are the Pro Parts replacement bush hog blades. This set includes two each of the 7556, 7555, and 11150 blades, which are designed for use with flex wing cutters, including the 2315, 2415, 2615, 2615L, 3715, and other models.
One of the key benefits of these replacement rotary cutter blade is that they are made in the USA, which means you can be confident they are of high quality and will stand up to heavy use.
In terms of specifications, the 7556 center of hole-to-end length is 25.250″, with a hole diameter of 1.500 and an offset height of 2.500″. The overall length is 27.750″, and the thickness is .500″. It is of the CCW lift and has a width of 4.000″.
Overall, if you're in the market for high-quality replacement bush hog blades, the Pro Parts replacement blades are definitely worth considering. They are made in the USA, designed for use with a range of different models. This makes them a top choice for anyone looking for a reliable and long-lasting replacement option.
Pros
Made in the USA
Compatible with a range of models
High-quality construction and materials
Cons
Not suitable for all bush hog models
Woods replacement rotary cutter blade are a great choice for anyone in need of reliable and high-performing good blades replacements for their rotary cutters.
Woods has built a reputation for manufacturing high-quality, durable parts, and these replacement blades are no exception. They are rugged, dependable, and productive, and are designed for the extremes of real-world use. Whether you're taming your own backyard or clearing miles of overgrown vegetation, Woods rotary cutters are designed to perform.
Woods OEM mower blades are heat-treated, alloy steel, and uniquely built to Woods' high standards. They trim vast lawns, parks, and sports fields precisely and efficiently. These blades are reliable and durable.
Woods Brushbull single-spindle rotary cutters are great for removing brush along fence rows, maintaining kilometers of interstate roads, and cutting tall grass, weeds, lawn, and brush anywhere you need to tame the land. Thus, Brushbull-compatible blades deliver dependable and consistent cutting performance.
Pros
OEM replacement blades
Made from high-grade steel
Cut grass with ease
Designed for extreme use
Cons
Not suitable for all bush hog models.
The Generic replacement rotary cutter blade is a great choice for anyone looking for an affordable and reliable blade option.
These blades are compatible with a wide range of mowers, making them an ideal choice for homeowners and landscapers alike. Plus, they cut cleanly and require less power for a demanding task.
The sharp blades offer solid performance, delivering excellent results that can be trusted to last and stand up to heavy usage. Additionally, they are easy to install, with hardware and instructions included.
Furthermore, you can enjoy peace of mind knowing that each blade also comes with a warranty certificate should something not turn out as expected.
Overall, the sharp blades are an ideal choice for anyone looking for reliable and affordable replacement blades for their 6′ Bush Hog finishing/grooming mowers. They offer great performance combined with convenient installation, giving you the assurance that your purchase is both reliable and covered should anything go wrong.
Pros
Compatible with multiple mower brands
Easy to install
Comes with a warranty certificate
Cons
Not suitable for all bush hog models.
Have to be regularly cleaned with a wire brush
Buyer's Guide
Types of bush hog blades
Bush hog blades come in a variety of types, each designed for cutting specific types of vegetation.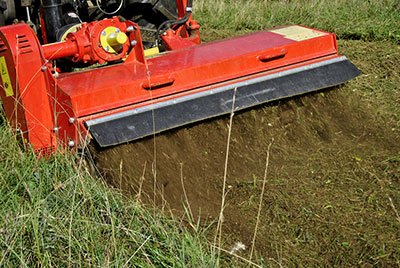 Rotary mower blades have an angled, curved design which is ideal for cutting grass or straw on your lawn.
Flail mower blades are made with a series of interconnected blades that are great for use on tougher vegetation like brush and weeds.
Finishing mower blades are wider and have straight edges, making them suitable for cutting taller grasses such as hay and alfalfa.
Flat blades are designed to provide an even cut on the level ground, and they are efficient at cutting thinner grass and light vegetation.
High lift blades are designed with a higher profile, which increases suction and airflow, allowing the mower to lift and cut excessively long or thick grass and shrubs.
Mulching blades are designed with small ridges or teeth that chop up clippings into small pieces. This type of blade is ideal for gardeners and landscapers who want to reduce the volume of grass clippings and return them to the soil.
Size guide of bush hog blades
The size guide for bush hog blades is as follows:
Blade length: The blade length should match the size of the bush hog to the cutting width of the mower. For example, a 4-foot bush hog will require 4-foot blades.
Blade hole diameter: The blade hole diameter must match the center hole on the blade spindle of the bush hog. It's recommended to check the owner's manual or contact the manufacturer to know the exact diameter of the blade hole.
Blade thickness: The thickness of the blade is also an important consideration. If the blade thickness is too thin, it may bend or break quickly, while a bush hog blade that is too thick may put too much strain on the mower.
Blade width: The blade width should be matched with the blade carrier and the blade spindle. If the blade width is too large, it might interfere with other parts of the mower deck.
Maintaining and replacing bush hog blades
Proper maintenance and replacement of bush hog blades is essential for maintaining optimal performance and extending the lifespan of your equipment.
Here are some key tips for maintaining and replacing your bush hog blades:
1. Maintenance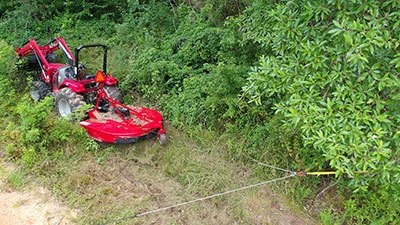 Regularly inspect the blades for signs of wear and damage. If any cracks, chips, or bent areas are present, replace the blade immediately.
Sharpen blades often to ensure effective cutting performance. Dull blades require more power and can damage the motor.
Clean the rotary cutter blades with a wire brush after each use to prevent buildup of debris and rust.
2. Replacement
Replace blades as soon as you notice signs of wear and tear. Continuing to use worn-down blades can result in uneven cutting, inefficient performance, and potential damage to your equipment.
When replacing blades, make sure the new blades match the specifications of your equipment. Select blades that are the appropriate size, type, and material for your specific needs.
Always follow the manufacturer's instructions for the removal and replacement of blades to ensure safe and proper installation.
FAQs
How often should you change the blades on a bush hog?
The frequency at which you should change the blades on a Bush Hog with your dull old ones will depend on several factors, including the type of terrain you are mowing, maintain routine, and how often your mower is used.
Generally speaking, it's recommended that you replace the blades every 20-30 hours of use and maintain them properly.
How can I make my bush hog cut better?
First, make sure the blades are sharp and in good condition by regularly checking for wear and sharpening or replacing them as needed. Be careful with this process, and make sure you wear protective gloves.
Second, ensure that your blade guards are firmly attached to prevent debris from clogging the cutting machine system.
Additionally, be sure to check the tension setting on your blades and adjust accordingly for better efficiency and performance.
Finally, fill any indentations in the terrain with soil or stones before using your bush hog, as these can hinder cutting power.
How long do bush hog blades last?
The longevity of Bush Hog blades will depend on a variety of factors, including the type of terrain you mow, maintenance routine, debris often caught on the blade's angles or edges and who much of a good care you are providing.
Is there a difference in rotary cutter blades?
Yes, there are differences in rotary cutter blades. The most common types of rotary cutter blades are high-carbon steel blades and heat-treated alloy steel blades.
High-carbon steel blades tend to be more durable and long-lasting than the alloy variety, which can be damaged more easily if used too aggressively on hard surfaces.
How to measure a rotary cutter blade?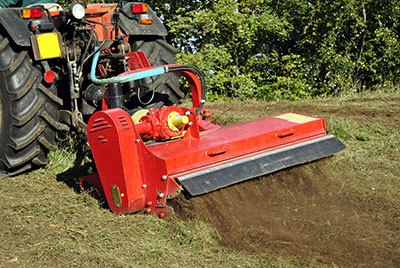 Measuring a rotary cutter blade is relatively simple and can be done with either a ruler or calipers.
To measure the length of the blade, place it on a flat surface and use your ruler to measure from one end to the other.
To measure the width and thickness of the blade, you will need calipers. Place the open jaws of your calipers around the edges of the blade and read off the corresponding measurements.
What kind of metal are Bush Hog blades made of?
Bushhog blades are made of high-carbon steel with a heat treatment that gives them extra durability.
How do you change the blade on a bush hog?
To change the blade on a Bush Hog, disconnect the power, tilt and raise the deck, remove the nuts holding the blades in place, install a new set of blades, tighten all nuts and bolts securely, and then reconnect the power to the mower deck.
How to tighten blades on bush hog?
To tighten the blades on a bush hog, start by disconnecting the power. Then remove the nuts and bolts that hold the cutting blades in place. Install a new set of cutting blades, and make sure to tighten all nuts and bolts securely. Finally, reconnect the power to the rotary cutter and resume normal use.
Conclusion
In conclusion, selecting the right rotary cutter blades and maintaining and replacing it regularly are essential for optimal cutting performance and longevity of your equipment.
By carefully considering the type, size, and material of the blade, as well as the cutting conditions, you can ensure maximum efficiency and productivity in your cutting tasks and the mow job.
Proper maintenance, including regular inspections, sharpening, and cleaning, will also help to prolong the lifespan of your blades and equipment.