Once you determine you need the best compact tractor for your farm, your life will be much easier.
By default, the best compact tractor is intended for numerous agricultural jobs.
But the main heck is that there are numerous tractor models and compact tractor brands to choose from.
So, how can you select the best compact tractor?
Our experts did a little research and came up with the ten best compact tractors on the market! They deliver efficiency, performance, and high-quality agricultural equipment necessary for all tasks.
Hence let's begin, and see the most popular small tractor models!
What is a compact tractor?
Terms such as compact, small, and utility refer to a small tractor category, created and produced a few decades ago but became similar to the Swiss Army Knife.
Tractor manufacturers, experts, and farmers define compact tractors as agricultural, smaller tractors, different and more petite than ordinary farming tractors.
A compact tractor has a three-point hitch, combined with a 540 rpm power take-off system (PTO), and is compatible with the first-category attachments and implements.
Also, the most compact tractors weigh less than 4,000 pounds (although some models weigh slightly higher) and use less than 40 PTO horsepower to work well with the implements.
So, what the best small tractor can do?
According to the experts, the best compact tractor is great for snow plowing, snow removal, general mowing, moving piles of dirt, mulch, gravel, mowing weeds, auger holes, etc.
The main categories of the best compact tractors
The following specifications and categories are general guidelines to give you a better insight into the many small tractors available for the farmers. They include:
Sub-compact tractors – best for 1-3 acres. They have 20-25 HP, a 1,000-pound lift capacity, and weigh 1,400 and 1,600 pounds.
Small-frame compact tractors – ideal for 2-5 acres. They include 24-30 HP, a 1,200-pound lift capacity, and weigh 1,600 to 2,200 pounds.
Mid-size compact tractors – convenient for 5-15 acres. Their weight is 2,200-2,900 pounds, with 25-40 HP, and lift capacity of 1,600-2,200 pounds.
Full-size compact tractors – suitable for 15+ acres. Their HP is 40-60, weight between 300 and 4,400 pounds, with a maximum lift capacity of 2,100-3,000 pounds.
As you see, a compact utility tractor comes in four different categories, and you can quickly determine the amount of heavy-duty and light-duty tasks and select the right tractor for your needs.
Best Compact Tractor Models 2023: What's Your Solution?
1. John Deere 4066M Heavy Duty – Most effective & efficient for all jobs
The John Deere heavy-duty compact tractor is a smaller utility tractor, a part of the 4M series, with a four-wheel drive.
In addition, the John Deere compact tractor is powered by a 2.1L four-cylinder diesel engine and has two transmissions.
The first is a power shuttle transmission, with 24 gears (12 forward & 12 reverse) and a wet disc clutch, and the second is a hydrostatic transmission with an unlimited number of forwarding and rear gears.
The John Dear heavy-duty compact tractor has 65.9 HP, ideal for flexibility and more strength than other smaller compact tractors.
In addition, the John Deere heavy-duty tractor is perfect for confined, dim, and smaller areas, as it contains the new system suitable for those conditions.
These include eHydro transmission, Roll Over Protection Structure – ROPS, four work lights, ideal hinge points, and a regular one, two, or three-point hitch Category for various attachments.
So, the John Deere big green machine is highly flexible and versatile for all operations.
The John Deere tractor also benefits from a turbocharged diesel engine, HST transmission, and mid or rear hydraulics.
This turbocharged diesel engine is exceptional for more power and all heavier jobs.
Of course, with the 65.9 HP, and 52 PTO horsepower, the John Deere tractor is effective and efficient for all farming and agricultural tasks in general.
The John Deere lift capacity is 2,500 pounds, with a 24-inch backlink arm, and the open-cab model has a 73-inch wheelbase and overall 4,255 pounds of weight.
Thanks to the eHydro transmission, John Deere is a good tractor, suitable for all terrains, as the driver platform is adjustable, thanks to the Twin Touch foot pedals with countless speeds.
In addition, cruise control is also included in the John Deere tractor model.
But, the tractor's independent PTO eliminates the need to use the clutch and stop.
Finally, the John Deere tractor offers heavy-duty rear tires, ranging between 16.9-24 and 19.5L-24, suitable for muddy and wet areas.
2. New Holland Boomer 55 Cab (T4B) – Best for eco-friendly design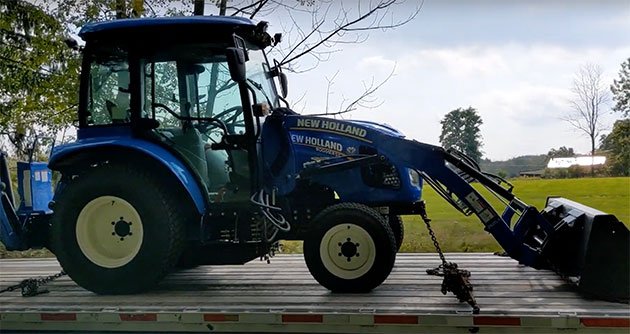 Why is the New Holland compact tractor one of the best tractors on the market?
Firstly, the New Holland compact tractor is a 55 HP tractor with an independent electro-hydraulic PTO horsepower of 46.7 HP.
So, the Boomer is farmers' all-time favorite, as it finishes the given job quickly.
In addition, New Holland is the best compact tractor due to its three-cylinder diesel engine, with a 12.4-gallon fuel tank.
However, it offers two transmission types – hydrostatic transmission and smooth transmission.
These include the three-range dual-pedal hydrostatic transmission or a 16×16 gear option.
You can choose the best option, and the transition between the forward and rear gears will be smooth when shuttling. And, there's a shuttle lever on the left of the steering wheel.
Farmers love New Holland as the tractor has a quiet system, offering maximum comfort and control.
However, its most significant attitude is the eco-friendly system, as the New Holland tractor works with less fuel capacity, absorbing the natural energy.
So, it's not harmful to the environment.
But, this can be seen particularly in the brand-new New Holland NH2 tractor, with a hydrogen system.
With a maximum of 2,756 pounds of lift capacity and 4,194 pounds of weight, New Holland is a great tractor for extended service and comes with an affordable price tag.
3. Yanmar USA YT347C – Best operations and versatility
Due to the closed-cabin design, the following compact tractor is one of the best tractor brands. So, it's suitable for all weather conditions.
And the HMT design is specific for transforming the four-cylinder diesel engine and its HP into the energy necessary for different implements.
The tractor has air conditioning inside the cabin for best production, and the overall design offers excellent visibility.
Of course, like other YT3 series compact tractors on the market, this one also has an integrated hydraulic, mechanical transmission, and i-HMT system for more versatility.
Thanks to the autothrottle system, you can control the engine and travel speed with the accelerator. And the A/B method helps you with setting the right travel speed.
The anti-stall function keeps your engine working even when you dig or lift a massive load. You will find the cruise control for smooth rides when working for an extended period.
And, other compact tractors cannot match the integrated hydraulic, mechanical transmission the Yanmar offers.
In addition, the manual transmission machine is excellent for a brand-new technology, for more versatility and easy operations.
4. Farmall 45C CVT – Best productivity
The Farmall compact tractors offer ergonomic design for ease of use, operations, and high maneuverability.
The adjustable seat is a curved one; moderate it to fit the adjustable steering wheel and customize your fit for more comfort.
The compact tractor is easy to operate and maneuver as it doesn't require shifting.
The machine also has an instrument cluster similar to those in A, C, and U series tractors, and the CVT gearbox offers a control pod.
So, you can control the speed, response, two-wheel or four-wheel drive, and cruise control options.
However, the Farmall is also a good tractor as the model has a heavy-duty three-point hitch for all implements and other heavy equipment.
And you can attach them via telescopic stabilizers with flex-end lower links.
But, the model is also a great tractor for its two-position drawbar, large-capacity hydraulics, and rear or mid-PTO standards.
So, it saves your time and energy for maximum productivity.
Finally, you can remove or add the engine without lifting the hood or removing the side panels.
5. Massey Ferguson 1740E – Best safety & security benefits
The Massey Ferguson compact tractor is one of the most advanced compact tractor brands on the market!
As you will see, the tractor is highly effective and productive, with a well-designed system.
Moreover, the model offers intuitive control, supreme stability, and security for a lower price.
Massey Ferguson is ideal for your needs since it provides a practical driver platform for more comfortable use. The levers are easy to reach, and you can perform as you like with them.
And, if you work in confined and limited spaces, the ROPS system will help you achieve effectively.
Thanks to the self-contained and mechanically engaged PTO, it's unrelated to the transmission. And, the ground-level fueling is far more advanced.
Massey Ferguson offers the steel design and construction for maximum durability and sturdiness to last longer as a promising model.
In addition, the rear end is a cast rear with sufficient grit to preserve your work and encourage more.
Massey Ferguson offers both hydrostatic and mechanical transmission with two gearbox options, depending on your needs and experience.
Furthermore, the Massey Ferguson compact tractors have a total hydraulic flow.
The main reason for this is the power-assisted steering system ensures enough capacity even when the rear loader or linkage is in the active mode.
And, if you're a newbie, you can freely use these compact tractors as first-time tractors or replacement tractors.
In addition, they come with affordable price tags.
No other compact tractor has a more excellent front loader and lift capacity than Mahindra!
One of the best compact tractors can stand side-by-side with numerous industrial tractors due to its enormous power and lifting capacity!
Thus, some farmers consider it the biggest tractor among the smaller units in terms of capacity and power.
The tractor is ideal for all agricultural and industrial jobs with a 50 HP Tier IV direct-injection engine and hydrostatic transmission.
In addition, the model is specific for higher hydraulic power – 41.6L, controlled by a power shuttle shifting (wet clutch).
The front loader is easy to attach and remove due to the fit-and-attach system, taking less time for maximum efficiency.
But, the three-point hitch also has a more significant lift possibility, up to 3100 pounds.
The driver won't lack comfort, as they will have enough room to shift rear and forward speeds via a clutch and brake pedals.
And, the seat is cushioned with armrests for extra comfort during long working hours.
But, the most significant advantage of Mahindra compact tractors are the 4-cylinder, water-cooled diesel engines, direct injection, naturally aspirated, 2732cc, 4-stroke, generating 49hp 2800 pm.
The engine is also famous for the oil-immersed wet disc brakes, completely synchronized hydraulic shuttle transmission with the 12F/12R speed range, and a lift capability of 3,090 pounds.
7. Kubota L2501 – Best hydraulic system & ease of use
The Kubota L2501 is one of the best compact tractors due to its large frame and superior agility.
The machine weighs 2,425 pounds, 24.8 engine HP, and 20.5 horsepower at the power take-off system. Thus, the tractor is an ideal unit for lighter tasks.
Moreover, the Kubota L2501 has a three-cylinder engine and a ten-gallon gasoline tank, necessary for operating the agricultural vehicle.
Regarding the lifting capacity, the Kubota L2501 has a Category 1 three-point hitch lifting to 1,918 pounds regularly.
But, another big plus is the 1,389 pounds of lift possibility 24 inches behind the main lift points.
With 12 gears – 8 forward speeds and four rear speeds, and two or four-wheel drive, the Kubota L2501 has a three-range hydrostatic transmission with a three-range speed system.
In addition, the vehicle measures 110.6 x 55.1 x 91.7 inches.
However, the Kubota L2501 has specific transmission modes among the three range speeds, such as HST Plus for automatic hydro dual-speed control.
Therefore, the method has numerous functions, including load detection auto and throttle advance.
The last is the well-known FST – Glideshift clutchless shifting on-the-go system.
With the three-point linkage, tractor's independent PTO, and rear hydraulics, the Kubota L2501 has an excellent implementation usage.
And, due to the bevel-gear front axle, the unit provides a tight turning, smooth enough for better maneuverability.
The system also offers supreme pulling over and traction for all jobs. Besides, the front loader offers accurate control options and ease of moderation.
However, the L2 series compact tractors also offer fully-controlled, easily-operated climate-controlled cabins for all weather types.
In addition, you will find luxurious seats, power steering, ergonomic design, and complete visibility inside the cabins.
The new tractor was introduced in the KIOTI UK branch, with the brand-new technology and most advanced functions.
The KIOTIS' best compact tractors meet and exceed all Stage V environmental specifications and rules, making KIOTI models far more advanced than the competitors.
As the best sub-compact tractor, the KIOTI Premium CS2220 machine contains a KIOTI 21 HP three-cylinder engine (diesel).
Also, the unit includes an integrated front loader joystick, and a premium-quality steel bonnet, permitting the installation of two spools.
However, the new model also has an ideal driver platform, open and comfortable for more extended use, with an adjustable steering wheel, comfy seat, and independent electro-hydraulic PTO.
But, other KIOTI benefits include a mechanical gearbox with eight speeds – six forward and two rear speeds, a premium-quality water-cooled engine, a mid and rear PTO, etc.
You can operate the PTO independently or simultaneously with a single lever, moderating the mid and rear options.
The hydrostatic transmission offers various speeds for multiple functions and tasks.
In addition, farmers can find a ROPS or an interior with air conditioning, a rear screen wiper, and a heated back screen.
The same goes with the new DK series, higher in the range, with mechanical or HST, air-conditioned cabins, and ROPS systems.
9. TYM'S T255 Tractor – Best for smaller tasks & areas
Another sub-compact tractor offers excellent performance and value for lighter agricultural and farming jobs.
The small sub-compact tractor is excellent for landscaping. It works either as a hydrostatic or a manual transmission machine, fulfilling all grass jobs.
Many farmers claim the model is ideal for mid-deck work and loaders. However, unlike this method, the manual transmission is perfect for aeration and sprayer work.
In addition, the 25.3 HP diesel engine with Stage V doesn't need a DPF filter. So, it will save you money.
Designed in Japan, the diesel engine has a specific design, with water-cooled functions, heats up quicker, and regulates a more stable temperature when the machine works.
Of course, the engine has a Tier 4 certification, with excellent noise benefits and features.
However, the newest machine contains the dual-range HST, with normal throttle response, for more productivity and less tiring operations and work.
A mid-deck work and grass-collector modes are possible due to the PTO – 540 rpm for the rear and 2,000 rpm for the mid.
Also, the machine offers an ergonomic design, offering more comfort and a pleasant ride.
Controls are easily accessible, and all pedals are effortless to reach in proper places, so the unit is suitable even for newbies and beginners.
10. Cub Cadet SX3100 – Best deck system & effortless installation
The Cub Cadet is a unique machine with the best benefits, including a complete hydraulic power steering, a selectable 4WD, cruise control, Select Cut System deck (drive-over), a wide-open operator's space, and other benefits.
The Cub Cadet SX3100 is suitable for different jobs, from lighter operations to lawns. The machine includes a diesel engine and a curved boom backhoe and loader.
The deck technology is advanced as the Cub Cadet offers more time mowing instead of collecting attachments.
In addition, the mid-mounted mower deck is effortless to install and use. You can attach it in only a few steps.
And the mid-mounted mower deck has 60-inch complete construction.
Finally, the users can experience increased productivity and flexibility, but they don't need to detach the sub-frame before attaching the drive-over deck.
Thus, the Cub Cadet is one of the best smaller units available to all farmers.
Read more —
Optimal Visibility With The Best Tractor Wiper Motor Kit (Top 5 Picks)
FAQs
What is the most affordable compact tractor?
Yanmar tractors are currently the most affordable models on the market.
Their price tags range from about $14,988 (more or less), but they are the most affordable.
Other brands include KIOTI and Massey Ferguson, with more than $15,000 and $16,000, as the cheapest models.
Who makes the smallest compact tractor?
John Deere and Kubota make the most miniature compact tractors available on the market.
Their dimensions might slightly differ, but these are the top two brands with the most miniature models available.
However, you can come across the mini tractor Sirio 4×4 by Fort s.r.l., an Italian company, as the smallest tractor in the world.
It's also a compact model, suitable for various lightest tasks.
What size compact tractor do I need?
You have to know precisely what you need it for.
You need to determine whether you will perform heavy-duty or lighter tasks on greater or smaller land, whether you need more significant or less power, etc.
Thus, you can choose:
Sub-compact tractors – best for 1-3 acres. They have 20-25 HP, a 1,000-pound lift capacity, and weigh 1,400 and 1,600 pounds.
Small-frame compact tractors – ideal for 2-5 acres. They include 24-30 HP, a 1,200-pound lift capacity, and weigh 1,600 to 2,200 pounds.
Mid-size compact tractors – convenient for 5-15 acres. Their weight is 2,200-2,900 pounds, with 25-40 HP, and lift capacity of 1,600-2,200 pounds.
Full-size compact tractors – suitable for 15+ acres. Their HP is 40-60, weight between 300 and 4,400 pounds, with a maximum lift capacity of 2,100-3,000 pounds.
So, once you determine all criteria, you can find the right tractor size.
What jobs can a compact tractor do?
Mowing, gardening, landscape, animal management, driveway maintenance, digging ditches, foundations, etc.
What kind of tractor do I need for 10 acres?
You will need a mid-size compact tractor, as their HP, weight, and lift capacity match the size of your land.
Final Words
The end! I hope you liked the reviews and found exciting facts regarding our top 10 best compact tractor models!
If you're still tempted by the benefits they provide, take your time, determine the crucial criteria necessary for your needs, and then find the best solution.
But, whatever model you choose, you won't regret it, as these are best out of best! Write back once you choose the best one!