When setting up the electric fences, you must consider many things – from the area you want to cover to the additional insulators and clips you'll use.
Still, the integral unit to consider is the electric fence post to keep your electric fences stable and animals within the field.
Yet, you must find only the best electric fence posts, as your electric fencing is not a child's play.
Thus, you must consider various factors when picking the best electric fence post.
So, let's look at the most popular models among our experienced farmers and newbies.
Best electric fence post in 2022: Top 5 picks money can buy!
$ – 45″ Electric Fence Fiberglass Posts/Step-in Fence Post – 3.7 pounds.
Advanced performance due to the most flexible design. Multifunctional and suitable for all wire systems. Quick setup & use.
$ – MTB 39 Inches White Heavy Duty Steel Pig Tail Step-in Fence Post – 9.9 pounds.
Best construction with solid and reliable content. Ideal for various wires and proportions. Yet, too short.
$ – Fiberglass Step in Fence Posts – 5.6 pounds.
Best for temporary & shock fencing with specific materials and overall construction. Effortless to install and use. Still, poor quality.
$$ – Fi-Shock Step-In Fence Post – 12.8 ounces.
Best quality structure, suitable for heavy-duty and lighter operations. Secure and stable for prolonged use. But, specific design issues.
$ – Origin Point Brands 100050608 090005 Light Duty Fence Posts – 2.1 pounds.
Best versatile and multipurpose post due to its specific overall structure. However, not for heavy-duty farm projects.
Read more —
Herons Are Gone! The Best Electric Fence For Garden Ponds (2022 Guide)
#1. 45″ Electric Fence Fiberglass Posts/Step-in Fence Post – The best performance
Brand: N/W
Item dimensions: 5.51 x 47.24 x 5.51 inches
Material: fiberglass, PA
Best for flexibility
If you want a practical tool to keep your electric fencing stable, the N/W fence post is a great choice for your needs.
The fiberglass fence post is versatile and suitable for your farm animals.
So, whether you need it for horses, sheep, cattle, or goats, the high-quality fence post will protect your cattle from wild beasts and pests.
Designed with an oval design, the fiberglass fence post also contains a plastic tip. Hence, it's supplied with additional insulators for its head and infinite height adjustability.
This way, the electric fence line can be higher or lower, and you can lift or lower it according to the fence posts' capabilities.
Additionally, the fiberglass step-in post provides insulators that are excellent for holding ropes, straps, or different fence bands up to 20mm wide.
Thus, it's an ideal post for numerous functions and multipurpose for other tasks.
Yet, it's incredibly lightweight and won't break so soon. So, it seems more advanced than regular plastic posts.
Moreover, it cannot rot or rust too quickly. Thus, it proves its standard and protects your animals inside the electric fencing.
Overall, it's ideal for solid floors and mobile fence demands, meeting the requirements.
#2. MTB 39 Inches White Heavy Duty Steel Pig Tail Step-in Fence Post – Best heavy-duty structure
Brand: MTB Supply Inc
Item dimensions: 41.18 x 5 x 4.25 inches
Material: aluminum
Best for durable & sturdy content
The MTB pig-tail wire holder is a perfect electric fence post for your electric fence wire due to its material.
Namely, the heavy-duty construction is not made only of aluminum but heavy-duty steel and metal. And, as you'll know, it cannot harm so quickly.
In addition, the electric fence post contains a sturdy construction, thanks to its two-pronged, welded foot base and its insulator in the pig-tale shape.
Thus, you can easily attach the electric fence line, and the standing fence will be an ideal tool for keeping calves inside the electric fencing.
Of course, due to its versatility and specific materials, the electric fence post holds three strands of poly wire, wire, or rope up to 35 inches above the ground.
But, you can improve and upgrade it to power fields and use it with three, six, or nine wire poly wire.
Thus, your far fencing will be optimal and secure for cattle, keeping them secure inside the closed area.
The pi-tail wire clip holds and secures poly tape and the electric fence wire to avoid complications and delays when installing and using the fencing.
So, your fence line remains intact.
#3. Fiberglass Step in Fence Posts – Most practical and valuable
Brand: Garnifex
Item dimensions: 47.3 x 7.75 x 3.2 inches
Material: Alloy steel, metal
Best for shock and temporary fencing
What's so unique about the Garnifex posts?
Firstly, the fence posts are perfect for your garden fence line, snow fence, dog fence protection, and other fencing uses.
So, they offer broader applications.
As they're flexible, the fence post offers a flexible height mechanism. Hence, they will be optimal for temporary fencing.
You'll like the fence posts as they are thread-in posts. Thus, you don't need any additional tools or digging to install and use them correctly.
In addition, the fence posts include metal spikes for increased stability.
As I've mentioned above, the height-adaptable clips and insulators have a fixed top cap. Yet, you can remove and rearrange the clips for the optimal height and desired fixation.
Of course, you won't resist their durable and lightweight design. Thus, the fiberglass posts are strong, flexible, and long-lasting.
In addition, the fiberglass line posts will resist rust, rod, corrosion, and other external impacts.
And, as they're versatile, the line posts are ideal for temporary fencing or shock fencing.
It would be best to use the line posts with the poly wire, poly tape, fence mesh, or barrier netting.
Hence, the fence posts offer effortless and straightforward installation, saving your time and energy.
Pros
durable
sturdy
quick setup
#4. Fi-Shock Step-In Fence Post – Best quality
Brand: Zareba 
Item dimensions: 3.4 x 1.3 x 47.33 inches
Material: steel & polypropylene
Best for stability & security 
The Zareba Fi-shock Step-in fence posts might be your first option, thanks to its heavy-duty structure.
As you'll notice, the combination of the premium-quality materials and design shows only the best resistance, solid and reliable structure for prolonged use and broader applications.
Thus, nothing can destroy them soon, and the step-in fence posts will last for an extended period.
That way, they will keep the fencing work optimal and your cattle safe & sound inside the restricted area.
Moreover, you will like the fi-shock step-in line posts as they have built-in clips that secure wire, poly tape, and other wire types.
So, the step-in line posts will be flexible and adaptable for numerous external conditions and farm needs.
Since the construction has reinforced and molded content, the fi-shock step-in line posts also feature additional reinforcing ribs for maximum strength and potential.
Hence, you will notice higher resistance for different applications, stability, and fence wires.
Due to the anti-rotation spike and a larger step-in flange, the step-in fence posts cannot rotate or move around and will be fixed.
Although not cheaper models, the step-in posts provide premium standards.
Pros
easy to use and install
stable
durable
#5. Origin Point Brands 100050608 090005 Light Duty Fence Posts – Best multifunctional post
Brand: Origin Point Brands
Item dimensions: 60 x 3 x 1 inches
Material: Alloy steel
Best for light-duty farm tasks
And, we're closing the discussion with the Origin Point Brands step-in posts.
It's nothing special, yet it stands out among other step-in posts, as this fencing post has a specific tabbed design.
Now, there are even better step-in posts, yet this post is tabbed for an effortless anchoring of rolled fencing.
Therefore, it advances other step-in posts, thanks to its particular construction.
However, the only available color is green, so you don't have much choice when installing and using the fencing post.
But, if you look closer, the durable steel construction will make the fencing post ideal for broader applications, including gates, gardens, and other farm tasks.
So, external impacts, pressure, and other forces cannot quickly harm the post. It will also be resistant to rust, corrosion, rod, and other potential risks.
And you can install it quickly, as the step-in post retains its original position once you choose a perfect spot in the ground.
Hence, the step-in post saves your time and energy.
Even though the step-in post comes with a lower price tag, it guarantees the best standard, effectiveness, and premium benefits the best fence posts should have.
Cons
not for heavy-duty projects
Read more —
Make Your Fence Perfect With the Best Electric Fence Tester! 2022 Edition
Types of electric fence posts
As the posts are crucial for your electric fences, you will choose their type according to your needs and the purpose of the fences.
For instance, line posts will keep the fence wire evenly spaced and support it for optimal working conditions.
On the other hand, corner posts are set more profound than the line models, as they resist the strain o support the fence line.
Portable or temporary posts are lighter and smaller step-in posts.
Thus, you may choose the following categories:
1. Corner posts
You want a solid and sturdy fence if you search for corner posts.
Corner posts withstand massive tension loads and resist various external forces, impacts, and pressure.
In addition, corner posts should be placed 24-28 inches in the ground and 48 inches in sandy or rocky ground.
Or, you can use wood posts at least eight feet long.
2. Steel rod posts and fiberglass posts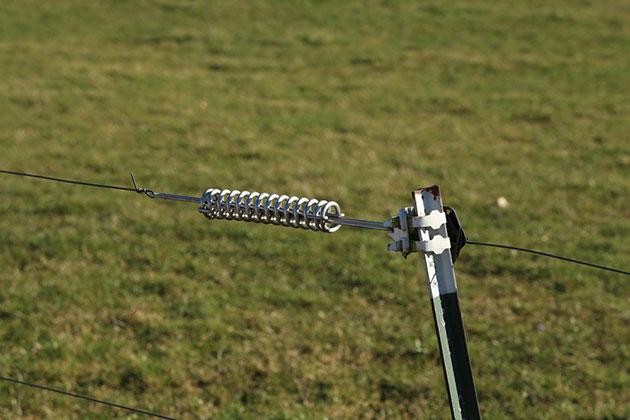 When you search for the steel rod posts – rebars or fiberglass posts, these ground posts are perfect for temporary fencing or portable units.
The ground posts are also ideal for rotational grazing or temporary corrals.
Of course, you may use the ground posts for spacers and in-line posts.
Fiberglass units are rot-resistant and won't break as quickly as plastic posts might. However, although they have built-in clips, they are not as durable as the fiberglass models.
But, as they cannot cope with the heavy strain, you should use these metal posts for the fence lines, not corners.
And, you should never use these metal posts as corners of your permanent fence.
3. Wood posts
The wooden posts have the highest price tags.
The ground posts are ideal for permanent fence posts, at corners, high-tensile fence mechanisms, termination points, or gates.
Overall, you use wood posts for extra strain and stress.
Wood posts are ideal for the fence line. Although the wood post applications might be costly, they will last longer due to their durable construction.
4. Pig-tail posts
These ground posts are ideal for managed intensive grazing applications. Their design is portable and lightweight, so they're effortless to install and use.
These posts do not require additional clips or insulators. They also cover various cross-fencing units, poly tapes, wires, and poly ropes.
5. T-posts
Most T-posts are used either with the semi-permanent fence or permanent fences.
Still, wood posts are better for corners, thanks to the higher strain of fence wires at their corners.
T-posts are more expensive but excellent for cross-fencing and more durable. So, to create semi-permanent paddocks in a more massive pasture, use T-posts.
T-posts must be driven 18-24 inches into the ground via the post-hole digger. And they're made of recycled train tracks.
6. Step-in posts
These units are perfect for temporary fencing. They are smaller or lighter, ideal for rotational grazing.
They have hooks for various wires, poly taps, or poly ropes. They also work ideally with the in-line posts.
And, you don't need extra insulators or clips for optimal use.
Recommended fence spacing
To use the fence wire posts correctly, you need to know the precise fence spacing, to avoid further complications & eliminate all potential risks.
So, bear in mind the following guidelines:
| | |
| --- | --- |
| Fencing parameters | Spacing (feet) |
| Electric fence posts | 12-20 |
| Corrals | 6 |
| Board | 8 |
| Poly tape & poly wires | 12 |
| Barbed wires | 12-14 |
| Woven wire | 14-16 |
| High-tensile, rolling terrain, complex animals | 15-20 |
| High tensile, level terrain | 30-90 |
How to find the best electric fence posts? A wholesome buyer's guide 2022
Since choosing the best fence posts requires advanced knowledge and additional details, follow the guidelines for first-hand experience.
1. Optimal height
Ensure the post height is no lower than 4.6 feet, but the taller post, the better performance it ensures.
You can search for various 5-feet models.
So, if you enclose horses or other agile and robust animals, you definitely need stronger and higher posts to prevent them from escaping the enclosed site.
2. Materials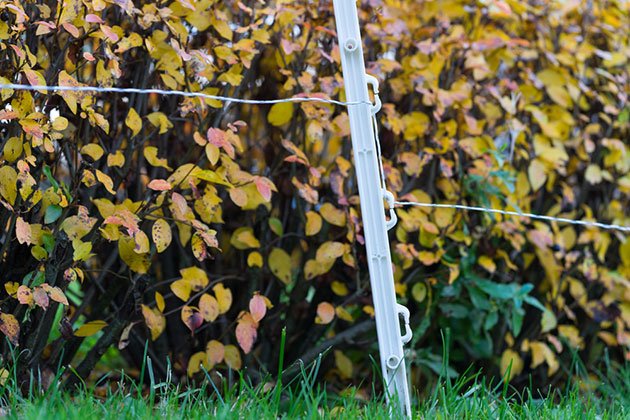 Do you want a temporary or permanent fence? Do you need stronger or lighter construction? How long do you need them?
You will know what fence posts you need when you determine the correct answers.
There are various types, from plastic to wooden posts, yet you must determine the site acres, the type of soil, and if you need to hold the wire, poly tape, poly wire, poly rope, etc.
All in all, look for a durable and sturdy post to withstand external impacts and pressure and last longer.
Only the premium-standard materials can work optimally and provide you with better conditions for electric fencing.
And, when you choose the materials, you'll select the best post types for the enclosed site.
And, even if their price tags are higher, check the standard first, and then finish your purchase.
3. Extra details
Please find all the "accessories" the posts have for your final purchase, such as a drive cap, insulator, clip, etc.
Some models do not require a drive cap, or others might have a shaped top clamp serving as one.
Also, ensure these units properly hold your tape, rope, wire, etc., to avoid complications.
And, check if you can install the posts at corners, curves, or ends, for extra support to your enclosed site.
Read more —
Say Goodbye to High Electricity Bills With the Best Solar Fence Charger of 2022
Frequently Asked Questions
Can you put an electric fence on wood posts?
Yes, you can. The wood posts are ideal for permanent fence systems. But, for these mechanisms, you can also use T-posts, rods, or metal posts.
The final purchase will depend on the price and availability.
Do you need three ground rods for an electric fence?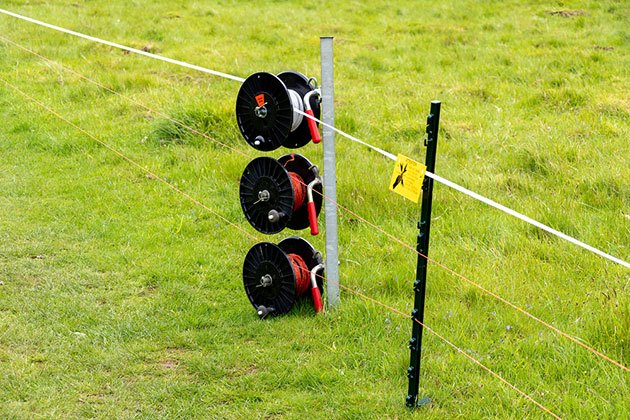 Yes, you do. In fact, numerous electric fences will require at least three posts, about 10 feet apart, placed at the fence starts.
And, if you have electrical lines and mobile service at your property, the post models can interfere with these too.
How many posts do I need for an electric fence?
Generally speaking, you can place them in the 13-17 feet spacing. But, in case you have flat ground, you can have a 20-feet distance between the posts.
Or, you can check the buyer's guide or calculate the exact space between your post units online once you select the animals you will restrict.
How far apart should electric fence posts be?
With a high-tensile wire, the post spacing can be between 60 and 75 feet on level ground.
But, on hilly ground, rocky soil, etc., the post spacing should not exceed 30 or 40 feet.
Or again, you can calculate online the precise spacing or refer to the buying guide.
What's the final winner?
The 45″ Electric Fence Fiberglass Posts/Step-in Fence Post models are the best posts.
The fiberglass posts use plastic tips & insulators for height and head adjustability. So, they're flexible for prolonged applications.
In addition, the fiberglass posts are more substantial than the plastic models, versatile and valuable for solid ground.
Finally, the fiberglass posts offer the best performance due to their plastic insulators, suitable for keeping a poly rope, tape, wire, or other units for an extended period.
So, nothing will destroy them so soon.
45" Electric Fence Fiberglass Posts/Step-in Fence Post Pack of 10*
1. The fibreglass pole in oval design has a tip made of plastic and is supplied with a head insulator and an infinitely height-adjustable additional insulator.
2. The oval fibreglass pole is very versatile. Whether in the mobile sheep, goat and cattle husbandry for the defence of wild boars on the corn field, or as a pond protection from the heron
3. This fibreglass pole is always soft even during transport. The oval fibreglass post has a plastic tip, so it is also good for use on solid floors
4. The insulators are suitable for holding strands, ropes or fence bands up to 20 mm wide
5. Fibreglass posts are very light and extremely flexible, they do not break as quickly as plastic poles. They cannot rust or rot, they can be used very well for many mobile fence requirements.
Final verdict
That's it, folks. So, what's your final winner? Check the Amazon website to purchase the best solution now.
Still, bear in mind the site, ground, wires, corners, and all other details before the final purchase, to avoid further complications.
Also, please stick to the guide to determine the exact spacing between the posts and their height, & ensure the optimal working conditions.
Otherwise, the electric fence cannot work correctly, and your cattle can ruin it easily.