Everybody wants their plants to grow healthily, and the first solution they think about is using fertilizer. Nonetheless, using the best fertilizer spreader to achieve the highest efficiency and reduce wastage is not what everybody knows.
Finding out the most suitable model for yourself will be an easy task since we are here with you. Let's check the top-rated choices, detailed buying guide, and answers to FAQs for the best fertilizer spreaders.
The 3 types of best fertilizer spreaders
1. Rotary spreaders or broadcast spreaders
If you have a large lawn, this may be the fertilizer spreader for you. Rotary spreader or broadcast spreaders will fire the fertilizer in the rotary spreader discharges to cover large area.
To effectively use this type of spreader, place the spreader on top of a tarp and fill the container with fertilizer. This way, overflowing fertilizer (spills) will not go directly to your lawn. This will avoid one spot from getting too much fertilizer.
To uniformly fertilize your lawn with this spreader, start with the perimeter of your lawn. Mover toward the inner portion in a pattern to make sure every portion of the lawn gets the same amount of fertilizer.
2. Drop spreaders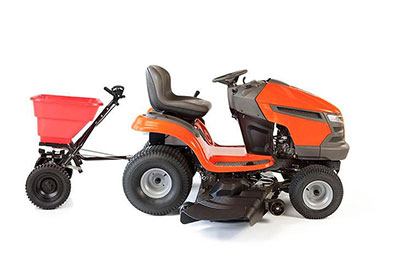 This spreader is ideal for small to medium lawns. It is also ideal if you need to spread fertilizer in a precise manner. With this type of drop spreader, fertilizer is dropped between both wheels of the spreader. This ensures the precise spreading of fertilizer from the lawn tractor in the entire area.
To uniformly fertilize your lawn with this spreader, start at one end of your lawn.
Create imaginary rows and drop the fertilizer row by row until you reach the other end of your lawn. A fertilizer trail is left directly under the spreader to show what area has already been fertilized.
3. Hand-held spreaders (battery-powered or pre-calibrated)
This walk behind spreader is ideal for small lawns, which will not allow the maneuvering of a broadcast or drop spreader. This type of walk behind spreader applies fertilizer as you walk from one end to another in a straight line.
To ensure the uniform spreading of fertilizer, you need to walk in a steady and even manner.
Which is the right spreader then for your lawn? Here are a few tips.
– If your lawn has an irregular shape, go for drop spreaders.
– If you have a large lawn, go for a push broadcast spreader.
– If you have flower beds on your lawn, go for drop spreaders so fertilizer does not get to your flower beds.
– If you are always in a rush, go for push broadcast spreaders
– If space does not allow for a push broadcast spreader or drop spreaders, go for a hand-held spreader.
To ensure the best fertilizer spreaders continue to work efficiently, this lawn equipment needs to be regularly maintained – wheels need to be checked, and working parts need to be lubricated.
You also need to look out for possible cracks and the usual wear and tear of the walk behind spreader. This is why it's best to opt for rustproof poly hopper.
Best lawn fertilizer spreaders currently on the market: Top 9 recommendations
Scotts Turf Builder EdgeGuard 76565 – The walk-behind fertilizer spreader is effective and accurate edge spreading, but the handle is not easy to use.
Solo, Inc. Solo 421S 20-Pound Capacity Portable Chest-mount Spreader – Comfortable and easy to use, but may struggle with thicker materials
 Agri-Fab 45-0463 130-Pound Tow Behind Broadcast Spreader – Large capacity and efficient coverage, but requires a tow vehicle and may be difficult to maneuver.
EARTHWAY PRODUCTS 2750 Hand Crank Bag Seeder/Spreader – Versatile and effective spreading seed fertilizer for smaller areas, but requires manual labor to operate.
Scotts Turf Builder EdgeGuard – The Turf Builder classic drop spreader allows for even and precise spreading with minimal waste, but may not be suitable for larger lawns or tougher terrain.
Spot Spreader Hand Spreader Shaker – Small and affordable option for spot spreading, but may not be suitable for larger areas.
SEWANTA Handheld Spreader – Easy to use and adjustable settings, but may struggle with thicker materials or larger lawns.
Stalwart 82-YJ487 Handheld Spreader (Multipurpose Tool for Lawn Garden and Yard) – Lightweight and easy to use, but may require frequent refilling for larger areas.
Yard Tuff YTF-25SS Shoulder Spreader – Comfortable and easy to wear, with a large capacity for efficient spreading, but may be difficult to adjust the flow rate.
The tow behind spreader-Scotts Turf Builder Classic EdgeGuard mini broadcast spreader is capable of providing sand, fertilizer, seed, and even ice melts, over a massive area of up to 10,000 square feet, which is sufficient for owners of most huge farms and gardens to finish their job in a day.
Thanks to its sturdy frame, the Scotts mini broadcast spreader is not only durable but also stable under high loads. This is our favorite fertilizer spreaders when it comes to small walk behind spreader models!
Moreover, the tow behind spreader is pre-assembled and pre-calibrated, so you can start spreading fertilizer immediately without effort.
The Scotts Turf builder edge guard mini spreader provides a 22-inch spread pattern that spreads fertilizer evenly across our garden, garden beds, and walkways. Plus, you can push this lightweight cart on its two big wheels without feeling any tiredness at all.
On the downside, the handle does not work well when the container is full. You may need a bit of strength to squeeze this handle to open the holes at the bottom of this tow behind spreader so that the materials can drop onto the ground.
Above all, in our opinion, the Scotts Turf Builder EdgeGuard mini broadcast spreader is the best solution for a broad scope that you cannot complete alone.
Pros
Durable and stable
High capacity
Fully pre-assembled and pre-calibrated
Spread fertilizer evenly
Can be used as a granular fertilizer and for liquid spreaders
Affordable
Easy to use
Cons
The handle is not easy to use
The Solo, Inc. Solo 421S is a portable spreader dedicated to sprinkling many types of solid chemicals across nearly all terrains. Mount the unit on your chest, and it will distribute fertilizer at high precision.
Because you wear it on your chest with a comfortable cross-shoulder strap (included), just like wearing a backpack, but on your front, it can work anywhere you can go, and rocky and rugged terrains do not matter.
Owing to the ergonomic design, this Solo, Inc. Solo 421S spreader is lightweight, compact, and easier to use than the wheeled varieties. A mobile model like this is highly suitable for small garden spaces and flower beds.
When it comes to convenience, the appliance has a large opening, allowing you to fill and mix chemicals into the tank easily. Then, you can screw the screw-on cap tightly to prevent chemical spills onto your body or the ground, alleviating danger and waste.
Plus, there are fingertip levers for users to control the volume and direction of fertilizer output.
Pros
Portable and lightweight
Easy to use
Usable on almost all terrains and uneven ground
High accuracy
No spillage or wastage
Cons
Limited carry volume
No warranty
The Agri-Fab 45-0463 push broadcast spreader is designed to serve heavy-duty agricultural projects and lawn treatments. It delivers an amazing capacity of holding up to 130 pounds of fertilizer.
And owing to this huge capacity, the unit can scatter enough fertilizer for your entire crop fields within one full fill. Of course, such a heavy load will make you tired.
Luckily, you can mount this Agri-Fab 45-0463 broadcast spreader onto a vehicle such as a tractor or an ATV, then what you need to do is just drive around.
As you can see in the picture of the product, it comes with two big pneumatic tires that can move smoothly on both rugged and flat surfaces. The enclosed gearbox is also very sturdy and well-protected by metal in this high-quality fertilizer spreader.
This design brings about unmatched sustainability, making its high price more reasonable for professional farmers and gardeners who are still hesitating when looking at the price tag.
Lastly, we also appreciate the versatility of this Agri-Fab 45-0463 broadcast spreader on various landscapes and throughout all seasons of the year. If you cultivate plants all year round, a flexible fertilizer spreader like this is essential.
Pros
Professionally designed
Incredible 130-pound capacity
Applicable on all terrains and in all seasons
Ultra-durable
Easy to use
Large pneumatic tires
Cons
Expensive
There are residue remains
Unlike other lawn spreaders, the EARTHWAY PRODUCTS 2750 uses a bag to contain fertilizer instead of a box or a tank. And while it is originally engineered as a seed spreader, it can disperse grass seeds on the land as well.
In spite of the high price and bulky size for a handheld model, the features of this unit make up for that cost. Yes, it is more expensive and heavier, but you can use it to add more fertilizer at a higher precision than any other handheld spreader on the market.
You can fill up to 20 pounds of fertilizer, seed, ice melt, and so on into the bag and spin the ergonomic upper handle to sprinkle these substances onto the soil.
Well, because the bag can resist rotting and tearing, we can say that this unit is more durable than a normal fabric bag but not much more long-lasting than a plastic and metal lawn spreader.
However, the rest of the components, such as the base and the handle, are corrosion-resistant. And you also get a 5-year warranty from the manufacturer, so don't worry.
Pros
Easy to use
Large hopper capacity
Hardly flip over
Multiple speeds
Smooth cranking
Cons
Might cause arm fatigue
Not really durable
The Scotts Turf Builder EdgeGuard Mini Broadcast Spreader is a handy lawn care product that makes fertilizing and seeding small areas a breeze. With its pre-calibrated and fully assembled design, this spreader is ready to use right out of the box, and its fold-down handle makes it easy to store when not in use.
One of the standout features of the Scotts Turf Builder EdgeGuard spreader is its exclusive EdgeGuard Technology. This innovative feature helps keep lawn products off of landscaping, driveways, and sidewalks, ensuring that you get the most bang for your buck and avoiding any unwanted damage to non-lawn areas.
Another advantage of the Scotts Turf Builder EdgeGuard spreader is its redesigned hopper and agitator. With these updates, product funneling is smoother and more consistent coverage is achieved, allowing for maximum effectiveness.
Plus, with the ability to hold up to 5,000 square feet of lawn products like grass seed and fertilizer, this spreader is perfect for treating smaller areas where a larger riding lawn mower would be overkill.
While the Scotts Turf Builder EdgeGuard spreader has many positives, a few disadvantages can occur. One potential issue is the spread pattern. Some users have reported that the spreader doesn't always distribute product evenly, leading to over-application in some areas and under-application in others.
Additionally, the Scotts spreader is not designed for use on steep hills, and attempting to use it in such terrain can lead to tipping and other safety hazards.
Pros
Pre-calibrated and ready to use
Exclusive EdgeGuard Technology prevents product waste
Updated hopper and agitator for better coverage
Holds up to 5,000 square feet of lawn products
Large hopper capacity
Cons
Spread pattern can be uneven, especially on the uneven ground
In the familiar shape of a cup, the Spot Spreader Hand Spreader Shaker is designed and constructed well by professionals.
As a handheld spreader, of course, it is usable at any time of the year, regardless of time and weather. It is best to spread a huge amount of fertilizer during the summer or grit during the winter.
Take a look at the top of the lawn fertilizer spreader, and you will see numerous holes in different shapes and sizes. Therefore, you can always adjust the round plastic cap to select a suitable sprinkling pattern and volume.
On top of that, this lawn fertilizer spreader is made of solid plastic so that it can withstand the corrosion of chemicals. Also, it is very lightweight, easy to use, and stored.
We know many people might not care much about the warranty policy of a cheap product. However, the lifetime warranty and money-back policy without hassle is still an appreciated bonus.
This proves the quality of the product and alleviates the fear of customers that a low-priced spreader will do no good.
Pros
Well-made construction
High efficiency over small areas
Customizable hole sizes
Ultra-compact
Easy to use
The SEWANTA Handheld Spreader is a versatile fertilizer spreader that promises to make your lawn care tasks easier and more efficient.
Unlike traditional spreaders, this handheld model is designed for maximum portability and convenience, making it ideal for spot seeding and ice melt on driveways and yards.
One of the standout features of the SEWANTA Handheld Spreader is its adjustable dial opening. This allows users to customize the flow rate according to their specific needs and the type of material they are using.
The large holes are perfect for dispensing coarse salt, while the medium size is ideal for spreading ice melt, fertilizer, or animal food. The small setting is perfect for distributing grass seed or diatomaceous earth.
With a capacity of 2.5 liters, this SEWANTA spreader is able to cover up to 750 square feet, which makes it the perfect choice for homeowners who need to spot seed or fertilize their lawn.
The wide mouth and easy-fill shovel make it super easy to refill and use, while the ergonomic handle ensures that users can comfortably use it for extended periods of time.
The SEWANTA Handheld Spreader is also made from durable black/green plastic material, which makes it lightweight yet sturdy.
However, one disadvantage of this product is that it may not be suitable for large lawns or commercial use, as it is designed for spot seeding and small-scale lawn care tasks.
Pros
Easy to use and maneuver
Lightweight design
Provides even product distribution
Fits comfortably in hand with ergonomic handle
Low price point
Cons
Limited capacity for larger areas
Welcome to the most budget-friendly product on our list. With less than 8 dollars, you are able to possess a decent fertilizer spreader that can help you in providing nutrition to your plants.
Needless to say, this Stalwart handheld spreader is only great for small gardens and plant pots. The holding capacity is 2.3 liters for all types of substances.
The kind of plastic used to craft the bottle is quite durable and can resist most of corrosive chemicals. But, of course, the cover cannot have much endurance against external impact.
Similar to the majority of handheld lawn spreaders, the Stalwart 82-YJ487 compact spreader also comes with an ergonomic molded handle and a twist-up lid on the top.
Pour some seed, fertilizer, or salt into the tool and shake it to make sure the mixture is fine. Next, rotate the lid to select the suitable hole size, and now you can begin to spread the substances onto the soil.
Pros
Super-cheap
Can be used for liquid lawn treatments
Optimal compactness
Satisfaction and genuine product guaranteed
Easy to use
The final choice on our list should not be overlooked. In spite of its modest size and a total weight of more than 3 pounds, the Yard Tuff YTF-25SS spreaders fertilizer offers an unbelievable 25-pound capacity.
In fact, this is among the most high-capacity and sturdy handheld fertilizer spreaders that we have found. All components are built from solid metal, and the included bag is also made of tough canvas.
What's more, the calibrated flow rate adjuster enables users to fine-tune the output to suit different applications. To improve the performance, you can consult the spread chart included in the box, too.
All in all, we do not have much to say about this simple model. If compactness, lightweight, low price, ease of use, and high mobility are what you need and are willing to trade off other characteristics to enjoy, we recommend buying the item.
Pros
1-year warranty
Come with a calibrated flow rate adjuster
Affordable
Quick and easy assembly
High capacity for a handheld model
The things you should pay attention to while choosing the best fertilizer spreaders
1. Types of spreaders
Broadcast spreader
As you can see from its name, a broadcast spreader can cover a massive area. Therefore, a broadcast spreader is ideal for use on wide gardens, farms, broad community landscapes, lawns, golf courses, etc.
Broadcast spreaders distribute fertilizer consistently and uniformly so that there is no missed or over-fertilized area. You might meet a walk-behind broadcast spreader that can be moved by manual pushing or tow behind a broadcast spreader that is mounted on the back of a tractor, truck, or ATV.
As such, these lawn spreaders are very large capacity and inappropriate for small areas.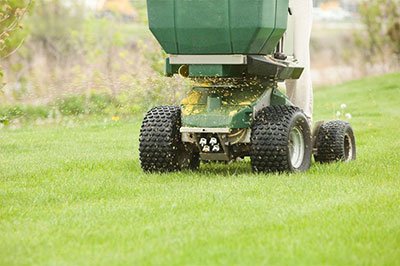 Handheld fertilizer spreader
Contrary to a broadcast spreader, a handheld fertilizer spreader is perfect for small areas such as a balcony garden or plant pots.
They are compact, lightweight, and easy to use, allowing users to feed their plants accurately.
Drop spreader
As its name suggests, drop spreaders drops fertilizer when users push it around on its big wheels. A drop spreader is great for rugged and rocky terrains like on the mountain.
2. Holding capacity
The holding capacity of a fertilizer spreader indicates the maximum amount of fertilizer it can hold and spread.
Heavy-duty broadcast fertilizer spreaders can come with a high capacity of from 20 up to 130 pounds or more (e.g., the Agri-Fab 45-0463). Meanwhile, handheld fertilizer spreaders often hold 0.5 pounds of fertilizer or less.
To calculate the proper capacity for your requirements, apart from the size of the area that needs fertilizer, you need to consider the growing conditions and the requirements of different plants as well.
If you just take care of small plant pots, a handheld lawn spreader will work well without any problem. Still, a small garden will need around 6 to 12 pounds of fertilizer, so a handheld lawn spreader is insufficient.
Meanwhile, larger lands may need up to 40 pounds of fertilizer, and a huge farm or lawn might require at least 80 pounds of fertilizer.
3. Configurations
Best fertilizer spreaders may have various configurations that you need to consider for your convenience.
– Handheld spreaders feature a handle and intuitive guides so that you can spread fertilizer precisely.
– A chest-mounted fertilizer spreader is designed to be fastened to the front of your chest with flexible straps. It also has a refillable container placed under your chin that allows users to access the fertilizer with ease.
– A cart-style unit is a huge plastic tank secured to a metal frame on wheels.
4. Precision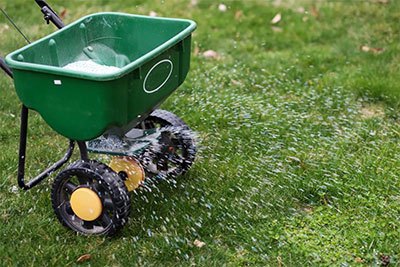 Adding lawn fertilizer precisely is critical, particularly in smaller areas. Over-fertilizing an area may lead to burning spots, but plants in areas that are insufficiently fed are unlikely to grow well.
So, choose a product with high precision.
5. Value for price
Don't be too economical when you buy a lawn fertilizer spreader.
You had better spend a bigger sum to own a model that is accurate, high-performance, and suits your needs right from the start.
If you find a model cheap and want to make a small investment in it, it might cost you more time and money to buy fertilizer in the long run.
Besides, if you are a professional farmer or gardener, a poor-quality lawn fertilizer spreader will reduce your productivity, which results in more significant economic loss.
What then? The chances are that you will waste money on buying another model. As you see, that is going to cost you a fortune.
6. Design and durability
A lawn fertilizer spreader ought to provide decent durability and a suitable design for users.
Fertilizers are chemical, so the container must be resistant to substances in kinds of fertilizers, or else they will be spoiled soon.
And make sure that the frame and wheels of your unit will not unexpectedly break down in the middle of a working session.
Regarding design, in addition to personal preference, you should consider mobility issues that you might encounter with a specific model due to your health or the terrains you are going to work on.
FAQs
How does a fertilizer spreader work?
The majority of best fertilizer spreaders allow manual operation. They typically feature a spray dispenser so that users can disperse fertilizer uniformly onto the soil in solution form.
Besides, there are other high-capacity spreaders that spray granules out just like a sprinkler. Or mobile spreaders can be hooked up to tractors, ATV spreader, or trucks so that these vehicles drag them while moving around the farm or lawn.
Can you use a fertilizer spreader to spread sand?
Yes, a fertilizer spreader can be used to spread sand, but it is important to make sure that the spreader is compatible with the type of sand being used.
What do numbers mean on fertilizer spreaders?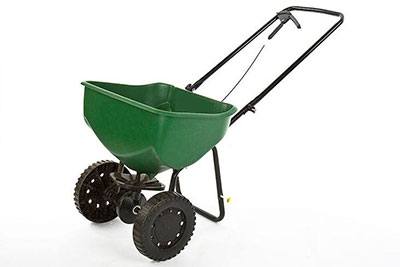 Apart from the date of manufacture, barcode, item model number, holding capacity, weight, and dimensions of the product, there is another number that you might not know what it is.
This number tells you the count of pounds of fertilizer that the unit can spread over an area of 1000 square feet.
Which is better: a drop spreader or a broadcast spreader?
As we explained the types of lawn fertilizer spreaders above, broadcast spreaders are better at spreading fertilizers in an arc over a large area.
Vice versa, a drop spreader releases fertilizer between the wheels, so you can aim to drop fertilizer precisely on your targets over a small and medium area.
In general, a broadcast spreader is better at holding capacity and distributing fertilizer over a larger area at a given time. And a drop spreader is better at precision.
What is the best pull behind fertilizer spreader?
The Agri-Fab 45-0463 130-Pound Tow Behind Broadcast Spreader is widely regarded as one of the best pull-behind fertilizer spreaders available, thanks to its large capacity and efficient coverage.
When is the best time to spread fertilizer?
The best time to spread fertilizer depends on the type of grass and climate in your area – in general, it is recommended to fertilize cool-season grasses in the fall and warm-season grasses in the spring.
Conclusion
Though the article is not too long, it has covered all the basic information and knowledge you need to know before buying a fertilizer spreader.
About the best fertilizer spreader, we chose Scotts Turf Builder 76565 to be our champion. It might not have the highest capacity, but it is very efficient, easy to use immediately, durable, and has only a small drawback.
However, as we explained the strong and weak points of each product, feel free to make your own decision.