There are a lot of ways in which we can take care of our gardens.
We can beautify it and put up a variety of plants or install fancy landscaping features around it. But the best way is to make sure that we do the gardening maintenance right. You can do that by using a garden fork. 
In this article, we're going to show you the best garden fork that'll make your gardening experience easier and more fun.
Why do you need a garden fork?
1. Easily loosen the soil
The best thing about using a garden fork is that it makes the loosening of the soil easier. It does this because of the specifically designed tines that are made for the purpose of loosening up the soil.
The overall design of it is to make it easy for you to pick up the soil and de-compact it.
2. Improves gardening maintenance
With the help of a garden fork, you can improve your garden maintenance effort because of the ease of using a single digging tool.
These best garden forks are your best friend when it comes to taking care of your garden's soil, as it is made for that purpose.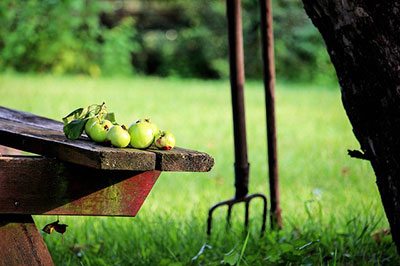 3. Convenient way to lift and turn over the soil
Using a garden fork makes it easier for you to handle soil. It's way easier for you to lift and turn over the soil with the use of a garden fork than other garden equipment or tools.
Not only is it handy and lightweight, but it's also ergonomically designed to make the whole gardening process easier.
4. It's a multipurpose tool
What's best about these garden forks is that they are a multipurpose tool. You can do a lot of things with them.
You can use them to handle the soil, or you can use them to pick up dried leaves on your lawn. It's a very useful tool to have.
Best garden forks of 2023: Our top 9 picks
Radius Garden 203 PRO Ergonomic Stainless Steel Digging Fork – This high-quality digging fork is a top pick in best garden forks. It is ergonomically designed and features durable stainless steel construction, making it a great choice for avid gardeners.
Fiskars Ergo D-handle Steel Garden Fork – With its comfortable grip and sturdy construction, this garden fork is perfect for heavy-duty tasks and regular use.
AMES True Temper 2812200 Spading Digging Fork – This versatile and durable digging fork is great for breaking up soil and preparing garden beds.
Truper 30293 Tru Tough Spading Fork – With its strong and durable design, this garden fork is ideal for turning soil, aerating soil and garden beds.
Flexrake CLA324 Classic Hand Fork – This compact and easy-to-use Flexrake classic hand fork is perfect for small gardening tasks like planting and weeding.
Roamwild Multi-Digger Garden Digging Spading Fork – This innovative digging fork features multiple tines that can be adjusted to fit different tasks, making it a versatile tool for any gardener.
Spear & Jackson Neverbend Professional Digging Fork – With its heavy-duty construction and comfortable grip, this digging fork is perfect for professional landscapers and avid gardeners alike.
Berry&Bird Gardening Digging Fork – This lightweight and portable digging fork is perfect for those who want a reliable tool for gardening tasks on the go.
Mujocooker 4-Tine Spading Digging Fork – This durable and efficient digging fork is great for breaking up hard soil and aerating garden beds.
Radius Garden 203 PRO Digging Fork is known as an all-time garden tool for any gardening lover.
Why do we strongly affirm this?
First, its stainless-steel construction allows this unit to last for years to come. It is rust and wear-resistant, which means you can use it under all weather conditions, making it the number one choice.
Furthermore, it includes hardy tines that are capable of penetrating through any soil structure. And you even use it to mix soil and manure before planting with ease.
But be careful if you are going to avail this digging fork/ manure fork for heavy-duty work since the four tines might become bent. Take it easy, go slow, and listen to it.
Another nice feature that we rather enjoy is its "O" shaped handle with this stainless steel garden fork.
This outstanding shape is useful for lessening both hand and wrist stress. Wonderfully, the material is non-slip while the handle is large enough for both hands (even if you have big hands, it fits well).
What's more, the handle is gentle and slip-resistant on your hands.
Pros
Easy to handle
Powerful stainless steel construction
Sharp tines with cover for safety
Anti-slip
Sharp tines
Ergonomic handle for extra comfort
Cons
Not for larger digging work
A bit expensive
As you know, Fiskars is famous for its advanced gardening tools, and the Ergo D-handle garden fork, of course, doesn't disappoint.
In comparison with the remaining products on our list, this one is made totally from steel – a good choice that is able to overcome the weaknesses of both fiberglass and wood handles.
Relying on that, you can use this unit for any job, such as digging, mixing, turning the ground, etc., with ease.
One more fantastic feature is its classic "D" style handle. It indeed does a great job of maintaining the wrist in a balanced position as well as reducing the risk of strains.
Also, the Fiskars garden fork highlights the mid-grip on the steel shafts, enhancing comfort and control. However, some still prefer the steel handle, not the plastic one.
Is there anything else?
The four steeled tines make this product ideal for dealing with hardened soil with ease. Importantly, it comes with powder-coated steel to resist elements as well as rust.
Pros
Well-made and sturdy
Great for taller gardeners
Excellent if you need a larger digging fork
Curved tines for deep digging
Long handle, easy to handle
Great for tough soil
Welded steel, feeling stronger than the others
Comfortable in the hands
Lifetime warranty
Cons
Plastic handle, feeling flimsy
Another best garden fork for digging that we would like to introduce to you is True Temper 2812200 from the AMES brand.
This product truly impresses with 4 diamond-pointed steeltines that allow an easy penetration through any kind of soil and clay. More importantly, you don't need to spend much effort digging.
Moreover, its handle is designed to fit most hand sizes to make sure it doesn't slip off the hands while working. What's more, the fitting allows you to focus on your job since it feels like extending your hands to reach for more.
In sum, this AMES product is ideal for any gardening enthusiast in farming and digging. Also, it is one of the best compost forks due to the unique construction and durability.
Simply remember to find a nice and dry place to store it because we found some complaining that it might become rust if exposed to the elements frequently.
Pros
Easy and quick to dig
Good for harvesting root vegetables
Sturdy and durable
Larger garden fork
Long and strong tines
Versatile for various gardening tasks
D-handle for better control
Made in the US
Cons
Easy to get rusty
Some prefer the tines are bent to give leverage
As compared to the above product, Truper 30293 is smaller, lighter, and cheaper. But it still gives true value to your money.
Since this product is a spading fork, not a manure one, which means it is appropriate for digging. You can even lift and move material with it. That's why we can say it is versatile.
One of the most satisfactory features that we prefer most is its D-grip handle with this spading fork. It can be said that this design increases control and balance, making it more appropriate for heavy-duty jobs.
Besides, the spading fork comes with a grey steel finish, offering a strong and durable feeling. Plus, it is covered with silicone spray, allowing an easy clean-up with your garden hose and water.
Overall, the Truper 30293 Tru Tough Spading Fork is the most used tool because it helps to dig new beds, move manure, loosen soil, transplant, and so on.
Just note that it is a bit short if you are a tall person.
Pros
Ideal for heavy-duty jobs
Easy to handle
Comfortable D-grip handle
Sturdy enough
Aesthetically pleasing gardening fork
Sharp points on tines
If you worry about using the large forks above that might overkill your small garden, why don't you think of a hand fork from the Flexrake brand for light-duty garden chores?
With a classic look, the Flexrake CLA324 is aesthetically pleasing. Besides, the craftsmanship is excellent, which means it will last for years to come.
When looking at the hand rake includes three durable carbon steel blades.
Although the manufacturer claims that this product will not bend, we found some complaints of the contrary state.
In our opinion, you should use it for light to medium-duty tasks.
Another cool point is that this unit comes with a leather hanger on the handle for easy storage.
Because of its classic design and heavy-duty construction, it is a nice choice that you shouldn't ignore.
Pros
Most lightweight and affordable
Compact design
Carbon steel tines
Excellent for compost pile
Excellent for tight spaces
Easy to store
Longer prongs than other hand garden forks
Sturdy handle
If you're in the market for a powerful and versatile garden tool, the Roamwild Multi-Digger Garden Digging Spading Fork may be just what you need.
This spading fork boasts a number of unique features that set it apart from other spading garden forks on the market.
One of the most notable features of the Roamwild Multi-Digger is its dual grip technology. This innovative design allows you to hold the tool in two different ways, depending on the task at hand.
The large, ergonomic grip arrangement makes it easy to hold the tool securely and apply plenty of force when digging into harder soils.
Another advantage of the Roamwild Multi-Digger is its unique non-clump tapered design. This means that the tool is designed to reduce the amount of dirt that gets stuck to it while you're digging, making it more efficient and less frustrating to use.
The tapered design also makes it easier to penetrate tough soils without having to apply as much force.
Finally, the Roamwild Multi-Digger includes a Roamwild warranty, which gives you added peace of mind knowing that you're making a sound investment in a garden tool that's built to last.
That being said, users should be aware of a few disadvantages to the Roamwild Multi-Digger. For starters, it may take some time to get used to the dual grip technology.
While this feature can be incredibly helpful for certain tasks, it may take some practice to figure out the best way to grip the tool for maximum efficiency.
Pros
Versatile use
Steel shaft
Ergonomic grip
Cons
Might take some time getting used to
The Spear & Jackson Neverbend Professional Digging Fork is a high-quality tool designed to cater to all your digging needs.
This digging fork has excellent features that make it a favorite among professional gardeners and homeowners alike.
One of the main advantages of this product is its epoxy-coated head, which adds resistance against rust, scratches, humidity, and alkali attack. This feature ensures that the fork remains durable and functional for long, even when exposed to harsh weather conditions or when used in alkaline soil.
The solid forged carbon steel head and long-lipped socket are riveted for added strength, making it easier to dig deep into the ground and extract tough roots or stubborn weeds.
The hammer finish powder coated head further enhances the resistance to rust and scratches, making it a low maintenance tool that requires minimal upkeep.
The weatherproofed hardwood shaft is a thoughtful addition that enhances its durability and sturdiness.
The metal and wood handle further expands on the tool's strength, ensuring it doesn't break or bend even under the most challenging digging conditions. This tool even exceeds the BS3388 load test, which is a testament to its durability and reliability.
Like all tools, this product does have a few downsides.
The most apparent disadvantage is its weight, which is slightly on the heavier side. This feature might make it challenging to use for prolonged periods, mainly for gardeners needing extensive or repetitive digging.
Pros
Durable and sturdy build quality
Great for compacted soil
Carbon steel head and forged steel tines
Weatherproofed hardwood shaft
Exceeds the BS3388 load test
Improved functionality
Cons
Slightly heavier than other digging garden forks
Higher cost compared to other options on the market.
The Berry&Bird Gardening Digging Fork is a high-quality and durable garden tool that is suitable for a wide range of gardening tasks.
This manual digging fork is made using traditional craftsmanship techniques and is designed to last for over ten years.
With this garden tool, you can easily cultivate the soil, turn it, aerate it, and break it up, making it perfect for a variety of gardening tasks.
Additionally, this digging fork features a strong D-grip and a solid y-handle made of ash wood, which ensures that the tool is easy to use and provides a strong grip.
Another advantage of the Berry&Bird Gardening Digging Fork is its sustainable design. This garden fork is made using eco-friendly materials, which means that it is an environmentally conscious option for gardeners.
Furthermore, as you use the fork more and more, both the wooden handle and the strong stainless steel tines will become smoother, making the tool even easier to use.
One potential disadvantage of the Berry&Bird Gardening Digging Fork is that it may be somewhat heavier than other garden tools on the market.
However, this additional weight is necessary to provide the durability and strength required for heavy-duty gardening tasks.
Pros
Versatile tool suitable for a range of gardening tasks
Forged steel tines
Strong D-grip and solid y-handle for easy use and a strong grip
Sustainable design using eco-friendly materials
Durable and long-lasting tool with over ten years of use
Smooth handle and tines become easier to use with time
Cons
May be a bit heavier than other garden tools
The Mujocooker 4-Tine Spading Digging Fork is one of the best garden tools out there. Its design is focused on making digging easier and more efficient while providing the user comfort and ease of use.
The four-diamond pointed tapered lump chopping bladed tines of the fork make it perfect for digging and breaking up lumps of soil, making it much easier and quicker to complete these tasks.
Plus, the hardened straight tines give it the durability and strength that it needs to last for years. The metal handle is also a significant advantage, as it outlasts a wooden handle and provides a secure grip for the user.
The solid grip of the D handle is another strength of the Mujocooker 4-Tine Spading Digging Fork. It provides a firm and comfortable hold, giving the user two-handed control and making it the optimum tool for the task at hand.
It sleek and functional design also allows it to be used in any angle, making slicing, cutting, scooping, and skimming much easier to accomplish.
However, there are a few drawbacks to the Mujocooker 4-Tine Spading Digging Fork.
The fork's weight can be a disadvantage for some users, as it can make using it for prolonged periods uncomfortable.
Additionally, the price is somewhat higher than other digging forks on the market.
Pros
Hardened straight tines provide durability and strength
Metal handle is more durable than a wooden handle
D handle grip provides a secure and comfortable hold
Cons
Can be heavy for some users that are used to more light digging forks
The characteristics that should be present in a garden fork
1. Durability
The first consideration you need to take care of is the durability. Make sure that the garden fork of your choice is durable and that it is made of high-quality materials.
You'll know if it's a durable one if it is made by a reputable brand or company.
2. Comfortable handles
Of course, you want to make sure that your experience in using garden forks is comfortable.
One way of doing that is by seeing to it that the handles on digging forks are comfortable. It should be smooth but still provides you with an excellent gripping texture.
It would also be better if the handles are ergonomically designed so that your hands won't tire in using them for an extended amount of time.
3. Functionality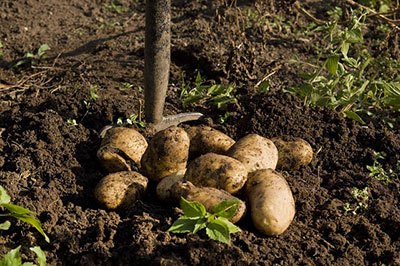 Another important thing to consider is the garden fork's functionality.
It would be useless if you're going to get one that looks great and feels nice but isn't effective when you're using it to loosen up the soil or rake up dried leaves.
Make sure that its design is functional and it is designed in a way that'll help make your gardening experience better.
4. Length
The hand fork length of the garden fork's handle is also important because this is what enables you to use it in dealing with hard-to-reach places. The longer the garden fork is, the better.
However, there are times when you need to have a garden fork that has a short handle if you need something that handy and portable.
This means that you need to know your purpose before getting one. you might need a garden fork that is long or perhaps a short one.
5. Price
Then there's the consideration of the garden fork's price.
It doesn't mean that if the garden fork is expensive, it immediately is made of high-quality materials.
It doesn't work that way because there are a lot of affordable and cheaply priced garden forks that are on par with the more expensive ones.
FAQs
What are garden forks used for?
Garden forks are used for digging, breaking up soil, aerating, cultivating, and harvesting plants. You can use garden forks for compost piles, harvest root crops and root vegetables, digging potatoes, light work on the flower beds and other.
What are the different types of garden forks?
The different types of garden forks include digging forks, spading forks, border forks, and hand forks.
How much does a garden fork cost?
The cost of a garden fork or digging forks can vary depending on the type, brand, and materials. Generally, they can range from around $20 to $100 or more.
Can you repair a garden fork?
Yes, a garden fork can be repaired if the handle or tines are damaged. Handle replacements and tine repairs are common fixes.
How to remove a broken garden fork handle?
To remove a broken garden fork handle, you can use a saw or a drill to cut or carve out the remaining handle pieces and install a new one using screws or epoxy.
In closing
All of the 9 reviewed products are fine choices. But the best garden fork that we highly suggest is the Radius Garden 203 PRO Digging Fork.
The reason why we love this garden fork is its powerful and long stainless steel tines that allow digging deep into the soil. Moreover, it comes with a unique O-shaped handle with a large gripping surface, delivering extra strength and comfort.
So, if you are interested in this unit like us, order and experience now.
Sale
Radius Garden 203 PRO Ergonomic Stainless Steel Digging Fork, Original Green*
Every serious gardener needs a serious digging fork. This ergonomic twist on a classical, English design with square tines is ideal for turning and cultivating soil; moving mulch, sod, and yard...
Unbreakable resin-encase Steel shaft
Seamless, extra-long socket perfectly designed to tackle tight spaces
The ergonomic natural radius O-Handle grip provides four-times the grip surface of traditional d-handles. Made from a comfortable non-latex, thermoplastic elastomer molded over polypropylene
Lifetime guarantee (Continental us only)