Your garden is not just a place where you grow your plants and just leave them there until they grow and produce yields.
It's not the way it is because you need to maintain the overall health of your garden regularly. One way of doing just that is by using a garden hoe.
In this article, we're going to show you the best garden hoe that'll surely help you out in gardening.
The different types of garden hoes
1. Stirrup hoe
A stirrup hoe is one of the most popular types of garden hoes because of its effectiveness in dealing with weeds that are hard to remove.
We all know how difficult that is to do, and most often than not, it results in displacing a lot of soil.
With the help of a stirrup hoe, you don't have to worry about that because it is designed in a way that is made to refrain soil displacement from happening.
2. Dutch hoe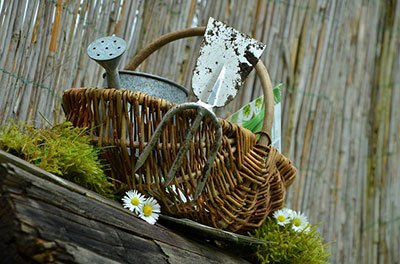 Then there's a Dutch hoe which is characterized by a paddle or flat blade. It's attached at a 90-degree angle which makes it easy to work in tight spaces.
This is the hoe of choice for gardeners who want to remove strong weeds that have latches firmly on the ground.
3. Draw hoe
This type of garden hoe has a paddle that is shaped like a tiny rectangle.
It has a 90-degrees angle which makes it easy to reach out to weeds. If you want to shape your soil into a mound or some other formation, this one's what you need. 
This is also the garden hoe of choice for beginners because it's fairly easy to use.
4. Onion hoe
This type of garden hoe has a thin and long blade. This is perfect if you're going to remove weeds that are found in tight and narrow spaces.
You don't even have to bend over when you're using this one. If you've got back problems, this is what you need to get.
The best garden hoe on the market: My top 5 recommendations
The Truper 33119 Tru Pro is a forged eye hoe with a traditional design, which is an oldie yet goodie style.
On the cutting edge, there is a square head blade that is 7 inches long, so the product is great not only for digging but also for weeding.
Moreover, the manufacturer uses a "friction fit" to mount the ash handle with the heavy-duty forged head. Therefore, when you draw the hoe toward yourself through the ground, the head is more tightened into the handle. 
With this technique, the head and the handle will be more and more fastened rather than falling apart like most conventional hoes. Use it for a lifetime in your farm/garden. What you need to do is just sharpen the head.
The robust head is not as easy to bend as welded versions, and the 54-inch professional-grade American white ash handle also adds more versatility and strength.
The fabulous resistance of the handle, in combination with the 2.8-pound weight, aids users to hoe the soil without effort and fatigue.
On top of that, a limited lifetime warranty even increases the value of the Truper 33119 Tru Pro to be the best garden hoe ever.
Pros
Long-lasting
Flexible and supportive
Good at both digging and weeding
There is a lifetime warranty
Cons
Somewhat heavy
Some assembly may be required
This tiny tool is ideal for a variety of applications, such as digging, hand-tilling, or weeding around your garden.
Owing to its high-grade stainless steel construction, you can feel it is heavy and durable in your hand, and breaking up the tough ground is just a breeze.
What's more, the rubberized ergonomic handle delivers a firm and comfortable grip. That handle, combined with the powerful polished blade, allows users to do gardening for hours without feeling fatigued.
Use the hoe to penetrate any terrain, including rocky soil, without hesitation. The bend-proof design will ensure the highest performance all the time.
Besides, the manufacturer also shows its confidence in this product with a lifetime warranty. So, why don't you feel more confident?
Pros
Strong and durable
Comfortable grip and manageable
Effective at hand tilling, digging, and weeding
The product comes with a lifetime warranty
Bend-proof design
Cons
The weld connecting the handle and the blade is flimsy
The Rogue 575G is an exceptional member of the famous Rogue Hoe product line. There is hardly any hoe that can complete heavy-duty tasks and knock down weeds of all sizes like this one.
No matter how dense weeds are and how tough the sod is, this item will always be ready to finish any mission that you hand it without any hassle.
Thanks to the extremely long 60-inch wooden handle, users can benefit from high leverage force and break the soil with the least effort.
Most noteworthy, the 5.75-inch head features up to three sharpened sides and can hold the edge firmly. This brings about the capability to work well from multiple angles.
Above all, the Rogue 575G garden hoe is backed by a lifetime guarantee from the company.
Pros
Easy to handle
Lightweight yet long-lasting
It can work from multiple angles
The blade rarely requires maintenance
Cons
The blade is prone to snap from the handle
The head length is not commensurate with the handle length
This Handheld Triangle Hoe is really a multi-functional tool that can help its owners handle any task, from tilling the soil to weeding and seeding. It is a part of the long line of Nisaku tools for gardening.
Unlike hoes with fiberglass or aluminum handles, this one features a wood handle that will be pretty easy to grip, and it's quite durable. Therefore, it promises to accompany you for a very long time.
This triangle hoe has a stainless steel blade that is rust-resistant and easy to wash.
It is handy for loosening soil or digging narrow furrows. The sharp point of this tool gives you extra power, and with a single point of pressure, it can pierce through any surface.
The additional use of this hoe will astonish you as well. It can be used for weeding because it can go much deeper than the traditional one.
If you are skeptical about the quality of Nisaku hoe, don't be.
The tool is constructed from authentic Japanese Stainless Steel and has a shank that is forged in one piece to the blade. This ensures that your hoe will be incredibly durable, bend resistant, and will have a lot of levering power.
Pros
Multi-functional tool
Sustainable
Heat-treated and double-sided heads
The handle is anti-slip, rust-proof, and gripping
Cons
The handle is a bit short
If you do not know what this unique hoe is, it is called a chopping hoe. This mini hand tool has a 15-inch handle attached to a triangular blade.
The sides of the stainless steel blade are razor-sharp, working as a scraper to slice through weeds without effort.
As you can see, there is a narrow point toward the end of the blade. This design makes it easy to get rid of dry and compressed soils.
Small as it is, this Tomita No.178 hoe is created for light-duty projects that require high precision, such as gardening between rows and fences.
Nonetheless, you ought not to depend on it when it comes to heavy-duty tasks. It is not very sturdy and big enough to finish these jobs well.
Pros
Compact and ergonomic design
Multitasking
Loosen dry soil easily
High precision
Cons
Too small
Not very durable
The handle might be slippery
Garden hoe buying guide
1. Purpose
The first thing you need to consider when planning to buy a garden hoe is your purpose.
It's by knowing your purpose that you can come up with the right decision on which kind of garden hoe you need to buy.
Make sure that the type of garden hoe is aligned with your purpose.
2. Size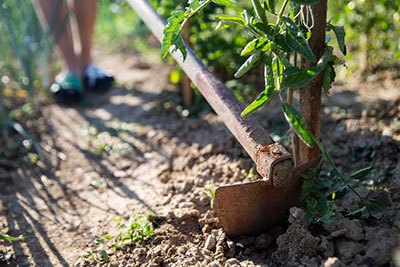 You need to know the size of the garden hoe.
If you need something that can easily reach weeds found in tight places, make sure that it's long and thin.
But if you need something that can easily deal with strongly rooted weeds upfront, then settle for the shorter and thicker ones.
3. Quality
The quality of the garden hoe is a very important thing to consider.
This is the one that tells you if you've got your money's worth.
Make sure that it is made of high-quality materials, so you don't have to worry about it suddenly getting damaged.
4. Price
Then there's the price consideration. See to it that the garden hoe is not that expensive or too cheap. If it's too cheap, then don't expect it to last long.
However, you should also not trust expensive garden hoes because these are just blowing away your money.
Take note that there are a lot of garden hoes that are affordable yet have similar features and quality to the more expensive ones.
Conclusion
With all of the wonderful things it offers, we rate the Truper 33119 Tru Pro to be the best garden hoe.
It is the optimal choice if we consider all factors comprehensively. This hoe features excellent durability, versatility, as well as warranty while having negligible downsides.