Watering your plants is surely a very important thing to do as this is where their survival depends on. This is the reason why you need to have a proper watering device, such as a garden sprinkler.
In this article, we're going to show you the best garden sprinklers you can get.
Take away key points:
Best garden sprinklers are ideal for keeping your lawns healthy and optimal
Multiple styles and functions are available; choose according to your needs and standards
All of the units are durable and reliable but they have different qualities, so check them in advance
The different types of garden sprinklers
Here are different types of lawn sprinklers suitable for your needs:
1. Pop-up spray heads
There are many types of garden sprinklers; however, the most popular type is the pop-up spray heads. These pop-up spray heads are specifically designed to be used on small areas that have a distance of around 3 and 15 feet.
Its operating pressure is also around the figures of 15 and 30 PSI, which is just the right amount of pressure you need in tending to your garden plants.
This sprinkler system depends highly on system pressure, which is why its pressure needs to be carefully maintained.
Nozzle size varies for this type of garden sprinkler, but it's usually spraying around a to 2.5 inches per hour.
2. Impact rotors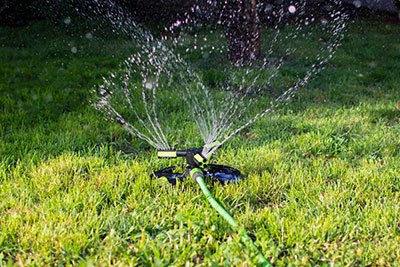 There are also impact rotors that are simply garden sprinklers that give off multiple water streams. This is what you need if you want to water your landscape or perhaps distribute water in an arching manner.
The arc pattern of this type of garden sprinkler is around 40 to 360 degrees, making them really flexible. These can cover huge areas thanks to their pop-up spray heads.
The spray radius can even reach 150 feet, which is a testament to its efficiency and power. The precipitation rate for this kind of rotor is 0.1 to 1.5 inches per hour.
3. Gear-driven rotors
If you have a medium to a large lawn, these gear-driven garden sprinklers are what you're going to need.
Not only are they affordable and have a low maintenance cost, but they also operate quietly. These garden sprinklers are popular because of their versatility and flexibility.
They are less in need of maintenance due to their internal mechanisms being enclosed by their design. Clogging rarely happens with this one because its driving mechanism is found inside.
4. Large turf rotors
Then there are the large turf rotors which are the garden sprinkler of choice for commercial properties.
These are very effective in distributing water over huge areas. Its rotors run in 50 to 100 psi and can take on a 100 ft. area. That's how effective these sprinklers are when you're using them in big places.
It can accommodate flowing of up to 80 gallons per minute which is incredibly fast when compared to the other garden sprinkler types.
Best lawn sprinklers money can buy: Our top 7 favorites
Our best lawn sprinklers will wow you for the different benefits they offer. So read our reviews to choose the best versatile lawn sprinkler for your garden hose and watering system. We are sure you will find the best sprinkler system for your large or small lawn and garden.
$$ – Melnor 65115-AMZ MiniMax Turbo Oscillating Sprinkler
Best oscillating sprinkler for optimal water usage and spray patterns. The in-ground sprinkler system works well with the above lawn sprinklers too, so you can adjust it to your watering system. The Turbo water spray is ideal for large and smaller water spray coverage.
You need to manually use the spray patterns to ensure the reverse or round spray pattern.
$$ – Rain Bird 25PJLSP Hose-End Brass Impact Sprinkler
Best impact sprinkler for the above and in-ground system, with an adjustable stationary sprinkler head for watering lawns. The durable construction makes it stronger for more irrigation systems and the lawn sprinkler is ideal for a larger coverage area. More than six spray patterns make it ideal for a large or small garden.
Still, the impact sprinkler is not the best option for low water pressure.
$$ – Nelson Traveling Sprinkler RainTrain
The compact sprinkler is the best traveling sprinkler for your smaller or larger coverage area and different water patterns. The traveling sprinkler assists your current irrigation system and sprinkler hoses, making your lawns healthy and fully watered without floods. The auto shut-off system makes it one of the best lawn sprinklers for the above and in-ground sprinkler systems.
Yet the traveling sprinkler might be unstable.
$$ – Orbit 56667Z Zinc Impact Sprinkler
Best stability and security of these sprinkler heads. The spot sprinkler easily connects to your existing irrigation system, and it's the right purchase for the old house as well. These are not flimsy sprinklers, as the best sprinklers use sturdy and strong designs to keep them fixed and stable when in use. The sprinklers work as large or small sprinkler units, depending on your needs.
However, your one sprinkler has trip pin issues, so the sprinkler heads cannot adjust to the 360-degree rotation.
$$ – GrowGreen Sprinkler for Yard
Best sprinklers showing advanced resistance to different external forces, pressure, and impacts. Reliable and more durable than most standard sprinklers, covering more square feet than other sprinklers. Versatile and easy to use.
Anyhow, they offer clogged nozzles.
$$ – Melnor XT Turbo Oscillating Sprinkler
Best three-way adjustable system of the oscillating sprinklers makes them ideal for more or less square feet, and different lawn needs. Most sprinklers of this type are ideal for lightweight and compact standards, making them ideal for different usage and coverage.
Nonetheless, the sprinklers might not be as durable as other high-end models.
$ – Kadaon 360 Degree Rotating Lawn Sprinkler
Best small and lightweight sprinkler, saving water, and adjusting to your medium or larger lawns. The sprinkler is ideal for adjustable points, and its design makes it compact for various uses.
Nevertheless, it might lack the connector.
Brand: Melnor
Material: Acrylonitrile Butadiene Styrene, Metal
Style: Oscillating sprinkler
Best for: optimal performance
The Melnor oscillating sprinkler is the right lawn sprinkler for watering large lawns, gardens, and newly seeded areas. It has a long-lasting Infinity Turbo Drive that operates quietly and provides even coverage with a smooth motion to eliminate puddling.
The oscillating sprinkler head rotates 360 degrees so you can easily adjust the coverage area to fit your needs.
The MiniMax Oscillating Sprinkler also comes with a tripod stand for easy setup and positioning. This makes it ideal for those hard-to-reach areas of your yard or garden. Plus, it's adjustable so you can customize the height and angle of the spray pattern.
The lawn sprinkler is also designed to be durable and weather resistant, so it can withstand the elements without any problems. Additionally, it's easy to use and maintain – just attach your hose and you're ready to go! The sprinkler system easily adjusts to your needs and water flow. The water pressure is also great for your coverage area.
Overall, we highly recommend the Melnor Oscillating Sprinkler for anyone looking for an efficient way to water their lawn or garden. It's reliable, adjustable, and easy to use – making it a great choice for any outdoor space!
Pros
spray width
no water waste
adjustable head
flow-through design
in-ground sprinkler system
Brand: Rain Bird
Material: Brass
Style: Brass impact sprinkler
Best for: water pressure and spray pattern
Aside from regular and traveling sprinklers, impact sprinklers are also must-have lawn tools today. It works on the impact force of the water, thereby being highly efficient.
One of the best impact sprinklers must be the Rain Bird 25PJLSP.
This model is constructed with brass, bronze, and stainless steel. Such a sprinkler is apparently more durable than those zinc competitors out there.
Its coverage is adjustable, either a full or part circle (20° to 340°). Plus, it offers infinite pattern adjustment. That is not to mention the adjustable detector flap designed to change the spray distance from a 20' to 41' radius.
Your lawn will benefit from a fully customized landscaping experience.
Amongst quality features, the highlight is probably the heavy-duty 8-inch step stake, which allows you to move the sprinkler around your yard effortlessly, even across hard-packed clay soil.
The unit is able to thread onto most garden hoses via the built-in ¾'' female hose thread.
Overall, this is an excellent impact sprinkler from Rain Bird. However, it might be less efficient with low water pressure.
Pros
All-metal construction
Adjustable coverage, pattern, and distance
Heavy-duty step stake
Cons
Not suitable for lawns with low water pressure
Brand: Nelson
Material: Plastic, metal
Style: Traveling sprinkler
Best for: water patterns
A traveling sprinkler is the best thing you can buy to maintain your lawn. Especially for busy homeowners, this kind of sprinkler is the ideal assistant. Check out this top-quality traveling sprinkler of Nelson.
This model features a cast-iron body with a yellow coat that is chip-resistant. Such a robust construction can last you several seasons.
The whole thing can travel up to 200 feet. It is intended for large and open areas with maximum coverage of up to 13,500 feet.
However, do not jump to assume that if the sprinkler works well in wide areas, it does the same with small lawns. In fact, it takes this device a long time to finish watering a small patch.
You can adjust the speed of the sprinkler thanks to the three-speed adjustment feature. That said, it allows you to customize water saturation depending on your lawn or garden.
Worried about wasting water? Do not worry; it is equipped with an automatic shut-off to avoid that problem.
The downside? It is precisely what you think right now. Such a top-notch product surely comes with a sky-high price. We always believe that you should get what you are paying for, so if you can afford it, do not hesitate.
Pros
Extensive coverage of 13,500 square ft
Automatic shut off
Sturdy construction with cast-iron body
Limited lifetime warranty
Cons
High price tag
Not for small lawns or gardens
Brand: Orbit
Material: Zinc
Style: Zinc impact sprinkler
Best for: durable and sturdy sprinkler systems
The Orbit impact sprinkler is an excellent choice for watering large areas. It features a durable zinc construction and an adjustable tripod that allows you to easily adjust the coverage from a partial section to a full circle. The construction of these lawn sprinklers lasts longer than the competitors.
The Orbit sprinkler has an uninterrupted water flow, providing up to 85 feet in diameter of coverage, covering 5,670 square feet when set to a full circle. The 1/2-inch male threaded zinc impact head ensures reliable performance and long-lasting use.
The Orbit Impact Sprinkler is easy to install and use. It comes with all the necessary parts and instructions for quick assembly. The adjustable tripod base can be adjusted from 23 to 48 inches in height and retracts to a small size for easy storage. Additionally, the base connects easily to a 3/4-inch garden hose with no additional tools required.
We highly recommend the Orbit 56667Z Zinc Sprinkler for anyone looking for an effective way to water large areas quickly and efficiently. It is well-made, easy to install and use, and provides reliable performance at an affordable price point.
Pros
lightweight
on-the-spot sprinkler system
nozzle cleaning tool
stable
Brand: GrowGreen
Material: ABS plastic & Rust-resistant polymer
Style: Adjustable, rotating
Best for: adjustable system
GrowGreen is devoted to manufacturing top-notch lawn and gardening tools. This rotating sprinkler is a primary example.
It is made of rust-proof polymer and ABS plastic for durability. The whole thing is resistant to impact, meaning that regular wear and tear due to external forces will be reduced to the least.
If placed in the middle of your lawn, this GrowGreen sprinkler can water any foliage within a distance of 32.8 feet at 80 PSI pressure. Feel free to adjust the nozzles on each arm to customize your watering.
According to our experience, this unit works well with standard and high water pressure. However, the water flow is less powerful in areas with low pressure.
The three rotating arms on the sprinkler not only ensure 360-degree watering but also serve as a playground for children on hot summer days. Have you thought about this?
However, these rotating arms are also a drawback. While the device is on, you cannot move it without getting wet.
Also, the nozzles tend to get clogged with debris as the sprinkler works close to the ground.
Pros
3,600 feet of coverage at 80 PSI
360-degree watering
Adjustable nozzles
Brand: Melnor
Material: Plastic
Style: Three-way adjustable
Best for: design
The first product we review today is the oscillating sprinkler from Melnor – a trusted brand in the industry.
This XT Turbo garden sprinkler consists of a metal base and plastic moving parts, which makes the whole thing lightweight and compact. You will have no difficulty in carrying and transporting it.
The plastic parts also explain the low price of this product. However, do not expect it to be as durable as other competitors entirely made of metal.
This device features operating tabs that allow you to control the length, width, and position of the watering pattern. Also, there are 18 built-in nozzles intended for maximum coverage.
Don't be surprised when we tell you that it offers a coverage of up to 4,200 sq. ft. That is almost the size of a baseball court!
About the engine, the XT Turbo is equipped with an infinity turbo motor to work well at both low and high pressures.
However, according to our experience, this sprinkler could hardly operate with too low water pressure. We recommend it for anyone having great pressure at home only.
Pros
Lightweight and compact
Affordable price tag
Optimal and maximum coverage
Cons
Not durable as other high-end models
Brand: Kadaon
Material: Plastic, Acrylonitrile Butadiene Styrene
Style: Rotary
Best for: various coverage areas
To end our list, we would like to recommend this rotating lawn sprinkler from Kadaon. Discover its features with us now.
The sprinkler is made of ABS plastic, featuring three rotating arms. Like the GrowGreen model, it can either water your garden or let your children have fun on hot days.
The water comes out in two directions, including a direct and 45-degree angle. You are able to adjust the water density, size, and scope thanks to the patented water-saving design of this Kadaon sprinkler.
The coverage is about 3000 sq. ft, average size with rotating sprinklers. Those who have medium to larger-sized yards might be interested in it.
Do not forget that there is no connector included in the purchase. You need to buy it separately so that you can attach the sprinkler with the hoses.
Pros
Affordable price tag
Patented water-saving design
Small and lightweight
Getting the perfect lawn sprinkler for you: Buyer's guide
Choosing the best lawn sprinkler for your needs might be challenging, but we are here to guide you through this process.
Here is what you must know when selecting the best lawn sprinklers for your vegetable garden, garden beds, garden hose, flower bed, smaller lawns, or large lawns.
1. Sprays or rotary nozzles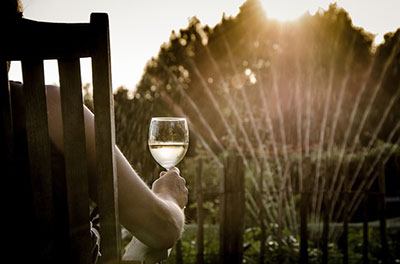 The first thing you need to consider if you want to get the perfect garden sprinkler is the water-distributing type you need. Do you need a sprinkler that sprays water or perhaps one which has a rotary nozzle?
It's by answering these questions that you get to know the recommended water pressure your sprinkler can accommodate.
It's highly recommended you get those that have spray or rotary nozzles if you have a water pressure of less than 40 PSI.
2. Size
You then have to consider the size of the area. It's in knowing the area that you get the right type of garden sprinkler that has the right specs.
If the area that you're going to spray water with is long and narrow, it's recommended you choose rotary nozzles. They're effective in precisely targeting the exact place that you want to water.
There are also side strip rotators that are what you need if you're going to place it in a wide area. And if the area you're targeting is really huge, probably around 30 x 30 feet, then what you need is rotor garden sprinklers.
3. Shape of the area's edge
You also need to consider how the area's edges are shaped. You surely don't want to have water going beyond the area that you intend to supply with water.
If you're going to place it in an area that has sharp curves or around a 20 feet radius, it's recommended that you get a rotor that has short radii. This ensures that you won't be over-spraying on another part of your lawn.
4. Durability
Of course, you need to take into consideration the durability of the product. It's in knowing its material that you get to know if it is going to last for a long time.
You want something that is durable and is made of high-quality materials. Through this, you don't have to buy another one if in case it gets damaged.
5. Design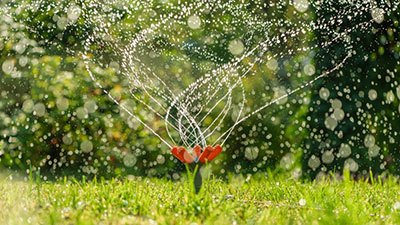 You want something that will compliment the overall look of your garden or lawn. This is the reason why it's also important for you to consider the design of the garden sprinkler you're choosing. It should look nice and good, and it should add beauty and design to your outdoors.
The last thing you want to have is something that will look like an eyesore. When you're choosing a product, you need to see to it that its aesthetic value goes hand in hand with its functional value.
It's not just about how effective or how good a product functions because its visual look also has a say in its value.
6. Function
It would also be better if the sprinkler of your choosing has a lot of advanced features that will make the whole watering part of your plants easier.
There are already a lot of sprinklers that boast new intuitive technologies that revolutionize how you take care of your plants.
Examples of these are the Wi-Fi garden sprinklers that you can control through your smartphone.
7. Price
Then there's the price factor. Most people misunderstand the fact that not all expensive products are of high quality.
Remember that this is not what you should remember because it's not entirely true. Take note that there are a lot of cheap garden sprinklers that are similar to or even better in features and quality than the more expensive ones.
This shows that you need to be vigilant in choosing one because it's not the price that counts. It's the product's durability and function.
FAQs
What sprinklers give the best coverage?
The best sprinkler for the widest coverage is the Nelson Traveling Sprinkler RainTrain, as it's a traveling sprinkler, so it covers all parts of your lawn.
Are garden sprinklers effective?
Yes, garden sprinklers are effective for watering lawns and gardens. They can be used to disperse water in various spray patterns, and they're powered by the pressure of the water supply.
Garden sprinklers are a great way to save time and money while providing your lawn with the hydration it needs.
What type of sprinkler is best for watering grass seed?
The best type of sprinkler for watering grass seed is a pop-up sprinkler. Pop-up sprinklers are designed to be installed in the ground and can provide a gentle, even distribution of water over the lawn. This helps prevent the seed from washing away or becoming too dry.
Additionally, pop-up sprinklers are adjustable and can be set to different heights to accommodate different types of grasses.
Do garden sprinklers use a lot of water?
Yes, garden sprinklers can use a lot of water. However, there are ways to reduce water usage with lawn sprinklers. For example, using an oscillating or pulsating sprinkler that distributes water in a targeted pattern can help conserve water.
Additionally, installing a timer on your sprinkler system and setting it to run for shorter periods can help reduce water usage.
Do I need a license for a garden sprinkler?
Yes, you need a license for a garden sprinkler.
In Texas, individuals who install, maintain, inspect, or design landscape irrigation systems must be licensed by the Texas Commission on Environmental Quality (TCEQ). The licensing process is regulated by the Texas Administrative Code and requires applicants to meet certain criteria before they can obtain a license.
Additionally, installing a sprinkler system inside a building requires a permit from Travis County.
How much does it cost to run a garden sprinkler?
It costs about $0.20 to $1 per square foot of lawn to install a new sprinkler system. If you water your yard every week during the summer, the cost can add up to close to $50 or $156 a month.
How long to water the vegetable garden with a sprinkler?
Generally, sandy, well-drained soils need to be watered twice a week, while heavier clay or loamy soils that hold moisture may only need to be watered once per week.
In hot weather, it is recommended to irrigate for 20-30 minutes per day, allowing the water to penetrate the soil completely. A good general guideline is an inch of water per week either by rain or watering; in arid climates, it is double that
How to increase water pressure for garden sprinklers?
Follow the steps below:
Determine what pressure is required for your sprinkler system.
The average water pressure for most homes and businesses is between 30 PSI and 50 PSI; most sprinkler systems are designed to use pressures of this range.
If your pressure is below 40 PSI, it may be necessary to boost the pressure to achieve an even spray pattern.
So, what is the best sprinkler for your healthy lawn?
The best sprinkler is the Melnor 65115-AMZ MiniMax Turbo Oscillating Sprinkler, thanks to its overall performance, durability, and style. You can use it for an extended period, and the price matches its outstanding quality.
Melnor 65115-AMZ MiniMax Turbo Oscillating Sprinkler on Tripod with QuickConnect Product Adapter...*
Mini-sized oscillator with full-size coverage up to 4, 000 sq. ft.
Four-way adjustment for precision watering right where it's needed
Sturdy metal tripod base extends from 27" up to 41" high
Quickly connect and disconnect the sprinkler with an included QuickConnect Product Adapter (Requires QuickConnect Product End Connector sold separately)
Backed by a Melnor Limited Lifetime . We stand behind our products.
The bottom line
Hopefully, you now better understand different sprinklers and their primary purpose when watering your lawn. Tell us when you choose your final winner.