Every gardener should protect their most precious gardening helpers-their hands. Hours of garden work can be relaxing and therapeutic, but what happens if you are not wearing hand protection? In the end, you'll add more damage to yourself than enjoy gardening.
Garden gloves are there to keep your hands protected under any circumstance. They are the ones making sure you do not get blisters or, let alone get, pricked with a rose thorn.
In this article, we deliver a review of the best gardening gloves for ladies as well as men's selections. Take a look at the seven different models and pick the right pair of garden gloves.
Take away key points:
You can find various types of gardening gloves – nylon gloves, leather, latex gloves, rubber, etc to meet your needs
Always check their quality and sixes to match your standards
Choose according to benefits, as their prices re affordable
The benefits of using garden gloves
Here are the benefits of wearing gardening gloves when doing different gardening tasks:
1. Protection from cuts and blisters
The first benefit you'll get out of using gardening gloves is that these protect you from getting cuts and blisters on your hands.
When you're gardening, you are prone to having cuts because some parts of the plants, such as their roots, stems, and especially thorns, can make you bleed.
Using gardening tools such as pruners can also cause hand blisters. But if you'd wear gardening gloves, you don't have to worry about any of these.
2. Improved productivity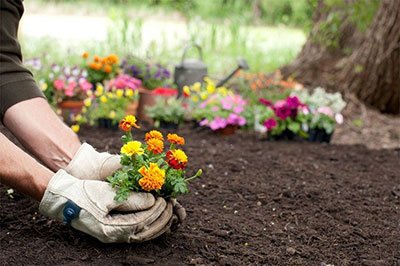 You'll get the peace of mind in knowing that you don't have to worry about getting cuts and hand blisters. It's with this that you can work at a faster pace.
You can pluck out weeds, tend to your flowers, prune the dead branches and leaves, and plant in a quicker way.
You'll cover a larger area when you're wearing gardening gloves. It's through this that you become more productive.
3. Better grip
You'll also have a better grip on something, whether you're holding pruners, garden scissors, a shovel, or just simply caressing your plant or flowers.
You can easily hold them without having to worry about them slipping off because of your sweaty hands.
4. Hygiene
And last but not least it helps in giving you good hygiene. Though gardening is no doubt enjoyable and stress-relieving, you can't deny the fact that you'll be touching the dirty soil.
There are earthworms, insects, and microbial life scattered throughout your garden.
The last thing you don't want to happen is to get them inside your body. To prevent this from happening, you can wear gardening gloves. These act as a form of barrier between your hands and the dirty soil and plants.
With the help of gardening gloves, you can get dirty without having to be dirty in the first place.
Top 12 best gardening gloves on the market
Here are the best gardening gloves for your gardening chores and yard work. All the gloves offer different benefits, so check the reviews to find the best overall gardening gloves for your gardening task.
Best gardening gloves for optimal performance and heavier uses. You can wear gardening gloves for an extended period.
Still, they are sticky over time.
Best for rose pruning and other heavy-duty uses. Excellent protection from thorns and similar wounds.
Yet they are not so durable.
$ – MAGID Extra-Long Thornproof Pruning and Gardening Gloves
Best elbow-length gloves to protect your hands. Unlike other gloves, these are longer and provide more comfort when working.
However, they are not waterproof.
$ – Pine Tree Tools Bamboo Gardening Gloves
Best bamboo gloves for their design and versatile uses. The bamboo garden gloves are ideal for different tasks.
But the bamboo gloves are not for heavy-duty uses, although the bamboo fabric seems durable in most gloves.
$ – Bamllum Leather Gardening Gloves
Best for optimal work and more comfort. The breathable design makes your hands cool and calm, unlike other gloves.
Anyhow, they are not water-resistant.
Best leather gloves among all the gardening gloves available for their safety standards. Ideal for different light and heavy-duty operations, keeping your hands calm and pressure-free.
The drawback is their size chart.
$ – Womens Gardening Weeding Working Gloves
Best style and appearance of the gloves. Best for women, although many gardeners can use them.
Nevertheless, the leather and cotton gloves are only for lighter work.
$ – 6 Pairs Women Gardening Gloves
Best for various sizes and different applications. Each pack is great for some type of heavy or light work.
They are intended only for light-duty operations.
$ – COOLJOB Gardening Gloves for Men
Best for versatile design and affordable price tag. For multiple uses and longer working hours. Durable and reliable for all users.
$ – WILDFLOWER Tools Gardening Gloves
Best machine washable gloves with reliable style ad design. Durable and sturdy for a more prolonged lifespan and ideal for different applications.
The gloves might show some design issues
$ – DEX FIT Premium Nylon Nitrile Work Gloves
Best snug fit and tight match to your hands. Non-slip construction makes them versatile and adjustable for different tasks.
They are not waterproof.
$ – Vgo… 1-Pair Gardening Gloves Men
Best for resistance and pressure-free uses for various users. The gloves are comfortable and durable fo more extended periods.
Brand: Cooljob
Material: Rubber
Size: M
Best for: comfort benefits
Are you looking for the perfect gardening gloves to keep your hands safe and comfortable while working in the garden? Look no further than COOLJOB Gardening Gloves!
These garden gloves are lightweight and breathable, with a knitted base that provides a comfortable fit. The flexible rubber coating comes in two stylish colors, mint green and bright red, so you can look good while you work.
Wearing gloves won't cause any pressure, pain, or discomfort to your hands, and the heavy-duty work gloves have superior grip to be durable glove models. The glove size will keep your hand optimal.
The best gardening gloves also provide superior protection from outdoor tasks. The nitrile rubber coating is oil-resistant and offers an excellent grip, so you can handle any job with ease. Plus, they're designed to be durable enough to withstand wear and tear from regular use.
Whether you're planting flowers or weeding your vegetable garden, these Cooljob gloves will help keep your hands safe from dirt, debris, and other hazards. They're also great for other outdoor activities like camping or fishing.
And since they come in a pack of two pairs, you can always have a spare pair on hand when needed.
Overall, these Cooljob gardening gloves are an excellent choice for anyone who wants to stay safe while working in the garden. They offer superior protection from dirt and debris while still being lightweight and breathable for maximum comfort.
Pros
lightweight gloves
rubber gloves
for different gardening tasks
glove sizes
work gloves
Brand: Exemplary Gardens
Material: Leather
Size: L
Best for: ergonomic design with hand-protection
Rose pruning gloves are an essential tool for anyone who loves to garden. They protect from thorns and other sharp objects, while also keeping your hands clean and free from dirt and debris.
Rose pruning gloves come in a variety of styles, sizes, and materials, so it's important to find the right pair for your needs.
When it comes to Exemplary Gardens rose pruning gloves, you want something that is both comfortable and durable.
The best rose pruning gloves are made of 100% natural premium goat grain leather, which is puncture resistant and keeps your hands safe from scratches. The extended split suede cuff prevents cuts on your arms while also providing extra protection against thorns.
Another great feature of rose pruning gloves is their washable leather material. This makes them easy to keep clean after each use, so you don't have to worry about dirt or debris getting stuck in the fabric.
The 15-1/2″ length also guards forearms against any potential scratches or cuts while you work in the garden.
Rose pruning gloves are an essential item for any gardener who wants to protect their hands from sharp objects like thorns or branches while still being able to get their job done efficiently and safely.
With so many different styles available on the market today, there is sure to be one that fits your needs perfectly!
Pros
synthetic leather gloves
for pruning rose bushes and garden beds
keeping hands cool and gloves protected
for pulling weeds
padded palms
Brand: Magid
Material: Spandex
Size: M
Best for: reinforced fingertips
The Magid Glove & Safety are probably the best women's gardening gloves on the market. Here are a few reasons why.
If you take a look at our buyers' guide section, you will notice that we value protection in all garden gloves. This is the pair that provides the maximum level of security, not just by material but by the length of them.
The long elbow length with gauntlet style provides adequate protection against prickly plants or any potential scratching or stinging. We know how this is important if you like taking care of the rose bushes, and those can be tricky to maintain.
Moreover, the knuckle part is protected as well with the addition of foam-fitting spandex that delivers the ultimate comfortable and flexible feel.
The floral printed fingertips give extra grip, and you feel more secure and stylish while wearing them. Magid gloves have synthetic leather padded palm protection to them, which provides the strength every gardener needs.
These are one of the most stylish and convenient gardening gloves that both men and women professional rose planters can enjoy.
Pros
Affordable
Flexible
Best for thorns or prickly plants
Men and women wear
Padded knuckle guard
Brand: Pine Tree Tools
Material: Bamboo fabric, rubber
Size: S
Best for: gardening glove design
Did you ever believe that you will find an affordable pair of gloves that are of high quality? Well, you just did. We present to you the Pine Tree Tools Bamboo Working Gloves for Women and Men.
These work gardening gloves amazed us with their sturdy quality and even more by being so low prices. You don't have to invest large amounts in a pair when Pine Tree Tools offers this kind of deal.
The bamboo construction in these gloves makes them feel like a second skin. It also adds to the breathability of the gloves, thus, not retaining moisture from your hands. This is a crucial feature for all of those who spend long hours in the garden, or that live in warmer climates.
Now here is a feature for all of you who are tired of continually taking off your gloves to check your phone. The fingertips in the garden gloves are touchscreen-friendly. You are no more taking them off for shuffling the music during garden hours.
Although these gloves are mainly used for garden work, they can also be used for fishing, restoration works, or any other lightweight choirs.
Pros
Affordable
Snug fit
Touchscreen friendly
Brand: Bamllum
Material: Leather
Size: M
Best for: comfort features & snug fit
The Bamllum Leather Gardening Gloves are an excellent choice for anyone looking to protect their hands while gardening. They are made of durable microfiber leather, which is both abrasion and puncture resistant.
The palms have an excellent grip that provides ultimate protection while working in the garden. You will find these synthetic leather gloves to be comfortable and easy to use, with no pinching or rubbing on your hands.
You will especially appreciate the breathability of the gloves, as they keep your hands cool even when you are working in hot weather.
The gloves also fit snugly so there's no slipping or bunching up when you are using them. You can use them for a variety of tasks such as weeding, digging, planting, raking, and pruning, and be very pleased with their performance.
The Bamllum work gloves are also great for their durability. Synthetic leather gloves are ideal for their materials, so the heavy-duty gloves show the best resistance to external factors. You can wear gloves for different gardening tasks, and the work gloves will be great for pruning roses, digging holes, etc.
Although the synthetic gloves are made of synthetic leather, they are not made of waterproof coating. So you cannot perform water tasks with them and your hand won't be water-resistant.
However, all other tasks can be done easily and efficiently with these gardening gloves, so don't worry.
Pros
comfortable
snug fit
durable
gloves performed optimally in different needs
power tools
synthetic fabric (leather)
Cons
not water-resistant gardening gloves
Brand: Ozero
Material: Leather
Size: M
Best for: safety standards
Another pair of leather gloves come from Ozero. Ozero is known for being a trustworthy brand that carefully selects its material, and its gloves are mostly made out of raw cowhide leather.
These gardening gloves give the ultimate protection against prickly plants. If you are someone who struggles with heavy-duty gardening daily, the Ozero leather gloves are the way to go.
Also, they proved to be great pruning gloves as well since they are flexible and have cut resistance for any tricky choirs.
You can be safe while using them due to the reinforced palm patch that provides another layer of protection. The patch also gives extra grip and durability, securing them last for a long time.
The elastic tape wrapped around them provides a comfortable fit for anyone. Also, this kind of design prevents any dirt or debris from sneaking its way up into the glove.
We recommend you use these Ozero gardening gloves while doing landscaping, gardening, ranching, or even for wood cutting. They are designed to keep you safe during all heavy-duty yard work.
Pros
Made out of leather
Wrist wrap
Reinforced palm protection
Designed for multiple choirs
Cons
The sizes are tricky to select
Brand: WOHEER
Material: Leather, cotton
Size: M
Best for: protection
The WOHEER Women's Gardening Weeding Working Gloves are the perfect choice for any gardener. They are made of high-quality microfiber leather, which is both abrasion and stab resistant.
The elastic wrist design ensures a comfortable fit that won't slip off easily and prevents dirt and other debris from entering the interior. These gloves also provide excellent flexibility, allowing you to work with ease and peace of mind.
If you purchase a pair of these gloves for your gardening needs, you can be extremely pleased with their performance.
The material is strong yet lightweight, making them easy to wear for long periods without feeling too bulky or uncomfortable. You can also appreciate the fact that they come in several sizes so you can find the perfect fit for your hands.
In addition to being durable, these gloves are also stylish. They come in a variety of colors and patterns, so you can find one that suits your style. You will love how they look when you're out in the garden – they will make you feel like a professional!
Besides being stylish, WOHEER gardening gloves are also versatile for different needs. You can perform various tasks in your garden, and the leather and cotton gloves will provide full protection for your hands.
All in all, we highly recommend the WOHEER Women's Gardening Weeding Working Gloves to anyone looking for a reliable pair of gardening gloves. They provide great protection while still being comfortable and stylish.
Pros
leather and cotton gloves
women's gloves
comfortable
durable
stylish
Brand: G & F Products
Material: Nylon
Size: M
Best for: flexibility
Here comes a pair of garden gloves from the well-known G&F Products. These garden gloves protect those who spend long hours gardening or catching up on some lighter choirs.
These work gloves are declared as men's, but we see no reason why the female population shouldn't enjoy their comfort as well. Just slide them on, and you are ready to take on the world of gardening.
We like these G & F Products gloves for being lightweight and flexible but also for providing the protection you need. They control the moisture level of your hands, so even if you get sweaty during work, they will keep your palms dry.
The upper design on them hugs your wrists, so it prevents any dirt from coming in and keeps your palms cool at all times.
One of the features why so many customers adore these work gloves is the material. They are made out of 100% Nylon shell and 100% MicroFoam coating. Combined, these materials are comfortable to wear while your hands are cold and protected.
Pros
Affordable
100% Nylon shell
100% MicroFoam coating
Control the hands' moisture
Great for lighter gardening work
Flexible
Cons
Only suitable for light work
Brand: CoolJob
Material: Rubber
Size: L
Best for: different sizes
If you need a reliable pair of gardening gloves, the CoolJob gardening gloves might be right for you! These gloves are designed to keep your hands cool and dry, even in the warmest of weather.
The polyester base is breathable and comfortable, while the non-slip grip ensures that you can perform all your gardening tasks with ease.
The COOLJOB Gardening Gloves come in a variety of colors, including red and black, so you can choose the perfect pair for your needs. They also come in a variety of sizes, so you can find the right fit for your hands.
The gloves are made from durable materials that will last through multiple uses. Plus, they're oil-resistant and palm-dipped to provide extra protection against dirt and grime.
In addition to being durable and comfortable, these gloves are also very affordable. You can get 6 pairs for under $30, making them an excellent value for money. Plus, if you need more than 6 pairs, there's also a 10-pair bulk option available at an even lower price point.
To sum up, the COOLJOB Gardening Gloves are an excellent choice for anyone who wants reliable protection while working in their garden or yard. They're comfortable to wear and provide great protection against dirt and grime without breaking the bank.
So if you're looking for a quality pair of gardening gloves that won't let you down, look no further than CoolJob!
Pros
versatile
flexible
comfortable
durable
for different light and heavy tasks
many go-to pair models
Brand: Wildflower Tools
Material: Nitrile coating
Size: S
Best for: adjustable design
When looking for gardening gloves that are comfy and durable, consider Wildflower Tools machine washable gloves! These gloves are designed to keep your hands protected while you work in the garden.
The seamless nylon glove shell is breathable and comfortable in hot weather, and the ribbed cuff keeps dirt out. The nitrile coating provides extra protection against splinters, cuts, and exposure to harsh substances, as well as added grip for advanced hand protection.
The nitrile gloves fit snugly on my hands without being too tight or uncomfortable. The nitrile coating makes it easy to grip tools and plants without worrying about them slipping out of my hands. Plus, they are machine washable so you don't have to worry about them getting dirty after every use.
The best part about these gloves is that they come in two pairs (four total gloves). This makes it easy to switch between tasks without having to take off one pair of gloves and put on another.
Additionally, the best gardening gloves come in sizes small through large so you can find the perfect fit for your hands.
Although they are machine washable, the gardening glove models cannot damage so soon and will last for an extended period. So you can fully wash gardening gloves for the next use.
Thus, you can adjust the machine washable gloves to your needs and requirements, and use them for more robust applications.
Pros
machine washable
durable
reliable
sturdy
flexible for multiple heavy and light tasks
breathable and comfortable
Brand: Dex Fit
Material: Nylon spandex, nitrile
Size: M
Best for: non-slip fabric
The DEX FIT garden work gloves provide a snug fit for every user.
Made out of fine elastic 15-gauge nylon, these gloves have the most ergonomic and comfortable feel to them.
A great feature about them is that you can use them for other choirs than gardening. For example, we like that these gloves are made out of non-slip fabric.
Even if you are working with oily substances or twisting the screws, they won't move even a bit. Therefore, this is what we mean when we say they have a snug fit.
Their flexibility of them is simply astonishing. The tight but stretchy wrist protector is perfect for keeping the glove in place. You won't get any dirt on them, also.
The economic side is what we like the most. If you like to reuse the gloves multiple times and feel like cleaning them manually, simply throw them away in the washing machine. It will do its job while your gloves come out looking brand new.
These garden gloves are silicon-free. Therefore they won't cause any skin irritation. Also, they are suitable for children due to their non-toxic features.
Pros
Affordable
Non-toxic
Snug fit
Made out of non-slip fabric
Brand: Vgo…
Material: Fault leather
Size: L
Best for: pressure-free uses
When it comes to gardening gloves, the Vgo 1-Pair Gardening Gloves Men are a great choice. These gloves are made from a durable material that is puncture-proof and thornproof, making them ideal for use in any garden.
The gloves also feature a 3-layer structure that provides abrasion resistance and scratch protection.
Additionally, they have vibration reduction technology for added comfort and safety. Thus you won't feel pressured when working, and there won't be discomfort or pain in your hands. So you can work for longer hours without any issues.
The gloves also come with touchscreen capabilities, so you can easily use your phone or other devices while wearing them. They are available in various sizes and colors, so you can find the perfect pair to suit your needs.
Plus, they come with an extra-long cuff for added protection against thorns and other sharp objects.
In terms of comfort, these gloves are very comfortable to wear due to their breathable fabric construction. They also provide a good grip on wet surfaces, making them ideal for working in the rain or mud. Furthermore, they are machine washable and easy to care for.
Overall, the Vgo 1-Pair Gardening Gloves Men are an excellent choice for anyone looking for a reliable pair of gardening gloves.
They offer great protection against thorns and other sharp objects while providing comfort and convenience with their touchscreen capabilities and extra-long cuff design.
Plus, they are easy to care for and machine washable too!
Pros
durable
reliable
safe
comfortable
Buyer's guide for the best gardener gloves
Choosing the best gardening gloves might be challenging. For this reason, we present the crucial factors to consider when selecting the best model for your garden tasks.
1. Materials
The material of gardening gloves sets all the standards for them to be ranked as the best gardening gloves. It also determines their longevity and price.
– Goatskin leather: These types of gloves are perfect for anyone who works on planting, digging, cutting, or raking their yard. They are incredibly durable but can be quite expensive.
But, if you want a quality pair of gloves, consider their money well spent. Goatskin leather also keeps the moisture of the hands under control, remaining dry even during the hottest days.
– Cloth gloves: If you are a gardener who spends their time doing lighter choirs, there are a pair of gloves for you. Cloth gloves can be used if you are doing light pruning, planting, or raking.
A feature that we love about them is that they are washable. This is an eco-friendly choice you will adore. However, they are prone to tearing if you are not careful.
– Rubber/PVC coating: Genuine gardeners know that rubber gardening gloves are the best option if you are doing heavy-duty tasks.
They provide maximum protection when you are dealing with thorns or any other prickly plants. If your gardening is enriched with roses, then these are the best rose gardening gloves.
– Nitrile garden gloves: While other materials are best used for plant protection, these are the ultimate protectors of chemical solutions. You do have to check if these gardening gloves are suitable protection for the chemical you are using.
2. Arm protection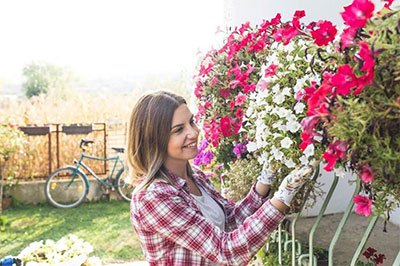 Picking the right size of gardening gloves isn't an easy choice. Most of the gloves end at the wrist, covering and protecting only the fingers and palm. But what about the rest of the arm?
Not everyone deals with the same gardening tasks, and this is why you could pick based on your needs. If you deal with thorns or brambles, you should pick gardening gloves that cover up and give you maximum protection.
3. Waterproof
The waterproof feature should also be observed upon your purchase. You don't need a pair of gardening gloves that easily leaks and soaks up any liquids.
Also, it is essential to have garden gloves that keep the moisture of your hands under control.
4. Fingertip reinforcement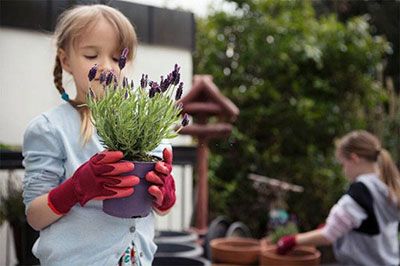 Again, we go back to the theme of heavy-duty tasks. If you are someone who battles with thorns or rocky surfaces, you need to look for fingertip reinforcement in gloves.
If you use up your gardening gloves to the full, you will notice that the fingertips on them are the first to be destroyed. This is why you should keep your safety first.
FAQs
What is the best way to clean leather gardening gloves?
Leather gloves require more care than cotton or rubber gardening gloves.
Also, they are a significant investment in your garden supply, so you should learn how to take care of them properly.
If your leather gardening gloves have dried-up dirt remaining on them, here is what you should do.
Firstly, brush off the soil gently with an old toothbrush or any other brush with softer bristles.
Then, you should wash the gloves with saddle soap. This soap is used for the gentle cleaning and conditioning of leather items. With the help of a damp cloth, slowly start removing the dirt in circular motions. 
When you rinse out the remains, remember not to put the gloves directly underwater. This step should also use a damp cloth.
After you leave the gloves to air dry, and if you want, you can treat them with special oil to maintain the soft feel.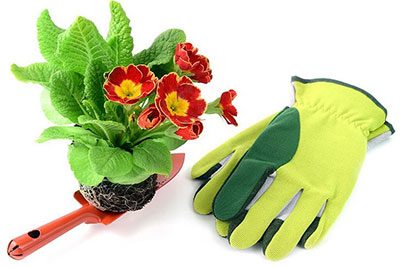 What are the best ladies' gardening gloves?
In our opinion, the best gardening gloves ladies can choose are the Magid Glove & Safety. These gloves offer fantastic protection against thorns and shrubs.
Also, they go right up to the elbow, and this is another reason why we value them. All the safety and comfort you need is in this pair of gloves.
What are the best gardening gloves for hand protection?
The best gardening gloves are the COOLJOB Gardening Gloves.
Our best gardening gloves offer the best overall performance, ideal for all heavy and light tasks, and longer working hours. They are also durable and reliable for multiple uses.
Sale
6 Pairs Women Gardening Gloves with Micro-Foam Coating - Garden Gloves Texture Grip - Working Gloves...*
LIGHTWEIGHT AND DURABLE: These gloves are flexible so you can do all the work easily in your garden by keeping our hand and palm dry. Keeps your hands clean and keep the dirt outside of your hand
COOL AND COMFORTABLE TO WEAR: 100% Nylon shell, 100% Micro foam coating covering the palm and finger and makes you feel comfortable no matter you are building a plant cage while enjoying your coffee
EVERY GARDNER'S BEST FRIEND: Put them through a long day of digging, carrying rocks, pulling weeds, cut and carry the branches these outdoor gloves works perfect
PERFECT GIFT: Perfect gift for your wife and all women who love gardening
00% MONEY BACK : These gloves come with 30 days money back . So if you feel at any point these don't fit your need you can return them with no question asked
Final words
Hopefully, you can better understand the best gardening gloves and their importance when working in your garden. We also hope this article can hep you find your best model easily.