Maintaining the garden is not always a pleasurable task. Sometimes, plants and trees get out of hand and tend to overgrow and ruin the entire appearance of your garden.
Overgrown tree branches shouldn't be the first thing your guest sees when they come to your garden. That is why we focused on finding the best gas pole saw 2023 market has to offer.
Pole saws are the best tool that deals with tall branches that need a cut. And guess what you will not have to reach for the ladder each time you decide to embark on this task.
We present to you the best nine picks, as well as help buyers and guide you to make your purchase easier.
Top 9 Best Gas Pole Saw on the Market for 2023
If you want the best gas pole saw for the money, then you have found your best pick. The TrimmerPlus Polesaw with Bar and Chain Attachment is recommended as an affordable model with high performance.
This gas pole saw is user-friendly with a light but sturdy design to it. If you plan on using it for a long time, you are less likely to feel back strain since the lightweight design is there to help you feel comfortable.
For those high branches, this pole saw can reach 12 feet with no problem. However, note that this gas-powered pole saw is not for those heavy-duty jobs. It is budget-friendly but not as high performing as other models we reviewed.
You can also attach various trimmer attachments and get multiple tasks done in your garden. It features an 8-inch pole and a chain that can cut branches with ease.
For those domestic chores, this is an ideal pick. If you are not a professional gardener or if you are not looking to invest in a high-performing pole saw, this is the best pick for you.
Pros
Affordable
Can reach 12 feet
Easily attaches other trimmers
Cons
Not for heavy-duty chores
The next model on our list is the MAXTRA Gas Pole Saw. With unique features and advantages to it, we are sure this is going to be one of your favorite picks.
The gas pole is exceptionally sturdy and well-built, given you all the control you need. What we appreciate are the adjustable shaft and the telescopic addition.
You can adjust the height of this gas powered pole and reach those tricky areas high up. The height reaches an incredible 15 feet. 
But, remember that this is including the user's height as well. The height of the pole reaches from 8.2 to 11.4 ft, which is still pretty amazing.
The gas-powered pole is powered by a 42 7cc engine that has a 2-stroke system. The impressive power can cut branches up to 9 inches thick and finish the job much faster.
The most important feature includes the multi-functionality of the tool. The gas pole saw is compatible with other devices such as string trimmer, edger, hedge trimmer, and many more. 
You will be getting more chores done in your garden with this simple but effective tool.
Pros
Converts to different tools easily
Extendable shaft
Impressive 42 7cc engine power
If you are looking to purchase a gas-powered pole saw solely for the powerful engine, then Blue Max is the way to go.
The Blue Max gas pole saw contains a powerful 32.6 cc engine that runs smoothly over the branches, giving them an excellent cut. It doesn't take any effort to cut branches with this one. With its powerful performance, you will finish your task in no time.
Also, the high-performance engine produces a fuel-efficient outcome, which means it uses less fuel and gives out a top result.
One more feature we like about this gas-powered pole saw is that it requires less maintenance than the other models we reviewed. It contains a quick-release air filter which can be taken off for a simple cleaning or replacement.
Moreover, the Blue Max gas pole saw has an anti-vibration system to it, which is designed to deliver smooth cuts. The system also works great in reducing the strain you might feel since these machines are quite heavy.
However, it does not have a telescopic pole to it, so you will have to use an extendable shaft. But, the pole alone reaches 9.5ft without extension, so that is suitable as well.
Pros
High-performance engine
Anti-vibration
Fuel-efficient
For getting those tall branches, we recommend getting the Poulan Pro PR25PS 2-Cycle Gas Pole Saw. This one has the most extended 12 feet reach out of all the models in this review.
We were impressed by the durability and sturdy build of this gas-powered pole. When you use an extendable tool, you want to make sure you get the most control out of it, and with Poulan, you can never go wrong.
This gas-powered pole features a SureFire Fuel Delivery System. The system helps in getting the fuel efficiency we all need for demanding tasks.
When operating for a long time, this feature can assist in using smaller but significant amounts of fuel to get the job done.
Starting the engine has never been easier. Moreover, this gas pole saw has pure prime, choke, and pull technology to help you start the engine.
Once the system is turned on, it features an auto return stop switch. The switch helps to reset the original position so that you can have a smooth start-up engine.
This gas pole saw also has a detachable shaft. You can get all the saw chores done in your garden with just one tool.
Pros
Detachable shaft
Easy start engine
Automatic
Durable
Another model comes from Poulan Pro but with slight changes to it. Let's see why this pole saw is different from the previous Poulan Pole Saw.
This gas pole is exceptionally lightweight, but do not let this fool you. The durable design is made to last and delivers top performance when it comes to cutting branches. The efficiency of the tool amazed us the most by far.
The saw is made out of metal alloy, which results in the durability of the build. A feature worth mentioning is the SureFire Fuel Delivery System. The system uses fuel efficiently without any waste. It saves you from using unnecessary amounts of fuel on lighter tasks.
As for the start-up option, Poulan offers a smooth prime, choke, and pull system that starts the engine in seconds. The tool is also equipped with a dual-feed line.
For impressive cutting results, you can use the Tap'n'Go system head. The reloading of the trimmer is extremely easy and convenient.
The Air Purge technology is there to excess any air from the carburetor and the fuel system. Also, you can extend the shaft of the pole and have a better reach for tall branches.
Pros
Affordable
Lightweight
Durable
For real power and versatile use, check out this gas-powered pole saw.
This gas-powered pole saw can be widely used in cutting wood, trimming, or pruning tall branches.
Due to the adjustable pole, you can reach those tricky areas in your garden with zero effort. The extendable pole reaches an amazing 11.4 feet with a 10-inch cutting length.
The pole saw also has an impressive engine that helps you cut with ease. The incredible 42 7 cc engine delivers remarkable power when you are dealing with thicker branches or wood.
Also, you can take this gas pole saw anywhere you want without having to worry about the extra weight. It is incredibly lightweight, considering that it is gas-powered.
However, note that once you add an extendable pole to it. It will add extra weight and be considerably heavy.
The cordless pole allows you to freely move around and do your chores since you don't have to worry about any cables or battery life.
The tool comes in a carrying bag where you can carry or store all of the parts. Therefore, no need to worry about dust collecting on it.
Pros
High- power engine
Reaches impressive height
Lightweight
Cons
Adds extra weight when extended
If you are looking to get the best comfort from a gas-powered pole, we suggest you look at the Echo Gas-Powered Pole Saw.
Some would think that there is not too much comfort involved with gas pole saws since they are quite cumbersome and heavy. But give that assumption another thought.
The Echo gas-powered pole saw has a sleek design but is packed with power. It can shorten the time of most heavy-duty jobs. The delicate appearance is sturdy, with durable construction and a shoulder strap for easier maneuvering.
Our favorite feature of this gas pole saw is the starting engine power. It contains an Echo Vortex power unit that starts with a simple push of a button.
Compared with other gas pole saws on our list, this one is the least noisy while operating.
However, it delivers impressive power when cutting branches. It can cut up to 10-inch thick branches and get rid of them in seconds. One more remarkable feature is that you can extend the shaft of the pole and reach up to 14 feet.
Pros
Slim design
High-power engine
Easy start-up
Shoulder strap
Cons
Can get heavy after prolonged use
Real gardeners know the joy of possessing a multi-functional tool that gets most of the chores done. It just takes a straightforward head attachment switch, and you got yourself a practically new tool. Here, we review the Wild Badger tool with a gas pole saw attachment.
This 4-in-1 tool contains a string trimmer, a brush cutter, a hedge trimmer, and a pole saw attachment. This is genuinely impressive, considering the price of the product. Just think about the payoff when you purchase this multi-tool.
The engine has the power of a 26cc 2-cycle motor that delivers all the power you want. The crankshaft engine is designed to have an easy start-up while running low on fuel emission, but it increases the efficiency of the fuel.
The transmission is supported by the anti-vibration system that reduces the strain you might feel after prolonged work. Also, it contains a harness for easy maneuverability and control over the tool.
As for the pole-saw attachment, it has a rotating, 90 degrees head. The pole saw allows you to achieve multiple cuts from different angles.
Pros
4-in-1 multi-functional tool
Durable and sturdy construction
Powerful engine
A 90-degree pole saw head
The Honda VersAttach System 4 Cycle 35cc Power Head is there to deliver the best performance possible. This attachment amazed us with its advantages and fantastic power delivery.
The first feature that we noticed is the secure start-up system. The GX 35 has a fuel-efficient 4-stroke engine. It uses fuel smartly by delivering small but efficient amounts of it. Unlike the 2-stroke engine, this one does not require any mixing of fuel and oil.
You can go straight away with the gas and have the ultimate saw in your hands. What makes this attachment unique is the SureLoc system.
The joint system securely locks the attachments to the pole and makes sure they stay in place. Simply push and click the enclosure, and you are ready to go. No tools are needed.
The tool is equipped with an anti-vibration system. A rubber-mounted shaft between the shaft and the clutch is designed to reduce vibration. Therefore, it results in a quiet operation.
Lastly, this Honda VersAttach System power has six different options. You can attach it to a trimmer, pruner, hedge trimmer, blower, and cultivator. Enjoy having the ultimate control and a versatile tool.
Pros
Multi-tool
4-stroke engine
Anti-vibration
Buyer's guide for best gas pole saws
Choosing the right model of gas pole saw is not as easy as you may think. There are significant amounts of factors that come into question for the perfect purchase.
Here are a few features to keep your eye on when purchasing pole saws.
1. Reach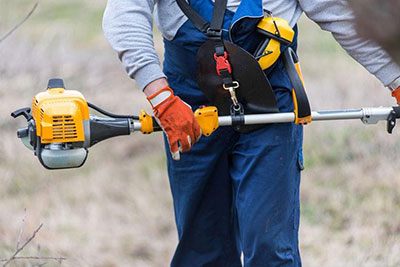 Since you are purchasing pole saws, my guess is that you are in for tall branch cutting. That is why you should consider the reach of the pole first.
Some pole saws we reviewed can reach up to 15 feet, but don't let that fool you. Many of them do not include your height but solely the height of the pole.
You should always first consider your height and add that to the official dimensions of the pole saw. Some of the saws even have extendable or detachable shafts.
Therefore if you are dealing with tall branches or hedges, you would use a telescopic pole attachment. And, if your concern is the detailed tasks, your focus would be on detaching the saw from its pole. Simple as that.
2. Power
Now that you have paid attention to the reach of the pole, it's time to focus on the power. When it comes to power, you would usually look at engine delivery.
Some pole saws would take up your entire day of gardening due to insufficient power delivery. However, some saws can cut in minutes and finish the task much faster.
Unfortunately, more power means a more substantial engine. So, if you are looking to compromise, you have to get used to the extra weight.
3. Noise
You will have to deal with the fact that gas pole saws are one of the loudest machines for gardening. The same goes for gas mowers.
That is just the way it is. Also, the sound comes from two sources. One is from the engine running, and the other is from cutting the branches.
Since they are packed with more power, they will deliver extra noise. However, you can look for an anti-vibration feature in some of the models. This feature is designed to reduce strain and noise.
4. Weight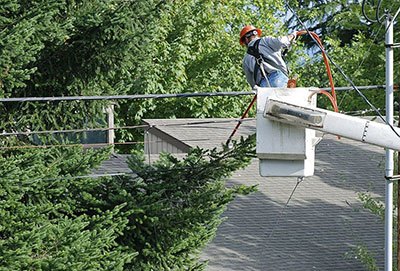 Here is where we talk about comfort. You need to get as comfortable as possible when using pole saws.
Since they have a massive engine, it can be harder to maneuver them when you are cutting branches. A massive pole saw makes it challenging to operate on the branches for a longer time.
Most of the pole saws are on the lightweight side, but are they made for long hours of gardening? Here is where you should consider your ability, and are you ready to take on a pole saw if it is heavier?
You can also look for additional attachments, such as a harness. The harness, or shoulder strap, takes off a bit of the weight from the saw. And you get a secure hold on it because you do not want to cause any accidents.
Aim for a model that is less cumbersome and has a delicate design. They can also be packed with power and still be lightweight.
5. Bar length
Last but not least is the bar length of pole saws. The bar length of the saw will indicate the saw's ability to cut thicker branches.
Usually, when the bar is more extended, it means that it can cut thicker branches or any other gardening object. The bars range from 6 to 12 inches.
FAQs
What is the longest gas pole saw?
We have found that the longest pole saw is the Poulan Pro PR25PS 2-Cycle Gas Pole Saw. The amazing pole saw has a whooping reach of 12 feet, and that is not including your height. Take a look and see why we selected this pole saw as one of the best picks.
Which one is better: gas or electric pole saw?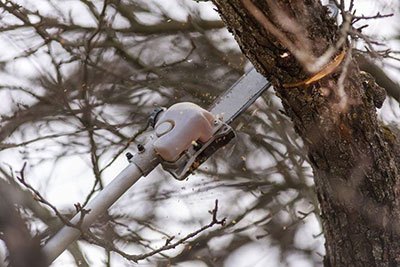 Both electric and gas pole saws have their advantages and disadvantages. Electric ones may be on the budget-friendly side, but are they as efficient as gas saws?
​Gas pole saws are the way to go if you are in for heavy-duty operations. Just know that they take more maintenance and can be cumbersome and noisy.
Final words
Since we come to the end of this best gas pole saw review, we have to announce our best pick. We were amazed by the impressive TrimmerPlus Polesaw with Bar and Chain Attachment.
This saw reaches 12 feet, enough to handle those tall branches in your garden that block your view. The affordable price is also another plus, while the durable quality is one of the best features.
Take a look at the review once again and see why we prefer this saw.
TrimmerPlus Pole Saw Attachment for Compatible Gas Powered Multi-Use Outdoor Equipment, 8-inch saw,...*
8-INCH BAR AND CHAIN: Bar and chain can cut logs up to 4" in diameter. Perfect for trimming high branches that were out of reach without the pole saw attachment.
EXPANSIVE HEIGHT AND REACH: Depending on operator height, adjustable extension allows for 2 height options up to 11 feet. Find the height that works best for you.
AUTOMATIC OILER: The bar and chain's best friend as it provides consistent lubrication to the bar and chain allowing them to work most efficiently and effectively.
WARRANTY: 2-year limited.
COMPATIBILTY: Fits Attachment capable units from Troy-Bilt, Remington, Craftsman, Yard Machines, Yardman, Snapper, Bolens, Murray, Ryobi, Greenworks, Kobalt and most other major brands. Powerhead...