Maintaining the look and feel of our garden is very important as this is what brings freshness to our homes.
Fortunately, there are a lot of ways you can do that. But the best one is to use a garden impact sprinkler.
But then again, you need to consider a lot of things to find the best one. And that's what we're going to talk about in this article.
Here, we'll be teaching you the things you need to know to get the best one. We'll also be suggesting to you the best impact sprinklers you can buy.
What is an impact sprinkler?
There are many types of garden sprinklers, and one of those is the impact sprinkler.
These impact sprinklers are driven by a circular motion made possible by the force of the water. It then pivots around its top using the threaded attachment nut found in its structure.
Though there are some places that replace these with gear-driven rotor head sprinklers, the use of impact sprinklers is still pretty much alive in other parts of the world.
The benefits of having an impact sprinkler
1. Huge coverage
The best thing about having an impact sprinkler is its huge coverage.
Compared to other garden sprinklers, impact sprinklers can cover a bigger area because of the mechanism and the way that the water sprinkles out of it.
It's because of this that impact sprinklers are the sprinkler of choice of homeowners who have big gardens or lawns.
There are even some cases when these impact sprinklers are equivalent to two pieces of standard garden sprinklers.
2. Water efficiency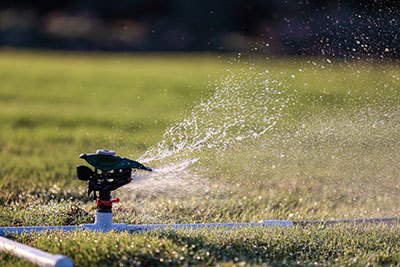 What's great about these impact sprinklers is their water efficiency.
They are best known for their water-efficient design because it uses minimal water. But even though it doesn't use much water, it can still cover a huge area.
That's what separates them from the other sprinkler types.
When you have one of these, you'll surely experience a reduction in your water bill because it uses just enough water it needs to sprinkle on your garden or lawn.
3. Automation
These are made for the sake of convenience because of their automated design. This means that you don't need to be physically present to turn the impact sprinkler on or off.
Though this has been the case for previous models, there are now premium sprinklers that have an automated switch feature that has a built-in timer.
All you have to do is set the time when they'll sprinkle water or when they'll switch off.
4. Healthier plants
What happens when you use an impact sprinkler is that your garden or lawn benefits greatly from it. Why?
It's because it supplies them with enough water, not too much or not too little. It supplies them with the right amount of water which in turn makes them healthier.
And when this happens, you'll notice your garden looking fresher and more alive than ever. It would turn lush green, which would then add beauty to your home.
This is very important, especially since your garden is what adds freshness and is what relaxes your senses.
5. Prevents flooding
Just like what was mentioned earlier, having an impact sprinkler would save you the hassle of having to turn it on or off manually.
This is because of its automation. And with its automation comes the right supply of water needed to keep them healthy and looking freshly green.
It does this without the risk of flooding because it supplies the right amount of water to the area you intend to water.
Best impact sprinklers money can buy: My top 7 favorites
The best competitive product on the list is from a renowned and familiar manufacturer in the field, Rain Bird. This Rain Bird AG-5 is an upgraded version of the previous Rain Bird P5-R that we will mention below.
As expected, this impact sprinkler is one of the best-sellers in the market with various advantages.
The most outstanding of this sprinkler is the pop-up design that can retract out of sight when finishing its jobs. Thus, you can use it even in the high-traffic area without the fear of someone might kick it and destroy it.
In terms of performance, this AG-5 sprinkler is very reliable, with adjustable spray distances between 24 to 45'. Apart from infinite pattern adjustment, the spray arc can be tuned from 20 to 360 degrees to meet your needs.
Also, it comes with five additional nozzles that can help you with various watering rates from 1.5 gallons per minute to 8.4 gallons per minute.
Pros
Smart design to retract out of sight when not in use
Multiple interchangeable nozzles for variable watering rates
Easy to assemble
Excellent for hard water, well water, and high-mineral water
Cons
Need a special tool to install and remove
Next on our list today is a product from a leading producer of lawn and garden watering equipment in North America, Melnor Impact Lawn Sprinkler.
This sprinkler is suitable for those who are looking for a serious sprinkler that they can count on for at least seven years. It is wholly built of durable and non-corrosive metal that can last season after season under the beating of weather.
Namely, the base is made of durable zinc and carefully coated in enamel to resist water and corrosion for long-term uses.
In terms of radius, this sprinkler works well with medium and large lawns with a maximum reach of 50 feet. You can easily adjust the spray radius to tackle smaller watering tasks.
Also, you can fine-tune this Melnor impact sprinkler between 20 degrees to the full 360 degrees for a circular shape of a maximum of 7,850 square feet.
Moreover, you can also change the sprinkling patterns with a push-down tab.
Pros
All parts are made from high-quality metal
Backed by a 7-year warranty
The maximum radius of 50 ft, or a circle of 7,850 sq ft
Cons
Requires high water pressure to operate properly
Another competitive brand, this Bi-Smart automatic sprinkler is a worth reckoning product with a high performance that might surprise you. 
With the design of triple sprinkling heads, this sprinkler works well with large lawns. It can rotate 360 degrees with a radius between 26 to 32.8 feet. Hence, it will automatically spray the water evenly in a circle.
In terms of durability, this sprinkler is made of ABS plastic and a rust-proof polymer that can withstand extended use under the damage of nature.
Besides, it only takes you a few minutes to assemble this sprinkler. And whether you find that task difficult, you can find the detailed guide in the instructions included in the product.
The best thing about this sprinkler is that it can be used for multiple purposes: irrigation, garden watering, roof cooling, or even for your kids to play around. By switching between two sprinkler heads, you will have a flexible tool for many tasks around your house.
Pros
Triple sprinkling heads for maximum performance
Stable when working under high pressure
Easy to set up and use
Quiet like slight rain
Cons
It bounces up and downs violently for a few first minutes of working before settling down
The Orbit Zinc Impact Sprinkler is one you should try if you have a large lawn or if you want to cover a huge area.
But even though this is great for large lawns, this will still be effective in small areas because of the adjustability feature it has.
Its spray pattern can be adjusted from a partial circle to a full circle or vice versa.
You can also adjust its tripod base from 16 inches to 37.5 inches. That's how versatile and flexible this impact sprinkler is. It's because of this that it had been one of our favorite impact sprinklers.
It even has its own 1/2-inch male impact head that's threaded.
Pros
It's got a pretty good coverage as it can cover a huge area. You won't be short of coverage when you got this one.
And even though it has huge area coverage, it's still very flexible as you can adjust it if you're going to use it on a smaller area.
Its quality is also pretty nice. You can see that it's very sturdy and premium made.
Cons
It's a bit inconsistent especially if you're going to always adjust its settings.
It's best if the settings are left unchanged.
Its tripod material also feels a bit cheap because of its texture. Its surface is also not that smooth.
The Orbit 55025 Satellite 2 Impact Sprinkler is another one that we'd recommend. This one is highly recommended because of its adjustable distance.
But it's not just that, as this one's also got a diffuser pin that gives you total control over how you want your impact sprinkler to water your garden.
This also has an easy-to-adjust pattern that lets you choose if you want it to sprinkle water in a full circle or in a part circle.
What we also like about this one is its heavy-duty canister that has ¼-inch and 3/4-inch dual inlets. This makes the installation process easier than other sprinklers that don't have this feature.
And if you have a dirty water supply, don't worry because this is made to handle situations like these.
Pros
It is very easy to install thanks to its advanced but simple features.
Adjusting this one is also easy to do. It won't even take you five seconds to do it.
Cons
There are times when the mechanism sticks. To avoid this from happening, you better wash it frequently.
The spread is also not that remarkable.
The Orbit Heavy Duty Brass Lawn Impact Sprinkler has coverage of 7,800 square feet.
This is equivalent to a 100-foot diameter coverage, which is more than enough if you've got a medium-sized to large-sized lawn. The tripod can also be easily adjusted thanks to its smooth mechanism.
If you want to adjust its sprinkling pattern to a partial circle, then simply flick the switch. Or, if you want to bring it back to sprinkling full circle, do the same process again.
If you're the kind of person who's always on the go, and you wish to bring this sprinkler with you, then you won't have any problem with it. It's because its tripod is retractable.
The gooseneck-type connection also provides an easy hose connection.
Pros
Despite its affordability, it still has a lot of great features that are very useful.
This one's a user-friendly sprinkler.
Cons
It doesn't look good because of its bulky design.
This one is only highly effective on small lawns.
The Rain Bird P5-R PLUS Plastic Impact Sprinkler is another one worth reckoning.
This has a double-weighted arm that's made of brass, giving it a solid look and performance.
It also has a diffuser screw that makes small droplets of water for uniform coverage.
But the main highlight of this sprinkler is its removable nozzle that features a bayonet design, allowing you easy access to its interior when cleaning it.
Pros
The materials this one is made of can clearly be seen as of high quality.
Its adjustability feature makes this as one of the best performing sprinklers out there.
It also is visually pleasing thanks to its sleek design.
Cons
The features are a bit tricky to use.
Things to check when choosing an impact sprinkler
1. Coverage
There are a lot of things you need to consider when choosing an impact sprinkler.
But the first one should always be the coverage. It's because this is what impact sprinklers are meant for, which is to sprinkle water into your intended area of coverage. So make sure that it will reach the place you intend to water.
You also need to know if you're going to use it on a small lawn, a medium-sized one, or a huge lawn.
2. Durability
Make sure that it's durable so that you'll get the most out of your money. It should have a long service life so that you don't need to buy a new one just after a few months or years of use.
Ensuring the durability of an impact sprinkler also gives you the assurance that it won't easily be damaged because it's of high quality. You can do this by touching the surface and feeling any bumps on its texture.
The surface of the impact sprinkler should be as smooth as possible, as these are a few signs that it has undergone a precision-crafted process.
3. Material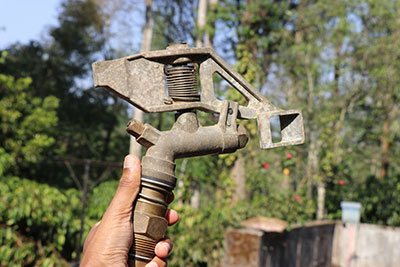 Also, make sure that it's made of high-quality materials.
There are already a lot of impact sprinklers that are made from new synthetic chemicals that are mixed. But be cautious of these sprinklers as these mostly have a below-average quality.
As much as possible, stick to impact sprinklers that are made of stainless steel or perhaps brass
4. Look
Making sure that it looks good might be nonsense for some, as there are a lot of people who tend to disregard the visual appearance of a product.
Well, in the case of an impact sprinkler, you need to make sure that it looks good. It's because this is going to be placed in the garden. And when it's placed there, there are a lot of people who are going to see it. Hence, you need to make sure that it looks good.
Because if not, then it would be an eyesore not only to them but to your home as well. You see, the visual look of a product is a reflection of your own home. If it doesn't look good, then chances are that you might not be keen on the details.
Take note, too, that being keen on details is as important as maintaining the feel of your home.
5. Price
Then there's the element of price that you should never disregard. This is very important because this is where you'll see if the product is worth buying or not.
When choosing an impact sprinkler, be sure that it's not over-priced. Though you might think that an expensive product is of high quality, then you've got it wrong. Yes, this might apply to some, but not to all. But you should also make sure that it's not too cheap.
Those impact sprinklers that are very affordable are most of the time made of low-quality materials, so you need to avoid these kinds of products.
To keep it safe, choose those that are in the mid-range price so that you're assured that it's not overly priced or cheap.
Conclusion
Finally, if you have ever asked which product is the best on the list, the answer will be the Rain Bird AG-5 Impact Sprinkler because of the following reasons:
– High performance with extensive coverage and adjustable radius
– Interchangeable nozzles for multiple uses
– Possessing a filter to deal with hard water
– Easy installation and maintenance
So if you want to have the best impact sprinkler, then this one's your best choice. You'll surely see the wonder of it when you use it.
Sale
Rain Bird AG-5 All Gallonage Pop-Up Impact Sprinkler, Adjustable 20° - 360° Pattern, 24' - 45'...*
Excellent choice for hard water, "dirty water", or reclaimed water irrigation systems
Includes 5 interchangeable color-coded nozzles
Double-weighted arm for slower rotation and increased distance of throw
Water Saver brass weighted PJ spray guide arm controls stream, prevents side splash onto buildings and walkways
Diffuser screw breaks water into smaller droplets for uniform watering and allows up to 25% radius reduction