Instead of raking, bagging, and disposing of falling leaves in your garden, why don't you think of the best leaf shredder?
As one of the most effective garden tools, it allows you to deal with all of the large and small branches, limbs, and leaves around for disposal effortlessly.
So, what are you waiting for?
Get a shortcut with the information below, and then get your most suitable product now.
How does a leaf shredder work?
Before going into the details of the leaf shredder review, let's talk about its operating style.
You feed the leaves into a hopper at the top of the machine. Then depending on the type of shredder (electric, gas-powered, or handheld), it will break the leaves down and tear them up with rotating blades or flail hammers or cogs.
After that, it pulls the leaves through and delivers them from the bottom as fine particles.
The cool things about leaf shredders
1. Environment friendly
The first thing why you need to have a leaf shredder is because it helps the environment.
It does this because you don't have to put the leaves in a garbage bag and let the garbage truck take them and place them in a landfill.
2. Creates natural compost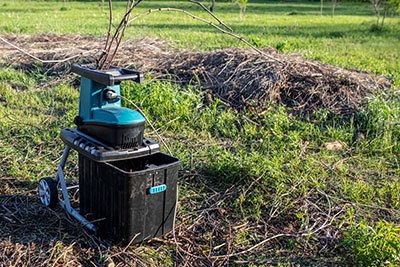 Another cool thing about these leaf shredders is that they can be used as a natural composting material.
The shredded leaves function as a great compost to improve the health of your plants. These can be easily degraded, which means that they can also be easily absorbed by your plant's roots.
3. Useful for mulching
Mulching is important for growing plants because they need to be protected from the outside environment. With this, you can use the shredded leaves as a form of mulch.
By simply placing them on top of the plants to cover them up until the right time comes for them to be exposed to their surroundings.
4. Easier lawn maintenance
You don't have to rake all the fallen leaves on your lawn because you can simply use your leaf shredder to collect them.
Once it's done collecting, it automatically grinds and shreds the leaves into small pieces. It's as simple as that.
Best leaf shredders money can buy: My top 9 favorites
With a mighty ability to shred 53 gallons of leaves per minute, WORX WG430 is truly an efficient monster we've chosen at this point.
Along with mulching up to gallons of leaves, this product comes with a flex-A-line bladeless system that avails a thick trimmer line to attain a mulching ratio of 11:1 as well as delivering proper performance.
What's more, it includes an easy start-stop system for easier control and a clean air motor-cooling one for cooling down the machine after every use.
Is there anything special?
Well, this unit offers a bag support ring so that you can put a collection bag underneath it to gather the mulched leaves. Wonderfully, it has a 3-year warranty.
Just note that this unit works perfectly on dry leaves, not wet ones.
Pros
Good to deal with high volumes of leaves
Easy to assemble, operate and store
Bladeless for safety risk
Cool systems
Good feed rate
Nice warranty
Worth your money
Cons
Not for wet leaves
A lot of dust, you need a mask
Providing both chopping and shredding options is an excellent thing when it comes to this machine, and Snow Joe CJ601E does just that with many nice features.
This powerful unit guarantees that every leaf, branch, or brush surrounding your lawn would be removed easily. Moreover, it is a nice option for shredding and chipping wooden sticks and limbs up to 1.5 inches.
What's more, reducing, reusing, and recycling garden waste into nutrient-rich compost or mulch is a piece of cake thanks to a 16:1 reduction ratio. As a result, you will not only lessen garden debris but also leave it neater and cleaner.
Just make sure not to tackle anything bigger than that number. And importantly, avoid putting too much at the same time because of a small hopper.
In terms of safety, this model from Sun Joe boasts a safety hopper that can prevent the motor from running when opened and a reset button if the unit is overloaded.
For every purchase, you will get a 2-year warranty as well as the approval of ETL.
Pros
Compact design
Never-go-flat wheels, convenient to handle
Easy to set up and use
Absolutely quiet
Making good mulch and compost
Excellent safety features
2-year warranty
Cons
Small hopper
Not included bag
Dulled blades after several uses
Despite an unremarkable look, Flowtron LE-900 is a nice and good option that only comes with the cool features you need and nothing you do not.
First, this machine has a great mulching ratio of 30:1, which is higher than the others out there. That's why it is useful for those who want fine leaf pieces as fertilizer.
Moreover, it avails a two-step process, including shredding and mulching, for maximum waste reduction and quick cleanup.
Just note that this machine makes a lot of noise while working. But it is not a BIG issue, in our opinion. Indeed, the Flowtron LE-900 has awesome features as well.
With a removable air filter, reducing dust is quite simple. What's more, it has a high-density polyethylene funnel and housing, as well as the capacity to lessen 11 bags of leaves to just one.
Sounds interesting, right?
In sum, this unit allows you to adjust the level of shredding between leaves, fine needles, pine straws, etc., to get maximum efficiency.
Pros
Lightweight
Made for leaves, dry and wet
Easy to set up, use, and transport
Giving a fine mulch
High reduction rate
A quick operation for effective results
Cons
Not compact, hard to store
A lot of noise for some
Only 1-year warranty
Sun Joe SDJ616 is present in the 4th position in our article because it is one of the best dust-free devices.
Delivering the same power as the WORX WG430, this one boasts Smart Shred-Tech, producing much less dust generated. Wonderfully, it includes an easy-to-control dial, allowing you to change between dry and damp garden waste.
However, we recommend not using it for the wet leaves since they might clog the machine.
How about other features? Are they good?
With a powerful motor of 13 amps and 8,000 RPM, you are guaranteed to tackle gallons of leaves effortlessly.
Another cool thing is that you will get a 16-gauge extension cord with a maximum length of 50 feet for easy reach.
If there are too many things to be done, you should consider the Sun Joe SDJ616.
Not only does it come with huge capacity, but it also handles lots of garden waste. Importantly, it is the most lightweight machine for you to bring around.
Pros
Lightweight for easy portability
Less dust created
Easy to assemble and use
Quiet operation
2-year warranty
Cons
Easily clogs if there are more wet leaves inside
A bit tough when changing the cutting lines
If you want a shredder that includes a collection bin, integrated wheels for simple transport, and an abundance protection feature, Earthwise GS70015 is a nice alternative.
Thanks to a 1.2-bushel collection bin, gathering all of the mulched leaves as fertilizer after that is easy. Also, it highlights overload protection with a reset switch and durable back wheels so that you can move it around effortlessly.
Unlike other products, this one is capable of dealing with branches up to 1 ¾ inch in diameter because it is equipped with a powerful 15-amp electric motor.
Wonderfully, it includes a tamper tool and leaf chute that protect your hands while mulching.
One thing that you should avoid is not putting wet leaves or branches because they might clog, and you need to take time to clear the blockage.
Generally speaking, the Earthwise GS70015 can chip and cut up a variety of garden wastes and turn them to fine compost. Hence, if you want the all-in-one shredder for an affordable price, please consider this one.
Pros
Great for shredding and chipping
Easy to open to clear the jam
Integrated wheels for easy portability
Included collection bin
Relatively inexpensive
Cons
Easy to clog with wet leaves and branches
Small opening for some
If you own a large garden with extensive lawns, you need a heavy-duty shredder to handle volume cleaning up at speed. And the gas-powered wood machine from GreatCircleUSA is what you need at this point.
In fact, this monster is able to tackle all your shredding, chipping, and mulching demands. Highlighting both a side chute and a top hopper, you can easily deal with all types of cleaning up tasks surrounding your backyard.
As compared to the shredders above, this one boasts a large hopper for volume shredding as well as a 3-inch diameter side chute for auto-fading small branches and limbs, at the same time keeping you safe and saving energy and time.
Another cool feature is the vacuum kit that permits you to collect leaves for convenient mulching without raking by hand. But you need to buy them separately.
Last but not least, we would like to talk about its well-made and reliable gas-powered motor.
It's equipped with a 7 HP 212 cc recoil engine and a forced-air cooling system. Moreover, it includes a low oil sensor and a safe fuel shut-off function for any unexpected issues.
Pros
CARB certified
Powerful machine
Big hopper and side chute
Excellent safety features
Great customer support
3-year limited warranty
Cons
Compact yet too heavy
Need to buy a vacuum kit separately
Incomplete instructions
Another gas-powered shredder that perfectly fits heavy-duty tasks in your large backyard is from SuperHandy. Although the brand name is infamous, this one truly delivers decent performance.
Similar to the GreatCircleUSA machine above, the SuperHandy Gas 3-in-1 Wood Shredder also comes with 7HP, 212cc, and 4-stroke single-cylinder engine.
That means it is able to grind through limbs up to 2.5 inches in diameter (avoid using for some over 3 inches) without hesitating. It, of course, does branches that size as well. Just make sure you do it slowly to avoid clogging.
What's more, this product includes a nicely shaped side chute for the branches, a big hopper, as well as a collection bag on the side for easy collection and dispense.
The only drawback is that it has a high price tag.
But the SuperHandy gas-powered shredder is still a good choice because it delivers lots of power for shredding, chipping, and mulching. Most importantly, it is built to last for many years.
Pros
Ideal for heavy-duty tasks
Well-made
Easy to grind anything in a big enough hopper
Easy to assemble and operate
Simple portability with large wheels
3-year limited warranty
Cons
Too expensive
A lot of vibration
If you need a complete yet affordable kit for shredding and blowing leaves in your garden, Toro Ultra Plus Leaf Blower Vacuum will be your perfect choice.
It is a powerful machine, up to 250 mph degrees, and it has 410 CFM Vac mode as well as 350 CFM blow mode.
The leaf blower vacuum includes a bottom-zip bag, vacuum tube, shred-all shred ring, cord storage hook, and an oscillating tube.
Considering it's a 3 in 1 product, is it good to use?
The truth is that this leaf mulcher, blower, and vacuum is capable of delivering adequate performance thanks to a powerful motor. Also, it has variable speed control for better control in every mode.
Just keep in mind that this machine is designed to collect leaves and not dust.
But don't worry, you will get a machine that has the patented shred ring and works with an impeller that is metal. This all can make up to 97% less mulched debris in 1/2 of an inch.
Another advantage is that an oscillating nozzle kit is included. What does that mean?
It means that this kit sweeps the air back and forth, and it makes a wider blowing path, so you don't have to move your wrist. The kit includes a power insert – for heavy, wet leaves; a main blower tube; a cord storage hook; a concentrator, and a bottom zip vacuum bag.
Pros
Compact size, easy to store
Lightweight, easy to move
A complete kit with cool accessories
A powerful 3 in 1 machine
Clear instructions to set up
Cons
Extension cord is sold separately
The last leaf shredder review that we would like to introduce is the device from Landworks.
It is one of the machines that can serve you for years to come, thanks to a heavy-duty polypropylene material. No doubt that this one will not dent or rust for long use.
Although this one comes with the usual power like the others out there, it also features some benefits that you cannot find from other models.
First, this device can process materials over 1.57 inches in diameter, which means it is ideal for fallen twigs. Besides, it includes a great reduction rate of 17:1 and a nice speed of 4,100 revolutions per minute.
One more terrific thing is that it has dual-edge blades, giving optimal shredding and slicing results. Interestingly, the blades are reversible to deal with clogging if it occurs and increases this shredder's longevity for extended use.
Similar to some products, you should avoid putting too many leaves or limbs at the same time because the hopper is not big enough to gobble up them.
Pros
Compact yet powerful
Ideal for small jobs
Made of high-quality material
Long-lasting blades
Instant easy-to-use Start button and Overload Protection switch
Integrated wheels for easy transport
What to know when buying a leaf shredder?
Is your garden small or large? How about the amount of work that you have to tackle? Does your garage have enough space for a big machine? etc…
It is best to know what feature you need most, and then making a decision will be easier.
Down here and find out the necessary information that the best leaf shredder should have.
1. Power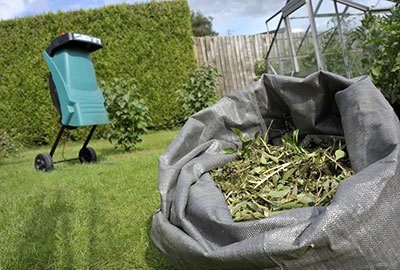 A machine packed full of power is tempting, right?
Ideally, you should go with one ranging from 13 to 15 amps of power so that you can shred all of the leaves in your garden and even your neighbor's.
In case you are working in a commercial environment, you should find something that can chop everything finely in the shortest time. Additionally, choosing a powerful device prevents blockage if you put too many leaves at once.
Generally, you need to understand your current situation. Then making a decision will be easier.
2. Capacity
Again, you have to determine what size of the job you are going to complete so that you can pick the right capacity.
If your garden is small, buying a machine with a high capacity is not necessary. Leaving it for those who are tackling a public park or estate sounds logical.
3. Reduction ratio
The next important feature is the reduction ratio of a leaf shredder.
It refers to the different sizes of the leaves before and after you have ground them.
For instance, if the machine lessens the size of leaves by 15 times, the reduction ratio will be 15:1. Or you also find some options out there, come with 17:1 or, even better, 30:1.
The higher the reduction ratio is, the finer leaf pieces for availing as natural fertilizer is.
4. Blade quality
High-quality blades are another necessary thing that you should not miss.
Try to imagine that if your leaf shredder doesn't have blades, will it deal with different materials except for leaves?
Well, the high-quality blades make sure the leaves are totally shredded. Furthermore, you don't have to replace them before the season is over.
5. Safety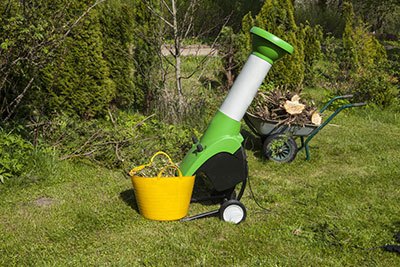 No matter which tools you are using for your gardens, such as a brush cutter, Echo trimmer, or anything, safety is a MUST that you should not ignore.
Luckily, these leaf shredders are over the expectations of safety for anyone who might come into contact with them.
The safety features that you need to check include automatic shut-off and reset buttons. Even some machines have a filter to prevent dust from escaping.
6. Storage and portability
Since the leaf shredder needs to take a break during the cold months, ensure you save space to store it instead of leaving it outside and getting damaged by bad weather.
Or taking apart this machine to make the storage simple is great news if your garage is full.
The portability is necessary if you want to move it around the garden. Make sure it is not too heavy and comes with heavy-duty wheels so that they can last for a long time.
What is the best leaf mulcher?
In sum, buying the best leaf shredder/mulcher/chipper is a nice idea if you want to use leaves as a natural fertilizer for your yard.
Out of those 9 picks that we have introduced above, our satisfactory device is the WORX WG430 Electric Leaf Mulcher.
First, this device is designed for both beginners and pros. It is very easy to use and assemble.
Of course, it perfectly turns gallons of leaves in your garden into fine compost within minutes. Moreover, it comes with cool safety features to protect you as well as your kids around.
And with a 3-year warranty, you do not worry about any issues related to this machine.
What do you think? ORDER NOW if you have the same thoughts as us. 
And don't forget to share your experience after using it. We'd love to hear.
WORX WG430 13 Amp Electric Leaf Mulcher*
[53 GALLONS/MIN] That's right, the 13.0 Amp motor mulches up to 53 Gallons of leaves per minute
[RIGHT INTO THE BAG] Disposes of leaves and debris into a bag you can attach beneath (bag not included)
[11:1 MULCH RATIO] That's 11 bags chopped down into 1, all due to the innovative blade-less Flex-a-Line mulching system
[STURDY YET PORTABLE] At 20 lbs., this tool is substantial and stays in place during use, but isn't so heavy that you can't move it around the yard easily
[DO IT YOURSELF. DO IT BETTER. DO IT WITH WORX.] WORX tools are engineered with cutting-edge technology, and above modern efficiency standards, so you can build a cost-effective tool collection...