Any garden will have plants with redundant branches that are dead, ugly, tangled, or grow disorderly, which reduces the aesthetic of the whole garden dramatically.
Therefore, whether you are a professional gardener or not, you will still need a decent lopper at home to neaten your trees.
Let's see what the best loppers have to offer and pick the right choice for yourself now!
Take away key points:
You can choose the best loppers to ensure maximum efficiency when working in the garden
They come in various sizes, styles and materials, so check their quality to choose the best loppers on the market
They might require more money but the models are worth investing
The benefits of having a lopper
Here are the crucial advantages the loppers offer:
1. Easily cut through twigs and branches
The very first benefit that you'll get out of using loppers is that you'll find it easier to cut through twigs and branches.
This happens because these tools are specifically designed to do just that.
The length of the handles, the size of the blades, and the overall mechanism it follows all contribute to making your twig-cutting and branch-removal sessions much easier.
2. Safe to use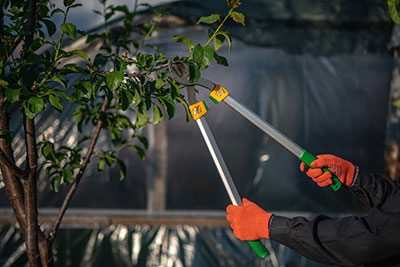 These are also safe to use. Compare it to other gardening tools, such as chainsaws and manual saws, where you can easily cut yourself with them.
In using a lopper, you don't have to worry about any of those. These loppers have a long handle that provides enough space for you to safely situate your hands far enough for them not to touch the blades.
You have peace of mind when you use loppers.
3. Helps in beautifying your garden or lawn
When you use loppers in gardening, you will surely have a more attractive garden, lawn, or backyard. This is because you can easily remove unnecessary branches and twigs.
These cover the design of your house as well as sunlight. When you remove these twigs in a very relaxed manner, you're more likely to do it regularly.
This removes the tendency for branches and twigs to grow uncontrollably.
The best loppers of 2023 reviews: Our 9 choices
$$ – TABOR TOOLS GG12A Anvil Lopper
Best anvil loppers with carbon steel blades for thick branches, dead branches, and higher branches. The cutting blade offers better-cutting power, so you can cut branches efficiently.
But this pair of loppers are pricey.
$ – Fiskars 28″ Steel Blade Garden Bypass Lopper
Best for budget needs, and ideal for soft green branches. The long handles offer more leverage than the manual loppers.
The loppers might be defective.
$$$ – BLACK+DECKER LLP120B 20V Cordless Lopper
Best cutting capacity for dry wood, dry branches, and more inches in diameter. The cutting power ensures more strength, so the lopper blades cut branches for different purposes and uses.
The loppers are too bulky.
$$ – Corona Tools | 30-inch Branch Cutter ComfortGEL Bypass Loppers
Corona loppers are ideal for high branches and green branches, as the blades offer better performance. You can also use them for various robust applications, and they are durable.
The blades might rust too soon.
$$ – Jardineer 2″ Anvil Loppers Shears
The pruning shears are ideal for different applications and trimming operations. The compound action loppers are heavy-duty and reliable for different uses and extended periods.
Many find them too bulky.
$$ – Spear & Jackson 8290RS Razorsharp Heavy Duty Telescopic Ratchet Anvil Loppers
Best ratchet telescoping loppers for their design and robust uses. They cut more inches in diameter, and the telescoping loppers use advanced anvil blades to finish tasks effectively.
Users complain the telescoping handles are prone to bending.
$$ – THANOS A1101 Extendable Anvil Loppers
The most extendable loppers on the market due to their system and design. The model is resistant to sticky sap and you can use the telescoping handles for various robust applications and clean cuts.
$$ – MLTOOLS Ratcheting Extendable Bypass Lopper
The loppers are ideal for telescoping handles to cover more work and operate efficiently. The loppers are durable and reliable due to steel construction.
Anyhow, they are flimsy in arms.
$$ – KSEIBI 252606 Anvil Lopper
Best for durable and reliable design to last longer and cut effectively and efficiently. The sturdy and solid construction cannot damage soon.
They are not for tall plants.
Brand: Tabor Tools
Material: steel
Style: anvil loopers
Best for: maximum cutting force and coated blades
The first candidate on our list is the excellent Anvil Loppers from the brand Tabor Tools. Its blade has the ability to wreak havoc on any stubborn stems it touches.
As it can chop objects that are up to 2 inches in diameter, you can tackle most branches except for too-big ones, those that typically only exist in the jungle rather than in home gardens. 
Thanks to the total length of 30 inches, this tool is long enough to reach high branches and, at the same time, offers more leverage for better cutting force.
Constructed of hardened carbon steel and coated with a non-stick and non-friction housing, the blade is incredibly durable and improves both the overall performance and ease of use.
Moreover, the ergonomic handle is rubberized so that users can have a better and more comfortable grip. You will find maneuvering this long lopper just a breeze.
As a bonus, the manufacturer, TABOR TOOLS, also includes a book of pruning tips and tricks so you can acquire more knowledge to take care of your garden with these Anvil Loppers.
Pros
Sturdy blades with non-stick and non-friction housing
Ergonomic and comfortable handle
Customers are gifted a manual book
High performance
Brand: Fiskars
Material: steel
Style: bypass loppers
Best for: narrow blade opening and stiff dead branches
The Fiskars 28 Inch Bypass Lopper is another bypass lopper from Fiskars company with eye-catchy colors of black and orange.
This one features a fully hardened, precision-ground blade that is razor-sharp and can stay that way in the long run. It also has the same low-friction and rust-proof housing as the Fiskars 28 Inch Bypass Lopper model to fight against the wear and tear from rust and friction.
Despite not having the PowerGear technology, the lopper has shock-absorbing bumpers to get rid of the jarring end of every cut, which is ideal for long periods of pruning trees. 
Besides, the solid steel handles are built to last. They will not be bent or broken after years and years. You will feel them firmly in your hand when you prune around your garden because they are non-slip, too.
Anyway, it is very cheap yet comes with a full lifetime warranty, so don't be afraid to make a small investment.
Pros
Low-friction and rust-resistant coating
The steel blades stay sharp well
Lightweight
Shock-absorbing bumpers
Full lifetime warranty
Cons
The blade is too crispy
Many customers complained to receive defective products
Brand: Black+Decker
Material: steel
Style: electric cordless lopper
Best for: thick branches and more cutting force
At first glance, most people will judge this tiny lopper provide little leverage, but this monster can actually crush thicker branches of up to 4 inches in diameter. 
It is understandable because it is not only operated by hand but also gets more power from electricity. The Black & Decker LLP120 is equipped with a heavy-duty cutting bar and chain as well as sharp clamping jaws to handle any kind of timber.
This cordless model runs on a 20-volt MAX lithium-ion battery that can last five times as long as 18-volt NiCad batteries, and users won't have trouble with long wires, either. 
If you often cut 1.5-inch branches, this tool can be used around 150 times when fully charged. 
What's more, there are rugged metal guards covering the jaws to shelter users from the robust cutting chain and instantly snap the blades back after every cut. 
Unlike chainsaws, the jaws do not skip around when you begin the cut. Instead of moving from top-to-bottom, the blade will slide side to side so that the cutting chain will not be buried in the dirt and will be less dull than a conventional chainsaw.
Pros
Energy Star rated
20-volt MAX lithium-ion battery
It can remove logs of up to 4 inches thick
Backed by a 2-year limited warranty
Cons
The automatic tensioning system does not work well
It is challenging to inspect the oil level
Heavier than other manual models
Brand: Corona
Material: steel
Style: bypass loppers
Best for: long aluminum arms and pruning shears
The Corona SL 3264 is highly recommended by both casual customers and experts for pruning saplings. 
Once you grab the item in your hand, you will feel fantastic with the level of comfort and controllability. And when you perform the first cuts, you will feel no fatigue owing to the ShockGUARD bumper system eliminating almost all strain on your hand and shoulder.
Although the trapezoidal steel handles are quite sustainable, the dual arc blades seem to be too crispy. We found a number of previous buyers complained about the longevity of these blades.
As such, even though the blades are advertised to be non-stick, remain sharp over time, and have a 1.5-inch cutting capacity, you had better not try to use the lopper with excessive force on stiff wood. The higher chances are that they will be broken down.
In general, this is still a good choice for light-duty projects at an affordable price range. As long as you use and maintain the tool properly and carefully, it will be okay.
Pros
Good price for value
Lightweight
The ShockGUARD bumper system reduces fatigue
The grips are sturdy and comfortable
Cons
The blades are prone to chip and become rust
Brand: Jardineer
Material: carbon steel
Style: Anvil loppers
Best for: stainless steel blades and pruning thicker branches
The Jardineer 2″ Anvil Loppers Shears are an excellent choice for anyone looking to do some serious pruning. These heavy-duty loppers have a cutting capacity of 2 inches, making them perfect for tackling thick branches and twigs.
The carbon steel blade is coated to make non-stick cuts, preserving the health of your plants while you work. The ergonomic design makes it easy to use and the long lever tree trimmer allows for precise cuts with minimal effort.
They glide through branches like butter, making quick work of any pruning job you throw at them. The handles are comfortable to hold and the blades stay sharp even after multiple uses. You will also appreciate that they come with a spare blade so you don't have to worry about replacing them anytime soon.
The durable and sturdy design is ideal for cutting force and the loppers cut branches bigger in diameter. The Jardineer lopper blades cut thick branches and you can also use them for trimming trees, dry wood, and other tasks.
The Jardineer 2″ Anvil Loppers Shears are a great investment for anyone who loves gardening or needs to do some serious pruning around their property. They are durable, easy to use, and provide precise cuts quickly and efficiently.
If you're in the market for a high-quality pair of loppers, then these are worth considering! The pruning shears won't let you down!
Pros
anvil blades
heavy-duty
for pruning tasks and pruning shrubs
blade sharpness
more leverage
steel-geared loppers
cutting power
Brand: Spear and Jackson
Material: steel
Style: ratcheting loppers
Best for: anvil lopper steel blades and telescoping handles
This Spear & Jackson 8290RS lopper utilizes a ratchet action to cut down branches. That means that you can take advantage of advancing the spring-loaded cutting blade (the upper blade) towards the anvil blade (the underneath blade).
Owing to that smart mechanism and the powerful Sk5 carbon steel blade, it is excellent for tackling heavy-duty jobs. Within some short steps, users can easily remove tough twigs that are as thick as 2 inches.
Also, the sharp blade is coated with PTFE to reduce friction during cutting and eliminate rust due to not only humidity but also water and acid.
The tubular telescopic aluminum handles are extensible. The minimum length is 15.75 inches, and the maximum extent is up to 31.5 inches.
At the end of the handles, there are soft and non-slip grips to ensure your comfort and safety, whatever you snip branches.
With such a fabulous product, Spear & Jackson does not hesitate to provide its users with a 10-year warranty on all parts.
Pros
The ratchet mechanism facilitates users to cut thicker branches effortlessly
10-year warranty
The handle is extensible
The blade is sturdy and rust-resistant
Cons
Rather heavy
The handles tend to bend quickly
Brand: Thanos
Material: steel
Style: anvil lopper
Best for: telescoping handles to cut high branches
The blade of this brawny THANOS pruner is created from SK-5 steel, fully hardened precision-ground, and covered with Teflon treatment. As a result, it can maintain top-notch sharpness even after repeated heavy use.
The specially designed telescopic rod can be dragged from 26 up to 39 inches in length with a safety release lock button. Reaching farther and tackling 2-inch tree branches have never been so easy. 
These customizable handles are constructed of aluminum alloy, which alleviates rust and delivers a commodious grip feeling. Plus, the rubberized parts on the two handles are slip-resistant and minimize vibration during use.
As the item reduces the labor intensity remarkably, even older gardeners or those with arthritic wrists never get into trouble or feel tired after a long day of gardening.
With three gears to set the dimensions of cutting mouths, it is great for pruning not only trees planted on the ground but also ones sowed in pots.
Since the utmost priority of THANOS is offering customer satisfaction, if you feel dissatisfied with their products, you can message them and get a full refund.
Pros
The blade is sharp and long-lasting
The product comes with a no-risk warranty
The aluminum handle is extendable
Lightweight yet sturdy
Widely applicable
Cons
A bit difficult to use
Quite expensive
Brand: MLTOOLS
Material: steel and forged aluminum handles
Style: bypass loppers
Best for: larger branches and cutting overhead
The MLTOOLS L8230 is an extensible bypass lopper that can be lengthened from 27 inches up to 39.5 inches at any position spectacularly. It means that you will rarely need a ladder to prune redundant boughs in your garden, but the tool is somewhat heavy.
Thankfully, the SK-5 high carbon steel blade reduces the overall weight while maintaining high performance with an unstoppable ratcheting mechanism. 
You do not need to be so muscular to clip branches that are as thick as 1¾ inches. It will be as easy as pie with the least effort since the ratchet action will save at least 5 times of your hand force.
Above all, it is really easy to use, even for novices. You will get used to the tool after several minutes and work like a professional gardener.
In addition, the product also comes along with a 100% customer satisfaction warranty, so you will never go wrong with it.
Pros
Extra-long adjustable arms
Use the ratcheting mechanism to save your effort
Very easy to use
100% customer satisfaction warranty
Brand: KSEIBI
Material: steel
Style: anvil lopper
Best for: extendable handles and cutting force
Using an oval tubular telescoping handle, these telescopic loppers have a versatile length ranging from 27 to 40 inches, which are divided into five separate extension levels.
Plus, it also features a thumb-release locking mechanism to make sure that the users are safe during use.
The blade is made of SK5 hardened steel, coated with a stick-resistant TE​FLON treatment, and heat-treated to the 58+-2°C temperature three times.
Therefore, it is capable of protecting itself from all wear and tear, and then you will not have to struggle to clean and maintain it after use.
As for the leverage, the advanced lever drive system will ease your burden during long hours of pruning trees and enable you to clip 2-inch twigs quickly.
Last but not least, your purchase comes with an e-brochure that the vendor will send to your email as a gift. This document will be beneficial as it covers a lot of essential knowledge, from how to use and maintain the tool to tips and tricks for looking after your garden.
Pros
Ergonomic design
SK5 hardened steel blade is corrosion-resistant
It comes with a limited lifetime warranty
The handle is extensible with a lock button
Cons
Not viable for tall plants
How to choose a suitable lopper for specific purposes
Here are the critical factors to consider when choosing the best loppers:
1. Types of blades
Basically, there are two main kinds of lopper blades: bypass lopper and anvil lopper. They have contrary characteristics to serve different requirements of gardening jobs.
Bypass loppers are the most prevalent models. They feature two blades gliding past each other when you squeeze the handles.
Depending on how sharp they are maintained, these garden cutters are good for delivering smooth and clean cuts, which allows your plants to heal much more quickly.
However, they are likely to get stuck when snipping thick twigs (especially dead or dry ones because they are stiffer), making the blades bend and less effective.
On the other hand, anvil loppers merely have a single straight blade. Therefore, their cutting mechanism is like a knife that chops from above to slice through the thick and tough branches aggressively. They provide more powerful but less clean cuts.
2. Blade quality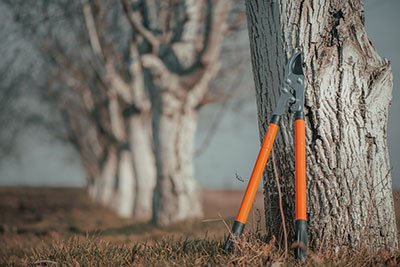 Apart from the type of blades, we also need to care about their quality. We highly recommend using hardened blades made of premium carbon steel because they can bear excessive force. They will last longer with less maintenance and rarely be bent.
Plus, excellent blades ought to have housing that can resist sap and other sticky substances. This coating should also ensure the flatness and smoothness of the blade's surface. 
Lastly, if you want to buy a bypass lopper, you need to consider how tight and close its two blades are. Nowadays, the majority of bypass models allow their users to adjust these specifications to suit various personal preferences and demands.
3. Cutting mechanism
The cutting mechanism is quite critical because it determines how much effort you need to cut effectively. In detail, the three most common types of mechanisms are ratcheting, geared, and compound action.
– Loppers using the ratcheting action will latch when the users squeeze them, permitting you to release and squeeze them again and again. 
– Loppers applying the gear mechanism feature dedicated gears that give you more leverage.
– Loppers with the compound action typically have several moving components and pivots. Then, users must open it wider to get the blades to cover the boughs completely. 
Bear in mind that the more complex parts a pruner have, the trickier it is to use. Therefore, ratcheting loppers are always our favorite models since we love simplicity.
4. Grip and handles
Handles of loppers come in various shapes and sizes, but they are relatively unique. The ones made from soft materials are more comfortable but more flimsy. The aluminum handles with contoured grips are more durable yet may be uncomfortable for many people.
Besides, the dimensions of the grip are crucial as well. If you trim low bushes and plants, you can use short models. But if you want to prune tall trees, you will need a long one.
5. Weight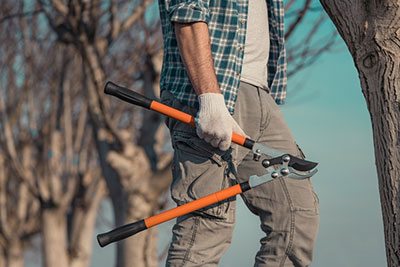 When it comes to weight, you should consider a suitable weight so that you can handle the pruner easily and comfortably.
However, heavier loppers tend to be more durable and provide more leverage.
6. Replacement parts availability
Any lopper surely has parts that will degrade and work less effectively over time. Hence, if your lopper has widely available replacement parts, you can substitute new components easily without having to buy a whole new pruner.
Vice versa, if there is no separate alternative part for your lopper, you will have to spend more money to buy a new set.
7. Warranty
Do you care about how confident the manufacturers are in their best pruning loppers? We believe your answer is YES. Every one of us needs peace of mind.
If your lopper is backed with a decent warranty policy, it must be high-quality. Also, the guarantee will keep all the hassles away from you after purchase.
Thus, it is unquestionable for you to invest in covered products only.
8. Price
What is the price range that suits your budget? 
According to our experience, never buy any lopper under $20. Even if you have a tight budget, you should buy something that costs around $23 or higher. Don't be too economical!
The standard price range in the market is from $30 to $50. Anything that charges more than $50 is in the high-end segment.
FAQs
What is a garden bypass lopper?
A garden bypass lopper is a type of pruning tool used to cut through branches and stems. It has two blades that work like scissors, with one blade passing by the other as it cuts. The blades are usually made of steel and are designed to be sharp and durable.
Bypass loppers are ideal for cutting live branches up to 1-1/2 inches in diameter, making them perfect for trimming trees and shrubs. They can also be used for deadheading flowers or harvesting fruits and vegetables.
What is a bypass lopper used for?
Bypass loppers are designed to perform smooth and easy cuts on thin branches. Therefore, they are typically used for cutting soft vegetation or greens.
Sometimes, they are also utilized for trimming thin branches on small trees or flowers.
Which is better: an anvil or bypass loppers?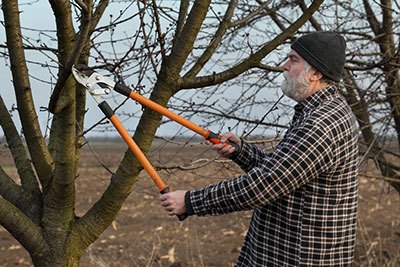 As we mentioned above, anvil loppers are better for heavy-duty tasks that require remarkable power. Meanwhile, bypass loppers are more suitable for light-duty tasks that demand accuracy and smoothness.
So what is better for you will depend on the requirements of your projects.
What are the best brands of loppers?
When it comes to loppers, numerous vendors sell decent products. However, if you want to ask about the best-rated brands, we recommend: Fiskars, Spear & Jackson, Mtools, Kseibi, Tabor Tools, Black+Decker, Corona.
Can garden loppers be sharpened?
Yes, garden loppers can be sharpened.
Many loppers come with a sharpening stone or file that can be used to sharpen the blades. It is important to make sure the blades are clean and dry before sharpening them.
Additionally, it is important to use the correct angle when sharpening so as not to damage the blade. If you do not have a sharpening stone or file, you can also take your loppers to a professional for sharpening.
How do you sharpen garden loppers?
You can use a sharpening stone or a carbide blade sharpener to re-sharpen the blade. Make sure to pass the sharpener over the bevel at the same angle as the original.
If you're sharpening an anvil lopper, you'll need to sharpen both edges. You should also use a file or grinding stone and make sure both sides of the blade are sharpened evenly.
Finally, use a coarse paddle and run it over the blades at an angle equal to the existing bevel.
What are the best loppers?
The best loppers on the market are the TABOR TOOLS GG12A Anvil Lopper models. The heavy-duty loppers offer smooth cutting performance for trimming branches and multiple pivot points to make you work with minimal effort.
The carbon steel blades will last longer, and you can use the blade material for: green branches, longer branches, broken branches, higher branches, overhead branches, dead branches, dry branches, dead stems, etc.
The cutting blades will be effective and efficient for more tasks of the high-quality pair of loppers.
Sale
TABOR TOOLS GG12A Anvil Lopper with Compound Action, 30 Inch Tree Trimmer, Branch Cutter with ⌀ 2...*
CHOPS THROUGH ⌀ 2" BRANCHES effortlessly. This 30" lopper will allow for fast removal of dry and woody growth and is the ideal tool for preparatory cuts and cut-to-length work. The lopper is...
SHARP BLADE WITH STRONG ANVIL. Anvil pruners have one straight blade that cuts as it closes onto a flat edge or 'anvil' - think about it like a knife on a chopping board. This makes an anvil...
COMFORT GRIP AND EXTRA LEVERAGE. This 30" model will allow you to work with some extra leverage and to efficiently navigate around higher limbs. It locks on various lengths in between. The ergonomic...
COMPOUND ACTION SYSTEM: The compound lever system with multiple pivot points and moving parts increases the force applied to the blades. The compound action blade has multiple moving parts which...
ORDER WITH CONFIDENCE. We at TABOR TOOLS stand behind our products. Please don't hesitate to contact us for support, questions about our products, or spare parts you might need.
Bottom line
Having the best loppers will help your gardening less tiring and time-consuming but still achieve better results. 
Hence, read our guide and product reviews carefully to pick a bypass lopper or an anvil lopper that suits you the most. Sometimes, you may need both of them if you have both thick and thin branches to cut.
Now, thanks for reading!