How many times have you purchased a popular gardening tool just because of the hype? Too many to count? Well, it's time to go back to the roots and reconsider purchasing a traditional model.
Here we present to you eight different models of the best manual pole saw that guarantee to have a better reach than their modern opponents. Take a look below and find the best pick for your needs.
Also, make sure you check the buyer's guide to make sure you end up with a successful purchase.
Top 8 Best Manual Pole Saw Reviews
The Corona model is one of the favourites saw picks on our list for several reasons. This sturdy quality will amaze you. Here is why you should consider this manual pole saw.
Firstly, this pole saw has dual abilities that make it a multifunctional tool for an affordable price. The machine has both pruning and sawing capabilities that deliver precise cuts.
The pole tree pruner allows clean cuts for 1-inch branches while the 13-inch razor-sharp saw head can cut branches up to 9 inches of thickness.
The saw head is equipped with three-sided teeth that improve the cutting speed and preciseness. Moreover, the rope system assists the Powerglide technology in helping the blade with thicker objects.
As for the length, it can be extended up to 14-feet and features a twist-lock system for secure gardening. You need all the stability when you are doing these sorts of tasks.
We have to mention the 7 pound lightweight of the pole. The manoeuvrability and natural gardening are guaranteed with this saw. 
Of course, when the pole is extended, it can get a bit heavy, but that should not stop you from purchasing this fantastic tool.
Pros
Affordable
Lightweight
Pruner and a saw
Reaches 14-feet
Cons
Can get heavy when extended
The Jameson manual pole saw can reach an incredible 18 feet, all while being versatile and highly effective for all of your gardening choirs.
This pole saw has aluminum ferrules and an extendable leaf spring lock button for added safety and convenience. Having these features attributed to the pole being adjustable and ready to accompany you in any task you had in mind.
A feature that makes this manual pole saw unique is its three-pole addition that lengthens the pole to the desired cut.
The pole saw kit includes a 6-foot base pole, a 6-foot extendable pole, and a 6-foot long pole with a saw head. These three additions prove an 18-inch pole length in total.
However, the only downside to these three additions is that they make the weight of the pole more cumbersome. You could still get a decent cut using a single extension if you prefer the pole to be lighter.
Other than being sturdy in construction, the pole also features a triple-cut action for a more defined and precise sawing.
Pros
Affordable
Reaches 18-feet pole length
Steel saw blade
Sturdy and durable construction
Cons
Difficult to assemble
Can get heavy when it's extended
The Fiskars is one of the most popular models on the market when it comes to pole pruners and saws. This slim tool is perfect for anyone who does not want to handle cumbersome tools and deal with extra weight.
This is, as well, a two-in-one product featuring a 15-inch WoodZig saw blade. This pruner and saw is an essential tool for gardeners who like multifunctional devices added to their collections.
The length of the pole reaches 7.9 feet, which is not as impressive as other extendable pole pruners on our list. But, when the pole is extended, it can reach 12 feet, which satisfies most customers.
As for the ability of the pruner, it can cut branches up to 1/4 inch in diameter. A feature that is not that common, but it sure is needed in this kind of product, is the lack of rope.
The rope can be a handy mechanism, but it is prone to get tangled around branches when you are operating in a high position.
This is the ultimate tool for all gardening beginners since it uses a straightforward mechanism. Also, the weight of the pole is light, and it makes gardening that much more comfortable and enjoyable.
Pros
Pruner/Saw
Reaches 12-feet
Cons
Not for heavy applications
#4. Fiskars 12-Foot Extendable Pole Saw & Pruner – Lifetime warranty choice
The well-known Fiskars brand is here to offer a reliable extendable tree pole saw for a fantastic deal.
This particular model of pole saw cuts branches with ease, all while being maneuverable. This will be one of your favorite gardening tools in no time.
Each time you reach for it, you will be reminded of why you picked it out in the first place.
The Fiskars manual pole saw features a sturdy tree-cutting system with an extendable 12 feet length. This extendable tree pruner will get those high, tricky branches in seconds. There is no need to reach for a stepladder anymore.
We know a good deal when we see one, and Fiskars is one of them. This manual pole has a precision-ground steel pruner for getting the branches and a 12-inch double-grind saw. The saw does an impressive job when it comes to removing larger branches.
For added safety, the pole saw has a secure double lock system that keeps the pole in place once you extend it. Also, the fiberglass pole makes the entire tool lightweight and easy to maneuver.
Pros
Lightweight
12-inch saw blade
Extendable
Lifetime warranty
Cons
Not suitable for heavy-duty
This is another set that is suitable for beginners as well as professional gardeners. The Notch pole set is a durable and sturdy gardening tool that every gardener should be introduced with.
This set features three fiberglass poles that connect and add the length you need for tall branches. This is the perfect manual saw if your interest is getting the awkward and overgrown branches that are out of reach.
You can easily use this pole saw as a pruner if you prefer. Using it as a pruner requires the changing of the blades, and since that takes seconds to do so, you will practically have a new tool.
The pole saw also has a 15-inch saw blade that cuts branches with smooth and precise action. This is one of the most extended poles in our review. The length reaches an impressive 20 feet.
The blades offer astonishing cutting action, and they can tackle 12-inch branches with ease. However, the tool is on the heavier side weighing 9.4 lbs.
Another feature that makes this manual pole saw from standing out is the rust-resistant chrome plating—guessing that this manual pole will last you a long time.
Here is another model from Jameson, but this time it comes with a few accessories.
This manual pole saw model is a versatile 2-pole system that is designed to reach all those tall branches and give them an excellent cut.
The poles are easy to attach since they come with convenient aluminum ferrules. The material keeps the fresh look of the pole without it looking worn off after a while.
We have to mention the lightweight of the pole because this is one of the advantages that this manual saw has to offer. The poles are made out of hollow-core fiberglass material with 0.125-inch wall thickness.
Combined, this makes the pole saw extraordinarily maneuverable and easy to handle when you are gardening for a long time.
As for the saw blade, this pole saw has a 13-inch blade that provides fast and precise cuts. Also, the manual pole has a fixed pulley bypass pruner. The pruner feature can help you deal with branches that are 1/4 inch thick.
Like the previous Jameson pole, this one offers sets of 6-feet extension poles for easy reach. The additional saw head, pole adapter, and 20-foot rape made this manual pole one of our favorites.
Pros
Extension poles
Fiberglass pole
The HappyBuy extendable tree pruner will impress you with its stability and precise cutting. You will never dread sawing the branches again.
Firstly, the manual pole saw is made out of professional-grade aluminum alloy, while the saw blade is made out of Mn.steel. The blade is 59 cm long and 1mm thick, which is suitable for thicker branches. 
Also, the narrow spacing between the teeth is there to deliver faster cutting.
This makes the pole durable under tasks that require a heavy-duty application. For all those tall branches, the telescopic pole saw is extended up to 18 feet, allowing you to the tricky areas in your garden.
If you are sawing for a long time, you want to make sure you have a comfortable and firm grip on the pole. This tree pruner saw offers a foam grip for increased comfort.
The taper-ground profile in the blade can make the blade use less energy for cutting but still provide the fast sawing action when needed.
You can use this manual pole saw for many applications such as pruning, trimming leaves, gardening, or any other tasks that require cutting of the branches.
Pros
Telescopic long-reach pole
Taper ground profile blade
Cons
Gets weaker when extended
This Milliard extendable manual pole saw is the top option if you want a quality saw but you don't want to break the budget. Here we present the ultimate money-worth manual pole saws.
The blades on this pole saw make the cutting seem as seamless as possible. Since the blade is 1.25 inches thick, it means that now you can tackle the thicker and more demanding branches that once were a problem.
Moreover, the 14-inch blade is tempered with high-carbon steel that holds the edge over prolonged use. Each tooth on the blade is 3-sided, making the sawing go as fast as possible.
Also, the coating on the blade does not allow any sticking of sap, which makes the blade easy to clean up.
The fiberglass-reinforced telescopic pole goes up to 16 feet allowing you to reach any area in the garden.
It may not be as astonishing as some of the other poles in our review, but the reach is still suitable if you don't want to reach for a ladder.
Finally, the adjustable grip handle is great for getting leverage over full-length pulley rope.
Pros
Telescopic
Non-stick coating
16-feet reach
Cons
Flimsy when its fully extended
Buyers' guide for best manual pole saws
To find the best professional manual pole saw, you have to check a few of the characteristics that make one.
Here is how you determine whether you have made a successful purchase.
1. Pole length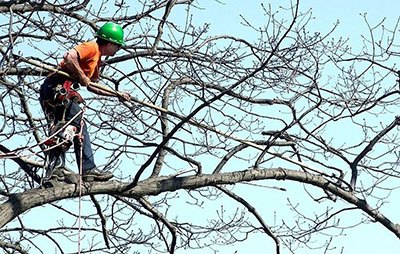 All of the saws we reviewed in this article vary in pole length. Most of them range from 12 feet to even 20 feet, giving you the ultimate reach. Manual pole saws are fantastic if you are looking for an eco-friendly pick that won't break the budget.
Customers mainly choose them because they provide a better reach than electric or gas ones do. If you are tired of picking up a stepladder every time the branches need a cut, manual saws are going to be your best purchase.
Now, you might think that the longer the pole is, the better it is. But be aware that longer poles are not always the safest option for some tasks.
If the branches are sturdier and you use the highest setting, you risk breaking the pole or, worse, causing accidents.
2. Blade length
This is another tricky feature because not everyone prefers the same blade length.
With blades, the longer it is, the better the cut. They range from 10 inches to 16 inches. 
You also want to check if the blade has a non-stick coating to them. That will make the clean-up much more manageable, and you won't have to worry about sap residue.
3. Materials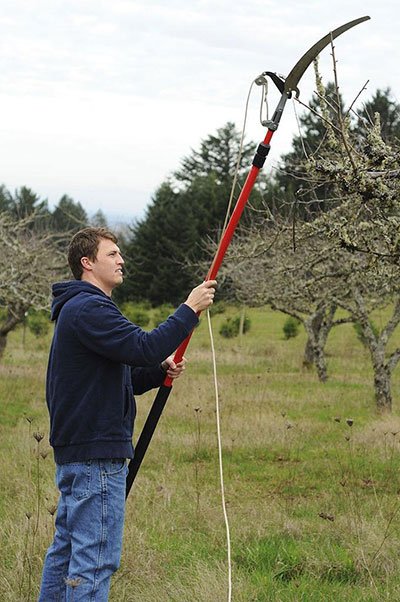 With materials, you have to be extra careful. For pole materials, the best ones are aluminum and fiberglass. However, aluminum is not that reliable when you are doing heavy-duty tasks. Also, it is prone to rust, and you certainly don't want that.
As for fiberglass, this is one of the best options you can get for a pole saw. It makes the pole extremely light, and it is easy to maneuver once you start sawing the branches.
For blade material, you should look for a steel one. You can never go wrong choosing a steel tool, especially when it comes to saws.
You most likely need to sharpen the blade from time to time, but you shouldn't worry about that. Every blade needs a bit of support after exhausting work.
4. Versatility
The versatility of the tool takes up most of the hype for customers. You should look for a way to get the most out of your new purchase. As you noticed, some of the pole saws are pruners as well, and some require a simple blade switch.
With this kind of feature, you get to do not one but two gardening tasks using just one tool. Does it get any better than that?
5. Weight
A bulky tool is in no one's interest, especially if you are the one doing all the work. Pole saws are tricky enough, but when it comes to manual ones, you should pay special attention to the weight of them.
Since you are the one holding and doing all the physical work, you have to make sure you pick a lightweight model.
Lighter models are easier to operate, especially if you plan on sawing for hours. We all know how challenging this task is, so it is in your best interest to pick a lightweight model.
If you feel like the construction isn't studying enough or that you can't handle the weight of it, maybe you should opt for an electric or gas saw.
FAQs
How do you use a hand pole saw?
Pole saws are one of the easier tools to manage. However, be careful when you are using them since not all are recommended for same-sized limbs.
You need to plan where you are about to cut the branch, clear the work area, position the saw, and begin your tasks.
How thick of a branch can a pole saw cut?
This depends on several qualities. Some saw blades that are longer and thicker can handle thicker branches.
Others may be weak to see the branches you had in mind. Usually, manual pole saws can cut up to 1/4 or 2-inch branches.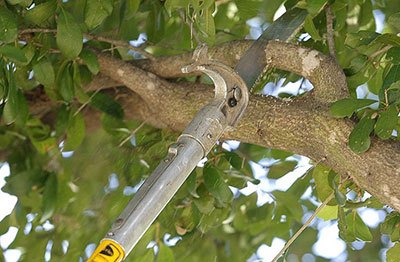 What is the rope for on a pole saw?
A rope is a part of a pulley system in manual saws. Sometimes, you will find the pulley system in saws that have pruner parts added to them.
In this way, the system is used to cut efficiently without you using too much physical effort.
Final words
Now that we have come to an end, we would like to announce our best-rated manual pole saw. The Corona MAX RazorTOOTH DualCOMPOUND Manual Pole Saw takes the win in this article.
With this purchase, you are not getting just a saw but a pruner as well. We are all about versatility when it comes to gardening tools, and Corona Max is the master of it.
See for yourself why we opted for this particular model and why this could be your best purchase.
Sale