It's one thing to maintain your garden, and it's another to have the right equipment to make that happen. That's why you need to have a mulcher.
However, your mulcher is most likely not that efficient in mulching because of its stock blade.
This is the reason why you need to have a mulching blade.
In this article, we're going to show you the best mulching blade that'll surely make your lawn maintenance endeavor a whole lot nicer.
What is a mulching blade?
A mulching blade is also referred to as an all-purpose blade because of its versatility. This can also be used in lifting and mowing.
However, it is specifically designed to help in mulching, thus its name.
These mulching blades feature a curved surface that enables them to mulch in a very effective way.
It functions to pull the grass up from the ground, and it cuts it from there.
The clippings then go into the deck and are then chopped into smaller grains. That's how it does its mulching.
Top 5 best mulching blades
If you are looking for a set of blades to mulch grass clippings efficiently, this Maxpower 561713XB is an excellent choice.
With a dimension of 21" long and 2½" wide, this mulching blade is suitable for a 42" mower deck. It features sawteeth at both ends for extra efficiency in mulching and cutting grass.
This Maxpower mulching blade is compatible with various models of mulchers from Poulan, Husqvarna, and Craftsman. A 5-point star center hole also makes it easy for you to install the blade.
Moreover, it can be used right out of the box without further sharpening. You can attach it to the spindle and start experiencing clean and nice cuts with this mulching blade.
Another remarkable feature of this mulching blade is its incredible durability. It is a USA blade that meets the OEM specification of quality. Besides, it is made from thick and robust steel with a non-rusting coat to withstand extended use. 
The 5.2 lbs weight of this mulching blade is the only downside. As it is much heavier than other standard blades, it makes the mower shake more while mowing the grass.
Pros
Made from thick and robust steel
5-point star center hole
High mulching efficiency
This Toro mower blade makes it to our list today because it is incredibly lightweight. This unit only weighs 1.76 lbs, making it one of the most lightweight blades on the market.
This blade measures 21-11/16 inches and is suitable for any mower as long as its decks are 42 inches.
The width of 2-¼ inches with a thickness of 0.15" makes this unit light enough to eliminate vibration during working. Thus, you will experience smooth operation even when working for a long time.
Installing this unit only takes you a few minutes as it comes with three holes at the center for easy assembly. The diameter of the outside holes is 0.382", which is compatible with the installation place of many lawn mower brands.
However, our experts in gardening tools said that this mulching blade is not well-balanced. If you notice, you might see a little wobble in the mower when working with this blade.
Our recommendation is to sharpen the blade again and take a little off one side to get it balanced.
Pros
Lightweight, no vibration
Easy to install
Fit several mower brands
This Rotary mulching blade is an excellent choice for those who own 48" decks. This blade has made its way to our list of the best mulching blades with its striking design.
It is designed with teeth at both ends that make this blade more effective at mulching compared to the FSP mulching blade.
Besides, it has a dimension of 16¾ inches long, 2½ inches wide, and 1.87 inches thick, which is compatible with many types of mowers from Craftsman, Poulan, and Husqvarna.
Moreover, this Rotary blade is well-balanced and lightweight, which makes less noise during work. The sharp edge with teeth also produces a clean and smooth cut on your lawn. Once the blade gets dull, you can sharpen it easily with a hand file.
However, when we tested the work of this blade with wet grass, it left huge clumps of grass all over the law. And the blade might dull quickly after a few times of use. So, you will need to re-sharpen it frequently for the smoothest cut.
Pros
Well-balanced and less noise
Use on 48" decks
Easy to sharpen
Cons
Clumps of grass
Dull quickly
Having an efficient mower with an excellent mulching blade is for all types of budgets. For those with a limited one, this Stens 532134149 mulching blade is a reasonable yet excellent choice.
It is constructed of high-quality steel for the ease of mulching even high and thick grass. Besides, the weight of 3.5 pounds makes it a lightweight choice that creates no vibration or shaking during operation.
Moreover, the innovative design aids the high performance in mulching grass clippings. It can deal with both dry and a little wet grass without clumping up or damaging the machine.
In terms of installation, this blade features a 5-point star center hole that is compatible with a wide range of 42-inch-deck mowers from Craftsman, Husqvarna, and Poulan.
When using this blade, you should prevent it from hitting rocks or other hard obstacles. They might be detrimental to the blade and can bend and damage the blade.
Moreover, this blade comes with a protective seal on the edge. Thus, you will need to sharpen it by removing the thick paint. It might be another step to take, but you will have a sharp blade for extended use.
Pros
Lightweight
Mulching grass clipping effectively
Easy to install
Cons
Fragile when hitting a rock or a stump
Has a protective seal on the edge of the blade
As grass never stops growing, you will need a mulching blade that can last season after season. With that in mind, the Rotary 12963 mulching blade is a nice choice for you.
Like other mulching blades, it is designed with curved edges for better mulching performance. Besides, the teeth at both ends allow this blade to deal with high and thick grass.
This blade is a copperhead blade that is extremely tough and can hold up to 4 times longer than USA blades. Based on our testing, this blade can last for extended use of up to 2 and 3 seasons.
It measures 18½ inches long and 3 inches wide that fits a 54" manufactured deck on several models. A center 5-point star makes attaching this blade to the spindle a breeze, even for non-technical users.
However, this blade is much heavier compared to standard blades. Thus, it will produce more noise and make your machine shake more when working.
Pros
Last from season to season
Designed for heavy-duty
Easy to install
Cons
Quite heavy
Noise and vibration problems
Buyer's guide for choosing a reliable mulching blade
1. Is the brand reputable?
The first question you need to ask is if the brand is reputable.
It's through this that you know if the product that it made will last or if it is of high quality.
You can ask other people who have tried using their products if it's a good mulching blade to begin with.
There are also reviews and testimonials you can check on the web.
2. Is the design functional?
Then dwell more on the functionality of the design.
These mulching blades need not only to be visually pleasing or to look like a perfect fit on your mulcher, but their design should have a purpose.
In knowing that you're going to use this for a physical gardening activity, it's a considered fact that all of its features are functional and not just for the sake of aesthetic value.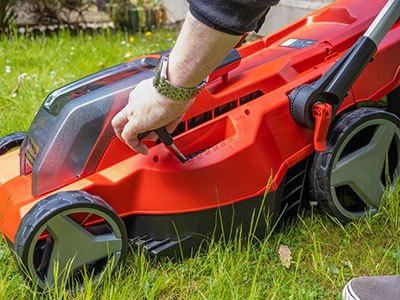 3. What material is it made of?
It's by knowing the material that you'll know if the mulching blade of your choice is worth to be bought or not.
Make sure that the material it's made of is of high quality so that you'll have an assurance that it will last long.
It is better if you get a mulching blade that is coated with anti-rust so that it would still be functioning properly even after a few years of use.
4. Is the blade's size what you need?
You need to put your need and purpose into the equation. You can do this by knowing the size of the mulching blade you need.
There are a lot of mulching blade variants out there, and you'll surely be overwhelmed in choosing for one.
With this, it's important that you filter out your choices by starting with the size.
When you've chosen those that answer your needed size, then you'll have an easier time choosing the perfect mulching blade for you.
5. Is the curvature properly angled?
Almost all mulching blades have a curved design, which is why it makes perfect sense for you to choose one that has the best curvature.
You can do that by looking at the alignment of the curvature. Look at how it's angled.
It would be better if the angle is not too much or not too insignificant so you can easily use it.
The benefits of having a mulching blade
1. Easier mulching
It's clear to see that these mulching blades are specifically made for mulching because of their name.
This is probably the simplest reason why this will help make mulching so much easier. Its design helps it to become more efficient in doing the mulching process.
This means that you'll express less vibration, thus less strain when you're using a mulching blade. It makes your job a whole lot easier.
2. Faster mulching
Another cool thing that a mulching blade does is that it's a very useful tool due to its efficiency.
It's constant in doing what it is supposed to do, and that is to mulch and mulch. That's the main purpose of why this part is put into existence.
It's made to save us time in doing the manual labor ourselves. It is designed in a way that will save you a lot of time if you were to do the mulching process instead manually.
You don't need to spend a lot of time mulching; thus, you become more productive as you get to do other, more important tasks.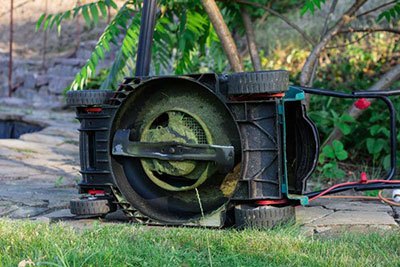 3. Makes your soil healthier
So what happens when you use a mulching blade? 
Well, obviously, you mulch your soil. And that's where the magic starts.
Mulching helps make your soil healthier, and with the help of a mulching blade, you make mulching an easier task to do.
Thus you don't have any problem in doing it. This leads to healthier soil and healthier plants in the process. This happens because the mulch is composed of composts, manure, and other rich components that make the soil healthier.
4. Keeps your lawn cool
Mulching is not just about making sure that your soil is healthy, but it also keeps your lawn cool. This is due to the mulch that is laid on your soil.
The mulch is effective in bouncing off the heat of the sun.
And in the process, it absorbs vapor which in turn cools down your lawn. This makes your soil damp and conducive for plant growth.
5. Ensures mulcher's maximum efficiency
Another nice thing about a mulching blade is that it ensures that your mulcher is running at peak efficiency.
What usually happens with mulching machines is that their blades wear off over time.
When this happens, the mulcher becomes less efficient, and it takes more time for it to do the mulching process.
By simply replacing the blade every once in a while, or if you notice that it's already blunt and full, you're making the most out of your mulching machine.
6. Precision in mulching
The design and shape of mulching blades are designed in a way that has a slight curvature. And that curved style is what makes them precise in mulching.
Precision is very important when you're mulching because it is where the final output depends.
A more precise mulch means that its components are assured to be fine and pure of only composting materials.
Conclusion
The best mulching blade on our list should be the Maxpower 561713XB Mulching Blade.
It possesses all properties of a powerful mulching blade with extra sharpness and extended durability. Also, it has a reasonable price for both short and long-term use.
There's no doubt that this Maxpower blade is the perfect choice to help you save a lot of time and effort on mulching grass.
Maxpower 561713XB Commercial Mulching 2-Blade Set for 42" Poulan/Husqvarna/Craftsman, Replaces...*
Includes 2 commercial mulching blades for a 42" cut.Fits Craftsman models manufactured by Husqvarna. Does not fit Craftsman models manufactured by MTD.
Replaces Poulan, Husqvarna, Craftsman 134149, 138971, 138498, 127843, PP24003, AYP7143A79, AYP7158A49, AYP9149A69, DPR20H42STA, TS14H42C, 2P4B9A, 9169A99 and 9178B99
Each measures 21" long by 2-1/2" wide
Has a 5 Point Star Center Hole
Manufactured to meet or exceed all OEM specifications