It's one thing to maintain your garden, and it's another to have the right equipment to make that happen. That's why you need to have a mulcher.
However, your mulcher is most likely not that efficient in mulching because of its stock blade.
This is the reason why you need to have a mulching blade.
In this article, we're going to show you the best mulching blade that'll surely make your lawn maintenance endeavor a whole lot nicer.
Take away key points:
Mulching blades are great to cut grass and keep your lawn optimal
Different designs, materials, and shapes are available to choose the best units
The blades offer multiple benefits so know them to choose the best units
What is a mulching blade?
A mulching blade is also referred to as an all-purpose blade because of its versatility. This can also be used in lifting and mowing.
However, it is specifically designed to help in mulching, thus its name.
These mulching blades feature a curved surface that enables them to mulch in a very effective way.
It functions to pull the grass up from the ground, and it cuts it from there.
The clippings then go into the deck and are then chopped into smaller grains. That's how it does its mulching.
Top 8 best mulching blades in 2023
Here are the best mower blades for your lawn needs. Read the reviews to discover your best option!
$$ – Toro 22″ Recycler Mower Replacement Blade
Best for lightweight design and sufficient point-star holes to ensure better performance. The one-blade system is effective for multiple operations. Still, the blade is not well-balanced.
$$ – Oregon Mower Blades
Best for different riding lawn mowers when you want to use a natural fertilizer for green and healthy lawns. Easy to use and adjust. High-quality blade.
$$$ – Ariens 3PK Genuine OEM Gravely 04771200 52″ Zero Turn Lawn Mower Blades
Best for both pushing and riding lawn mowers to keep your surfaces optimal. Easily versatile and adjustable for different operations.
$$ – Maxpower 561713XB Commercial Mulching 2-Blade Set
Best for optimal performance and high-quality uses. For different tasks and more robust applications. Yet the blade is a bit heavy.
$$ – 8TEN LawnRAZOR Mower Blade Set
Best for versatile design with multiple functions and different uses. You can manage the blade for low or high fit and the manageable design ensures the best working standards. However, it offers poor customer service.
$$ – MTD Genuine Parts 490-100-M067 Mulching Blades
Best for different mower models, ensuring a proper fit and quick connections. Easy to use and install for different applications.
$$ – Rotary 12963 PK3 Copperhead Mulching Blades
Most durable and solid construction for multiple robust uses and different light and heavy tasks. The longer working hours with a sturdy design. The unit has vibration issues.
$$$ – CUB CADET 490-110-C188 Xtreme Mulching Blade Set
Best for easy mount and different connection parts for different mowers. Adjustable and versatile for multiple operations. Anyhow, it's not that durable.
Brand: Toro
Dimensions: 0.5 x 2.3 x 21 inches
Weight: 1.76 pounds
Best for: mower shaft & the high lift blade mulching kits
This Toro mower blade makes it to our list today because it is incredibly lightweight. This unit only weighs 1.76 lbs, making it one of the most lightweight blades on the market.
This blade measures 21-11/16 inches and is suitable for any mower as long as its decks are 42 inches.
The width of 2-¼ inches with a thickness of 0.15" makes this unit light enough to eliminate vibration during working. Thus, you will experience smooth operation even when working for a long time.
Installing this unit only takes you a few minutes as it comes with three holes at the center for easy assembly. The diameter of the outside holes is 0.382", which is compatible with the installation place of many lawn mower brands.
However, our experts in gardening tools said that this mulching blade is not well-balanced. If you notice, you might see a little wobble in the mower when working with this blade.
Our recommendation is to sharpen the blade again and take a little off one side to get it balanced.
Pros
Lightweight, no vibration
Easy to install
Fit several mower brands
#2. Oregon Mower Blades – Best mulching blades for riding mowers
Brand: Oregon
Dimensions: 18 x 4 x 4 inches
Weight: 7 pounds
Best for: cutting edge and mulching plug
Oregon Mower Blades are a great choice for anyone looking for quality and durability.
The mulching blades come in a variety of sizes, so you can find the perfect fit for your mower. They cut through grass and weeds like butter, making your lawn look neat in no time.
The cutting deck is good for wet grass, tall grass, and grass clippings, and you can use mulching blades for different riding mowers.
The Oregon lawn mower blades are made from high-grade steel, so they stay sharp longer than other brands.
They also feature a tungsten carbide coating that helps protect them from rust and corrosion. This makes them ideal for use in wet or humid climates, as they won't corrode easily. You can keep your lawn healthy and the lawn mower blades will be the most effective and efficient.
The customer service is also excellent.
The staff is friendly and knowledgeable, answering all of your questions quickly and efficiently. They can even offer to send you replacement mulching blades if needed, which is always nice to know when you're investing in something like this.
Pros
heavy-duty blades
thicker blades
sharp teeth
durable material
chute clogging
high lift blades for lawn mowers
Brand: Ariens
Dimensions: 19 x 4 x 4 inches
Weight: 5.17 pounds
Best for: throwing grass clippings and different mulching capabilities
The Ariens mulching blades for lawn mowers are excellent for effective ways to cut grass and keep your lawn healthy and optimal.
The best mulching blades for push mowers are made of high-quality materials and are designed to last a long time. The mulching mower blades fit perfectly on different Ariens Ikon XD52 and Gravely ZT mowers, providing superior cut quality.
The best mulching blades come in a set of three and are 18″ long, so they can easily be replaced when needed. The mower blade kit has a high lift design which helps to lift grass clippings off the ground for an even cut.
Additionally, the Ariens mulching blades are designed to provide maximum airflow for improved cutting performance.
Due to their heavy-duty construction, the best mulching blades last for an extended period, and you can easily attach them to your lawn mower to cut grass clippings. The grass blades are ideal for push mowers too, and you can adjust them for your needs.
The Ariens mulching blades can be high or low-lift blades when you use mulching blades on your riding mower.
Pros
fine mulch
side discharge
mulch clippings
for tall grass
low or high-lift blades
aggressive blade angle
Brand: MaxPower
Dimensions: 21 x 2.5 x 0.75 inches
Weight: 5.2 pounds
Best for: superior bagging and fine clippings
If you are looking for a set of blades to mulch grass clippings efficiently, this Maxpower 561713XB is an excellent choice.
With a dimension of 21" long and 2½" wide, this mulching blade is suitable for a 42" mower deck. It features sawteeth at both ends for extra efficiency in mulching and cutting grass.
This Maxpower mulching blade is compatible with various models of mulchers from Poulan, Husqvarna, and Craftsman. A 5-point star center hole also makes it easy for you to install the blade.
Moreover, it can be used right out of the box without further sharpening. You can attach it to the spindle and start experiencing clean and nice cuts with this mulching blade.
Another remarkable feature of this mulching blade is its incredible durability. It is a USA blade that meets the OEM specification of quality. Besides, it is made from thick and robust steel with a non-rusting coat to withstand extended use. 
The 5.2 lbs weight of this mulching blade is the only downside. As it is much heavier than other standard blades, it makes the mower shake more while mowing the grass.
Pros
Made from thick and robust steel
5-point star center hole
High mulching efficiency
Brand: Mishon Corporation
Dimensions: 23 x 4 x 2 inches
Weight: 3.5 pounds
Best for: serrated teeth and mulch mower
This mower blade kit is the perfect choice for anyone looking to get the job done right. Made with 10B38 alloy steel, these blades are designed to last and provide a superior cut.
The 3 heavy-duty toothed mulching blades are forged from the belief that a better cut is always possible, and they certainly deliver on that promise. Not only do they provide an excellent cut, but they also help reduce clippings and create a more even finish.
In addition to their durability and performance, these Mishon blades are also easy to install and maintain. They come with all the necessary hardware for installation, so you can get your mower up and running in no time.
And because they're made of high-grade materials, they're resistant to wear and tear, meaning you won't have to replace them as often as other blades.
All in all, we highly recommend this Mower Blade Set for anyone looking for a reliable blade set that will last for years to come.
With its superior cutting performance and easy maintenance, it's sure to be a great addition to any lawn care routine.
Pros
serrated cutting edge
for grass clippings and tall grass
serrated teeth
cut grass evenly
low or high-lift blades
Brand: Arnold Corporation
Dimensions: 21 x 2.25 x 1 inches
Weight: 1.65 pounds
Best for: mulching capabilities and cutting edge
The MTD mulching blades are a great choice for anyone looking to upgrade their lawn mower. These mulching blades are designed to provide superior mulching performance, allowing you to quickly and easily turn grass clippings into nutrient-rich soil.
The blades are made from high-quality materials, ensuring they will last for years of use. They also feature a unique bow-tie center-hole design that allows them to fit most MTD riding mowers.
These Arnold blades offer an excellent combination of cutting power and durability. They cut through thick grass with ease and can handle tough conditions without becoming dull or damaged.
Additionally, the Arnold blades are designed to reduce clumping and improve airflow, resulting in a more even cut. This makes it easier to achieve the perfect lawn every time.
The MTD Mulching Blades come with everything you need for installation, including detailed instructions and hardware. Installing these blades is quick and easy, so you can get back to enjoying your lawn in no time!
These mulch mower blades offer superior performance at an affordable price, making them an excellent choice for any homeowner or professional landscaper.
Pros
cutting edge
6-point star center holes
mulching kit
side discharge
mulching blades work with multiple mowers
Brand: Rotary
Dimensions: 18 x 3 x 2 inches
Weight: 0.01 pounds
Best for: side discharge and mulching kit options
As grass never stops growing, you will need a mulching blade that can last season after season. With that in mind, the Rotary 12963 mulching blade is a nice choice for you.
Like other mulching blades, it is designed with curved edges for better mulching performance. Besides, the teeth at both ends allow this blade to deal with high and thick grass.
This blade is a copperhead blade that is extremely tough and can hold up to 4 times longer than USA blades. Based on our testing, this blade can last for extended use of up to 2 and 3 seasons.
It measures 18½ inches long and 3 inches wide that fits a 54" manufactured deck on several models. A center 5-point star makes attaching this blade to the spindle a breeze, even for non-technical users.
However, this blade is much heavier compared to standard blades. Thus, it will produce more noise and make your machine shake more when working.
Pros
Last from season to season
Designed for heavy-duty
Easy to install
Cons
Quite heavy
Noise and vibration problems
Brand: Cub Cadet
Dimensions: 21.25 x 2.5 x 1.5 inches
Weight: 5.72 pounds
Best for: a mounting hole of the mulch blades and bagging clippings
If you're looking for a reliable mulching blade set for your 60-inch cutting deck, the CUB CADET Mulching Blades are an excellent choice. This set of mulching blades includes three blades and has a unique blade edge that provides more cutting surface for extreme mulching performance.
The mulching blades are designed to fit Cub Cadet Ultima Series RZT Model ZT-2 60 KW mowers, making them perfect for those with this model of mower.
The mulching blades are made from high-quality materials and are designed to last a long time. They are also easy to install and maintain, so you won't have to worry about replacing them too often.
The durable and reliable design of the mulching blades makes the mulching blades work effectively and efficiently for an extended period.
The Cub Cadet mulching blades provide an even cut and will help you get the job done quickly and efficiently. Plus, they come with a warranty so you can be sure that they will last as long as possible.
The universal blade model is great for multiple mowers, so you can use mulching blades for different lawn needs.
Pros
mounting blade
replacement blade
6-point start center hole
lighter-weight mulching blades
Buyer's guide for choosing reliable mulching blades
Here are some of the crucial factors to consider when choosing the best lawn mower blades:
1. Is the brand reputable?
The first question you need to ask is if the brand is reputable.
It's through this that you know if the product that it made will last or if it is of high quality.
You can ask other people who have tried using their products if it's a good mulching blade, to begin with.
There are also reviews and testimonials you can check on the web.
2. Is the design functional?
Then dwell more on the functionality of the design.
These mulching blades need not only to be visually pleasing or to look like a perfect fit on your mulcher, but their design should have a purpose.
In knowing that you're going to use this for a physical gardening activity, it's a considered fact that all of its features are functional and not just for the sake of aesthetic value.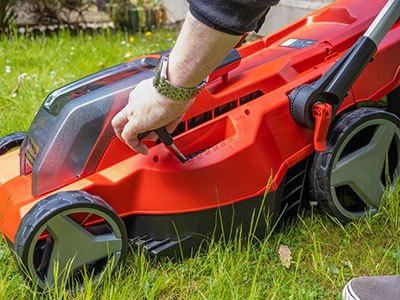 3. What material is it made of?
It's by knowing the material that you'll know if the mulching blade of your choice is worth to be bought or not.
Make sure that the material it's made of is of high quality so that you'll have an assurance that it will last long.
It is better if you get a mulching blade that is coated with anti-rust so that it would still be functioning properly even after a few years of use.
4. Is the blade's size what you need?
You need to put your need and purpose into the equation. You can do this by knowing the size of the mulching blade you need.
There are a lot of mulching blade variants out there, and you'll surely be overwhelmed in choosing for one.
With this, it's important that you filter out your choices by starting with the size.
When you've chosen those that answer your needed size, then you'll have an easier time choosing the perfect mulching blade for you.
5. Is the curvature properly angled?
Almost all mulching blades have a curved design, which is why it makes perfect sense for you to choose one that has the best curvature.
You can do that by looking at the alignment of the curvature. Look at how it's angled.
It would be better if the angle is not too much or not too insignificant so you can easily use it.
The benefits of having lawn mower blades
Here are some of the best reasons to use mower blades:
1. Easier mulching
It's clear to see that these mulching blades are specifically made for mulching because of their name.
This is probably the simplest reason why this will help make mulching so much easier. Its design helps it to become more efficient in doing the mulching process.
This means that you'll express less vibration, thus less strain when you're using a mulching blade. It makes your job a whole lot easier.
2. Faster mulching
Another cool thing that a mulching blade does is that it's a very useful tool due to its efficiency.
It's constant in doing what it is supposed to do, and that is to mulch and mulch. That's the main purpose of why this part is put into existence.
It's made to save us time in doing the manual labor ourselves. It is designed in a way that will save you a lot of time if you were to do the mulching process instead manually.
You don't need to spend a lot of time mulching; thus, you become more productive as you get to do other, more important tasks.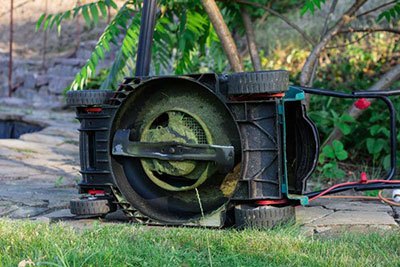 3. Makes your soil healthier
So what happens when you use a mulching blade? Well, obviously, you mulch your soil. And that's where the magic starts.
Mulching helps make your soil healthier, and with the help of a mulching blade, you make mulching an easier task to do.
Thus you don't have any problem in doing it. This leads to healthier soil and healthier plants in the process. This happens because the mulch is composed of composts, manure, and other rich components that make the soil healthier.
4. Keeps your lawn cool
Mulching is not just about making sure that your soil is healthy, but it also keeps your lawn cool. This is due to the mulch that is laid on your soil.
The mulch is effective in bouncing off the heat of the sun.
And in the process, it absorbs vapor which in turn cools down your lawn. This makes your soil damp and conducive for plant growth.
5. Ensures mulcher's maximum efficiency
Another nice thing about a mulching blade is that it ensures that your mulcher is running at peak efficiency.
What usually happens with mulching machines is that their blades wear off over time.
When this happens, the mulcher becomes less efficient, and it takes more time for it to do the mulching process.
By simply replacing the blade every once in a while, or if you notice that it's already blunt and full, you're making the most out of your mulching machine.
6. Precision in mulching
The design and shape of mulching blades are designed in a way that has a slight curvature. And that curved style is what makes them precise in mulching.
Precision is very important when you're mulching because it is where the final output depends.
A more precise mulch means that its components are assured to be fine and pure of only composting materials.
FAQs
Are mulching blades with teeth better?
The answer is yes! Toothed blades are better for mulching than normal high-lift blades because the teeth on the blade don't just lift the grass clippings, they also help to circulate them back into the deck multiple times.
Are Gator mulching blades worth it?
Yes, Gator mulching blades are worth it.
Gator blades are one of the highest-quality, best-performing, and longest-lasting mulching blades on the market today. They feature patented teeth which circulate cut grass back into the deck multiple times, creating a finer cut and allowing for better nutrient absorption into the soil.
Additionally, the blades are designed to boost performance and durability so you can cut grass with precision, speed, and efficiency.
Are Gator blades better than regular blades?
Yes, Gator blades are better than standard mower blades.
Gator blades are designed to boost performance and durability, so you can cut grass with precision, speed, and efficiency. They are also known for their incredible mowing and mulching power.
Compared to regular blades, Gator blades have a longer lifespan and require less maintenance. Additionally, they provide a superior quality cut that is more even and uniform than regular blades.
What is the best blade to mulch leaves?
The best blade is the Toro 22″ Recycler Mower Replacement Blade for optimal performance and different heavy or light-duty tasks.
The final solution
The best blade for the mulching mower is the Toro 22″ Recycler Mower Replacement Blade.
The best mulching tool offers superior performance and better mulching capabilities than most mulching blades available. You might find it a smaller blade, but the one-blade system is more than effective for your needs.
Sale
Conclusion
Have you found your best mulching blades yet? There are different models you can count on, without any disappointment. They are reliable and durable for extended use.