Your garden won't thrive without water. It is what enables them to grow, which in turn adds beauty to your home.
But how can you do that?
Well, the answer to it is simply using a pop-up sprinkler. In this article, we'll be talking about just that.
We'll also help you choose the best pop-up sprinkler heads.
Take away key points:
Best sprinkler heads are crucial to keep your lawns optimal
They are secure and stable to prevent leakage and water waste
They come in multiple designs, so check the best one for your needs
Best sprinkler heads for your needs: Choose your fighter!
If you need the best sprinkler heads for your lawn needs, you're at the right place. We proudly present our top 7 best sprinkler heads, so you can choose the most suitable one for your medium lawn or large lawn. Let's see.
$$ – Rain Bird 5000 Rotor Sprinkler Heads
Best Rain Bird rotor sprinkler head with adjustable spray distance and water pressure. The Rain Bird brand professional pop-up sprinkler system easily adjusts to your garden hose, and you can manage the adjustable spray angle for your large lawns. The best pop up sprinklers easily deal with dirtier water.
But, the Rain Bird sprinkler head has poor packaging.
$ – Orbit Watermaster 55461 Voyager 4-Inch Adjustable Pop-Up Gear Drive Sprinkler Head
Best sprinkler heads for advanced construction and easy setup for even water distribution. The sprinkler head system uses the updated system for better optimal performance and higher coverage area.
Nonetheless, it lacks extra nozzles.
$$$ – HUNTER PGP Ultra Rotor Sprinkler Heads
The best sprinkler heads for water-saving features. The lawn sprinkler heads easily install and offer different spray patterns to save more water, and easily attach to your irrigation system. The lawn sprinkler head uses an adjustable spray pattern to ensure how many sprinkler heads you need for more or less water pressure.
Still, it's hard to manage the adjustable spray range.
$ – Rain Bird 25PJDAC Brass Impact Sprinkler
The Rain Bird patented rotor sprinkler heads quickly attach to your current irrigation system, and you can find the diffuser screw to make the gear-driven rotary sprinklers stable to your irrigation canals. The rotating sprinklers are durable and sturdy for a robust watering schedule and higher water pressure.
Yet, the spray head lack instructions to use it.
$ – Toro 53460 5-Pack, 570 Series 4″ 15′ Adjustable Nozzle Pop-Up Sprinkler
Best sprinkler heads with maximum security and stability due to the internal seal to keep the water flow controlled and is optimal for more robust applications. The durable and reliable design resists all weather conditions and other external impacts to run smoothly for years to come.
$$ – Melnor XT Turbo Oscillating Sprinkler
The most adjustable spray head with integrated flow control for the maximum coverage area of the sprinkler systems. The spray head easily adjusts the water flow and integrated flow control keeps the automatic irrigation system optimal for fixed spray or lawn spikes.
However, the sprinkler system is not so strong, as the material sprinkler heads include plastic.
$$$ – Orbit 62100 Yard Enforcer Motion-Activated Sprinkler
Best spray nozzle to reduce your water bill, and keep pests away. The advanced technology of the fixed spray of this sprinkler system works well with the tapered pop-up neck and gently deters all intruders, making it an ideal watering wand.
Anyhow, the durable plastic body of the irrigation systems use batteries with a shortened lifespan.
Brand: Rain Bird
Material: Plastic
Style: 360, adjustable, rotor
Dimensions: 7.5 x 3 x 3 inches
Best for: spray distance and water pressure
The Rain Bird 5000 Rotor Sprinkler Heads gets the first spot on our list because of its great features.
Do you have a large area of lawn that always takes you ages to water? Well, save some time to chill with this sprinkler head.
It features a 40-360 degree arc rotation and a reversing full-circle rotation covering a radius of 25 to 50 feet, both of which makes watering your lawn hassle-free.
Adjusting the area to be watered also becomes easy as pie due to the top-adjust arc. It only requires a flathead screwdriver for adjustment.
For your information, the sprinkler head features a ¾'' inlet. In addition, each head features a 3 GPM pre-installed nozzle, so rest assured about assembly.
If you do not have much experience in setting up a sprinkler head, simply search for the tutorial on Youtube. Watching a video is apparently more useful than reading the instruction.
The pack also includes a heavy-duty retract spring, which ensures a positive pop-down.
Overall, this Rain Bird is worth your investment if you have a tight budget and do not care much about looks.
Pros
It is a well-built sprinkler head that will offer years of service
It serves multiple water ranges and saves water
And, it is straightforward to install and adjust
Cons
The packaging is of low quality
Brand: Orbit
Material: Plastic
Style: Sprinkler
Dimensions: 7.25 x 5.75 x 2.88 inches
Best for: versatile sprinkler heads
The Orbit sprinkler systems include two sprinkler heads that you can easily adjust to your needs for maximum coverage area.
The sprinkler head sprays adjust to decrease water flow and prevent flooding, but keep the lawn optimal and free of pests and intruders. So the circular nozzle works for you and adjusts to your demands.
The sprinkler head system has rotary sprinklers with 360-degree rotation, and you can find the best angle of the hybrid sprinkler heads to cover all parts of your small, medium, or larger lawns.
The best sprinkler heads have a versatile radius of 25-45 feet, so these types of sprinkler heads are ideal for different residential and industrial applications.
The Orbit sprinkler head uses secure nozzle anti-clog heads, with an advanced system to prevent it from clogging, and offering the best stability while working with other sprinkler heads and systems. So unlike most sprinkler heads (regular sprinkler heads), the Orbit sprinkler head provides more maneuverability for robust applications.
You will find the necessary tools to quickly install the sprinkler head to current or new systems, and you can also see the cleaning tools to keep the nozzle and other parts clean for the best security.
Pros
Secure
Quick setup
Stable
Brand: Hunter
Material: Plastic
Style: pop up
Dimensions: 13.5 x 3 x 8 inches
Best for: water-saving spray heads
Next on the list is the best sprinkler head by Hunter. 
Let's see what it has to offer!
This pop-up head is capable of watering a large area of lawn in no time. This is thanks to the full-circle adjustment, which allows you to adjust the water range from 50 to 360 degrees.
The gear drive has a higher tolerance to dirty water, so you no longer have to worry about jamming or clogging due to the buildup of dirt.
What's more, assembly is hassle-free as nozzles are already installed on each head. You should find no difficulty setting up the sprinklers.
This Hunter unit comes as a pack of five heads coupled with an adjustable arc, a 2.5 nozzle, and an adjuster tool.
In case you do not know, the adjuster is there to change the spray length and shape.
Also, there is an instruction included aiding in the setup process. How convenient!
Pros
It is reliable and water-saving
It is capable of popping up high to water the lawn effectively
And, it comes in a ready-to-use pack
Cons
It is quite difficult to adjust the spray angle
Brand: Rain Bird
Material: Brass
Style: rotary
Dimensions: 2.5 x 2.26 x 16.13 inches
Best for: pop up height and high water pressure output
For the next professional pop-up sprinkler, we recommend this Rain Bird sprinkler – one of the most heavy-duty models on the market.
Featuring brass, bronze, and stainless steel construction, this sprinkler head is undoubtedly built to last.
The water coverage is excellent as the device supports apart (20 to 340 degrees) or a full circle (360 degrees) coupled with infinite pattern adjustment.
A highlight this Rain Bird offers is the straight-through water flow design, which handles dirty water effectively. That said, you can take advantage of water from ponds, canals, etc., to water your lawn.
Is there anything else to expect?
Well, many more features have yet to come. For example, we have the diffuser screw to break water into tiny droplets and conserve water.
Also, the spray arm control is there to avoid side splash.
Pros
It features sturdy construction of brass, bronze, and stainless steel
It is packed with advanced and useful features
And, it is able to deal with dirty water well
Cons
It comes with no instructions
Brand: Toro
Material: Plastic
Style: pop up
Dimensions: 7.5 x 2 x 8 inches
Best for: seal and water waste prevention
What's so special about the Toro sprinkler head system? The nest sprinkler heads come preinstalled with a 360-degree rotary system for your lawn needs. The sprinkler head system uses four-inch pop ups and 15-feet adjustable nozzles for your larger coverage areas. So, the sprinkler head system easily adjusts to your needs.
In addition, the Toro sprinkler head system has sealing to prevent bursts, pop-offs, and other accidents. It will keep the water optimal, and you won't find any water waster or excess leaking in the irrigation system. The sprinkler head system will be water controlled and there won't be any risks of complications.
Thanks to the ratcheting riser, the Toro sprinkler head design allows a correct tune alignment, for an ideal installation, maximum security, and stability. Thus, the sprinkler head model features a quick and proper setup with all the necessary tools and parts inside the package. You can find your necessary parts and ensure the best setup in seconds.
Due to a durable and sturdy system, the best sprinkler heads will last for an extended time. There won't be any damage to external impacts, forces, pressure, and other potential risks of similar accidents.
Pros
quick setup
easy to use
stable
secure
adjustable
Brand: Melnor
Material: Plastic
Style: 3-way adjustable
Dimensions: 6.65 x 17.32 x 3.46 inches
Best for: internal gear drive of the oscillating sprinkler
Is this what are you waiting for, an oscillating sprinkler? Let's check it out with us.
This model stands out as it gives you total control over the water coverage.
First, you are able to change the length of the spray pattern from 10ft to 75ft based on your demands.
What's more, there is a patented one-touch adjustment for adjusting the width from 10ft to 53ft.
Additionally, the smooth operating tabs allow us to adjust the pattern position to the left, right, or center. Hence, you can provide the exact amount of water each area needs.
It does not stop there.
The Melnor sprinkler comes with a control dial, allowing a micro-adjustment of water. With the optimal spray pattern, you can avoid wasting any water on the driveway or the sidewalk.
Feel free to use water with high or low pressure as there is an infinity turbo motor ensuring a smooth operation.
Pros
It enables you to control the spray pattern completely for water conservation
It features a large volume tube for maximum coverage
And, it works smoothly with water of both low and high pressure
Cons
It is constructed with plastic
It is expensive
Brand: Orbit
Material: Plastic, zinc
Style: Yard enforcer
Dimensions: 10 x 5 x 24.5 inches
Best for: intelligent sensing technology
Do you want a dual-purpose unit that serves as a sprinkler and a pest deterrent?
Then pick up this Orbit model.
As a sprinkler, it provides extensive coverage of 1600 feet to save your time watering the whole yard. Meanwhile, the 35 feet adjustment allows you to customize the area to be watered.
Plus, the 30-minute setting enables the whole thing to work as a timed sprinkler.
You are curious as to how the sprinkler works as a pest deterrent, aren't you?
Simply put, it relies on a 120-degree arc motion sensor to detect intruders from 40 feet away. Then, it uses water, motion, and sound to stop animals from entering the yard.
No worries about water or energy wastage.
The built-in sensing technology helps the sprinkler tell apart trees and animals to spray water when needed only.
The Orbit sprinkler features three activation modes, including night only, day only, or always activated. That said, your garden will be well-protected all the time.
Pros
It is well-built with a brass hose and metal dual step spike
It features advanced sensor technology for water and energy conservation
And, it acts as a timed sprinkler with 30-minute setting
Cons
It is quick to run low on battery
Selecting the best sprinkler heads for large lawns: Buying guide
If you need the best lawn sprinkler heads for your medium lawn or large lawn, find the crucial factors to consider below. You can find the best lawn sprinkler heads effortlessly! Let's start!
1. Durability
When you're buying a pop-up sprinkler head or any kind of product, in general, it is to make sure that it's durable.
It's in knowing if the product is durable that you can know if it's worth the price or not.
Durability plays a very important role when it comes to spending your money wisely. See to it that its construction is good and it's made properly.
By making sure it meets these standards, you're most likely to use that pop-up sprinkler head for a long time.
2. Water pattern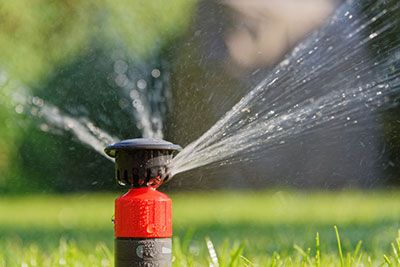 Each pop-up sprinkler head has its own spraying type, which is why you need to choose which pattern suits you best.
There are some pop-up sprinkler heads that have circular spray patterns, while there are those that have straight spraying patterns.
If you have a large lawn or garden, then choose those that have a circular pattern to have a big coverage area.
But if you want to water only a specific portion of your lawn, then you better use the sprinkler head that has a straight spraying pattern so that it can make efficient use of the water.
3. Material
Also, make sure that the materials that your sprinkler head is made of are of high quality. This gives you the assurance that your sprinkler head is durable.
This is a very important thing to consider because this is where your money's worth depends on.
You get your money's worth if the pop-up sprinkler head is made of high-quality materials.
Choose those that are made of stainless steel or those that have a chrome coating.
4. Looks
It's not just about the quality or the performance of the sprinkler head that you need to keep an eye on. But you should also make sure that it looks good.
The design is an important aspect to consider because it will affect the look of your garden.
Remember that your pop-up sprinkler will be placed in the center of your garden, which is why it really needs to look good.
5. Price
Make sure that it's not overpriced or underpriced. Most overpriced products are not worth it because they're just expensive because of the brand.
On the other hand, underpriced sprinkler heads are usually of low quality, and they can break down really fast.
Different types of pop-up sprinkler heads
1. Part-circle rotors
Part-circle rotors are those sprinkler heads that you can adjust from 40 degrees to 360 degrees.
This comes in handy, especially if your sprinkler is found near a corner or sidewalk.
What's great about this is that it won't reach the areas you don't intend to water.
2. Full-circle rotors
This is the one you need to get if you have a large yard. These are placed in the center of your garden or lawn because they rotate in a 360 degrees circle.
The only downside to this one is that they can't be adjusted.
3. High poppers
Then there are the high poppers which pop up in water higher than the normal ones.
If you've got tall grass or shrubs in your garden or lawn, then this one's what you need to get.
4. Adjustable heads
There are also pop-up sprinkler heads that are completely adjustable.
If you're the kind of person who wants to really be specific with your garden's watering needs, then this one's for you. 
This perfectly fits any spacing requirements that your plants need.
5. Strong shooter heads
Strong shooter heads are those that can shoot or spray water at very long distances.
This lets you shoot water over areas you don't intend to water.
FAQs
Which is better RainBird or Hunter?
If you're looking for something that will last longer and is easier to use, then Hunter may be the better option for you.
Hunter components — the tubes and pipes, heads and rotors, and the sensors — are just a little bit more durable than those of RainBird. Hunter is also considered by many to be easier to use than RainBird, which has been described as slightly difficult by some people.
Additionally, Hunter spray ranges from 15 to 90 feet apart with a 40° to 360° arc, while RainBird offers a wider range of customization options with a spray pattern that can be adjusted from 40 to 360 degrees.
What are the best pop-up sprinklers for large areas?
The best ones are the Rain Bird 5000 Rotor Sprinkler Heads as they offer the best performance with the biggest coverage area.
How do pop-up sprinkler heads work?
They use water pressure to push up the center shaft, which then connects to the nozzle that sprays water. When the timer turns on, the pop-up head rises from the ground and begins spraying water. When it's time to turn off, the head retracts back into the ground.
How do I make my sprinkler head pop up higher?
Follow these steps:
– Make sure that you are cleaning both the screen basket of the head and the head itself. This will help ensure that any dirt or debris that may be blocking the flow of water is removed.
– Press down firmly but gently with your foot on the pop-up riser so that it is pushed back down into the body. You may get wet doing this, so make sure you have appropriate clothing on!
Why does my RainBird sprinkler head not pop up?
It could be a faulty sprinkler head, a faulty valve, or a problem with your water pressure. Additionally, new construction in the area can place increased demand on the water system and lead to lower water pressure.
You may also have a broken main line or worn sprinkler wiper seal that is causing a loss of water pressure. To diagnose the issue, check for any broken parts or clogs in the system and make sure that the water pressure is sufficient.
How to get sprinkler heads to pop up without water?
First, press the pop-up riser down firmly with your foot until it is completely retracted into the body. Then release it so it pops up again.
You can also try inserting a pin or needle through the sprinkler head to loosen any blockages that may be preventing it from popping up. Finally, if all else fails, you may need to replace the spray head entirely.
The best pop-up sprinkler system
We believe the Rain Bird Rotor Heads 5000 is the best sprinkler head on this list. The rotating sprinkler heads are exceptionally durable with brass, bronze, and stainless steel construction.
Also, the gear-driven rotor sprinklers allow for wide coverage while saving water at the same time. Last but not least, the rotary sprinklers can handle dirty water effectively.
Rain Bird Rotor Heads 5000 Rotor Sprinkler Heads. 4-Pack*
Adjustable From 40-360 Degrees
Heavier-Duty Retract Spring Assures Positive Pop-Down
Top-Adjust Arc Adjustment Requiring Only A Flat-Blade Screwdriver
Superior Rain Curtain Coverage For Even Distribution Over The Entire Radius
Comes with Nozzle already installed. Up To 40' Radius
Summary
Hopefully, you better understand the best sprinkler heads and can choose the best one for your needs. We look forward to hearing your feedback!