Your garden won't thrive without water. It is what enables them to grow, which in turn adds beauty to your home.
But how can you do that?
Well, the answer to it is simply using a pop-up sprinkler. In this article, we'll be talking about just that.
We'll also help you choose the best pop up sprinkler heads.
Top 5 best pop up sprinkler heads
The Rain Bird 5000 Rotor Sprinkler Heads gets the first spot on our list because of its great features.
Do you have a large area of lawn that always takes you ages to water? Well, save some time to chill with this sprinkler head.
It features a 40-360 degree arc rotation and a reversing full-circle rotation covering a radius of 25 to 50 feet, both of which makes watering your lawn hassle-free.
Adjusting the area to be watered also becomes easy as pie due to the top-adjust arc. It only requires a flathead screwdriver for adjustment.
For your information, the sprinkler head features a ¾'' inlet. In addition, each head features a 3 GPM pre-installed nozzle, so rest assured about assembly.
If you do not have much experience in setting up a sprinkler head, simply search for the tutorial on Youtube. Watching a video is apparently more useful than reading the instruction.
The pack also includes a heavy-duty retract spring, which ensures a positive pop-down.
Overall, this Rain Bird is worth your investment if you have a tight budget and do not care much about looks.
Pros
It is a well-built sprinkler head that will offer years of service
It serves multiple water ranges and saves water
And, it is straightforward to install and adjust
Cons
The packaging is of low quality
Next on the list is the best sprinkler head by Hunter. 
Let's see what it has to offer!
This pop-up head is capable of watering a large area of lawn in no time. This is thanks to the full-circle adjustment, which allows you to adjust the water range from 50 to 360 degrees.
The gear drive has a higher tolerance to dirty water, so you no longer have to worry about jamming or clogging due to the buildup of dirt.
What's more, assembly is hassle-free as nozzles are already installed on each head. You should find no difficulty setting up the sprinklers.
This Hunter unit comes as a pack of five heads coupled with an adjustable arc, a 2.5 nozzle, and an adjuster tool.
In case you do not know, the adjuster is there to change the spray length and shape.
Also, there is an instruction included aiding in the setup process. How convenient!
Pros
It is reliable and water-saving
It is capable of popping up high to water the lawn effectively
And, it comes in a ready-to-use pack
Cons
It is quite difficult to adjust the spray angle
Do you want a dual-purpose unit that serves as a sprinkler and a pest deterrent?
Then pick up this Orbit model.
As a sprinkler, it provides extensive coverage of 1600 feet to save your time watering the whole yard. Meanwhile, the 35 feet adjustment allows you to customize the area to be watered.
Plus, the 30-minute setting enables the whole thing to work as a timed sprinkler.
You are curious as to how the sprinkler works as a pest deterrent, aren't you?
Simply put, it relies on a 120-degree arc motion sensor to detect intruders from 40 feet away. Then, it uses water, motion, and sound to stop animals from entering the yard.
No worries about water or energy wastage.
The built-in sensing technology helps the sprinkler tell apart trees and animals to spray water when needed only.
The sprinkler features three activation modes, including night only, day only, or always activated. That said, your garden will be well-protected all the time.
Pros
It is well-built with a brass hose and metal dual step spike
It features advanced sensor technology for water and energy conservation
And, it acts as a timed sprinkler with 30-minute setting
Cons
It is quick to run low on battery
Is this what are you waiting for, an oscillating sprinkler? Let's check it out with us.
This model stands out as it gives you total control over the water coverage.
First, you are able to change the length of the spray pattern from 10ft to 75ft based on your demands.
What's more, there is a patented one-touch adjustment for adjusting the width from 10ft to 53ft.
Additionally, the smooth operating tabs allow us to adjust the pattern position to the left, right, or center. Hence, you can provide the exact amount of water each area needs.
It does not stop there.
The sprinkler comes with a control dial, allowing a micro-adjustment of water. With the optimal spray pattern, you can avoid wasting any water on the driveway or the sidewalk.
Feel free to use water with high or low pressure as there is an infinity turbo motor ensuring a smooth operation.
Pros
It enables you to control the spray pattern completely for water conservation
It features a large volume tube for maximum coverage
And, it works smoothly with water of both low and high pressure
Cons
It is constructed with plastic
It is expensive
Last but not least, we want to recommend this Rain Bird sprinkler – one of the most heavy-duty models on the market.
Featuring brass, bronze, and stainless steel construction, this sprinkler head is undoubtedly built to last.
The water coverage is excellent as the device supports apart (20 to 340 degrees) or a full circle (360 degrees) coupled with infinite pattern adjustment.
A highlight this Rain Bird offers is the straight-through water flow design, which handles dirty water effectively. That said, you can take advantage of water from ponds, canals, etc., to water your lawn.
Is there anything else to expect?
Well, many more features have yet to come. For example, we have the diffuser screw to break water into tiny droplets and conserve water.
Also, the spray arm control is there to avoid side splash.
Pros
It features sturdy construction of brass, bronze, and stainless steel
It is packed with advanced and useful features
And, it is able to deal with dirty water well
Cons
It comes with no instructions
Pop-up sprinkler heads buying guide
1. Durability
When you're buying a pop-up sprinkler head or any kind of product, in general, it is to make sure that it's durable.
It's in knowing if the product is durable that you can know if it's worth the price or not.
Durability plays a very important role when it comes to spending your money wisely. See to it that its construction is good and it's made properly.
By making sure it meets these standards, you're most likely to use that pop-up sprinkler head for a long time.
2. Water pattern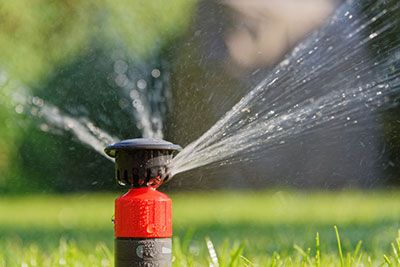 Each pop-up sprinkler head has its own spraying type, which is why you need to choose which pattern suits you best.
There are some pop-up sprinkler heads that have circular spray patterns, while there are those that have straight spraying patterns.
If you have a large lawn or garden, then choose those that have a circular pattern to have a big coverage area.
But if you want to water only a specific portion of your lawn, then you better use the sprinkler head that has a straight spraying pattern so that it can make efficient use of the water.
3. Material
Also, make sure that the materials that your sprinkler head is made of are of high quality. This gives you the assurance that your sprinkler head is durable.
This is a very important thing to consider because this is where your money's worth depends on.
You get your money's worth if the pop-up sprinkler head is made of high-quality materials.
Choose those that are made of stainless steel or those that have a chrome coating.
4. Looks
It's not just about the quality or the performance of the sprinkler head that you need to keep an eye on. But you should also make sure that it looks good.
The design is an important aspect to consider because it will affect the look of your garden.
Remember that your pop-up sprinkler will be placed in the center of your garden, which is why it really needs to look good.
5. Price
Make sure that it's not overpriced or underpriced. Most overpriced products are not worth it because they're just expensive because of the brand.
On the other hand, underpriced sprinkler heads are usually of low quality, and they can break down really fast.
Different types of pop-up sprinkler heads
1. Part-circle rotors
Part-circle rotors are those sprinkler heads that you can adjust from 40 degrees to 360 degrees.
This comes in handy, especially if your sprinkler is found near a corner or sidewalk.
What's great about this is that it won't reach the areas you don't intend to water.
2. Full-circle rotors
This is the one you need to get if you have a large yard. These are placed in the center of your garden or lawn because they rotate in a 360 degrees circle.
The only downside to this one is that they can't be adjusted.
3. High poppers
Then there are the high poppers which pop up in water higher than the normal ones.
If you've got tall grass or shrubs in your garden or lawn, then this one's what you need to get.
4. Adjustable heads
There are also pop-up sprinkler heads that are completely adjustable.
If you're the kind of person who wants to really be specific with your garden's watering needs, then this one's for you. 
This perfectly fits any spacing requirements that your plants need.
5. Strong shooter heads
Strong shooter heads are those that can shoot or spray water at very long distances.
This lets you shoot water over areas you don't intend to water.
The bottom line
We believe the Rain Bird Rotor Heads 5000 is the best sprinkler head on this list. It is exceptionally durable with brass, bronze, and stainless steel construction.
Also, it allows for wide coverage while saving water at the same time. Last but not least, it is able to handle dirty water effectively.
Rain Bird Rotor Heads 5000 Rotor Sprinkler Heads. 4-Pack*
Adjustable From 40-360 Degrees
Heavier-Duty Retract Spring Assures Positive Pop-Down
Top-Adjust Arc Adjustment Requiring Only A Flat-Blade Screwdriver
Superior Rain Curtain Coverage For Even Distribution Over The Entire Radius
Comes with Nozzle already installed. Up To 40' Radius