Did you ever wonder what makes an authentic gardening collection complete? A quality pruning saw. Every gardener should at least have one type of pruning saw in their shed, and here is why.
Pruning a tree branch or even a plant determines the quality of its growth. By pruning, you remove the dead shrubs or branches that get in the way of new growth.
Also, we cannot stress enough the importance of having a clear garden passage without branches and shrubs blocking your view.
Regular trimming and pruning keep the overall appearance of the garden neat and proportional. These are just a few of the reasons why we value pruning and consider it to be a crucial step in garden maintenance.
Here is the top 9 best pruning saw reviews that we hope you will enjoy.
Take away key points:
Pruning saw models come in various sizes, shapes, and customizing options
Check their quality and durability over the price to select the best units for your needs
Always wear safety glasses and other safety equipment to prevent injuries and accidents
Most important benefits of using pruning saws
Here are the crucial benefits to consider when using the pruning saw:
1. Size control
The number one reason why it's important to use pruning saws is that they help in controlling the size of your plants.
Your plant can grow out of control and might become an eyesore if left untrimmed.
2. Injury and damage prevention
Untrimmed pruning saws might not only be unpleasant to look at, but they can also cause serious trouble.
Overgrown roots and branches might cause safety hazards for people because they might trip or accidentally bump into them. This can also cause damage to properties.
Examples of these are the branches that can apply too much force when they are already touching the windows or the gutter of your house.
3. Improves plant health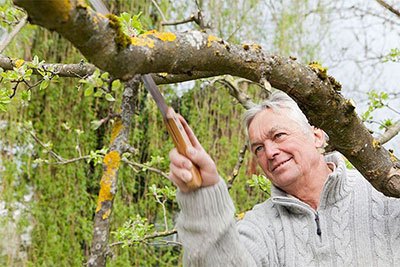 Untrimmed plants that haven't been pruned are more likely to be prone to different diseases caused by pests or fungal growth.
You can avoid this from happening when you use pruning saws because it's through pruning that you can remove the dead and dried-up leaves that are susceptible to fungal and pest infections.
4. Improves fruiting and flowering likelihood
By using pruning saws to trim and maintain the look of your plants, you are also increasing the chances of them bearing fruit or it blossoming flowers.
This is because sunlight can easily pass through your plants, thereby making them healthier.
The best pruning saws for thick branches in 2023
These are the best pruning saws you can use for different pruning or cutting needs. Check the reviews to find the top-quality pruning saws for your needs.
$ – Corona Tools 10-Inch RazorTOOTH Folding Saw
Best folding pruning saw for optimal performance, and other of the best pruning saws on the market. The folding pruning saw can prune branches of more inches making it a good pruning saw for various cutting standards.
Still, it has issues with the locking mechanism.
$ – Bahco 396-LAP Laplander Folding Saw
The folding pruning saw is ideal for its razor teeth, offering more efficiency when working. The folding saw mode is great for the sharper blade and narrower design for all heavy-duty operations.
Yet the folding saw is prone to bending no matter whether the blade folds.
$$ – Silky GomBoy Curve Professional Folding Saw
These folding saws are crucial for precise cutting operations, and different robust applications. The folding saws last longer due to steel design.
They might cut slowly.
The saw is great for different cutting standards, more robust design, and long-lasting uses. The solid construction ensures maximum lifespan.
The straight-blade pruning saw is great for its reliable uses, but many find it prone to bending.
These straight blades are crucial for different budget-pruning models, and you will find the solid for more robust applications. They are great for different heavy-duty options and standards.
However, many pruning saws of this type are hard to manage.
$ – Fiskars 15 Inch Pruning Saw with Handle
Best for its ergonomic handle, similar to pruning shears, and maximum comfort to use it for an extended period. The best performance is possible due to the sharpest blade mode available. Affordable to all users.
$ – Sun Joe SWJ800E 8-Inch 6.5-Amp Telescoping Electric Pole Chain Saw
Best pole pruning saw available. The pole pruning saw stands among other pole pruners due to its push and pull stroke mechanism, power-lever technology, and locking mechanism. It's the only pole pruner with such a mechanism, and other pole pruners might not be that efficient.
Anyhow, the pole pruning saw is too bulky, regardless of the pull stroke system.
$$$ – Fiskars Chain Drive Extendable Tree Pruner and Pole Saw
Best extendable model with a versatile and adjustable design for all hard-to-reach areas and other cutting needs. Manageable for various cutting standards.
$ – EZ Kut Kamikaze Max Saw Curved Blade
Best for an affordable price and matching quality. Versatile and manageable for various cutting needs, and multiple uses. The adjustable design makes it reliable for various tasks.
Nonetheless, you'll notice the poor quality.
Brand: Corona
Material: steel
Power source: Manual
Best for: efficient cutting and extra sharp blade
The Corona pruning saw is an affordable model that amazed us with its capability to cut with ease. No more putting in the muscles to cut even through the slimmer branches. The saw Corona is going to be your best gardening companion.
The hinged model is foldable, which makes it a great safety addition to the saw. Whenever the saw is not in use, you can simply fold it and store it away.
Corona pruning saw blade has three-sided razor teeth that cut smoothly into any branch. Hardened impulse teeth are delivering a fast cut, while an easy cut is also provided with the help of the handle. Ergonomic design is always desirable when you are searching for a quality pruning saw.
The comfort is undeniable when it comes to this handle. As for the capability of the entire saw, it can battle thick branches with ease. The Corona Saw can cut up to 10 inches thick branches and make it seem like a tedious job.
Also, the curved blade design is perfect if you are battling with awkwardly placed branches in the garden.
Pros
Affordable
Curved blade
Hardened impulse teeth
Ergonomic handle
Cons
The hinged mechanism is prone to breaking
Brand: Bahco
Material: steel
Power source: Manual
Best for: the narrow blade for straight blade pruning
Everyone needs a quality folding saw in their collection. We advise you to consider this Bahco pruning saw and see why we recommend it as one of the best pics.
The Bacho pruning saw is ideal for cutting dry wood and thick branches. With its XT soothing, the pruning saw has seven teeth per inch, making it perfect for any heavy-duty task.
For the longevity of the saw, the stainless steel blade is coated for rust protection as well as friction. We are sure this pruning saw will last you for a long time before you ever feel the need to repurchase another one.
A comfortable grip is in everyone's interest when it comes to pruning. That is why this Bacho pruning saw has a two-component plastic grip handle with a leather strap.
Since this is a folding saw, you do not necessarily need to use it only for pruning. Although it found its best purpose there, consumers reported that this saw is a trustworthy camping companion, especially for its safety-lock feature when it's folded.
Pros
Seven teeth per inch
Stainless steel straight blade
Comfortable grip
Safety-lock in a folded position
Cons
The blade is prone to bending
Brand: Silky
Material: alloy steel
Power source: hand-powered
Best for: a blade for different pruning projects
It is no wonder why the GomBoy pruning saw is a favorite of many gardening enthusiasts.
This GomBoy Curve Professional folding saw is an improved version of Silky's number one-selling GomBoy folding saw. The well-made saw made its way up on our list as one of the best garden saws.
GomBoy professional saw has a Japanese handle that provides all comfort and easy maneuverability. Let's start with the serrated teeth of this saw.
The Silky Gomboy series blades are all made to be precise, impulse hardened, and have a patented Mirai-Me smooth design. One of our favorite features about the blade is the previously mentioned impulse hardening technique.
Whenever you see that the blade is impulse hardened, you are in for a surprise. The heated blades are sharper up to three times more than regular ones. They keep their shape and never give in flexibility.
The Gomboy offers an ergonomic handle, which is fantastic at serving you with the ultimate comfort grip. You want to make sure everything's stable when pruning.
For safe storage, this pruning saw comes in its own plastic case. You can safely store the saw away when you are not using it or take it camping.
Pros
Ultimate precision cutting
Ergonomic design
Easy to use
Straight blade
Cons
Can deliver in slower cuts
Brand: Rexbeti
Material: alloy steel
Power source: Manual
Best for: foldable pruning saw design & heavy-duty pruning razor-sharp teeth
The REXBETI pruning saw is there to meet all of your demands when it comes to pruning and other gardening activities.
The folding hand saw is made out of quality SK-5 steel which makes it durable and efficient in many operations.
If you have a problem reaching the awkward areas but do not want to purchase a telescopic pole, then Rexbeti is the perfect option for you.
The extended 11-inch blade is fantastic for all the pruning tasks as well as camping adventures. The extended full length of this hand saw is 22 inches.
Pulling action is made easy since the blade is designed to cut smoothly through wood or plastic material.
A quality saw features sharp and hardened teeth that deliver precise cuts. Rexbeti pruning saw is the ultimate choice for all gardening enthusiasts and will win you over in a second.
For a comfortable grip, the rubber handle is coated with a polymer to ensure secure, non-slip use. The handle accommodates both left and right-handed users with a cushioned grip.
Pros
Triple cut teeth
Hardened steel
Delivers precise cuts
Comfortable grip design
Foldable
Cons
The blade is likely to bend
Brand: Home Planet gear
Material: carbon steel
Power source: Manual
Best for: curved blade pruning saw design ad blade length
If you ever need a multifunctional saw in your kit, you can never go wrong with Eversaw. The pruning saw did not only shine in the pruning section, but it is one of the best carry-along saws on our list.
You will be able to enjoy the preciseness of this pruning saw on many occasions, such as preparing the wood for a camping fire. The sturdy and durable carbon steel cuts easily into any material. The blade is 8 inches long with a TPI of 9.
It is perfectly suitable for cutting thick wood, all while delivering a precise sawing action. In preventing accidents from happening, the pruning saw has a fantastic safety feature to it.
The dependable gear lock is there to secure your pruning saw when you are not using it. When you fold it, the blade fits perfectly in the handle without any teeth sticking out.
The triple-cut razor teeth are designed to deliver Japanese-style sawing action. The cutting effort is made even more comfortable with the thermoplastic ribbed rubber handle coating.
Pros
Easy to use
Triple-cut teeth
Foldable
Suitable for camping
Secure lock feature
Cons
Tightening the bolt is challenging
Brand: Fiskars
Material: Steel
Power source: Hand-powered
Best for: Large branches and small branches due to its sharp blade
If you're looking for a pruning saw that can handle big jobs, the Fiskars Pruning Saw is an ideal choice.
This curved saw features a razor-sharp, triple-ground Power Tooth blade that makes clean cuts on both the pull and push stroke. The ergonomic non-slip handle provides a comfortable and secure grip, allowing you to work quickly and efficiently.
The Fiskars Pruning Saw is perfect for cutting through thick branches or making undercuts. It's also lightweight and easy to use, so it won't tire out your arm after extended use. Plus, the handheld pruning saw will cut branches regardless of the weather elements.
It comes with a lifetime warranty, so you know it's built to last. The triple ground teeth are just what you need for larger or smaller branches.
You will like the performance of the curved blade pruning saw. You can make quick work of some large branches in your yard without any trouble at all.
The Fiskars blade is sharp enough to cut through even the toughest wood without any effort on your part. Plus, the handle is comfortable enough that you don't experience any fatigue during extended use.
The Fiskars pruning saw is crucial for anyone who needs a reliable saw for big jobs around their home or garden. It's lightweight yet powerful enough to tackle tough tasks without breaking a sweat.
Plus, it comes with a lifetime warranty so you know it will last for years to come!
Pros
sharp blade
for slightly thicker branches and green wood
triple cut razor teeth
cut branches up to ten inches in diameter
high-quality pruning curved blades
Brand: Sun Joe
Material: steep
Power source: corded electric
Best for: both the push stroke and the pull stroke of the sharp blade length
The Sun Joe pruning saw is perfect if you are on the lookout for an affordable electric saw. We are aware that electric saws are on the pricier side, but they are ideal for cutting thick branches. Well, no need to stress anymore.
This pruning saw cuts with ease, all while being comfortable for use. This model is a 6.5 AMP motor, which is a suitable power for cutting thicker branches that hand saws usually struggle with handling.
A feature we were amazed at is the telescopic design. The pruning pole reaches 8ft, which allows you to reach all those tricky areas in your garden.
The good-old safety feature is always needed when you are working with sharp objects. A self-tension mechanism makes sure your chainsaw is still in place and never gets loose while you are operating.
Another handy feature is the 80ml oil tank that lubricates the chain whenever it needs extra help.
Where there is a struggle, it provides a clean and effortless cut. Users have reported that this pruning saw is ideal for 4" thick branches.
Pros
Affordable
Electric
Oil lubrication for chain
Self-tension mechanism
Cuts 4"branches
Telescopic design
Brand: Fiskars
Material: Alloy steel
Power source: hand-powered
Best for: power-lever technology to cut tick branches and thin branches
Having a long-reach pole saw is always a great addition to your collection. Especially if the same tool is multifunctional like this one. The Fiskars tool can serve you as the best saw for cutting tree branches and as a pruner.
All those high branches that once created a problem are now a thing of the past. You can finally cut them down with ease and never have to deal with bringing a step ladder every time they need a cut.
The Fiskars pruning saw has a chain-drive mechanism that gives you up to 3x more precision than regular hand saws. The unique design is also one of our favorite features of this pruning saw.
The oval-shaped fiberglass pole reduces strain and flex during extension, which allows you to cut with stability. For a safety addition, the prone possesses one more feature to it.
The locking mechanism prevents the pole from sliding down and creating any accidents. As for the blade, it is highly durable and made out of steel. It will cut smoothly through those high branches that once blocked your view.
Pros
Extendable pole
2 in 1 tool
Comfortable grip
Oval-shaped pole
Steel blade
Cons
The pole is prone to rust
Brand: EZ Kut
Material: Carbon steel
Power source: Manual
Best for: more cutting inches in diameter
The EZ Kut pruning saw is an essential tool for any gardener or landscaper. This heavy-duty pruning saw is made with Japanese SK-4 carbon-enriched steel, making it incredibly strong and durable.
The blade is 19.3 inches long and features impulse-hardened teeth that are three times stronger than standard blades. This makes it perfect for tackling tough tree trimming and branch-cutting jobs.
The curved design of the blade of the handheld pruning saw also makes it easier to maneuver in tight spaces, allowing you to get the job done quickly and efficiently.
The included scabbard provides added protection when not in use, ensuring your saw stays sharp and ready to go when you need it most. It has a maximum cutting capacity of more than 10 inches in diameter. So you can use the saw blade for green wood, and the curved blades will fully adjust to your needs.
It cuts through branches like butter, making quick work of even the toughest jobs. The blade has held up well over time, staying sharp despite regular use. You will also like how lightweight it is, making it easy to carry around all day without getting tired or sore arms.
Overall, we highly recommend the EZ Kut Kamikaze Max Saw Curved Blade for anyone looking for a reliable pruning saw that can handle tough jobs with ease. It's well worth the investment and will last you many years if taken care of properly.
Pros
cut thick branches
ergonomic handle
replacement blade
sharp blades
Buyer's guide for best pruning saws
These are the things to consider when purchasing the best pruning saws:
Types of pruning saws
When you are purchasing the best pruning saws, you should know that there are various types of selections. They are not different just by their design but by their application.
Here are the four common types of pruning saws.
1. Straight blade saws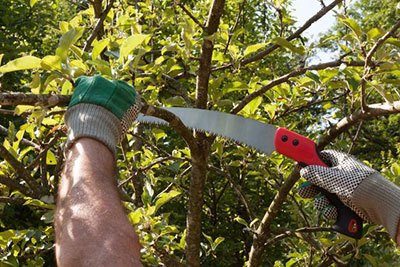 Just as the name implies, these pruning saws have a straight blade but a curved handle. Although pole saws have straight blades, this term is mostly used for hand saws.
The curved handle makes maneuvering easy and comfortable, while the straight blade is commonly used for sawing greenwood and sap.
2. Curved blade saws
On the other hand, we have curved blade saws. These pruning saws have a slight curve to their design and are great for reaching awkward areas in the garden.
Unlike straight saws, their curved blade is preferable for cutting dry and thick branches.
Still, it might take you some time to get used to them. They can be quite uncomfortable for maneuvers.
If you want to buy one of these saws, we recommend you go with the straight pruning saw blade. It can be used on various occasions, and it is much easier to handle.
3. Pole pruner saws
Pole pruner saws are your best companion if you are dealing with high branches. Most of them have an extendable telescopic pole that reaches great heights. You can finally cut down those branches you have been eyeing for a long time.
These pruning saws have a blade at the head attachment. You will also find some models that have a rotating blade that allows you to adjust and fix the blade at the desired angle.
4. Hand-held pruning saws
Hand-held saws are the favorite of many. They offer excellent maneuverability and usually have a straight design blade.
Hand saws can be used for indoor and outdoor pruning, and although they can be used for cutting thicker branches, we would not take that risk. These saws give a better cut to thinner branches as well as plants.
Handle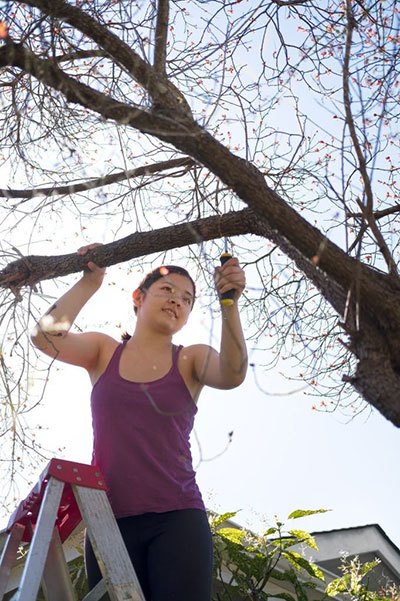 A quality handle is just as important as a quality blade in a saw. If you are in for hours of pruning, you want to make sure you have comfortable support while doing so.
Handles come in various designs as well as coating. You can mostly find plastic handles that are coated with polymer and wood handles. Most of them are easy to use, but then it all depends on how they are made.
Tooth
Another crucial feature to pay attention to is the teeth on the blade. Generally, they are the ones that determine how fine will the cut be or for what purpose you should use the saw.
You should consider looking up teeth per inch and the size of teeth. Those two features relate to one another since the size of the teeth determines TPI.
When you have, let's say, 11 inches of teeth per inch, then the blade is suitable for more delicate cuts.
But the ones that have 6 TPI are the ones you want for pruning. A smaller number, such as 5.5 TPI, is usually found in curved blade saws, and it delivers faster and more aggressive cuts.
FAQs
Why are pruning saws curved?
As you noticed, not all pruning saw blades have the same shape. Curved ones are designed to help you when you are dealing with awkwardly placed shrubs or branches.
What are pruning saws used for?
Pruning saws are specialized tools used for cutting and trimming trees and shrubs with branches that are greater than about 1-1/2 inches in diameter.
Pruning saws come in a variety of styles, including hand pruning saws, pole pruning saws, folding pruning saws, electric corded pruning saws, and multipurpose pruning saws.
Can you use a reciprocating saw for pruning?
Yes, you can use a reciprocating saw for pruning. This type of saw is ideal for pruning because it has a one-handed variant that leaves the other hand free to secure the branch.
It is also much quieter than a chainsaw and requires protective gloves and eyewear when in use. 
What size pruning saw do I need?
For example, if you're cutting branches that are 1 inch in diameter, you should choose a saw with a 2-inch blade.
What is the best cordless pruning saw?
The best one is the  Corona RazorTOOTH Folding Pruning Saw due to its overall performance, sharp blade, and foldable saw design.
What is the best reciprocating saw blade for pruning?
For wood, a blade with 6-8 teeth per inch (TPI) is recommended. For metal, a blade with 14-18 TPI is ideal. If you are cutting PVC or masonry, then a carbide-tipped blade is the best choice.
What saw to cut tree branches?
We find the best pruning saw for trees is the Sun Joe 6.5-Amp Telescoping Electric Pole Chain Saw.
For many reasons, we were amazed by its abilities. But, for high branches, we preferred its telescopic pole that plays the leading role.
Can pruning saw blades be sharpened?
Yes, pruning saw blades can be sharpened. This is done by using a small, round file to sharpen the beveled edges of the teeth on the blade. It's important to use a 6-inch metal file or a sharpening rod to slowly file away the soft metal.
Additionally, it's important to hold the file at a 30-degree angle to the saw as you sharpen and adjust the blade in the vise as needed.
How thick a branch can a pruning saw cut?
Depending on the type of pruning saw, they can cut branches up to 3-5 inches in diameter.
Pole saws, which have longer blades and handles, can cut branches up to 12 inches in diameter.
Reciprocating saws, with their carbide-tipped blades, can cut through even thicker branches.
The final winner
As you saw from our top pick item, we recommend the Corona RazorTOOTH Folding Pruning Saw as the best tree pruning saw.
With a foldable design and a slightly curved blade, this tree saw will make your pruning hours much more enjoyable.
See what it's like to have ultimate control over a gardening tool and enjoy easy pruning with our best pick.
Sale
Corona Tools 10-Inch RazorTOOTH Folding Saw | Pruning Saw Designed for Single-Hand Use | Curved...*
3 SIDED RAZOR TEETH FOR EFFICIENT CUTTING: 10" blade is ideal for cutting 5" - 6" diameter, small to medium, branches
ERGONOMICALLY DESIGNED, COMFORTABLE, CO-MOLDED HANDLE: Provides a comfortable grip for extended use
EASY TO LATCH BLADE PREVENTS INJURY WHEN NOT IN USE: Folding blade is curved, taper-ground, and replaceable
IMPULSE HARDENED TEETH FOR LONG SERVICE LIFE: Extends the life of the tool season after season
UP TO 6 TEETH PER INCH AND CURVED BLADE DESIGN FOR FASTER CUTTING: Cuts are smoother and quicker than a traditional saw.
Summary
Hopefully, you know the best pruning saws and can choose the best one for your needs! Our types of pruning saws won't let you down.