The reason we're here today is that we evolved and learned how to take care of our bodies, mind, and soul. Without proper nurture and care, nothing can sustain in this world, including plants.
Through the course of our collective lifetimes as sentient beings, we mastered the art of horticulture, agriculture, and garden design.
To do that, we had to invent tools that would alleviate the hard work, and today, it's easier to find and use them than ever.
That is why we've compiled a list of the best pruning shears on the market, crafty tools that will surely help you maintain a healthy life for your plants.
Also, we've added a buyer's guide to help you find out what it is that you should be looking for. Stay tuned!
Best pruning shears 2023: Top 10 list
First up for a review is a fantastic product that will leave you speechless, the Fiskars Bypass Pruning Shears.
Pruning shears or the best garden secateurs are ideal for cutting off the top leaves, extra weed that grows around your plants, and overall branch cutting, and when it comes to the best secateurs, you won't have to look further than here.
A common issue that people find with this type of tool is the accidental opening that might occur during transport.
The developers behind this product took care of that by introducing an easy-open locking mechanism that protects the blades during storage and such transport.
Also, this pair of pruning shears is fully hardened with hardened steel, and the steel blade is so sharp you won't even feel you're cutting through a branch or a plant in your garden.
The best of all? It comes with a lifetime warranty, even though the product is already cheap. If it gets damaged in cutting action and you've used it properly, Fiskars will either repair it or replace it with a brand new pruner.
All in all, getting this ergonomically designed bypass pruning shear will be a decision that you certainly won't regret!
Pros
Ideal for light branches and stems
Easy-open locking mechanism
Stainless steel sharp blade
Affordable
You're surely expecting a quality product for a runner-up, are you? Here you have it; say hello to the VIVOSUN Hand Pruner Pruning Shear With Stainless Steel Blades.
All gardeners know that a common issue that strikes them all at some point is either arthritis or general fatigue and strain from using the pruning tools.
However, with the technology that Vivosun offers, you'll be carefree. The micro top snips are spring-loaded, which means they automatically push themselves without needing you to do that. Even if you have smaller hands, you'll feel the magic of these pruners right away.
Furthermore, the steel blades that this pair of pruners have are exact and ideal for trimming and cutting down dead branches – even the thicker ones.
Since they are not significant in length, you'll get the maneuverability that you need to go between the plants and cut.
This product also has a secure locking mechanism located on the side that enables you to use it without worrying whether it'll open accidentally.
Also, the bright colors make it great if you lose them in the garden and can't find them. The bright orange stands out from the environment and gives it a fantastic look.
One small issue is the plastic parts of this pruning shear. They feel flimsy and hard to operate, but that boils down to a feeling. Eventually, it passes.
Pros
Strain-free
Secure locking mechanism
Precise steel blades
Maneuverability
Next in line is another fantastic bypass pruner, one of the best garden shears, the gonicc 8″ Professional Titanium Bypass Pruning Shears (GPPS-1003), Hand Pruners.
The first thing you'll notice about this pair of pruning shears is the quality that shines out of its blades made of titanium steel, polished with the best technology. It has a drop-forged design with ergonomically designed non-slip handles that feel great even in smaller hands.
Another common problem is the juice that squirts out of plants once you get to cutting, and it can be nasty and make your life harder.
That's why Gonicc implemented a sap groove that keeps all the juices from the cut plants from the blades, thus protecting and ensuring that your job doesn't become challenging in a second.
A scissor-like motion that you'll get from this type of bypass pruner will enable you to cut through the thickest branches in no time, but they have also proved to be efficient in trimming, decorating, and so much more.
Of course, they are more financially demanding than your average pair of pruning shears, but the difference is not that substantial.
Furthermore, the quality you'll get from investing in this pair of bypass pruners will undoubtedly pay off!
Pros
Titanium hardened steel blades
A sap groove
Fast cutting action from a pruners bypass scissor-like motion
Design
The best pruners will allow you to finish the job in twice the time you'd typically finish, and this product certainly deserves to be on that list. Here's another reliable gonicc 8″ Professional SK-5 Steel Blade Sharp Anvil Pruners.
The first thing you'll notice about this product is the carbon steel blades made with chromium-plating technology.
Even though most stainless steel tools have a coating that prevents corrosion, the added carbon also introduces higher efficiency, quality, and malleability. And unlike bypass pruners, this type of material works excellent with anvil pruners.
Moreover, all these added materials do not mean extra weight. This pair of pruners is quite lightweight, weighing just below 190 g – every gardener's dream. There's no more strain on your hands and fingers with this product.
Another great feature is the lifetime warranty that you'll get if you were to opt-out of these pruning shears. In the case of malfunction, you'll surely get your money's worth.
However, you might feel underwhelmed if you go for the thicker branches. In all other cases, you'll see that these carbon steel pruners work like a charm!
Pros
Carbon steel blades
Lightweight
Anti-corrosion
A neat design
Cons
Not suitable for thicker branches
Up next is a product that will take care of all those sturdy branches that you have to tackle in the garden. We present to you the Corona BP 3180D Bypass Pruners with 1 Inch Cutting Capacity.
New weeds and branches that grow around your homemade vegetables can be quite problematic. That's why you need a product that can cut through the thickest of it all, and with a 1-inch diameter, you'll feel all your problems drift away.
A steel-forged construction amazes every gardener, and when you combine that with the sharp blades this pruner has, you'll feel confident enough to cut through anything.
Moreover, the manufacturers behind this product included a sap groove, which is excellent if you grow vegetables and fruit.
Once you cut through a fully grown plant, juices are bound to come out, and the sap groove will protect your pruning shears in the process.
Also, to prevent accidents, you will be able to rely on the notch tool that you'll close and keep yourself safe during transport.
However, it's important to note that you have to lubricate the pruners after each use to keep them healthy and avoid corrosion. Aside from this slightly awkward addition, you'll get a fantastic pair of pruners in return.
Pros
Sharp blades
Steel-forged construction
Notch tool
Sap groove
Cons
Needs lubricating after each use
Are you tired of working and having your hands bleed in the process? Say goodbye to all of that with the GRÜNTEK Garden Pruner Kakadu.
The great thing about this product is its overall applicability. Its design has two primary functions: the standard swivel anvil mechanism and the ratchet mechanism that saves 50% of the applied force, and the great news is you can decide which one you want to use with a single push of a button.
The ratchet mechanism enables you to do everything you need tirelessly, thus saving you from any unnecessary injuries, blisters, or arthritis.
It also features Japanese SK5 steel as the primary material for the blade, which also has precision grinding and a non-stick coating.
The only bad news is that the switch between the two mechanisms is in close proximity to your fingers and hand position. Often, you'll accidentally switch between them because of the awkward position.
However, it's relatively a small price to pay when you are getting in return a pair of pruning shears that cut through everything – from 1 inch in thickness to 8 inches in length.
Pros
Best pruning shears for people with arthritis
Ratchet mechanism
Japanese SK5 steel blade
Cons
Awkward position for the switch
Moving on, we give you one reliable product that you can count on, the Fiskars Micro-Tip Pruner Non-Stick Blades.
First of all, all the good gardeners know what Fiskars is about. It is one of the leading manufacturers when it comes to gardening and the appliances and tools that go along with it. You can be calm knowing that you have a quality product in your hands.
For example, the micro-tip blades are made out of supreme quality materials that make these pruning shears ideal for trimming, garden design, shaping plants, and cutting off dead branches.
Also, the fancy thing about this particular product is the easy-action design. It enables you to do all the work with little to no effort.
That is possible because of the spring-action design that opens the blades after each consecutive cut, thus allowing you to rest your hands.
Furthermore, the coating is non-stick, which means that jamming and residual build-up are the problems of the past. You can snip away with this powerful tool without worrying whether a nasty branch will block the mechanism.
Overall, if we exclude the fact that handles seem a bit bulky, it is a great product that you'll love having in your tool collection!
Pros
Easy-action design opens the blade and creates less effort to use
Non-stick coating
Micro-tip blades
Those of you who've been into gardening for some time have surely heard of Gardenite and its amazing products that people use all around the world, and not just in the US. We give you the Gardenite Ultra Snip 6.7 Inch Pruning Shears with Stainless Steel Blades.
The tough thing about cutting action is the constant stress on your hands from bad handles. However, once you take these pruning shears, you'll feel like you're holding a cloud. The handles consist of chromed zinc with a comfortable rubber grip that takes gardening to a whole new level.
Furthermore, the strain on your hands is reduced thanks to the carbon steel spring that opens the blades in a subtle motion after each cut.
Of course, Gardenite's motto is that if you're not satisfied with the purchase, you'll be refunded in total.
The blades extend 2.2 inches from the body and the handles, which in turn makes an excellent proportion for trimming and general use.
Just know that the ratio between the price and the quality is very well established, and you won't feel bad if you invest in these pruners.
Pros
Reduced strain
Excellent handles
Fully refundable
Proportion
Whether you're a novice or an expert gardener, you'll surely enjoy the benefits that Mockins Heavy-Duty Garden Anvil Pruning Shears bring to the table.
Initially designed for professional use, these pruners have transcended and offered every gardener something to look forward to. They are ideal for clipping plants, flowers, vegetable leaves, and so much more.
If you have small hands, there's no reason to worry. It's ergonomically designed in a way to fit every person's hand like a glove.
Furthermore, it features a safety lock that comes in quite handy when you're not using this tool.
As for the blade, you can rest assured knowing that stainless steel of high quality is there to make your life better. The gliding sensation that you'll get with these pruners will undoubtedly be a novelty in your life.
Also, it's essential to know that Mockins protects its customers and that you'll get a lifetime warranty or a full refund with this product.
Just remember that you might have some trouble cutting through thicker branches, but all in all, it'll work great for everything else.
Pros
Heavy-duty
Professional blade
Safety lock
Lifetime warranty
Cons
Not suitable for thicker branches
And finally, last but not least, we give you the Fiskars PowerGear 2 Pruner.
Even though it is the last item on this review list, it does not mean it falls short in comparison to the other pruners. It is a product that you'll love owning, especially knowing that it comes from Fiskars.
This Amazon's Choice product has modified gears and a cam mechanism that enables it to cut through thick branches with ease. Alongside this, the bypass steel blade has a low-friction coating that makes cutting seem like a piece of cake.
As it is the case with all Fiskars products, the design is the main attraction of this device. Ergonomically designed handles that fit every hand perfectly are something that all gardeners need.
Plus, the way you hold these hand pruners provides natural motion and reduces hand fatigue.
However, they are a bit pricey, which is why they've landed in the last place, but the quality is certainly not an issue here. If you're looking to invest some money into your gardening equipment, this is it!
Pros
Amazon's Choice product
Design
Low-friction coating
Ergonomic handles
The cutting experience: How to find the best pruning shears on the market?
As you can see, there are so many different models of pruners on the market, especially if you take into account their design.
Bypass pruners are a safe bet since they are great at cutting down small plants, trimming, and going through thicker branches, and that is something to consider once you're out there buying.
Also, anvil pruners are great if you're looking to trim dead branches or dry wood. The blade presses against the flat surface and makes a smooth cut.
Here are a couple more things to consider.
1. Design
As we've already said, trimming and snipping is quite stressful, literally. It can create blisters and wounds and even make you bleed if you don't have the proper tool.
The situation complicates further when you have hands that are either bigger or smaller than the handle design of the pruners. That is why this should be the first thing to pay attention to.
2. Blade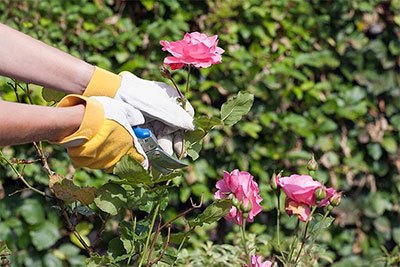 In most cases, you'll be delighted with a stainless steel blade. However, if you plan on doing some more significant work on a professional scale, we recommend you try carbon steel.
It offers similar capabilities as the stainless steel blades, but it is malleable and heavy-duty, which will work great for all types of plants, dead or alive.
3. Locking mechanism
Safety is your number one concern. Even though gardening may seem harmless to some people, a lot of accidents can happen on the field, especially if the blade were to make its way out of the compartment that you're storing it in.
That is why all the best pruners have safety locking mechanisms that exist to prevent such mishaps and avoid injuries on the field.
FAQs
Which is better, bypass or anvil pruners?
It depends on two criteria – what are you comfortable with, and what will you be using it for?
Anvil pruners are excellent for snipping dry wood and dead plants, while the scissor-like motion that bypasses pruners offer is ideal for cutting down parts of the plants without hurting them.
What are bypass pruning shears?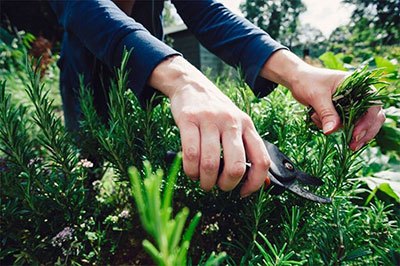 Unlike anvil pruners, the primary blade passes the secondary blade in a bypass motion that resembles scissoring.
By doing that, it's capable of trimming and cutting in a swift action without risking any injuries to the plants.
Final thoughts
All in all, there you have it. The best pruners make the best companion in the garden. They help you do the work that your plants deserve, and you get to do it just in time for dinner with no hassle.
And if you're shopping for the best one, you've got to try the Fiskars Bypass Pruning Shears. They are traditional, old-fashioned, and yet, perfect for everyone – experts and beginners. The range of features they offer is unmatched by any other product on the list.
The only products that are close to competing in terms of supreme quality are VIVOSUN Hand Pruner Pruning Shear With Stainless Steel Blades and gonicc 8″ Professional Titanium Bypass Pruning Shears (GPPS-1003), Hand Pruners.
To conclude, you won't go wrong with any of these, and as long as you respect the environment and do a stand-up job, your plants will be thank you.