If you are a garden fanatic or just encountered an area that needs some quick fixing, you need a shovel. We are here to help you choose the best one among ten different options.
Gardening can take long hours of your day, but is there a need for that? Why should you compromise your resting hours when you can shorten the time of gardening by picking the best garden shovel?
We have selected ten different models for everyone's taste and use. Whether you plan to use the shovel on camping adventures, outdoor activities, or everyday gardening, we have your back.
Take a look and find the best tools that are on the market and complete your hardening collection in time.
Take away key points:
Garden shovels are crucial for keeping your gardens healthy and optimal
They come in various sizes, shapes, and weights, so ensure you choose the most suitable one for your needs
Choose the best model after you read our reviews below
Why are garden shovels a must-have?
1. Effective digging tool
These shovels are a must-have for every gardener because they are effective digging tools.
When it comes to gardening, you need to prepare yourself for a lot of digging tasks. This is because you need to dig out soil when you're planting something.
With the help of a shovel, you can easily dig out soil without too much hassle. It just makes your gardening experience much easier.
2. Easy to use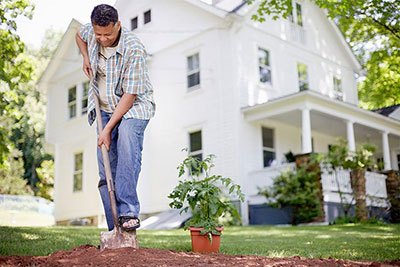 Shovels are easy-to-use gardening equipment because they are built in a very simple but sturdy way.
You don't need to be skilled in operating any machinery or advanced tool because using a shovel is fairly easy. You just need to have a good grip on it and properly sway it in motion so that you can pick up a lot of soil with less effort.
3. Lightweight
Another reason why shovels are a must-have is that they are very lightweight.
If you want to plant something, you need to have a tool that wouldn't strain up your hands or arms. 
And that's just what a shovel does. It's very light that you can even just use one hand in carrying it because you use your other hand as a means of support.
4. Multipurpose
It's important to know that shovels are not just made for gardening because these can be used for a host of other tasks.
It's not just for digging up soil, but you can also use it to remove piles of snow during the winter months. You can even use it as a tool to clean up clogged-up sewage systems.
Shovels have a lot of uses, which is why almost every home has them.
Best gardening shovels in 2023: Our top 10 picks
If you need the best garden shovels for your garden needs, refer to our reviews below. You will find the best model for your demands.
$ – Radius Garden 22011 Root Slayer Shovel
Radius Garden root slayer digging shovel is ideal for all in-depth soil operations, for digging roots and holes. The Radius garden root slayer offers a sturdy steel shaft and all-steel construction so it's more advanced than other digging shovels. The gauge steel blade is advanced for more heavy-duty operations.
Yet the digging shovel is not for taller people.
$ – Spear Head Spade with Long Fiberglass Handle
Best for fiberglass handle and more robust operations. The garden spade can easily finish all the tasks and help you clean your garden from debris dirt and unwanted plants quickly.
Still it might be pricey.
$ – Fiskars Square Garden Spade Shovel
The Fiskars long handle shovel is ideal for taller people, and this teaching shovel is great for its durable design. The trenching shovel is more advanced than a standard shovel due to solid construction. The flat edge of these garden spades offers more reliability.
The garden trowel might bend sometimes with higher pressure.
$ – AMES 2672100 Aluminum Scoop
The Ames shovel is a crucial trenching shovel and transplanting trowel for its unique design and features. The trenching shovels are ideal for moving different materials from one place to another.
But you must wear gardening gloves as most shovel handles of these types might cause you pain.
$ – Bond Manufacturing LH047 Mini D-Handle Square Head Shovel
Best mini shovel with adjusted shovel blades for your needs. The mini shovel is compact, lightweight, and specifically designed to meet different users. The mini shovel is also versatile for various garden needs and has multiple functions.
However, the mini shovel is not for taller pain, causing back strain.
$ – LIFELINE Aluminum Sport Utility Shovel
Best lightweight and compact design for various operations and different uses. The shovel is perfect for cleaning your arms from unwanted weeds and their roots keeping your garden healthy.
The drawback is its weak construction.
$ – ROOT ASSASSIN 32″ Mini Garden Shovel
This is the best performance a round-point shovel can offer. It's not like any other shovel with a similar pointed tip, as the shovel uses serrated blades for different cleaning operations.
Anyhow, the round-point digging shovel is bigger.
$ – Roamwild Multi-Digger Garden Classic Round Point Shovel
The round-point digging shovel is ideal for cleaning tasks, as the round-point shovel uses a pointed tip to make your tasks easier and quicker. The round-point shovel is durable and sturdy for more robust tasks.
Nevertheless, the round-point shovel is short in the handle.
Best trenching system with heavy-duty construction and solid design for more robust applications. The design cannot break so soon, and the steel handle lasts longer.
Nonetheless, you might bend it under more pressure.
$ – BIRDROCK HOME 34″ Folding Emergency Snow Shovel
Best for everyday use and multiple applications for different needs. The shovel is crucial in keeping your garden healthy and clean from various pests.
You may also bend it under higher pressure points.
Brand: Radius Garden
Material: carbon steel
Weight: 5 pounds
Best for: thick roots and welded I-beam construction
Hands down, the Radius garden shovel has the best design so far. Just from one look at it, you will notice that the blades' design is ruthless to the hardened soil and weeds.
The incredible model has a V-shaped blade with fatal teeth on the side, making it a real slayer to any garden issue. Moreover, the blade tip is designed to work as a saw in a way.
Instead of ripping the root of weeds and risking the debris from developing new plants, this shovel has one goal. To scoop away the root, taking every bit of the problem.
The Radius blade is made out of powdered-coated steel, preventing the shovel from rusting, corrosion, or rotting. Unlike the previous shovels that have a pointed blade, the unique concave design is what makes this shovel special.
Also, the unique design of the handle is one of the reasons to consider purchasing this shovel. The O-shaped handle head provided a four-times gripping surface.
Unlike the D-shaped heads, it also reduces strain or fatigue you might feel while digging. The brand offers you a lifetime warranty with this purchase.
Pros
O-shaped handle head
Saw like teeth
Lifetime warranty
Thermoplastic elastomer polypropylene handle
Cons
Not so comfortable for taller people
Brand: Spear Head Spade
Material: Fiberglass
Weight: 4 pounds
Best for: blade construction and blade material
Getting a trendy model can often lead to impressive results. That is why we opted for this Spear Head Spade Long Handle Gardening Shovel. Its design of it first attracted us, but later on, we found that this shovel delivers impressive results with its sturdy build.
First of all, this is a hybrid made out of a spade and a shovel. Therefore, let's begin the review with the handle that blends the two functions.
The handle is made out of reinforced fiberglass, making this model lightweight and water-resistant-hence it is corrosion and rust-free.
For added longevity and durability, the head of the shovel is made out of high-carbon manganese steel. This steel is up to 33% thicker and 25% harder than usual shovels.
The unique blade design is recognized as a spade, but it does not look like it. It takes the characteristics of a knife or a garden ax, while the shaped tip slips easily into tough soil.
Also, the handle provides a comfortable grip with cushioned support. It contains UV inhibitors that make it resistant to any weather conditions.
Pros
Lightweight
Comfortable handle
Easy for use
Made out of durable materials
Brand: Fiskars
Material: Wood, Fiberglass, Alloy Steel
Weight: 4.81 ounces
Best for: the steel blade & shovel head with a flat edge for all steel construction
The Fiskars hold no competition when it comes to gardening tools. That being said, this garden tool amazed us in many ways. Let's start with why you should consider adding this spade to your shopping bag.
First, the long-handle spade has a 14-gauge steel blade that is attached to an 18-gauge steel handle, making the construction of the shovel sturdy and trustworthy. Plus, the powdered-coated steel is rust-resistant and easy to clean.
Many have recommended it for heavy-duty tasks since steel components are less likely to bend or break those other materials.
Also, no more putting in the effort in digging through soil. The sharp blade edge is there to sink right into the ground without you sweating over the work.
A precise cut is provided even through the dense soil. This is just the tool you need when you want to cut near the edge or edge of a flower bed.
For added comfort and easy maneuvering, the rubberized D-shaped handle takes all the credit. It provides a comfortable grip and ample space for both of your hands to hold the spade tightly.
Pros
Precise cut
Lightweight
D-handle shape
Lifetime warranty
Cons
The spade is prone to bending
Brand: Ames
Material: Aluminum
Weight: 3.52 pounds
Best for: dig-deeper traditional shovel system
The Ames aluminum scoop is ideal for everyday gardening tasks. For anyone that does not want to deal with or invest in a heavy digging shovel, this model is perfect.
When you handle lighter gardening jobs, you will need a quality garden scoop to do so. The Ames is suitable for the pure moving of dirt to moving flowerbeds.
Whenever you need to scoop away the compost from the vegetable bed, this shovel will come in handy. The wooden handle on the shovel is 26 inches long with a D-shaped handle top.
The handle provides an ergonomic grip, all while giving you control over the gardening task.
As for the blade, it is an aluminum blade of 15 inches and 11 inches deep. You don't need to stress about spending hours and hours moving dirt from one place to another.
The vastness of the blade will speed up the process in no time.
Also, you can use this shovel for scooping snow. Since it has a vast blade, it can move large amounts of snow without weighing the shovel down.
Pros
Great for moving materials from point A to point B
Vast blade
Cons
The scoop is a bit flimsy
Brand: Bond
Material: Alloy steel
Weight: 1.8 pounds
Best for: lightweight shovel with a square-shaped blade
The lightweight model comes from Bond, a perfect representative of the quality that this brand offers.
If you are searching for helping tools that will be an ideal companion for everyday gardening tasks, consider you have just found one.
Starting with the blade has a pin tip with sharp edges and a round point, which makes the transfer of the dug material much more comfortable.
Moreover, it is made out of heat-treated material and hardened steel, adding to the longevity of the shovel.
The Bond blade is covered with powder-coated paint that keeps away any rust or corrosion taking place. Since we talked about the blade, which is one of the essential features of the shovel, let's move on to the handle.
It has a D-shaped handle that is designed to provide a firm and secure grip, giving you all the control you need while digging.
Overall, we appreciate this shovel for gardening and for any tasks you had in mind. It is an affordable model with no added features, suitable for those who like to stick to the traditional models.
Pros
Lightweight
Steel blade
Round point tip
5-year warranty
Cons
May cause back strain due to the size
Brand: Lifeline
Material: Aluminum
Weight: 0.9 pounds
Best for: lighter shovels and adjustable gardening kit
If you are looking for a lightweight model that you can take anywhere, consider the Lifeline 4004 Versatile Shovel. This shovel can be easily packed in the back of your trunk or snowmobile or stored in a shed for any gardening task.
For many reasons, this gardening shovel is one of our favorites. One of them is the lightweight of the shovel.
Many shovels that are made out of steel are on the heavier side. But, this is not the case with this model.
The handle is made out of aluminum. That is why the weight of the model is less compared with the steel handles of the previous shovels.
Another feature that made us amazed with this Lifeline shovel is that you can easily disassemble it. When you do so, it takes up little to no space at all. For all your trips, this could easily be the best camping shovel on the market.
When you assemble it, it goes up to 25 inches in size, making it easily fit into any storage area. We would, however, recommend it most for lighter tasks. Because it is made out of aluminum, it may not be as durable as previous shovels.
Brand: Root Assassin
Material: Carbon steel, metal
Weight: 1 kg
Best for: best versatile tool for digging small holes and all garden debris
This shovel is not called "root assassin" for no reason. With the help of it, all of your digging tasks will be done in half the time you have planned. The fast and easy digging accomplishment is provided with this tool.
This digging shovel has a metallurgically enhanced bone structure and a curved tip that is ideal for digging or root removal. Because it has a round point and teeth on both sides of the blade, root removal is done with minimal effort.
Since most shovels on the market claim to get rid of roots efficiently, you have to be careful. Most of them are not as detailed and leave a bit of debris behind.
However, this is not the problem with this digging shovel. It takes every bit of debris and leaves perfect neat soil behind.
Also, tough soil is not a problem for this shovel. It cuts through smoothly while the sturdy handle gives you all the control you want.
The well-built, easy-to-use handle is rubber coated for maximum comfort and a comfortable grip.
Pros
Easy to use
Perfect for digging
Long handle
Lifetime warranty
Brand: Roamwild
Material: Fiberglass
Weight: 4.49 pounds
Best for: fiberglass handle and scoop shovel with steel blades
This garden shovel is an excellent tool for any gardener. It has a unique dual soft air light grip handle that makes it comfortable to use and easy to maneuver.
The reinforced fiberglass construction ensures durability and the lightweight design makes it easy to carry around. The shovel has a rounded point which is perfect for digging and cutting through tough soil.
It is well-made, sturdy, and can easily cut through even the toughest of soils. You will also appreciate the fact that it is lightweight, making it easier to carry around your garden without getting too tired. The double grip handle provides extra comfort when using the shovel for extended periods.
You'll find this Roamwild shovel particularly useful when planting new plants or turning over soil in your garden beds.
The rounded point allows you to dig deep into the soil without having to worry about damaging any existing plants or roots. It also helps you break up clumps of dirt quickly and efficiently so you can get more done in less time.
Overall, we would recommend the Roamwild garden shovel with a gauge round point to anyone looking for a reliable gardening tool that will last them many years to come.
Its lightweight design, comfortable handle, and durable construction make it an ideal choice for any gardener looking for a quality product at an affordable price.
Pros
shovel blade material
handy shovel
heavy-duty shovel
trench shovel
shovel blade shape
dig deep
sturdy shovel
lightweight garden towel
scoop shovel
Brand: SOG
Material: Carbon steel
Weight: 24.5 ounces
Best for: gauge steel blade and trench shovel system
Another folding shovel comes from SOG. Folding shovels have soon become everyone's favorite due to their secure storage and lightweight.
The SOG folding shovel is made out of carbon steel and topped with a hard-cased finish, giving it a luxurious look. An exciting feature of this shovel is that it comes with a steel saw blade perfect for slashing or cutting.
The well-balanced steel handle is perfectly comfortable and provides maximum support and control. While it sits comfortably in your grip, the blade is ideal for digging. The long handle reaches 26 inches when it is completely extended.
Even though the long handle and the blade are light, the overall strength of the entire tool is impressive. It cuts right through hard soil without hesitation.
No doubt, you will like this shovel; it is a durable tool with a folding feature that is much needed for secure storage. We recommend you get this model as one of the reliable tools to have by your side during camping trips.
Also, since it is foldable and it fits easily into a pouch, you can hang it on the belt and take it on adventurous trips.
Pros
Foldable
Easy to use
Steel blade
Long handle
Cons
The blade is prone to bending
Brand: Birdrock home
Material: Aluminum
Weight: 2 pounds
Best for: shovel features and narrow trenches
If you need the best folding shovel, we present to you the BIRDROCK HOME Folding Emergency Camping Shovel.
For all of your camping trips as well as snowy days, the Birdrock will be your best companion. It is essential to prepare a reliable tool by your side when the blizzard begins. That is why we opted for this particular shovel.
Its lightweight should be mentioned since it weighs only 2 lbs, making it a portable and foldable tool that always delivers desired results.
Also you can use it for other tasks as well, such as mulch, sand, or dirt. Moreover, it has an extendable shaft that provides leverage for various tasks and a texturized handle for comfort.
The shovel is designed from aluminum material, making it durable and rust-free. When getting rid of ice, it is also anti-corrosion, making it the best snow shovel by Birdrock Home.
The innovative folding design makes the shovel easily packed and stored away or taken on camping trips and adventures. Whenever you are on the go, just fold it and make it along with you as a trustworthy garden shovel.
Pros
Lightweight
Texturised handle
Aluminum build
Buyers guide for gardening shovels
Here are crucial factors to consider when choosing the best shovel features for your raised garden beds and digging holes:
1. Handle type
From our shovel reviews, you have noticed that there are two types of handle designs. These designs are usually T or D-shaped grips.
Notice how there is no such thing as the "best handle design." You should opt for what seems most appealing to you. Your choice mostly depends on where you plan to use the shovel.
D-shaped handles tend to be more comfortable for everyday garden tasks. Since they provide a comfortable grip, they are suitable for jobs that require more time. But, again, the choice is all up to you.
2. Handle material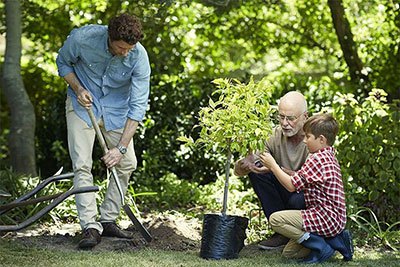 For most users, wooden handles are the most appealing. But these shovels have a few disadvantages as well. It can form weaker points as well as flakes.
After that, they are pretty much useless. Also, wooden shovels are heavier to handle, so have that in mind as well.
Another popular material among shovels is fiberglass. These are a better option for a few reasons.
Firstly, they do not splinter or easily break. They are much more durable than wooden handles. However, they are harder to replace, so if you end up breaking it, consider purchasing a new tool altogether.
3. Blade material
These types are the most common: plastic, steel, and aluminum. Do you have trouble picking the best one? Well, let's sum it up.
We would not recommend you opt for plastic ones unless you are performing light tasks. They are prone to breakage and are not so durable.
On the other side, aluminum blades are a good option. But, again, not suitable for the hard soil. These shovels are easy to bend as soon as you use them on hard surfaces.
And finally, steel blades are the best option for all heavy-duty tasks. These shovels or carbon fiber are your best options for shovels.
Also, pay attention to how easily the blade can cut through hard soil. Not all blades are suitable for heavy-duty use around the garden.
Get the one you can use both on hard surfaces and for lighter tasks such as moving flowerbeds. In this way, you are spending less money and getting the quality results your garden deserves.
4. Weight
Weight should always be significant when choosing tools. If you are going to spend long hours digging soil, make sure you are comfortable at the same time.
No reason for causing back strain just because you did not pay attention to the weight of the shovels. Long handle and blade material are only one of the few components that add to the weight of the shovel.
Tips for using the best garden shovels properly
1. Limit the material in every load
When using a shovel, you need to know that it will be easier for you if you were to lift multiple light loads instead of carrying a less number of heavy loads.
This means that you don't need to fill up your shovel entirely for every lift that you make.
2. Task variation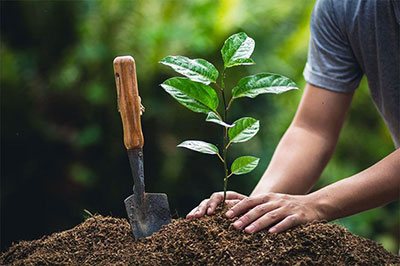 It's also important that you vary your tasks every day or on a single day so that you won't be straining your muscles too much.
Shovels are known to easily strain your hands and arms because of the simple motion you do when using them.
To avoid this from happening, it's not recommended that you focus on your shovel work throughout the day.
3. Refrain from side throwing
When it comes to using shovels, you must follow the straight-throw rule.
What this rule means is that you should always throw your lifted materials at your front.
It's not recommended that you throw them at the sides because, in doing so, you'll also be turning your hands. This might lead to loss of balance or, worse, injury.
FAQs
Is there a difference between a spade and a shovel?
Usually, these two are the most commonly confused terms in the gardening world. But let's break it down.
A shovel is typically used for digging, and it has a curved or angular tipped blade. They cut quickly in the soil, and that is why their best use is in digging.
But, if you need to move soil, then you are in search of the best garden spades. They have a flat blade, and it is perfect for removing sod.
If you don't own a shovel, you can still dig with a spade but not so efficiently. These tools are useful for creating a straight line but not for the long term.
Do you need the Pennington field shovel?
Yes, the Pennington Field Shovel is a useful tool for archaeological digs. The garden shovel can be used to locate and dig up items such as arrowheads and other collectibles.
How much do garden shovels cost?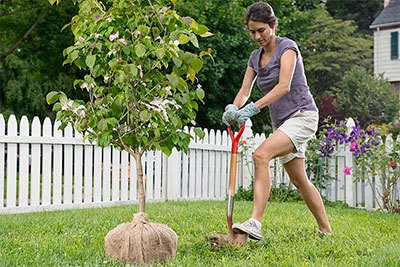 Garden shovels can range in price from a few dollars for a basic model to hundreds of dollars for more specialized models.
Basic garden shovels are typically priced between $10 and $30, while more advanced models with additional features such as ergonomic handles or rust-resistant blades can cost up to $100 or more.
What type of shovel is best for digging?
The best singing shovel is the Radius Garden 22011 Root Slayer Shovel. The digging shovel is crucial for all roots and other in-ground systems to keep your soil optimal and without any issues.
What is the best shovel for planting perennials?
The best one is the Spear Head Spade Long Handle Reinforced Fiberglass Gardening Shovel. The garden shovel is versatile with the adjusted shovel's blade to make your garden spade useful and versatile for various operations.
How to edge a garden with a shovel?
Follow these steps:
– Start by marking the edge of the bed with spray paint or string.
– Place the shovel spade just outside of the mark and push it down into the ground at a 90-degree angle about three inches deep.
– Use your foot to press down on the right-hand side of the shovel as you walk it along the line.
– Refine your shovel edge by deepening the cut to 4 to 6 inches and removing any turf that needs to be cut away.
How to sharpen a garden shovel?
Follow the steps below:
– Start by locating the sharp side of the blade and then use a file or abrasive stone to sharpen the inside edge at about a 45-degree angle.
– It's important to only sharpen one side of the blade, as shovels are single-beveled tools.
– You can use rubbing alcohol to remove oil sap before sharpening and lightly sand and file the hoe to create a cutting edge.
– If there is light rust on your tool, you can file it off but heavy rust should be removed with a wire wheel.
How to remove rust from a garden shovel?
The most popular method for cleaning rust on garden tools is to soak the tool overnight in a mixture of 50% vinegar and 50% water.
After soaking, scrub the entire blade of the shovel with steel wool to remove any residue or rust and polish the steel to a smooth finish.
You can also use white vinegar to loosen rust on gardening tools by pouring it into a bucket and submerging the shovel blade in it, or by soaking thick rags with white vinegar and wrapping them around a metal shovel handle.
The final winner
The best shovel is the Radius Garden 22011 Root Slayer Shovel. The garden trowel is an ideal gardening shovel due to its steel blade and the shovel's blade will dig deep into the soil for optimal performance.
The serrated blades and the durable steel shaft are ideal for loose material and other dirt you might encounter while using the trench shovel properly.
Sale
Radius Garden 22011 Root Slayer Shovel, Red*
Serrated shovel designed for reducing stress on your hands and wrist
Digging shovel with V-shaped cutting tip to easily rip roots and dirt
Garden digging shovel with durable powder-coated carbon steel tip
Sturdy tip suitable for any garden task- not meant for prying
Lifetime manufacturer warranty (continental US only)
Final words
You can find different digging shovels with serrated edges, shove handles, blade shapes, etc. Ensure you check their standards to choose the best gardening shovel for your needs.