Making sure that you have a healthy and thriving garden or lawn is a given when you're a homeowner. This is because they're the ones that give life and freshness to your home.
There are a lot of ways you can do that. But the best one is to supply them with more than enough water. So how can you do that?
Well, it's simple because you just have to use a garden sprinkler. But then again, you need to have a sprinkler head for it to be used. That's what we're going to talk about it here.
In this article, we'll be showing you the best sprinkler heads that are a perfect fit for your sprinkler.
Take away key points:
Sprinkler heads are powerful tools to keep your lawns healthy and optimal
You can easily install them on your irrigation systems or garden hoses, and they will easily water your surfaces
Check their quality and compare their benefits to choose the best sprinkler heads for your needs
Types of sprinkler heads
Here are the most common sprinkler types & sprinkler heads for your large, medium, or small lawns:
1. Rotary sprinklers
There are different types of sprinkler heads. However, one of the most popular types is the rotary sprinklers. These are those that shoot a water stream with the help of its mechanical nozzle. It functions this way thanks to its circular spray pattern.
What's great about this kind of sprinkler head is that it's fully adjustable. These can spray water up to 40 feet, but commercial ones can spray up to a whopping 90 feet. It can also deliver a quarter or one-half inch of water every hour when spraying.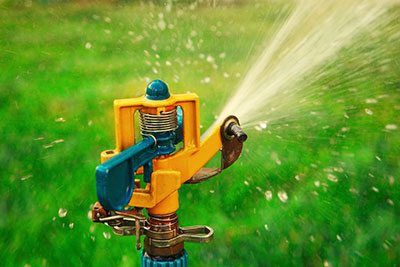 2. Rotary types
Then there are the rotary sprinklers. These are further divided into two models, the impact and the gear-driven ones.
In order for these to function, rotary sprinklers use an arm that's spring-loaded. This is the one that sprays the spray nozzle to your coverage area.
The water stream then comes out of the nozzle while it's striking the metal plate. This, in turn, uses the sprinkler head and makes it easier to diffuse the spray. People who want to have even coverage around their surroundings need to get this one.
3. Concealed sprinklers
Then there are the concealed sprinklers which are usually used in underground irrigation systems. These are also called pop-up sprinklers because they're literally popping up the ground. It has a head that's spring-driven.
This is the one that extends the spray nozzle on the grass' surface, which in turn irrigates your lawn. You have three pattern choices to choose from.
These are the full circle, half circle, or quarter circle. When you turn it on, the head then pops up. When you turn it off, the sprinkler head gets back to the ground again, leaving no imprint that it's actually there. These can supply one to two and a half inches of water in their coverage area per hour.
4. Spot irrigation
Spot irrigation or micro-irrigation sprinkler are also called spinners, bubblers, and mini-sprays. These provide a direct water supply to a specific plant, making this the perfect choice for landscaped gardens.
If you have one, you need to install it near the plant's base. It should also have a gap of three to five feet so that they won't overlap with each other.
Top 7 best sprinkler heads for your needs!
Here are the most popular sprinkler heads for your watering systems. We are confident you can easily find sprinkler heads that meet your requirements quickly.
$$$ – Rain Bird Rotor Heads 5000 Rotor Sprinkler Heads
Best rotary sprinkler heads with maximum quality and overall performance. The sprinkler heads are long-lasting and ideal for robust applications. But, there are no minute nozzle units.
$ – Orbit 55662 Voyager II Professional 4″ Adjustable Pop-Up Gear Drive Rotor Sprinkler Spray Head
Best pop-up sprinkler heads for your water pressure and more robust watering tasks. The pop-up sprinkler heads offer adjustable spray distance, and you can easily maneuver the system. Still, they can malfunction.
$ – Toro 53814 4-Inch Pop-Up Fixed-Spray
Best pop-up sprinkler heads for a lower budget and smaller to medium-sized lawns. The pop-up construction is durable for robust uses. However, the sprinkler heads offer a fixed spray range.
$ – HUNTER PGP-ADJ-B 4″ Pop-Up Rotor Sprinkler
The pop-up heads offer the most adjustable and versatile design. You can easily manage the units to use with your pop-up sprinklers. Yet the pop-up units might be challenging to maneuver for the first time.
$ – Rain Bird 25PJDAC Brass Impact Sprinkler
Best for its durable and sturdy construction. The solid system makes them ideal for different heavy-duty uses. Nonetheless, they are limited to small areas and you won't get the instruction manual.
$$ – Melnor 15335-PDQ Multi Adjustable Lawn Integrated Flow-Control Sprinkler
The easiest installation and flexibility due to its specific design with a spike. Ideal for different areas and surfaces. Anyhow, the heads are not that durable.
$$ – Hourleey 1/2 Inch Brass Impact Sprinkler
Best for its heavy-duty system and operations. Reliable and solid for more prolonged uses. Durable for a longer lifespan. Nevertheless, the unit has specific quality issues.
Brand: Rain Bird
Material: Plastic
Style: rotary
Best for: durable plastic body
Our best sprinkler heads are an excellent choice for residential, light commercial, and commercial applications.
With adjustable arcs from 40-360 degrees, these Rain Bird sprinkler heads offer unmatched performance from 25 feet to 50 feet. The heavier-duty retract spring ensures a positive pop-down every time. Plus, the top-adjust arc adjustment requires only a flat-blade screwdriver for easy installation and maintenance.
The best sprinkler heads are great for larger yards with up to 50 ft. spray distance. It has an out-of-sight retraction into the lawn and offers professional-grade durability and performance.
The Rain Bird 5000 Adjustable Arc Rotor is also versatile and offers a standard rubber cover along with reversing full-and part-circle operation (up to 360 degrees) in one unit. So, the rotary sprinkler heads cover different watering patterns, and the full circle adjustment ensures an even distribution of water flow.
Finally, the best sprinkler heads are perfect for those who want something easy to install and maintain while still delivering superior wind resistance and close-in watering capabilities.
All of these products come with tools, nozzles, and more so you can get the most out of your purchase.
Pros
spray patterns
high pressure
water consumption
water line
low maintenance
Brand: Obit
Material: Plastic
Style: pop up sprinklers
Best for: adjustable spray angle for water pattern
For those who are looking for an attractive and visually pleasing sprinkler head, this Orbit 55662 might be a great choice.
Not only does it possess an appealing appearance, but this item also has a wide range of spraying that is larger than most products in the class. With a diameter between 25 to 52 feet, your garden will never be short of watering.
This gear drive sprinkler includes a key to make on-the-spot adjustments a breeze. It also comes with extra nozzles to customize the flow rate to fit your watering tasks. Moreover, you can adjust the coverage of this sprinkler between 40-360 degrees with a built-in adjustable system.
The most noticeable feature of this Obit sprinkler head is the quiet operation without the annoying click sound of impact heads.
Moreover, the internal mechanism contains a filter to keep out debris. You can remove the residual dust with a simple twist and clean it in a matter of seconds. Thus, it allows the head to work year after year without maintenance.
However, the stability of this item is not reliable. Sometimes, it malfunctions, and you might need to clean it thoroughly to have it back on.
Pros
Compatible and stylish design
Ideal for medium and large lawns
Bonus nozzles included
Cons
Sometimes it malfunctions
Brand: Toro
Material: Plastic
Style: pop-up sprinklers
Best for: a small space and smaller water usage
For those with a limited budget, this Toro 53814 pop-up sprinkler head is an excellent choice. Even if it comes at a reasonable price, it is, in some ways, superior to many other products.
First, we have to mention the pop-up feature that will automatically work when you turn on the water faucet. When it is not in use, you can push the sprinkler head inside to keep it away from damage.
It can water an area of up to 15 feet radius, which makes it an efficient watering unit for medium-sized lawns. Moreover, it is made from robust stainless steel that can withstand extended use under the damage of weather.
The best feature of this product is the easy maintenance. You can use the intense water pressure to flush the head valve and stem clean. Thus, it is less likely to clog and won't need regular maintenance.
However, if you don't do the maintenance, the sprinkler head might not pop up as it is stuck inside with residual dust.
Moreover, it doesn't have any coverage adjustment for specific spraying angles. You will only get fixed-circle coverage.
Pros
Ideal for medium-length grasses
Made from stainless steel
Easy to maintain
Cons
Sometimes it does not pop up
Fixed spraying range for 360 degrees
Brand: Hunter
Material: Plastic
Style: adjustable, 360, rotor
Best for: adjustable spray pattern with a garden hose
Watering for an extra-large yard might be a difficult task without the help of this Hunter sprinkler head.
It possesses a large spraying distance of up to 20 feet, depending on your water pressure and settings. Moreover, it also features a well-balanced system to distribute the water evenly. The built-in water-lubricated gear drive also makes this PGP sprinkler a reliable product in the price range.
Besides, it comes with an adjustment tool and a rack of blue, green, and orange nozzles for more flexibility. You can switch between nozzles for suitable water patterns that fit your use.
From our point of view, the extraordinary design is the most impressive thing about this sprinkler head. A factory-installed rubber cover and a robust yet stylish design will make this unit a decorative item for your garden.
Even though this Hunter sprinkler head includes an adjustment tool, customizing the unit is still a big mess for non-technical users. Also, it doesn't come with any instructions. Thus, you should ask a professional to help with installing this unit.
Pros
Adjustment tool and nozzle racks included
Water lubricated gear-drive
Factory installed rubber cover
Cons
Difficult to adjust the sprinkler
Brand: Rain Bird
Material: Brass
Style: Rotary
Best for: high-pressure assisted operation & large throw distance
This impact sprinkler is another bestseller on our list today. If your budget is generous and you are looking for a durable sprinkler head, this Rain Bird 25PJDAC Sprinkler Head might be what you are looking for.
In terms of material, this Rain Bird sprinkler head is made from robust metals that can last longer than many zinc sprinklers on the market. It is also coated with a water-resistant coat for extra durability even when exposed to water.
This Rain Bird sprinkler head can cover up to 520 square feet for both large and small gardens. While a white bronze spray arm allows you to adjust the spray distance, the diffuser screw breaks up the sprinkler stream for smaller and larger droplets.
However, it might be a little confusing for non-technical users to assemble this unit. It does not come with user instructions for setting up this item. So, it would help if you asked a professional for help.
Pros
Brass, bronze, and stainless steel construction
Classic impact sound
Diffuser screw for smaller and larger droplets
Cons
The user manual is missing
Brand: Melnor
Material: Plastic
Style: Spike
Best for: adjustable spray range for and watering wand
Melnor Multi-Adjustable Lawn Sprinkler is a flexible sprinkler head that boasts a wide range of benefits. With this slim sprinkler, you can save most water by adjusting the water density and scale of spraying.
This product allows you to customize the angle, direction, and distance of spraying with ease. The spray angle can be adjusted from 0 to 360° to water a specific area of your garden. You can also customize the direction by rotating the position toward your desired field. The spray distance is also adjustable with a built-in flow control lever.
In terms of performance, it can water a garden up to 30 feet in diameter under a residential water pressure of 60 PSI. It is also rust-resistant with a rust-proof plastic material that allows it to stand year after year under the beating of weather.
However, since the head is made of plastic, it might be broken if you put it in use under high water pressure or direct impacts. Thus, we recommend treating it gently for best-extended use.
Pros
Made with high-quality rust-proof plastic
Angle adjustable spray control
Include a spike for easy installation
Cons
The plastic spray head is not durable
Brand: Hourleey
Material: Stainless steel, brass
Style: Misting
Best for: large lawn and flower beds
The Hourleey sprinkler head is an excellent choice for anyone looking to water their lawn or garden. This heavy-duty brass sprinkler head is waterproof, durable, and adjustable, making it perfect for large areas.
The Hourleey sprinkler head has a 0-360 degree coverage pattern, allowing you to customize the amount of water that reaches your plants. The tripod base makes it easy to adjust the height of the sprinkler, giving you more control over how much water you need to cover your area.
The Hourleey sprinkler head also comes with a variety of features that make it even more convenient. It has an adjustable flow rate, so you can set it to whatever level works best for your needs.
Due to their durable materials, the best sprinkler heads are also ideal for your watering system, as they will last longer for more robust applications. The best sprinkler heads easily attach to your current watering system – underground sprinkler system or irrigation system, and you can use these types of sprinkler heads to reduce your water bill.
The Hourleey sprinkler head also has a built-in filter screen that prevents clogging and debris from entering the system.
Pros
water saving impulse arm
adjustable spray patterns
versatile sprinkler system
How to choose the best sprinkler head? Buyer's guide
Here are some crucial factors to consider and pick the best best sprinkler heads for your needs:
1. Purpose
So how can you choose the best one? Well, the first thing you need to do is to know what your purpose in getting one is.
Brainstorm with yourself and with your other family members what kind of sprinkler head you're getting to get.
Are you going to place it in your garden? Or perhaps on your lawn?
You see, each place has its own needs and requirements, which is why you need to make sure that it's just what you need.
Know the purpose so that you can get the best one that's perfect for you.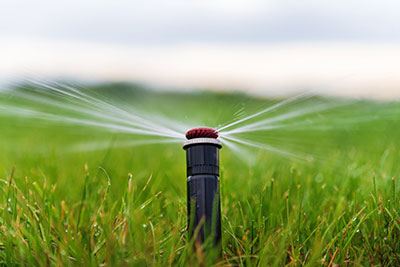 2. Durability
Durability is a very important thing you need to consider when choosing a sprinkler head or any product in general. This is because it's where you'll see if it's worth buying or not.
Durability is also where its service life depends on, which is why it needs to really be good in quality. This might be difficult to do if it's your first time getting one.
But by simply giving a keener eye on the product, touching its surface, and looking at the small details, you're able to know if it's durable or not. Usually, the heavier the product is, the more durable it is.
3. Spray pattern
Also, know what spray pattern you like. Each sprinkler head has its own spray pattern. Make sure that it suits your own personal preference. It should also be complementary to the size of the area you want to cover.
Bigger lawns are better off with sprinkler heads that have a circular spray pattern.
If you have landscaped gardens, you can choose those that have a linear pattern so that the water can go right straight into the plant's roots.
4. Design
Visual aesthetics is another important aspect you need to instill within you. See to it that the sprinkler head of your choice looks nice. It's better if it has a sleek and modern feel to it so that your garden or lawn won't look outdated.
Even though a sprinkler head may seem to be a small part of your garden, it has a big effect on your garden's overall look.
Aside from the design, it should also have a color that can complement your garden. Most people choose those that have a green color so that they can blend in with their surroundings.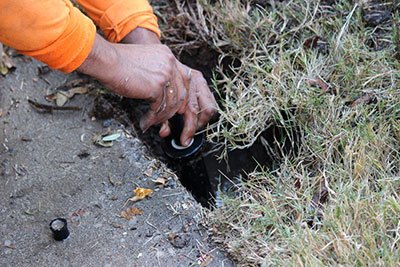 5. Price
The price of the sprinkler head is another important thing to bear in mind. It's by knowing the price that you're able to see if it's worth buying or not.
Now, don't be deceived if the price is expensive because not all sprinkler heads that are priced high are of high quality.
And not all affordable products have bad quality. Sometimes, you just need to weigh the features, the materials used, and the overall look and design so that you'll know if it's worth buying or not.
FAQs
Are Hunter sprinkler heads better than RainBird?
Hunter sprinkler heads are better than the Rain Bird sprinkler heads.
Hunter components — the tubes and pipes, heads and rotors, and the sensors — are just a little bit more durable than RainBird. This is because they can handle a greater PSI which is important when it comes to water pressure, winterization, and other factors.
Additionally, those who have installed both systems prefer the Hunters' controls over RainBird because they are easier to explain and understand.
How often should sprinkler heads be replaced?
Depending on the quality of the sprinkler head, they may need to be replaced every 10 years. Nozzles should usually be replaced after two years, depending on water quality and climate.
Additionally, minor breakdowns may occur every 3-10 years depending on how much you invest in the system.
Which sprinkler head is best to water lawn?
The best sprinkler head to water your lawn is the pack of the Rain Bird Rotor Heads 5000 Rotor Sprinkler Heads.
These sprinkler heads offer the best overall performance and premium quality, so they are more advanced than other sprinklers, and you can forget about manually watering your lawn.
The size of your lawn will decide how many sprinkler heads you need for your sprinkler systems, and you can use less if you have smaller lawn sprinklers.
So, the best sprinkler heads are…?
The best sprinkler heads are the Rain Bird Rotor Heads 5000 Rotor Sprinkler Heads.
Rain Bird sprinkler heads are ideal for your garden hose and you can use the adjustable sprinklers to attach the power tools easily and ensure the best water flow.
The screw design ensures high or low pressure without bursts, and the best lawn sprinkler head system ensures healthier surfaces instantly.
Rain Bird sprinkler heads might be expensive, but the sprinkler systems offer higher quality for the price.
Rain Bird Rotor Heads 5000 Rotor Sprinkler Heads. 4-Pack*
Adjustable From 40-360 Degrees
Heavier-Duty Retract Spring Assures Positive Pop-Down
Top-Adjust Arc Adjustment Requiring Only A Flat-Blade Screwdriver
Superior Rain Curtain Coverage For Even Distribution Over The Entire Radius
Comes with Nozzle already installed. Up To 40' Radius
Conclusion
We hope you can now find the right sprinkler head with an adjustable spray pattern easily. Let us know once you do.