If there's one thing that warms the hearts of gardeners, it's looking at a freshly-cut, green, and healthy lawn.
Getting to that point when the lawn seems like the Garden of Eden is not a simple task, and it requires the best gardening tools. However, sometimes even that's not enough.
In the old days, we used to let the rain do the irrigation for us until we learned how to water our plants and gardens by ourselves. But we are humans, and often, we tend to forget and disrupt the watering schedule.
Now, there's no need to worry anymore.
Smart sprinkler systems and sprinkler controllers bring peace and joy into the house of every gardener. Therefore, we've compiled a list for all of you with the best sprinkler timer that will do everything you feel like not doing.
Stay tuned!
The benefits of having a sprinkler timer
1. Constant water supply
Having a sprinkler system is one thing, and having a sprinkler timer is another. This means that these two are very important things to have on your lawn, but without each other, it wouldn't be that great.
The number one reason why you need to have a sprinkler timer is that it's the one that ensures that your lawn or plants get a constant supply of water.
It automatically releases water from the sprinkler when it's already the right time of the day. You don't need to go back and forth to turn the water source on. The sprinkler timer does it for you.
2. Avoids flooding
What's great about sprinkler timers is that they're not just made to supply your lawn with water continuously, but they're also about supplying them with just enough of it.
If your system keeps on sprinkling water, chances are, is that your lawn will get muddy or, worse, get flooded.
You surely don't want that to happen, which is why you need a stopping mechanism.
You need it so that you get the peace of mind of knowing that you're not giving excessive water supply to your plants.
3. Less supervision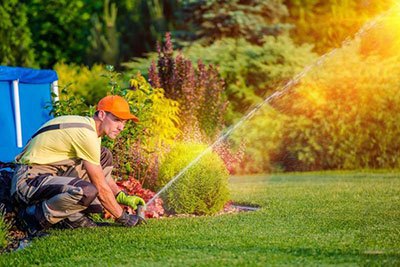 One of the most hassling things about lawn maintenance, or more specifically, having a sprinkler system, is the amount of supervision and time you need to devote.
You need to constantly check your lawn and see whether it's already watered properly. You also need to go back to your lawn again to turn the sprinkler off. It's just a tiring task to do!
However, with the help of a sprinkler timer, you don't have to worry about any of those. It does the job for you.
There are sprinkler timers that are connected to your phone through its Wifi capability, and you can control it remotely. That's how cool these sprinkler timers are.
4. Healthier and greener lawn
So what happens to your lawn when you have a properly managed and monitored sprinkler timer?
The answer to that is simple and pretty obvious – your lawn becomes healthier and gets a greener and more vibrant color.
It would look its best, and it will surely relieve you of your stress even more. You don't have to worry about pests, molds, or sudden fungi growth. The chances of them growing become minimal when they get a constant and right supply of water.
They become thicker, and the likelihood of weed growth also diminishes.
5. Lawn's longer lifespan
Then there's the effect on your lawn's grass and plants' lifespan as it gets longer than ever before. Why is this so?
Well, it's because of the sufficient supply of water. You see, it's important for plants such as lawn grass to absorb water at a certain time of the day. This makes its absorption process more efficient.
By simply having a time management tool as to when water will be sprinkled on your lawn, you're also making sure that it would bring out the best in your plants.
Not only will they look greener and healthier than ever, but they're going to stay that way for a long time.
Sprinkler timer reviews: Top 7 list
Orbit Single-Outlet Hose Watering Timer – A budget-friendly option that allows for easy programming and smart watering, however, it can be difficult to read the small display.
Rachio 3: 8 Zone Smart Sprinkler Controller – A highly advanced system that uses weather intelligence data to optimize watering and covers up to eight zones, but it's also quite expensive.
Raindrip R675CT 3-Dial Water Timer – A simple and efficient option for small gardens, but it may not be suitable for larger areas.
B-hyve 12-Zone Indoor Irrigation System Sprinkler Controller – User-friendly sprinkler controller that helps with saving money along the way and offers extensive control features, although it may require additional accessories for proper installation.
Gilmour 400GTD Outlet Electronic Water Timer, Dual – A sturdy and reliable option with easy-to-use controls, although it may lack advanced programming functions.
Rain Bird ST8I-2.0 Smart Indoor WiFi Sprinkler Irrigation Sprinkler Controller – The sprinkler controller is a top-of-the-line option with advanced features such as voice control, weather intelligent that offers accurate weather data; however, it is also quite expensive.
RAINPOINT Water Timer – A basic yet affordable option that is easy to install and use, although it may not offer as much versatility as other models.
Turn your hose faucet into a fully functioning water sprinkler timer with the Orbit Single-Outlet Hose Watering Timer.
Orbit, a name that is undoubtedly mentioned in the best sprinkler timer brand conversations, developed this easy-going product for all gardeners out there.
The best characteristic of the smart controller is an easy installation and absolute efficiency when it comes to setting the watering schedule.
When you water the lawn manually, there's too much water consumption and unnecessary workload that you can avoid by using this Orbit sprinkler timer. Once you install the timer, just set it to your preferred schedule, and you're good to go!
It has a built-in rain delay program that enables you to delay the irrigation controller to water when there's no need to. You can set the delay to 24, 48, and 72 hours – on the bright side, you'll be saving water and watering the garden. Plus, it's incredibly affordable!
Also, don't forget that there are versions of the smart sprinkler controller that come as 2-outlet and 3-outlet lawn sprinklers, which are just as fantastic as this one.
And, of course, it's waterproof and heavy-duty, which means you'll never worry about leaving it outside in rough conditions.
Pros
Trustworthy manufacturer
Heavy-duty
Easy installation
Built-in rain delays program with a rain sensor
If you're someone that wants to save water and money while maintaining a beautiful yard, Rachio 3's eight zones Smart Sprinkler Controller is an excellent investment you should consider.
The Rachio 3 smart sprinkler controller is one of the few controllers that can offer accurate local watering restrictions, as well as compatibility with other smart home platforms and smart devices.
One of the significant advantages of the Rachio 3 smart sprinkler controller is its Worry-Free Watering system. It tailors the watering schedule to each plant and yard's specific needs, providing the right amount of water each time, and making it more efficient.
Additionally, it balances the watering schedules and monitors the amount of rainfall, meaning you won't have to worry about watering your garden unnecessarily.
Thus saving you time and money and reducing water waste.
One of its standout features is its Exclusive Weather Technology. It uses patented Weather intelligence to skip unnecessary watering.
Additionally, Rachio 3's Smart App Control is designed to give you access to your sprinkler system alerts and controls from anywhere. The application is easy to navigate, and you can use it to set up new schedules, alter existing sprinkler system, or run the system directly.
Furthermore, Rachio 3 smart sprinkler controller supports integration smart home devices such as Amazon Alexa or Google Assistant and other smart home platforms, letting you control the smart schedule hands-free with voice control.
There is one concern to think about when purchasing a Rachio 3 Smart Sprinkler Controller. Rachio 3's device runs on Wifi. If your Wifi connection is lost, you'll lose control of the irrigation system.
Pros
No monthly fees
Helps create watering schedules & smart watering program
Eight zones
Voice control
Compatible with popular smart home platforms and smart home devices
Exclusive Weather Technology
Smart App Control
Integration with Amazon Alexa and Google Assistant
Cons
Can lose power if there is no Wifi
Are you a bit old-fashioned and you cannot seem to handle the new technological releases? We have just the thing for you. Say hello to the Raindrip R675CT 3-Dial Water Timer.
It's simple. If you have a single-hose faucet in your garden, connect the device to the faucet, and follow the instructions to set it up. The smart sprinkler controller matches almost every outdoor faucet, so you shouldn't encounter any problems there.
The great thing about this smart sprinkler controller garden product is that it has a low-battery indicator. Also, it works with two double-A alkaline batteries that are not included, but having a low-battery indicator for the old battery irrigation system certainly comes in handy.
Even if you take the batteries out to replace them, the program will not reset if you insert the new ones in under 15 seconds. It may not seem like much for a fail-safe system, but realistically, you'll only need a couple of seconds to take the old ones out and put the new ones in.
Once you try to set it up, you'll see that there are variations in the duration of watering and frequency – all options will be more than enough for any standard-sized garden.
Except for an occasional pressure problem at the faucet, it's as good as it gets. Just remember the check if the outlet fits appropriately so you don't have issues in that department.
Pros
Easy instructions
Can be mounted outdoors
Low-battery indicator
15 seconds fail-safe system
Easy to use
Cons
Problems with the water pressure at the faucet
If diversity is what you're aiming at, you should try the B-hyve 12-Zone Indoor Irrigation System Smart Sprinkler Controller.
This smart sprinkler controller has made watering schedules a thing of the past. By investing in this smart home device, you'll no longer have to worry about the weather conditions and how they may apply to your garden – it does everything for you.
It is fully customizable with Android, iOS, and other web devices, thus giving you absolute control over the smart sprinkler controller.
Based on the site conditions, lawn's soil moisture, water usage reporting, and weather data in general, this sprinkler system is able to calculate the exact amount of water the ground might require and more.
Smart watering also allows you to cast aside any outdated personal weather station and supplies you with the most accurate weather information that will adjust the schedule based on wind speed, rain, and freeze conditions.
It is also certified with WaterSense and SWAT protocols that ensure energy and water saving.
It is, however, compatible with North American 110 V outlets, but there are versions of this device for other markets.
Besides, most smart sprinklers controller devices are targeted to a specific market, so it comes as a relief that this sprinkler system is compatible with other countries in the world.
Pros
Smart and intuitive
Smart watering cycles
Smart weather data based on local weather stations
Fully customizable
Reduces water bills
Wind, rain, and freeze condition
SWAT certified
Cons
This version is targeted for North America.
If there's one manufacturer that you can count on, it's Gilmour smart sprinkler controller. They've been on the market for more than 50 years, and they continue to impress, even to this day. We give you their Gilmour 400GTD Outlet Electronic Water Timer, Dual.
First off, it's essential to know that this smart sprinkler controller system is incredibly easy to use and operate. It has a large LCD that gives you exact data without any random numbers or things you won't need.
Also, the program automatically shut itself once the watering has been done, so there's no need to reset it.
The Gilmour smart sprinkler controller system itself is made out of durable, high-impact plastic that proved to be highly sustainable during rough conditions.
Furthermore, it has a metal swivel connection that allows you to pull the hose around the yard without worrying whether you'll damage the sprinkler timer.
As far as the installation goes, there's no need for any extra tools. It's easy to set up, and you'll also need two double-A batteries to power up this smart sprinkler controller.
Other than the fact that this Gilmour timer may lower your water pressure if the connection to the faucet is not appropriate, it's as good as it gets.
Pros
Easy to set up
Large LCD
Resistant to sun exposure
Helps with water savings
Smart cycle watering & premium weather intelligence
Delayed watering schedule
Helps create smart schedules and watering zones
Durable
Cons
Problems with the water pressure
And for the last tap timer review, we give you the Rain Bird ST8I-2.0 Smart Indoor Sprinkler Irrigation Controller.
If you're familiar with Rain Bird's best smart sprinkler controllers, you know that this one is a replacement for the older version that is now discontinued from sale and upgraded with this fabulous device.
Since it's a smart device, it goes without question that it's compatible with most systems – iOS, Android (newer versions), and of course, Amazon's Alexa.
Once you set it up, you'll see there's an option on smart controller that enables you to receive notifications about any changes that may happen during the watering process.
Also, the schedule adjusts itself based on the local weather conditions and upcoming local weather forecast – temperature and humidity.
You can set specific zones in your lawn or garden, as well. Based on the local weather conditions and the local information you'll input, the system will distribute an exact amount of water according to those data.
Some customers have noted that the display is a flaw in the design. It appears that it does not have enough contrast to be visible in broad daylight, but since this is a device intended for the inside, that shouldn't pose a problem.
Pros
A new generation of Rain Bird's smart controllers
Compatible with most systems
Accurate watering data
Precise
#7. RAINPOINT Water Timer – Best customization of watering schedule
The RAINPOINT Smart Controller Timer for Garden Hose is an excellent choice for homeowners who want to take control of their lawn and garden irrigation.
With 2 separate programmable zones and 2 large outlets with a flow rate of 5-35 L/min, the RAINPOINT sprinkler timer gives you complete customization over the watering schedule, including start time, frequency, and run time. This allows for efficient and even watering of your lawn and garden in an effortless manner.
One of the most significant advantages of the RAINPOINT Water Timer is the broad range of automatic watering frequencies available.
With up to 38 automatic watering frequencies, homeowners can customize the watering duration, frequency, and cyclic watering plans according to their specific needs.
This is particularly beneficial for homeowners who desire regular watering for their garden and lawn but may not have the time or energy to do it manually.
Another advantage of the RAINPOINT Water Timer is its ease of use. The timer features an intuitive interface and a convenient display, making programming and adjustments straightforward and effortless.
Furthermore, the RAINPOINT timer is incredibly durable and weather-resistant, ensuring long-lasting performance, even in harsh external environments.
However, like any product, the RAINPOINT Smart Controllers also has its disadvantages. One potential issue is that the timer is not battery-powered, meaning it requires a power outlet to operate.
Pros
2 separate programmable zones
Broad range of automatic watering frequencies
Intuitive and convenient interface
Durable with weatherproof enclosure
Offers weather intelligence
What should the best smart sprinkler controller have? Buyer's guide
As you were able to see by yourself, the best smart sprinkler controllers come in different sizes, types, and variations. That's why a standard customer might be confused and wonder, "Which one do I pick?"
Rest assured, because we're here to help!
Here are the main factors that you should understand before buying a sprinkler timer.
1. Compatibility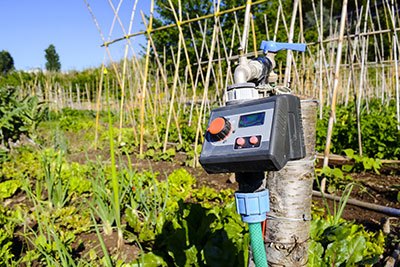 This one is a broad field. For example, if you choose to invest a bit more money in smart sprinkler controllers, the first point you should consider is whether the timer is compatible with the smart device you have at home.
Even though some manufacturers claim that their timer is entirely in sync with all Android devices, that might not be true.
If you own an older Android phone or a tablet with an outdated Android system, you may experience trouble connecting it to the timer via Wifi.
Compatibility also means that you should check if your faucet matches the hose connector on the timer if you plan on getting a classic, analog water timer.
The same concept applies here – even though manufacturers claim that their device is universal, this might not be the case.
2. Durability
This goes without question.
First off, sprinkler timers are exposed to harsh conditions – rain, freezing temperatures, snow, and ice. Getting a plastic timer might not be enough, especially if you live in colder parts of the country.
So, try to look for metallic timers with steel outlets and magnetic cover that ensure the longevity of the device. 
Also, sprinkler timers are exposed to large amounts of pressure, which is why it's vital that you cast aside any fancy gadgets that may seem exciting but are poorly crafted.
3. Indoor or outdoor?
The next thing you need to consider when choosing a sprinkler timer is the location where you're going to put it.
There are two main types of sprinkler timers available in the market. There are indoor timers and outdoor installation ones.
You need to be pretty sure where you're going to place it so that you'll get the timer that specifically answers your purpose.
Indoor sprinkler systems are sleeker in design, but the sprinkler controllers that are mounted outdoors are more durable and robust. It's just a matter of choice.
And it's up to you where that location will be. Remember, it's all about the balance between design, functionality, and product longevity.
4. Time zones
It's also important for you to consider the number of time zones that the sprinkler timer has. It's an important consideration to make because it should be capable of operating in different zones.
These zones are the stations or places where your sprinkler systems are found. Your sprinkler timer is connected to them.
This is the reason why it should know which sprinkler system to activate at a specific time of the day.
5. Number of programs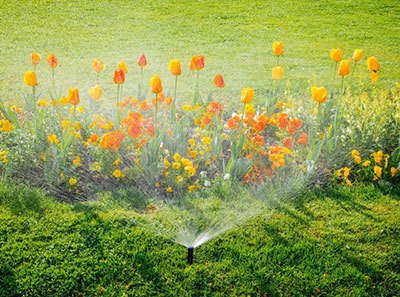 Then there's the element of programs. The more programs, the better choice that sprinkler timer would be for you.
There are sprinkler timers that have single, two, three, or four-program designs. The sprinkler timer is more flexible if it has more programs because it is the one that tells the zone's capacity.
It sounds a bit complicated for a newbie's ears, which is why it would be recommended that you ask the help of the salesman from the shop that you're planning to buy from.
6. Price
The element of price should never be left on the sidelines because it's as important as buying the product itself.
When planning to buy a sprinkler timer, make sure that it's justifiably priced. What we mean by this is that it should not be too expensive or too cheap.
It should be in the mid-range of prices, so you'll be assured it's a quality and price-wise product. Cheap sprinkler timers usually don't last long, but neither do the expensive ones mean that they're of high quality.
It's in knowing the price that you get a glimpse of the sprinkler timer's durability.
FAQs
Are sprinkler timers interchangeable?
Sprinkler timers are not always interchangeable as they come in different models and designs that may not be compatible with each other.
It is important to check the specifications of your sprinkler system and ensure that the timer you choose is compatible with it.
How long do sprinkler timers last?
Since they are prone to wearing off, timers usually last somewhere between 5 and 10 years.
Of course, investing in a superior model will prolong this expectancy for up to several years.
How to tell if sprinkler timer is bad?
Signs that your sprinkler timer may be bad include irregular watering schedules, failure to turn on or off, and display malfunctions.
If you suspect your timer is faulty, try resetting it or replacing the batteries first. If that doesn't work, it may be time to replace the timer.
What is the best sprinkler system brand?
According to purchases and customer reviews, Orbit and Rain Bird's sprinkler timers have proven to be the best brand in North America.
However, Gilmour company has been on the market for quite some time now and is continuously dishing out great products for gardening, including sprinkler timers.
How do I set the timer on my Orbit sprinkler?
To set the timer on your Orbit sprinkler, press the "Manual" button to turn on your sprinklers. Then, press the "Program" button and use the "+" and "–" buttons to adjust the watering duration and frequency. Finally, press the "Enter" button to save your settings.
Why does sprinkler timer say no AC?
The "No AC" error message on your sprinkler timer indicates that there is no power supply to the unit. This could be due to a power outage, a tripped circuit breaker, or a faulty power adapter. Check the power source and connections to fix this issue.
How much electricity does a sprinkler timer use?
The amount of electricity used by a sprinkler timer varies depending on the model and features. However, most timers only use a small amount of electricity, typically less than 25 watts per hour. This translates to a cost of less than $1 per month in energy bills.
Final thoughts
Every upstanding American knows the importance of maintaining a healthy, freshly-cut lawn. That's why it deserves the very best, which is undoubtedly the Orbit Single-Outlet Hose Watering Timer.
Even though it's not a smart device, this sprinkler timer has proven over time to be a great asset to every gardener out there. The combination of durability, efficiency, and overall price is to be matched by any other product on the market.
Furthermore, Raindrip R675CT 3-Dial Timer is there for you if you're not yet willing to invest more money into lawn maintenance and smart sprinkle controllers.
In the end, it's not about the product, as it boils down to you and your willingness to put your effort and time into maintaining that greenery that fashions your house. And along the journey, the best sprinkler timers will be there to pave the way.