Cutting grass and weeds is one of the more important tasks in maintaining a well-manicured lawn.
You need to own a string trimmer so you can get to the edges and hard-to-reach areas of your lawn.
String trimmers, though, can be heavy, and their vibrations can be strenuous on your body. That is why you need to use the best string trimmer harness to avoid these discomforts.
A string trimmer harness functions to take the weight of the equipment from your arms and hands. It serves as a cushion to protect you from the impact that a string trimmer can cause. 
Some string trimmer harnesses even come with cushions for extra comfort.
Take away key points:
Harnesses are perfect to reduce fatigue and help you trim faster
They offer different soft materials with ventilation and ergonomic design to keep your optimal longer
There are crucial factors to consider so pay attention to them to pick the best unit for your working needs
The best string trimmer harness for you in 2023
Looking for the best weed eater shoulder straps? Look no more! Take a look at our backpack blower straps below and choose the best one for your needs! Let's see the best models.
$ – Stihl 4119-710-9001 Oem Standard Harness
The most comfortable weed eater shoulder straps for optimal performance and longer working hours. The Stihl brush cutter system will save a load of work, and you can spend more time working.
But the Stihl brush cutter unit is not for a left-handed guy.
$ – EGO Power+ AP1500 Shoulder Strap
Best for full movement and the comfortable feature for optimal performance. Extremely lightweight and adjustable brush cutter tool for easier management.
Nonetheless, it might be hard to adjust to the shoulders so quickly.
$$ – Husqvarna 523048201 Balance XT Trimmer Harness
The most adjustable and versatile harness system for your brush cutter. The model uses lightweight construction with different adjusting parts, easy to install, manage and change to fit your comfort needs.
However, you need some time to get used to the adjustments.
$$ – Makita 122906-3 Brush Cutter Harness
Best for comfort benefits, and full movement of your body and back. The ergonomic design is ideal for log working hours without pressure or pain.
Still, the brush cutter harness comes with missing pieces.
$ – Hipa 4119 710 9001 String Trimmer Full Harness
Best for premium-quality materials for prolonged applications and lost-lasting lifespan. The system for a brush cutter is maneuverable to fit your needs.
Yet it is not intended for left-handed operators.
$ – WEIBOND Trimmer Shoulder Strap
The most maneuverable system for different brush cutter brands and machine models. Te machine harness is cheap and offers a high-quality design to last longer.
Anyhow, it might confuse to put it on and use it for each machine quickly.
Brand: Stihl
Material: soft padding
Style: regular fit
Best for: performance
Trimming without a harness for a long time might be extremely strenuous. However, with this Stihl standard harness, gardeners will never experience that tiredness again.
The unique design with shoulder and body straps makes this harness suitable for string trimmer working, and it will evenly distribute the weight of tools across your body. Thus, you are less likely to face fatigue and strain in your arms or shoulder.
Moreover, you don't have to bend your back as this harness has a clip to hold the trimmer straight. Also, this Stihl harness offers you the best comfort with its soft shoulder pads that can support your shoulder when working continuously. The hip pad also acts as a shock absorbent to reduce strain on your hip.
This Stihl harness is made from heavy-duty material that can provide you with several years of use. Furthermore, the extra-long strap allows you to adjust the harness to fit different body sizes.
Many users who have purchased this product said that it could help them a lot in trimming their lawns. As it takes the strain in their arms and distributes it across the body, they are less likely to experience back pain and arm pain during continuous working hours.
Pros
Evenly distribute the weight across your upper body
Soft shoulder pads
Made from durable material
Extra strap to fit all body sizes
Cons
Not suitable for left-handed operators
Complicated adjustment
Brand: EGO POWER +
Material: soft padding
Style: regular fit
Best for: installation standards
This thoughtfully-designed EGO trimmer strap offers you great help when dealing with heavy string trimmers, especially EGO string trimmers.
While the strap is made from hard materials that can withstand extended use, it also comes with a soft and thick pad for better comfort when carrying your tool around the garden.
This shoulder strap can transfer the weight of a string trimmer from the user's arms to their shoulder. As a result, it can prevent fatigue when working in continuous hours.
Another advantage of this strap is that it can be used right out of the box. You don't need to spend time messing up with parts. All you need to do is put it on your body, then adjust the size of the strap to fit your body.
A user has praised this strap because it is such a breeze to put this EGO Power+ strap on. It is big enough to put it over the head and place it diagonally across your body. Hence, it is suitable for both left-handed and right-handed users since they only need to change the direction of the strap when wearing it.
Pros
Extremely lightweight and easy to use
No assembly required
Thoughtfully made to reduce the pressure on users' arms
Padded strap for extra comfort
Suitable for both right-handed and left-handed users
Cons
The strap might slip out of your shoulder
Brand: Husqvarna
Material: reflex
Style: regular fit
Best for: adjustable benefits
The Husqvarna Balance XT Trimmer Harness comes in a design that ensures the even distribution of the weight of the string trimmer between your back, chest, hips, and shoulders.
This string trimmer harness is equipped with wide shoulder straps with pads, which spread the weight of the trimmer to other areas to lessen the strain on your shoulders.
The joining straps of the shoulder straps can be lowered or raised so it can fit either men or women users.
It also comes with a sturdy chest plate which you can easily adjust for the easy mounting of your string trimmer. An adjustable backplate provides the best support when carrying the weight of your string trimmer during long working hours.
A user says this Husqvarna string trimmer harness is comfortable to use. It can be adjusted to fit different body sizes. He also says that this harness is well made, well-padded, provides top-notched support, and can be put on in a jiffy. It is good-looking, too.
The Husqvarna Balance XT Trimmer Harness is equipped with a shock absorbing designed hip pad that comes with a traveling connection.
This allows you to maneuver the string trimmer with lesser body movements while preventing the straining of your hips.
Pros
Adjustable design to custom fit men and women users.
Allows the easy maneuvering of the string trimmer.
Even weight distribution provided by wide shoulder straps with pads.
Lightweight and breathable
Easily and safely releases the string trimmer.
Cons
Takes some time to master the different adjustments
Brand: Makita
Material: Soft padding
Style: Regular fit
Best for: ergonomic design
The Makita brush cutter harness is an excellent torso model for more effectiveness while holding a heavy trimmer for long periods.
The shoulder strap for the brush cutter uses an advanced design to distribute weight evenly to your whole body, so you can better control your work, and the harness works great for an extended period.
The Makita harness is ideal for adjustability, and it works great for advanced balance and control. The brush cutter will not make your back stiff, and you can forget about pain, pressure, and discomfort when using harnesses for an extended period.
There won't be a load of weight on your legs too, as the adjustability works great, making you fully balanced and trim more effectively and efficiently. The high-quality design will make your arm, torso, and legs relaxed for long periods.
There won't be imbalance or other issues and you can easily use the brush cutter system. The ergonomic design is also well-ventilated, so you won't sweat, for optimal working flow.
The Makita brush cutter harnesses are also valuable for quick setup construction. The harnesses use a high-quality hook for easy attachment or detachment of the trim system, so you can detach and remove the stuff when you finish the job. You can also store the harness away once you don't wear it anymore.
Note that the brush cutter straps work well with different models of Makita grass cutters, brush cutters, and trimmers. So, purchasing this brush cutter harness system saves you money.
Pros
gravity
cost
adjustable hook
Brand: HIPA
Material: soft padding
Style: regular fit
Best for: high-quality materials
The HIPA String Trimmer Full Harness is made from hard plastic, and the traps are made of heavy-duty materials.
It evenly distributes the weight of the string trimmer over the upper portion of your body, preventing you from having strained shoulders, back, and arms.
This HIPA string trimmer comes with comfortable adjustable straps and shoulder pads to protect your shoulders from the heavy weight of your string trimmer. It can also be easily adjusted to fit users of different weights and heights.
A user says this is a useful, simple, and comfortable harness that works on many string trimmer models. He says that if you are looking for an economical and simple harness, he highly recommends a HIPA harness.
The HIPA String Trimmer Full Harness functions to take away the stress of cutting grass and weeds. It allows you to work long hours without being too hard on your upper body.
Pros
Evenly distributes the weight of the string trimmer reducing fatigue on the upper body especially on the shoulders.
Strap can be adjusted so it can also be used with brush cu

​

​

tters.
Made from high quality materials that can outlast your string trimmer.
Fits users of all weights and heights.
Cons
Not suitable for left handed users
Brand: WEIBOND
Material: soft padded
Style: regular fit
Best for: different brands
WeiBonD string full harness is made from highly durable material that can offer you several years of use. While the trimmer shoulder strap is made of a padded and soft material for greater comfort, and the strap is made of durable nylon.
Unlike many other types of full-body harnesses, this string trimmer harness is amazingly comfortable and convenient to use. Not only is it padded with soft and thick pads, but the adjustable strap makes this harness breathable for users.
Moreover, it can be adjusted to fit different body sizes, from men to women.
With the thoughtful design, it can distribute the weight of your gardening tool evenly to your upper body. Thus, it will reduce fatigue and tiredness in your arms.
The best thing that many users love about this string trimmer harness is that it works well with several types of gardening tools. You can attach it with not only string trimmers but also brush saws, brush cutters, and many other heavy-duty tools.
Furthermore, this WeiBonD trimmer shoulder harness goes well with a long list of tools from these manufacturers: Husqvarna, Homelite, Echo, Shindaiwa, Robin, Dolmar, Solo, Mcculloch, Tanaka, Red Max Sears, and Poulan.
Pros
Made from highly durable material
Comfortable and convenient
Apply to different body sizes of men and women
Can be used with several types of gardening tools
Cons
Not suitable for left-handed users
Confusing to put it on
Choosing the best string trimmer harness
You should always have comfort at the top of your mind when choosing a trimmer harness.
It is, therefore, important to first look at the comfort features of a particular harness before anything else.
1. Durability
Choose a harness you can use for a long time. Take a close look at the straps. They should be of good quality.
2. Design
The best trimmer straps should come with soft shoulder pads for maximum protection of your shoulders from the weight of the string trimmer.
Opt for a harness with a double shoulder strap. This design evenly distributes the weight of the string trimmer across your body.
3. Durability
The harness should be adjustable to fit users of different weights and heights.
4. Weight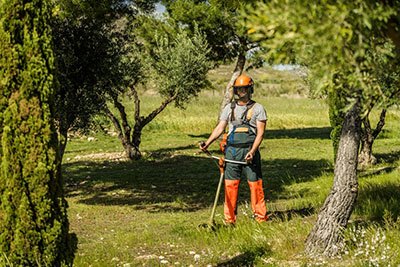 The harness should be lightweight but strong enough to support the weight string trimmer during long hours of use.
5. Accessories
It would be great to have a clip to hook the string trimmer to the harness. A hip protector is also preferred. 
As an added feature, it would be perfect for the harness to be designed for right-hand and left-hand users.
A string trimmer harness is all about providing you comfort while using your string trimmer.
Watch out for these features when deciding on the harness to purchase, and be assured that you will have the best comfort while working on making your lawn well-maintained and beautiful.
FAQs
Why do people take the guard off the string trimmer?
One reason is to increase the cutting swath of the trimmer, as guards are designed to limit the length of the cut.
Another reason is to reduce debris from flying out when trimming, as guards are intended to control grass and rocks.
Additionally, some people prefer not to have the extra weight or bulk that comes with having a guard on their trimmer.
Does a string trimmer work better without the guard?
No, a string trimmer does not work better without the guard. The guard is designed to protect the user from debris and also to help control the length of the string. Without the guard, users are exposed to flying debris and may have difficulty controlling the length of the cut grass.
Additionally, some manufacturers require that their trimmers be used with a guard for warranty purposes. Therefore, it is best to use a string trimmer with its guard intact.
Are string trimmers dangerous?
Yes, string trimmers can be dangerous if not used properly. It is important to read the safety instructions that come with the product and wear protective gear such as gloves, goggles, and long pants while operating a string trimmer.
Additionally, it is important to keep children and pets away from the area while using a string trimmer. The spinning line of a string trimmer can cause serious injury if it comes into contact with skin or eyes.
The final winner is?
The best bet is the Stihl 4119-710-9001 Oem Standard Harness.
The Stihl offers the best comfort benefits for optimal performance, and it lasts for a prolonged time. So you can apply for different heavy and light-duty tasks, and the model will not let you down. It's not so cheap but the price matches the quality.
Final thoughts
As you sow multiple harnesses, what's your opinion? Are you ready to choose your best model? If yes, let us know in the comments!