When it comes to maintaining the clean look of your lawn, it's very important to make sure that the grass is trimmed properly. It's in doing this that you are able to maintain the fresh and neat feeling of your lawn.
One way to do that is by using a string trimmer. However, its head can easily be damaged, which is why you need to have the best string trimmer replacement head.
In this article, we're going to talk about just that.
What is a string trimmer replacement head?
A string trimmer is a gardening tool that has a head made of strings instead of metal blades used to cut and trim the grass.
The head or string trimmer replacement head needs to be replaced now and then to ensure that it remains sharp and effective in doing what it's supposed to do – and that is trimming grass.
Top 6 best string replacement heads you should not miss
The manufacturer claims that this Grass Gator 4680 head is an extra heavy-duty model. Let's see if it is true or not.
The fact that this product uses steel blades instead of string somehow confirms its strength. You do not need to buy blades separately, as it comes with the replacement head for free.
There is not much information about the unit, so we decided to find out ourselves. And guess what? It did not disappoint us even a bit.
We attached it to our commercial-grade straight-shaft weed trimmer, and it fitted like a glove. We tested it on four acres of land filled with overgrown and bush-like weeds, and it cut through literally everything standing in its way.
It is a real monster, so you need to wear protective gear before working with it. Suppose that the blade hits your legs; it will not hesitate to go to the bone and hurt you badly.
This model guarantees to fit 99% of all gas-powered trimmers as long as they have a straight shaft design. In addition, it will best suit heavy-duty trimmers with engines of 25cc or more.
Pros
Steel blade included
Amazing power
Universal design
Cons
For heavy-duty straight shaft trimmers only
Dangerous for first-time users
The second product of the best string trimmer replacement head is the Oregon 55-265 model.
Like the Echo model above, it guarantees to reload in 30 seconds or less. Aside from that, there are a lot of useful features to expect in this speed feed trimmer head.
According to the description, it is a semi-Matic head designed for medium to heavy-duty applications. That said, you can tame bush-like grass and weeds in your backyard. No worries about it breaking down soon as other cheap units on the market.
There are inner walls to reduce debris that might get into the head and prevent it from functioning properly. Sturdy eyelets are also equipped, which plays a role in increasing the line life.
We highly appreciate the line tensioning system with a split spool this model offers. It is arguably the best feature, reducing vibration and bringing about a relaxing landscaping experience.
Keep in mind that the Oregon 55-265 only mounts with straight shaft trimmers. Adaptors are included in the purchase, so make sure you check the specs before buying.
Pros
Quick to reload
Vibration-free operation
Inner walls and tough eyelets included
Now, we are going to review an innovative string trimmer head from BadgerHead. Why it is innovative will be explained shortly.
The first reason to call this head innovation is due to its quick-change system, which allows for changing from string to blades immediately. Isn't it convenient?
This BadgerHead is one of a few trimmers heads to work with both string and blade. Now you know why it is a best-seller.
Many customers buy it not only because of the quick-change system but also due to its construction.
It is made of a heavy-duty CNC-machined aluminum body with steel hardware. Such a head is undoubtedly built to last even in harsh conditions.
The base head is designed to accept a variety of standard cutting mediums on the market. Therefore, feel free to choose the best cutting accessory for your task.
However, the unit is quite difficult to maintain. Also, it does not work very well with tall vegetation.
Pros
Innovative quick-change system
Sturdy construction
Great versatility
Next on our list today is the best-selling product from MaxPower. This string replacement head makes its way to our list for good reasons.
First, the unit is made of metal for added durability. You don't have to worry about it breaking down after coming in contact with rocks or debris a few times.
However, it is best to limit those cases. With better maintenance comes a longer-lasting device, right?
The head features a special design of 6 pivoting lines to reduce the chances of breakage. That said, you will not waste many lines as with other low-quality competitors.
Along with the replacement head, a premium pre-cut trimmer line is included in the purchase. It is red in color so that you can detect it effortlessly while cutting the grass.
A real bargain, isn't it?
This MaxPower replacement head is easy to install and use. It is compatible with almost all string trimmers on the market, thanks to the universal design.
We can hardly find any downsides to this model, except for the confusing manual guide.
Pros
6 pivoting lines to reduce line breakage
Premium pre-cut line included
Effortless reloading
Cons
Hard-to-understand instructions
This is a product from Husqvarna. You must have heard of this trusted brand at least once before. It has been manufacturing top-quality lawn tools for a long time.
There are a lot of advantages to this Husqvarna replacement head.
First off, it allows for convenient reloading thanks to the built-in cap. To be specific, you don't have to turn the head upside down to reload the string as with other models.
On top of that, the spool features a separate design, which reduces the chances of line welding or tangling.
However, hand-winding the string is still required, which might put some people off buying this product. We understand it. Nobody likes the tedious task of winding the line by hand.
To make up for that, this T25 Advance trimmer head is effortless to install and use. It will seamlessly fit any straight shaft weed eaters of various brands, including the Echo, RedMax, Stihl, etc.
This model is designed to hold .065-inch, .080-inch, and .095-inch lines.
Pros
Effortless reloading
Spool split design
Maximum ease of use and installation
Last but not least is another heavy-duty replacement trimmer head recommended for trimmers with engines 25cc and above. However, unlike the Grass Gator 4680, it still uses string to cut.
To be specific, it is designed to hold 20' of .095-inch line.
If you may not know, .095 inches is considered thick amongst the common kinds of trimmer lines on the market. It is powerful enough to handle a variety of foliage in your garden.
Therefore, do not underestimate the strength of this unit. There have to be reasons for it being a heavy-duty trimmer head, right?
Like the #3 model, this Echo head features a split spool to avoid line welding and tangling.
The most notable highlight must be the ease of reloading it offers. Don't you believe it? But this model can reload in 30 seconds or less. That's lightning speed!
The head comes with adapters to fit nearly all prestigious brands, including Husqvarna, Tanaka, Echo, Stihl, etc.
Note that this Echo replacement trimmer head does not fit trimmers having a curved shaft.
Pros
Heavy-duty model
Ultimate ease of reloading
Adapter included
Cons
Not for curved shaft trimmers
Considerations to make when choosing a string trimmer replacement head
1. Durability
The first thing you need to consider when choosing a string trimmer replacement head is its durability. It's in knowing the durability that you know if it's going to last or not.
Make sure that it's made of fine and high-quality materials so that it wouldn't break easily.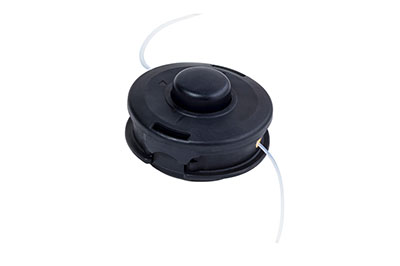 2. Design
Another important thing you need to consider is the design.
You want something that isn't only attractive or visually pleasing but something that is also compatible with your string trimmer. It should be compatible so that it can function properly.
Check its design and see whether it will fit on your trimmer or not.
3. Price
It's important for you to make sure that it is also priced right. And by getting it priced right, we mean that it should not be too expensive.
But remember that it doesn't mean that if it is priced cheaply, it's already a good deal for you. Take note that most cheaply priced products don't have good quality, which is why it'd be better for you to choose one which is in the midrange price.
Not only are you assured that it's got decent quality, but you also get to save money.
String trimmer replacement head: Using tips
1. Reserve backup
There are a lot of reasons why you should have a string trimmer replacement head. 
But the best one is that you get to have a reserve backup in case your trimmer head suddenly breaks.
With the help of this, you don't need to stop what you're doing and resume it the day after once you've bought a replacement.
Having a string trimmer replacement head in your home means that you can install it on your trimmer anytime it breaks down.
2. Safety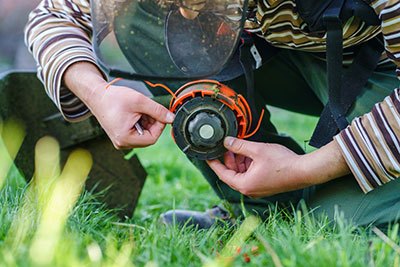 It's also safer for you to have a string trimmer replacement head because this means that your string trimmer won't be running on a worn-down head.
By simply replacing its head with a new one, you are making sure that nothing wrong will happen.
This also means that the chances of you getting into some accident or injury out of using the product decrease to a minimum.
3. Easier trimming
When you have a new string trimmer replacement head, it's easier for you to trim down the grass.
It's because the strings are still so fresh, and they're still very sharp. You make the most out of your string trimmer by replacing its head every once in a while.
It also makes you more productive because you no longer have to spend a lot of time trimming it.
4. Improved efficiency
When you have a string replacement head installed, your string trimmer won't have a hard time working.
This means that it'd have an improvement in its efficiency.
It will be faster in trimming down the grass, and it won't use up a lot of power, whether you're using a gas-powered trimmer or an electric one.
Conclusion
In our opinion, the winner of this list is the Grass Gator 4680 Brush Cutter. It offers everything you expect in a quality string trimmer head, from quick reloading and vibration-free operation to line protection.
Depending on your purposes, you can have different choices for the best products. Tell us your winner in the comment section!