It's one thing to cut a tree, and it's another thing to cut stumps. Not only do these tree stumps serve as an annoying landmark, but it's also a safety hazard.
Because of this, it makes sense for you to remove a tree stump by using the best stump grinder for tree stump removal!
In this article, we're going to help you choose the best stump grinders according to your preference and budget!
Why use a stump grinder?
1. Works fast
One of the best things why you should use a  tree stump grinder is because it's the fastest way to remove a few stumps. Not only does this make the whole removal process easier, but it's also the most effective way.
It removes the stump along with the roots. It doesn't matter if the roots are buried deep in the ground because these types of stump grinders will surely do just fine with it.
It completes the removal task in just a fraction of the time compared to if you are going to remove it by hand.
2. Minimize collateral damage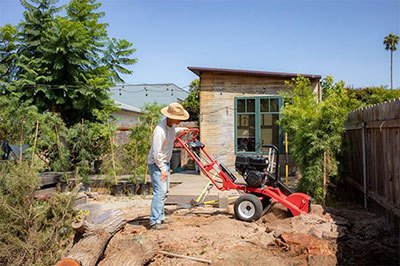 What's really great about using a stump grinder is its accuracy in removing the tree stump. It does it in a way that is very efficient. This means that it doesn't deal with any negative effects on its surrounding ecosystem.
These types of stump grinders are specifically made for the purpose of just working on the tree stump itself and nothing more. This results in the proper execution of the stump removal process.
You don't have to worry about the other trees, plants, or landscapes that are surrounding the stump. They won't be affected by it.
3. Healthy for your garden
Another cool thing about tree stump grinders is that they do not just serve as stump removers, but they can also mulch your garden.
These strong grinding blades turn the stump into mulch which automatically falls to the ground where the stump once was. It's because of this that it helps nourish your lawn's grass, making it healthier than ever before.
And it also looks good on your lawn. It sure has a lot of benefits in store.
4. Environment-friendly
The process of stump grinding is considered to be a healthy practice by environmentalists. It's because the toughest stumps are known to be the cause of the spread of diseases among trees. It's the cause of infection, such as fungal and mold growth.
This is the reason why it makes perfect sense for you to remove a few stumps, and a tree stump grinder does exactly just that. With the help of a tree stump grinder, you are making your lawn healthier.
You're also stopping the possible spread of disease not only to the nearby trees but to the surrounding plants and grass as well.
5. Removes safety risk
These tree stumps also poses a risk to people, especially to children.
There is a growing case where children, along with pets, get injured when they're playing in the lawn with a tree stump. They may either tumble over, or they might hit it because they're usually not that visible, especially if it's dark.
Because of this, it would be great if you'd remove it through the use of a stump grinder.
Best stump grinder on the market: My top stump grinders recommendations
DK2 Power Stump Grinder OPG888E – Excellent stump grinding power with durable build quality, but the price is on the higher side.
DK2 Power Stump Grinder OPG777 – Powerful engine capacity and compact design, but the assembly instructions could be clearer. 
Samson Machinery 15HPSG Stump Grinder – Easy to use and efficient, but the customer support could be improved.
HoC Stump Grinder STG13 – Affordable stump grinder with reliable performance for light work, but the cutting wheel depth and cutting capacity is somewhat limited.
All Power America 15 HP Commercial Stump Grinder – Budget-friendly choice with decent features, but it may struggle with larger tree stumps in tight spaces.
NorthStar Compact Stump Grinder – Durable and easy to maneuver with heavy-duty construction, but it can be pricey compared to other options.
DK2 is a leading manufacturer of lawn tools that provide high-quality products. The DK2 Power Tree Stump Grinder OPG888E, with the capacity to operate with a pull, is not an exception.
When it comes to performance, it is a powerful stump grinder thanks to the Kohler 14 HP CH440 Commercial grinders engine. This engine is also under a warranty of 3 years, removing any worry about its breaking down.
Along with that, the Dual direct V-belt allows it to cut with a high speed of up to 3600 revolutions per minute (RPM). Combined with this, the 12 machined carbide tipped teeth cutters facilitate you to cut through up to a 4-inch stump. This means you can deal with even the most stubborn ones. What a powerful beast!
Besides, the manufacturer has installed a comfortable bow handle with CE safety and ATV wheels on the HD axles for better stability. Also, the flip bar is removable, making it easier to tow and move around the worksites.
And the most interesting thing is its instant start. All you need is just a pull, and then the stump grinder will operate immediately.
The price is higher than in other stump grinders. Anyway, with all of the features it offers, this price is worth it for any type of job site.
Pros
Powerful engine
Better safety
Large pneumatic tires
Carbide tipped stump cutters
Easy to move
Instant start
This DK2 Power Stump Grinder OPG777 is another product from DK2. It has all the advantages that any traditional DK2 stump grinder can offer.
It is powerful with the support of a Kohler 14HP CH440 engine. Combined with that, the dual direct V belt allows it to produce sufficient torque, and thus, it can spin approximately 3600 revolutions per minute, progressing smoothly.
It also features a precise direct belt driving system. This system helps avoid clutch slippage for a 100% smooth stump grinding performance. Besides, the system guarantees a firm cutting wheel frame during the process, making grinding an easier task than ever.
Regarding safety, it includes safety keys for emergency shutoff, safety glasses, work gloves and ear protection for enhanced human care, and an oil bottle for lubrication and smooth running.
Its instruction manual is easy for users to understand, and you can set it up and operate it properly in only 2 hours.
One minor disadvantage is its thin and weak electrical wires, which should be taken notice of to prevent unnecessary electric problems such as an electric start.
Pros
Smooth operation
Precise direct belt driving system
Safety tools
Precise cutter wheel
Suitable for rough terrain
Straightforward instruction manual
Cons
Thin and weak electrical wires
And stand at number three in the stump grinder we would like to introduce to you today is the Samson Machinery 15HPSG Stump Grinder. It comes with a variety of features for many different stump-cutting tasks.
It provides a Ducar 4-stroke engine that transfers efficient power to the cutting wheel, allowing it to produce 3600 revolutions per minute. It is also powered by gas with a motor of 15 HP.
Besides, the manufacturer has upgraded the drum braking system to facilitate smooth stopping. With this, whenever you need to halt the operation, the power is all in your hands.
Moreover, the robust Tungsten carbide edge has 12 teeth and can grind 20.25 inches tall and to a cutting depth of 9 inches. Also, with the support of twin V belts, the cutting framework remains steady, allowing it to run smoothly with minimal vibrations.
And when it comes to movability, the tires are made at 13 inches, which is an adequate size for seamless maneuverability on the ground level. It also features a large pipe bow handle for added control, bringing protection for users.
Nevertheless, with a weight of 220 lbs, it is not one of the most lightweight stump grinders capable of wearing you out after moving around.
Pros
Smooth stopping
Minimal vibrations
Seamless maneuverability
Added control
HoC is the abbreviation for the House of Contractors. As the name suggests, this HoC Stump Grinder STG13 is a good stump grinder with the latest cutting system. To be more specific, it brings a more precise and efficient cutting method that can deal with any tree stumps in your yard.
Moreover, this system contributes to the longer lifespan of each tooth on the cutter thanks to the tungsten carbide material. Not only that, but the material also allows users to replace their teeth much easier.
Plus, it's one of the best smaller stump grinders!
With such a proficient method and powerful cutter, the stump grinder can manage any soil condition and can grind objects up to 12 inches below the ground. Therefore, it's one of the best small stump grinder picks!
The weight of this stump grinder is 128 kg. That sounds a little heavy for a person to lift!
However, do not worry much! On each side, there is a lift handle so that two people can lift it into a truck or SUV easily.
As for safety, it is built with drum brakes so that the stump grinder will be stopped and kept steady in place. Also, the stop buttons and kill switches can be used in an emergency.
One thing to pay attention to is the lack of a child safety lock. Therefore, users must keep children away from the working sites when using this HoC grinder.
Pros
Latest cutting system
Longer lifespan of teeth
Good for smaller stumps
Lift handle on each side
Upgraded drum braking system, stop buttons and kill switches for greater safety
Cons
Lack of a child safety lock
The All Power America Commercial Stump Grinder is an impressive machine that is ideal for homeowners as well as commercial users.
With a powerful gas-powered engine, it can effortlessly grind stumps of various sizes and diameters. The dual direct drive gearbox allows for efficient cutting while minimizing proper maintenance time and costs.
This All Power America stump grinder has a cutting depth of 12 inches below the ground, which is great for removing large stumps from tight spaces.
It's useful for landscaping and construction projects since it gets rid of tripping hazards and makes the ground easier to work with. Moreover, its carbide blade tip cutting blades can quickly and efficiently remove stumps with minimal effort.
The 2 V-belt transmission structure allows for smooth operation and reduces vibrations during use. This is ideal for users who require precision and accuracy during their work, and also adds to the longevity of the machine.
The stump grinder is EPA-approved, ensuring it is environmentally friendly and compliant with regulations.
In conclusion, the All Power America Commercial Stump Grinder is a top-of-the-line piece of equipment that provides exceptional performance, reliability, and durability.
If you are looking for a high-quality stump grinder that is designed to get the job done quickly and efficiently, then look no further than this outstanding machine.
Pros
Powerful OHV 4-Stroke 15HP 420cc gas-powered engine
Dual direct drive gearbox for efficient cutting
12-inch below-ground cutting depth
9 carbide alloy blade tip cutting blades
2 V-belt transmission structure
EPA-approved, environmentally friendly
If you're in need of a reliable and compact stump grinder, the NorthStar compact stump grinder is definitely worth considering.
Powered by a dependable Honda GX160 engine, this stump grinder is built to tackle even the toughest stump removal jobs.
One of the standout features of the NorthStar compact stump grinder is its compact design. With a narrow profile, this grinder can easily fit through doorways, gates, and paths, making it a great option for those with limited space to work with.
This also makes it easy to transport in cars, trucks, and vans, making it a versatile tool for both professionals and homeowners alike.
When it comes to performance, the NorthStar compact stump grinder doesn't disappoint. With a 9 2/3 inch dia. x 3/8 inch cutting wheel featuring 4 long-life carbide-tipped teeth, this grinder can easily grind and cut stubborn stumps from 10 inches above grade to 9 inches below grade.
This makes quick work of even the most stubborn smaller stumps as well as unsightly stumps, allowing you to move on to your next job in no time.
One thing that sets the NorthStar compact stump grinder apart from other models is its side discharge feature. This directs cuttings away from the wheels and frame, resulting in smoother forward advancement.
Not only does this make the grinder easier to handle, but it also helps to extend the life of the machine by reducing wear and tear.
Pros
Compact design for easy transportation and maneuvering
The side discharge feature directs cuttings away from cutting wheel and frame
Cons
The blades can get dull quickly
Buying guide for tree stumper
1. Size of the stump grinder
The first thing you need to consider when choosing a walk behind stump grinder is its size.
The stumper's size is a very important consideration to make because this is where the overall efficiency and productivity of your stumping process depend.
If you're going to remove a small tree stump, then there's no need for you to get large stump grinders. This is especially true if you're going to remove several tree stumps. You want something that is small, portable, and can be easily transported.
But if you're just going to remove one tree stump that is really big, then you need a big stump grinder so that you won't have a hard time dealing with it.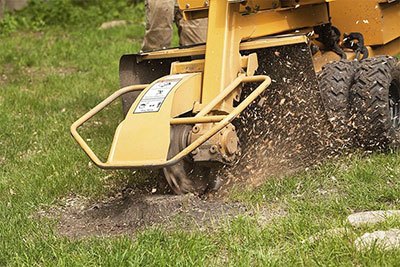 2. Brake wheels' stability
The brake-cutting wheels are important to consider because these are the ones that give stability to your walk-behind stump grinder.
You don't want something that moves from time to time throughout the whole entirety of the grinding process. That would not only be stressful and tiring, but that would also pose a certain risk to you and to its surroundings, as it might grind whatever it is that might come its way.
Remember that its sidewise movements should all be dealt with accordingly. So make sure that its brake wheels are all intact and are working properly.
3. Cutting capacity
The cutting capacity is also another factor that tells you if the product is effective or not. This is all about the number of stumps that your grinder is able to cut in a specific time frame. 
This is a technical thing to do, which is why it would be best if you've got a professional who's guiding you in your decision-making process.
4. Handlebar comfort
The adjustable handlebar is also important to factor in your decision-making process. This is where you will get in contact with. It's where you are going to hold the device.
Because of this, it makes perfect sense for you to make sure that it's comfortable to hold. It would be best if the walk behind grinders feature some kind of padding cushion or just an ergonomically designed adjustable handlebar so that you can hold it with ease.
5. Ease of use
Of course, you don't want to have a hard time using the walk behind stump grinder. This is why you should check its ease of operation.
It would be best if it had a simple mechanism that you could easily operate. It doesn't mean that if it's simple to use, it's already not that capable. It doesn't work that way.
Remember that the simpler you get to use it, the better design and functionality of the tree stump grinder has.
6. Design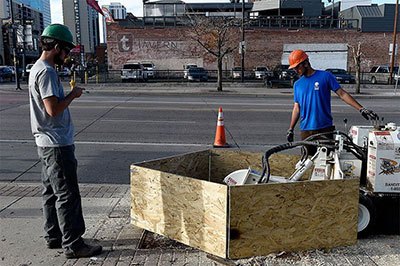 You also want something that is designed in a compact way. Though it would be great if you were to use a big one in dealing with a large tree stump, it would still be better if you use a small one.
Whichever size you choose, there's no doubt that it will still be able to grind the tree stump. It would just take a long time for a smaller grinder to remove the stump fully.
What we mean by this is that portability is still more important. So better choose a small and lightweight walk behind stump grinder to have an easier time removing the stump.
7. Price
Price is also another important factor to consider. Put it this way. Those best stump grinders that are priced cheaply are more likely to be made of low-quality materials, which is why it's not advisable to get them. 
However, it also doesn't mean that expensive walk-behind stump grinders are of high quality. To be safe, better get one that is not that cheap or too expensive.
FAQs
Are stump grinders dangerous?
Yes, stump grinders can be dangerous if not used properly. It is recommended to wear appropriate safety gear and follow safety instructions when operating a small stump grinder.
Can stump grinder remove roots?
Yes, a stump grinder can remove some of the roots surrounding a stump. However, it may not remove all of them and additional digging or root removal may be necessary.
Can you grind a stump with an angle grinder?
Technically, an angle grinder could be used to grind a small stump but it is not recommended as it is not designed for this purpose and can be dangerous.
What is the best tool to grind stumps?
A stump grinder is the best tool for grinding larger stumps as it is specifically designed for the job.
What HP stump grinder do I need?
The HP (horsepower) needed for a stump grinder depends on the size of the large stumps you will be grinding. A 13-14 HP stump grinder should work well for most residential projects.
Why are stump grinders so expensive?
Most stump grinders are expensive due to the specialized equipment and heavy-duty construction required to safely and effectively grind stumps quickly.
What is the best mid range stump grinder?
The Powerking Stump Grinder is a popular mid-range option with a powerful engine and durable build.
How deep does a stump grinder go?
Most stump grinders can typically grind up to 12 inches below ground level, but the depth can vary depending on the size and type of stump grinder.
Conclusion
Of all the best stump grinders we have introduced, the DK2 Power Stump Grinder OPG888E is the most outstanding one. It is powerful with enhanced safety. It is also made easy for users to move. Lastly, it can be operated with just a pull.
A stump grinder is a must when your jobs are related to stump clearing. Hopefully, our 6 best stump grinders can help you pick your perfect one!
And now, thank you for reading!