Back in the day, people were left with no choice but to make use of giant basins and dippers in order for them to water large patches of vegetation, either grass or a variety of crops.
Fortunately, as time went on, innovation in the world of garden maintenance has made taking care of lawns and gardens a task that is much easier.
The epitome of this innovation and advancement is the presence of sprinklers, specifically traveling sprinklers.
With that said, allow us to guide you in choosing the best traveling sprinkler for your garden needs.
Take away key points:
Traveling sprinkler models are ideal for wider coverage areas and no excess water
They allow automatic shut-off systems to prevent various accidents and keep your lawns optimal
Read our reviews to find the best sprinklers for your watering standards
Reasons why you should get a traveling sprinkler
Here are some of the crucial reasons to get a travel sprinkler:
1. More efficient watering
One of the things associated with the use of the traveling sprinkler includes more efficient watering.
With that said, a traveling sprinkler allows you to do just that.
A lot less water is wasted if you use only what you need. There are several traveling sprinklers that allow you to control the flow of water effectively, as it allows you to control the volume at which it flows out.
In a nutshell, this allows you to waste a lot less water as the very essence of the Traveling Sprinklers is to control and regulate the amount of water that flows.
2. Convenience guaranteed
If you want to spend less time going about your lawn, then traveling sprinklers are perfect for you.
The reason for this is simply because, as its name suggests, it would be the one that does the roaming around for you.
All you need to do in a lot of instances is to plug the hose in and plot the hoses in such a way that the traveling of the sprinkler turns out to be smooth.
Gone are the days when you would have to carry large buckets of water and manual sprinklers across a wide area.
3. Ease of use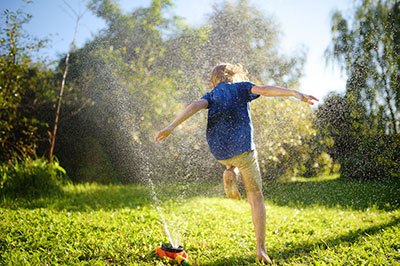 Apart from allowing you to save on the amount of water you use to cover a lawn or garden, the good thing about traveling sprinklers is that operating them isn't rocket science at all.
With that said, most of these traveling sprinklers come with manuals to facilitate their use.
Most of the time, however, you could work your way around things in a heuristic manner.
Just make sure that the hose fits well and that nothing is in the way of the traveling sprinkler. Nothing more, nothing less.
4. Environment-friendly use
It's common knowledge among people nowadays that making use of gasoline for engines, as well as the use of electricity in general, could harm the environment to some extent.
One of the good things about these traveling sprinklers is that they don't make use of any of them.
Instead of making use of any of these, traveling sprinklers make use of nothing but the force of water in order for them to run, specifically the water which gets projected from the hose.
5. More uniform watering
Apart from convenience and ease of use, the most important aspect associated with these sprinklers is the fact that plants are more uniformly given water.
This would help you with the maintenance of your lawn or produce in such a way that the plants to be watered don't get too little for them to dry out and succumb to dehydration, nor do they get too much and just sink and die.
In general, these traveling sprinklers have a pressure limit, as well as the direction of water flow, which could be attributed to the amount of water getting to these plants to be more uniformly distributed, thus keeping them healthy and keeping maintenance at an optimal level.
Top 7 best traveling sprinklers
$$ – Nelson Traveling Sprinkler RainTrain 13,500 Square feet Yellow 818653-1001
Best performance with the automatic shut-off system, and adjustable water pressure of the traveling sprinkler. There won't be water waste, and the sprinkler travels around your lawn fully.
The sprinkler heads, sprinkler arm units, and other components might be flimsy.
$$ – Gardening Supplies Watering Equipment Rain Train Cast Iron Traveling Lawn Sprinkler
Best money-traveling sprinkler for the quality. The Rain Train traveling sprinkler offers durable construction to last for an extended period, and its adjustable arms can cover more or less square feet, depending on your lawn size.
Still, the sprinkler has different problems with replacement parts.
$$ – AMIAWIT Nelson 1865 Rain Train Cast Iron Traveling Lawn Sprinkler
The Nelson RainTrain traveling sprinkler is an ideal choice for its auto shut system, two-speed gear control, and adjustable sprinkler arms for your watering standards. The solid construction of the Nelson RainTrain traveling sprinkler makes it one of the most durable lawn sprinklers available.
It drawback is its unstable path.
$$ – Nelson RainTrain Sprinkler
The traveling sprinkler uses the auto shut-off system to prevent excess water wasting, and flooding your areas. The traveling sprinkler is easy to maneuver and adjust to your needs. You can use it as a stationary sprinkler if necessary.
But, it's quite heavy.
$$ – Orbit 58322 Traveling Sprinkler
The Orbit 58322 traveling sprinkler offers an ideal front wheel system with rear wheels to keep the construction stable. The three-speed control technology makes the front wheel adjustable and versatile for light and heavy-duty tasks.
Yet, the plastic components of the Orbit 58322 traveling sprinkler might be problematic, causing plastic gears to turn hardly.
$$ – Melnor 4501 Traveling Sprinkler Lawn Rescue
The best security and stability of the trading system and other elements. Not all traveling sprinklers can be this stable for more robust applications, with our without ramp stop features. The high-traction wheels offer more coverage area.
Anyhow, the oscillating sprinkler is a bit heavy.
$ – Watex WX44 Traveling Sprinkler and Sprinkler Hose Bundle
The hose is ideal for a pulsating sprinkler, oscillating, or traveling sprinkler. The hose offers more solid construction and cannot damage so soon.
Although the device might not be the best option for small hoses, choose it to replace your old sprinkler.
Brand: Nelson
Material: Plastic
Style: traveling
Best for: automatic shut-off system
With a gorgeous shade of yellow, the Nelson 818653-1001 is painted in hard paint that is chip-resistant. Besides, all of its solid frames, sprinkler, and wheels are made out of cast iron.
Nevertheless, the gears are solely made from plastic instead of metal. Thankfully, the durable external components can cover and protect the inner parts that are more flimsy.
Most importantly, the 13.500-foot coverage area of this sprinkler is far wider than most standard tractor sprinklers in the market.
Something that might interest you includes the impressive 55-foot splash diameter as well as the 200-foot travel distance. Of course, you can adjust these specifications with different settings.
One helpful setting is traveling speed adjustment. While some models may travel too fast and leave some unwatered parts on your lawn, this issue will not happen here. You can get the sprinkler to travel slowly to sprinkle all corners of your garden.
Last but not least, thanks to the auto-shutoff function, you can leave the equipment to work on its own without wasting water.
Pros
Great durability.
Auto-shutoff function.
Wide coverage.
Adjustable traveling speed.
Cons
The wheel caps, sprockets, and gears are flimsy.
Brand: Gardening Supplies
Material: heavy-duty cast iron
Style: traveling
Best for: cast iron body
The Watering Equipment traveling sprinkler is a great way to keep your lawn looking lush and green. This traveling sprinkler is made of rustproof cast iron, so it will last for years.
The best traveling sprinkler can cover up to 13,500 square feet of area, making it perfect for larger yards. The auto-shutoff feature ensures that the sprinkler won't over-water your lawn. Plus, it's easy to use – just attach the hose and turn it on!
The Watering Equipment tractor sprinkler is an efficient way to water your lawn without having to manually move the sprinkler around. It follows the pattern laid out by the hose, so you don't have to worry about missing any spots or over-watering certain areas.
The adjustable spray range allows you to customize how much water each section of your entire lawn gets, ensuring that all parts of your yard get the right amount of moisture, suitable for your watering requirements.
Overall, we highly recommend this Watering Equipment tractor sprinkler if you're looking for an easy and efficient way to keep your lawn looking great. You'll be able to save time and energy while still getting great results!
Pros
water pressure
spray arms
cast iron body
water hose
stationary watering
Brand: AMIAWIT
Material: heavy-duty cast iron
Style: traveling
Best for: water coverage and durable cast iron body
This Nelson heavy-duty cast iron traveling sprinkler is an excellent choice for homeowners looking to keep their lawns well-watered. This sprinkler has a cast iron body with chip-resistant, powder-coat paint and can cover up to 13,500 square feet.
The adjustable aluminum spray arms provide a coverage range of up to 200 feet, making it ideal for larger yards. Additionally, the auto shutoff system feature ensures that your lawn won't be over-watered.
Once you purchase this Nelson traveling sprinkler, you will be extremely pleased with its performance. The cast iron body is easy to assemble and set up in your yard and you can easily adjust the spray arms quickly. You will get the coverage you need.
The auto-shutoff feature works great and I never have to worry about overwatering my lawn. The cast iron body is also very durable and should last you many years without any issues.
All in all, you should choose the best traveling sprinkler if you're looking for a reliable and efficient way to water conservation objectives. It's easy to use, provides great coverage, and is built to last.
Pros
cast iron construction
for large lawn
adjustable sprinkler arms
automatic shutoff
durable sprinkler
Cons
jumps off the watering path
#4. Nelson RainTrain Sprinkler – Best for the high speed of the sprinkler system
Brand: Nelson
Material: Aluminum, cast iron, brass
Style: traveling
Best for: large lawns and sprinkler moves
The Nelson RainTrain can bring about generous rain to every plant in your garden in the driest weather.
Its standard tractor system will drive the sprinkler along the 200-foot path of the hose that it is connected to and distribute water to ambient trees on its way.
Together with such an enormous traveling length, it is capable of moisturizing a massive expanse of nearly 14.000 square feet.
While your yard is patchy due to the lack of precision of your current sprinkler, this Nelson RainTrain will not let you down. With a few simple actions, you can set up the device to work at different speeds to make sure that all spots can receive water.
Apart from flexible traveling capabilities, versatile speed variations, and ample yard coverage, the device is of exceptional durability.
Its exterior is made out of metal and adorned with eye-catchy yellow paint, so no one will accidentally step on it. Overcoming wear and tear, the sprinkler will be a long-lasting savior of your thirsty yard!
Pros
Quite sturdy and maneuverable.
Last for years.
Adjustable speed settings.
Wide coverage area.
Cons
Difficult to regulate spray patterns.
Heavy.
Brand: Orbit
Material: Plastic, metal
Style: traveling sprinkler
Best for: three-speed controls
In spite of its simple styling, the Orbit 58322 comes with a cast iron body and powder-proof paint. Thus, it is incredibly sustainable and rarely requires maintenance.
The type of cast iron that it is made from is also rustproof and waterproof, so the sprinkler can maintain its performance for years and years regardless of weather and time.
Moreover, this Orbit self-propelled sprinkler allows users to utilize the three-position speed control function to customize speed effortlessly.
Apart from the ability to travel along hose paths that you pre-install, the equipment features adjustable spray arms to distribute water to areas 15 to 50 feet in diameter.
Like Nelson 818653-1001, Orbit 58322 is capable of covering up space of up to 13.500 square feet while moving along 200-foot hoses. Therefore, it can serve large gardens well, too.
If you enable the appliance in high gear, the sprinkler should travel at the speed of around 37 feet an hour and sprinkle 1/4 inch of water. When in low gear, it will travel at the rate of 21 feet an hour and sprinkle 1/2 inch of water.
Pros
Wide coverage area.
3-position speed control.
Automatic shut-off.
Durable cast iron construction.
Adjustable rotary spray.
Cons
Somewhat heavy.
It tends to have trouble with turns.
Brand: Melnor
Material: Metal
Style: Traveling
Best for: a large lawn (13,500 square feet)
The Melnor 4501 is a heavy-duty traveling sprinkler. Made from cast iron, the tool is so durable that it will last for many years.
Therefore, the producer Melnor, does not hesitate to cover it with a genuine lifetime limited warranty.
You can totally get the device to take care of your garden without your supervision. It will distribute water to all kinds of plants over an expanse of 13,500 square feet and turn itself off when everything is done.
Depending on your requirements, you can set the water spray at high, neutral, or low. Plus, you can also adjust the spray arms to work in a diameter ranging from 15 to 50 feet.
Even if there are slopes in your garden, this Melnor sprinkler is still ideal. Its wheels are designed to resist any slipping and stand still on high traction areas.
Pros
Automatic shut-off.
High traction wheels.
Wide coverage area.
It comes with a limited lifetime warranty.
High or low-speed control.
Brand: Watex
Material: Brass, PVC
Style: Adjustable
Best for: durable construction
We highly recommend using this Watex WX44 for use on massive gardens or lawns.
This cast iron sprinkler is self-propelled with a two-speed gearbox. Thereby, you can always ensure every tree and flower in your home will get enough water. Nothing will be missed!
We tried connecting the appliance with several hoses. Although it is okay to utilize a 0.5-inch hose, it works better with a 0.6-inch one. Beware that smaller tubes tend to be more unstable.
Once you install the Watex traveling sprinkler to your hose system, it will be able to travel along 200 feet of hose and spray water over an 11,900-square-foot-diameter area.
Lastly, we found out that the water pressure from 20 to 120 PSI is the most suitable for this tool. So if you intend to use it for light work, it is going to be a huge waste.
Pros
Durable cast iron construction.
There is a 2-speed gearbox.
Automatic shut-off.
The sprinkler can weave hose for various patterns
Wide coverage area.
Cons
The device does not work well with small hoses.
Somewhat heavy.
Things to consider when buying a traveling sprinkler
Below you can find the critical reasons to consider when purchasing the best traveling sprinklers for your needs:
1. Budget
The very first thing that you ought to consider in choosing a traveling sprinkler is your overall budget for lawn and/or garden maintenance.
If you're looking to cut costs while being more time efficient, then there are several cheaper traveling sprinkler alternatives that you may utilize and purchase from the market.
Automated traveling sprinklers, which make use of "smart" mechanisms, such as automatic shutting off of water, as well as shutting off when a transaction is obstructed, are available in higher-costing machines.
If you decide to make use of traveling sprinklers that make use of just simple water physics to get it moving, then expect it to cost less.
Whichever you choose, convenience is something that would be guaranteed, so long as you allot the necessary budget.
2. Lawn or area size and type
Another crucial factor you ought to consider in choosing a traveling sprinkler would have to be the size of your lawn or area.
With that said, not all of the traveling sprinklers you see in the market have the same water capacity.
If your lawn is of huge size, then you might as well want to choose one that's capable of irrigating wide areas so as to make the process of refilling one which is convenient and efficient for you.
This is something you ought to keep in mind, given that it would be such a hassle if you had to stop and go every few minutes or so just to have it refilled.
Usually, the maximum irrigation coverage for each area is indicated in the traveling sprinkler's specifications.
Is your space a lawn? Is it a bowling green? Cricket Square? Or maybe a garden? This could also be a factor worth considering.
3. Type of plants to water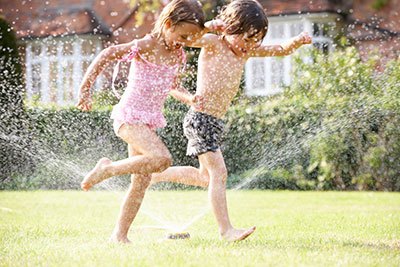 Some plants may require little to no watering, and some of these plants require a little bit more.
Having said that, make it a point to consider the needs of the individual plants that are covered by the traveling sprinkler.
Only make use of a traveling sprinkler that allows you to provide your plants with the right amount of water they need.
This is a crucial aspect in choosing the best traveling sprinkler for you, as too frequent watering, as well as making use of inappropriate volumes, would most definitely do more harm than good.
4. Quality of sprinkler
If you are to choose a sprinkler for your garden needs, make it a point to make use of those which are known for their good quality, and never settle for less.
Later on in this article, we would be giving you the 5 best recommendations for traveling sprinklers, each of which is of their best quality.
The quality of traveling sprinklers are usually dictated by their operating mechanism, the class of materials that are used, and the manufacturer itself.
It is better to opt for devices with an even mix of plastic and metal for its parts, and if it is to be made out of metal, it has to be of the stainless steel variety.
Another factor that you should consider in terms of quality is its ability to control the level of saturation.
The more options you have for which the rate of water comes out of it, the better.
5. Warranty and maintenance scope
A warranty period basically guarantees you free or minimal cost for repair should your traveling sprinkler fail within a specified time period.
The longer the warranty period of your traveling sprinkler, the better it is for you.
Also, make it a point to choose one with as many maintenance freebies as possible.
The turbine and gearbox of certain traveling sprinklers have a lifetime of free maintenance, and this is something that you ought to look out for in traveling sprinklers.
6. Design
Last but not least, the design is one of the things you ought to keep in mind. 
Certain designs are built for certain types of lawns or fields. Choose according to what fits your need.
FAQs
Are traveling sprinklers worth it?
Absolutely! Traveling sprinklers are a great way to water your lawn with minimal effort. With a traveling sprinkler, you can set up a hose path and the sprinkler will move along it, watering your lawn as it goes. This is much easier than dragging around a regular hose-end sprinkler and manually moving it from one spot to another.
Plus, many sprinklers have adjustable speed settings so you can control how quickly or slowly the sprinkler moves. With its durable construction and large coverage area, a traveling sprinkler is worth the investment.
How fast does the Orbit traveling sprinkler move?
The Orbit traveling sprinkler is designed to move at a speed of up to 10 feet per minute. It can be adjusted to travel in a straight line or follow curved paths, and the speed can be adjusted by turning the wheel on the back of the unit.
How does a walking sprinkler work?
The water moves down the hose and into the traveling sprinkler, which contains a turbine drive system powered by the water pressure. This turbine drive system is connected to a set of gears that turn the wheels of the sprinkler, allowing it to move across your lawn as it waters.
The track doesn't need to be perfectly straight for it to work, but it should be laid out in a pattern that allows it to reach your entire lawn.
How much water does a traveling sprinkler use?
A traveling sprinkler uses approximately 7/8" of water per hour when set to low speed. The amount of water used can vary depending on the pressure and nozzle selection.
For example, a typical sprinkler using a standard 5/8″ garden hose for one hour uses about 1,020 gallons of water.
How to speed up Nelson traveling sprinkler?
The Nelson Traveling Sprinkler RainTrain 818653-1003 can be adjusted to three different speeds. To speed up the sprinkler, you can increase the water pressure and adjust the connecting rods on both sides of the sprinkler so that they are facing outward.
Additionally, make sure that your spray arms are correctly installed and not in the shape of an arc. This will help ensure that your Nelson traveling sprinkler is running at its optimal speed.
So, what is the best traveling sprinkler for your garden hose?
The best traveling sprinkler is the Nelson Traveling Sprinkler. The traveling sprinkler reviews show the best sprinkler features, such as:
adjustable speed control,
high traction wheels,
spray coverage
water pressure
automatic shut-off feature.
The price point of the traveling lawn sprinkler might be higher, but the sprinkler system offers better quality for the price.
Conclusion
Various sprinklers offer multiple benefits and adjustable spray arms to spray water and keep your lawns optimal. You can adjust the slow or high-speed control to ensure the best water coverage with your hose length.