We bet that every homeowner has at least one wheelbarrow model in their collection. But, is it serving you right? Is it a two-wheeled or one-wheeled wheelbarrow? Does it have a steel frame or a plastic tub? Can it handle heavy-duty choirs?
If we confused you for even a second, that means that you are yet to be introduced to the best wheelbarrow in the market.
There are various options, and it can be challenging to choose the right one, mainly because they come in many sizes and are meant for different types of tasks.
We are going to help you choose the best wheelbarrow for you, whether you need it for heavy brick carrying or light transportation of flower pots.
Below, you will find the best wheelbarrow options that are fit for every garden fanatic.
What is a wheelbarrow?
A wheelbarrow is an equipment used to carry a load. It usually consists of a wheel located on its front and a handle where the person can push through it.
This is very useful equipment commonly used in gardening and home construction tasks.
The benefits of using a wheelbarrow
1. Easier gardening
One of the best things about using a wheelbarrow is that it can make your gardening easier.
This is because you can put the soil, plants, and other gardening tools on it while you're roaming around your garden. No need to carry things by yourself.
Aside from that, planting becomes so much easier because you can just pour the soil from the wheelbarrow directly into the ground.
2. Reduce pressure on your body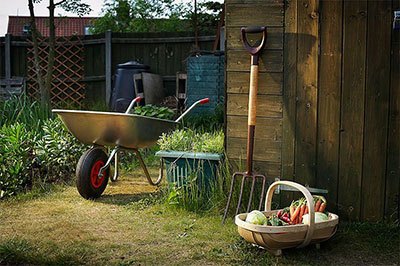 Another cool thing about wheelbarrows is that this help reduces pressure in your body.
You do not absorb all of the pressure from the weight of the object you're carrying. This is because your wheelbarrow gets a share of that weight.
The wheels and the handles serve as a form of leverage, which distributes the weight of the object evenly between your arms and the wheelbarrow.
You just merely push the wheelbarrow backward and forward.
3. Improves efficiency in doing physical work
The best thing about wheelbarrows is that they make you a more efficient worker.
What we mean by efficiency is that you can finish your job faster with the help of a wheelbarrow.
Research says that using a wheelbarrow can triple or even quadruple your speed in doing physical tasks.
This also means that you get to do other, more important things.
Best wheelbarrows money can buy: My top 10 favorites
For all who are searching for a heavy-duty wheelbarrow that supports any material you had in mind, we have selected the Jackson M6t22, Wheelbarrow.
This wheelbarrow has worked its way up on our list by being a sturdy, efficient, and high-quality model designed to intake heavy loads.
The tubed wheelbarrow can take up to 6 cubic feet of load capacity in its seamless tray. The tires on this impressive wheelbarrow are tubed for extra durability and sturdiness.
For any heavy load, we would personally choose this particular model. It is specially designed to carry heavy intake with its high tub walls that are covered with non-flexible steel. It means that the model is not prone to any damage or scratches.
Moreover, the hardwood handles make it easy to push the wheelbarrow along bumpy surfaces. This was designed to be a contractor's favorite working companion. Therefore, you can be sure that it has a sturdy and trustworthy build.
The one-wheeler has a patented leg stabilizer that prevents any tipping over and helps the wheelbarrow in place.
Pros
One wheel
Study build
Heavy duty
Seamless tray
Steel tub
6 cubic feet capacity
This lightweight wheelbarrow weighs only 29 pounds, making it up to 25% lighter than other wheelbarrows on the market. Such a lightweight helper, it can hold up a severe amount of heavy-duty loads.
The Marathon Dual Yard Rover wheelbarrow can take up 300 pounds of load capacity, all with the help of a 5 cubic feet tray. The tub is 27.5 inches long and is perfect for material transport such as wood.
When you are purchasing a wheelbarrow, make sure that it is rust-resistant. It is highly essential since you are about to use it for various purposes. This model is made out of rust-resistant poly material that will preserve the quality of the wheelbarrow for a longer time.
Since this is a smaller Yard Rover wheelbarrow, the unloading of the materials will be much more comfortable than with heftier models. Because of its size, it has two wheels and a loop handle for easy maneuvering.
The two wheels prevent the wheelbarrow from tipping over to the side when carrying a heavy load. However, It may present a problem for taller people because it is low to the ground.
Cons
Not as suitable for heavy loads
The WORX brand delivers the best way possible in any tool they come up with. We appreciate this brand for offering trustworthy products that serve every customer right.
This wheelbarrow can take up to 300 pounds of heavy load in its steel frame. Although the bin is a bit smaller in size, it will deliver its best performance every time.
You might need to take frequent trips back and forth, but at least you won't overload the wheelbarrow with the amount it can't handle.
A feature that we were amazed by is the transformation of the wheelbarrow into a dolly. Moreover, when it is paired with an included pot strap, it can safely move fragile flower pots without any risks.
Other accessories that come along the WORX Aerocart help you move various objects, such as appliances or wood. A problem that we have with this model is how low-grounded it is.
You will find that it causes a bit of back strain if you are taller, but this is nothing you can't get used to after a few tries. Also, the painted steel construction can leave a few scratches.
Pros
Includes accessories
Study build
non-pneumatic wheels
The Gorilla Carts is a perfectly sized wheelbarrow for all garden work that includes loading and unloading of material. We selected to review this particular dump cart because it is ideal for all medium-sized yards that do not require heavy loads.
Starting with the handle is a 2 in 1 padded handle that offers easy maneuverability and makes the unloading process much more manageable. It is always crucial to have a comfortable handle on tools, and this allows simple pulling along the action.
As for the tub, it is made out of polypropylene. The plastic bed tub may not be as suitable for heavy load intake, but for pure gardening material, it will work just fine.
It also has a sturdy frame that prevents any spills of the load along the way. All the work is made possible by the four pneumatic tires that navigate smoothly across every surface.
Finally, if you were wondering about load capacity, this Gorilla Carts dump cart can take up to 600 lbs. Whether that is wood, metal, or any other type of gardening material, the unloading process is made easy with quick-release dump technology.
Pros
High load capacity
Pneumatic tires
Firm grip
Cons
The plastic tub is prone to damage
Presenting a lightweight wheelbarrow that can hold up to 330 lbs of weight. What more could you need from a garden cart?
This wheelbarrow has two wheels that balance all the heavy load you pack into this helpful bed. The deep bed can hold up to 5 cubics of soil, concrete, wood, or any material that needs a transfer.
The two-wheel design has inflatable 13-inch tires. They have a sturdy build that will transport all of the material you had in mind with ease.
All the bumpy surfaces that once presented a problem for wheels are now a thing of the past. These wheels will smoothly carry out their duty.
None of the transport duties would be completed without the help of a comfortable handle. The thick and padded handlebar can double as a handrest whenever you are feeling tired. It makes the moving of heavy-duty loads as easy and comfortable as it gets.
This wheelbarrow is designed with powder-coated steel that resists any rust build-up. Also, this model is storage-friendly and allows a smooth and comfortable fit for any area.
Pros
Inflatable tires
Two-wheeler
Easy storage
Can hold up to 330lbs
5 cubic feet capacity
Cons
The instruction manual is vague
Something different on our list is the wheelbarrow that is designed to fit all the gardening fanatics. Although it is smaller in size, it is perfectly fit for any gardening that needs light help with weeding or hauling.
The Giantex seems like a mini-wheelbarrow, but don't let it fool you. It can take up to 6 cubic feet of capacity since the sturdy build supports heavyweights.
For the longevity of the wheelbarrow, it is powder-coated with steel. That is, it is less likely for the model to get scratched or dented.
Moreover, the light steel tub is easily assembled. It takes no time to gather all the attachments and begin your work.
This model has two air-filled wheels. What we were amazed by is that the wheels work together with the cushion loop grip handle and make the entire process of lifting the product much more comfortable.
Overall, it is evident that this model was designed to be used for lighter tasks since it is made out of durable poly materials. It is also easy to store since it is compact and light.
Pros
Two-wheeler
Air-filled tires
Great for lighter tasks
6 cubic feet of capacity
Cons
Small
Not suitable for heavy loads
Next up on our list is the Mac Sports Collapsible Folding Outdoor Utility Wagon. You may wonder how this took place in our review but listen.
Mac Sports has been a growing innovator in wagon manufacturing, they deserve their product to be reviewed in any wheelbarrow reviews, and you will see why.
This utility wheelbarrow opens in seconds. No more assembling the wheelbarrow and keep losing track of attachments. Your new purchase will be ready in seconds for use.
Moreover, this is an extremely lightweight helper, and you don't have to worry about overloading it with a heavyweight. It will carry out the desired material to any place without making you tired along the way.
We were amazed by its ample capacity that fits anything. You can simply fold it and take it to the park, camping, or any other adventure you had in mind. All of your products go into the heavy-duty frame that allows a capacity of 150 lbs.
Another practical feature is the extendable and adjustable handle that helps secure transportation and is easy to maneuver. Also, for all the picnic trips, it has two mesh cup holders that keep your beverage fresh.
Pros
Foldable
Lightweight
Easy to maneuver
A unique wheelbarrow model comes from Rubbermaid. Wonder why we said it is unique? Well, you have to stick around and find out.
The Rubbermaid model differed from other wheelbarrows we reviewed mostly by its wheels.
This is a two-wheeled model but with 20-inch tires. This means that the large wheels make it easy to push the wheelbarrow around the bumpy or any other surface.
We all had to deal with a harder push when we overloaded the wheelbarrow. But not with this one. It gives a smooth drive with its special tires.
Unlike the previous models, this one does not have inflatable tires. They are made out of solid rubber. You will never again have to worry about pumping tires or whether they will break.
The bed of the wheelbarrow is made out of durable polyethylene prolongs the longevity of the wheelbarrow. It is also less prone to any damage than metal beds.
If you decide on purchasing from this brand, you can choose the load capacity for the wheelbarrow. It all goes according to your needs and desires.
Pros
Two-wheeled
Easy to push
Rubber tires
Durable
Polyethylene tub
For all of our elderly audiences, we have prepared a particular review. The Suncast 2-Wheel Resin Multi-Purpose Wheelbarrow Cart. This light wheelbarrow will make any transportation seem smooth and easy.
The light cart is used for any yard and gardening transportation tasks that require a little bit of a push. We have all encountered a situation when we come home from the supermarket overloaded with grocery bags.
With the help of this cart, you can easily fit all of your bags and carry them from the car to home. No more going back and forth to pick up every last bag.
Designed from heavy-duty resin plastic, this wheelbarrow is made to last for years and years of use. This will be your favorite helper for any indoor or outdoor tasks.
Pushing the cart is also easy and smooth, all with the help of the extendable telescopic handle. Of course, an easy push is provided by the 7-inch durable wheels that run smoothly on all terrains.
From moving the dirt to moving the flowerpots to a more suitable place, you will adore this product.
Pros
Lightweight
Easy to manage
Telescopic handle
Cons
Not suitable for heavyweight
The last wheelbarrow on our list is the Polar Trailer Heavy-Duty Cub Cart Wheelbarrow. This model is light yet constructed to study and take heavy loading without hesitation.
For everyone who has trouble with storage space and wonders where you are going to fit your new wheelbarrow, we recommend this one. It is designed to provide easily into any storage area with a pivoting distance.
Also, since this is a heavy-duty addition to your collection, we would call it one of the best wheelbarrows for concrete. It is best for carrying gravel, concrete, or any other heavy material that needs a quality wheelbarrow for proper support.
The wheelbarrow is on the lighter side, that is, about 35 pounds. It is recommended you use this one for any loose materials. Why? Well, because, often, free materials can tip over the wheelbarrow if it is not sturdy enough.
But that is not the case with this model. It contains a steel frame that can hold up all the weight you had in mind. It has a seven-load capacity that none of the other models can compete with.
Pros
Durable
Steel frame
Heavy-duty
Easy to maneuver
Buyer's guide for best wheelbarrows
Here are a few notes you should have in mind before making your purchase.
1. Size of the wheelbarrow
Before you decide on your favorite model, take a look at the size of the frame and tub.
Wheelbarrows come in all kinds of shapes and sizes, and they require special attention from you. Not only does the material intake matter about the size but also, your height takes a crucial role here.
If you are shorter, you will find yourself struggling with wheelbarrows that are heavier in build and often leave the work unfinished. That is why you must choose what you can handle. Always seek to make the job easier for you.
But, if you are taller, you might struggle with shorter wheelbarrows. No one wants to strain over a low-grounded wheelbarrow every time you need to finish a task.
2. Tires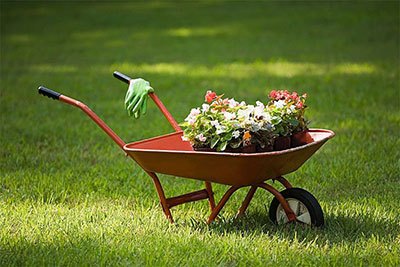 Typically, there are three types of tires for wheelbarrows.
Pneumatic tires: Pneumatic tires work like bicycle tires; that is, they need air filling to stay firm. They give proper support to bumpy roads and have air tubes inside. Air tubes act as cushions when you are moving heavy loads.
Non-pneumatic tires: We are amazed by these types of wheels. They do not take any air for filling since most of them are made out of durable rubber. They come in handy when you are pushing heavy loads or if you are driving a wheelbarrow up the hill.
Semi-pneumatic: These tires have air fillers in certain spots and run exceptionally smoothly. However, not most of the models possess them.
3. Number of tires
– One-wheel wheelbarrows offer impressive maneuverability over uneven surfaces. Due to the one-wheel, they make smooth turns around the corner.
– Two-wheel wheelbarrows are stable but better used on flatter and even surfaces.
– Four wheels wheelbarrows are great for carrying heavy loads and are least likely to tip over. However, four-wheel wheelbarrows are difficult to push around; they require a bit of physical strength.
4. Material of wheelbarrows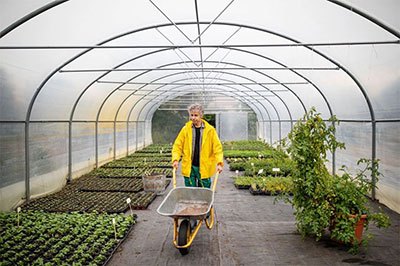 Plastic wheelbarrows: Based on your needs, you will choose the material you want. Therefore if you are looking for a wheelbarrow that does not need to carry out a heavy load, go for a plastic one.
There are plenty of models that are made out of plastic and durable. Plastic wheelbarrows are a favorite of those who do not want to splurge on steel models. They make a great companion to any light garden work.
Steel wheelbarrows: If you are looking for a sturdy wheelbarrow to hold up all the heavyweight, the steel option is the right for you. However, you need to take special care of steel tubs to prevent them from rust and corrosion.
 Most of the steel wheelbarrows are covered in a powder coat that prevents them from rusting, always keep an eye on that feature.
FAQs
Who makes the best wheelbarrow?
In our opinion, the best manufacturer currently on the market is The Ames Companies Jackson.
If you scroll up on our list, you will see that we reviewed one of their products and were blown away by the quality, build, and overall performance of the wheelbarrow.
How to hang a wheelbarrow?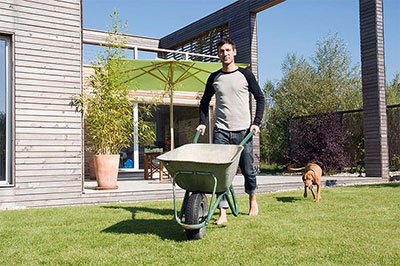 Storing a wheelbarrow can be quite a challenge. Especially if they are more prominent. But, with these few steps, your wheelbarrow will be hanged in a few moments.
The best you can do is purchase wall brackets. Next, carefully measure out where you want to place the wheelbarrow on the wall, locate the stud, and mark the height of the wheelbarrow.
Next, you are going to install a lower bracket and place the front part of the wheelbarrow on the low bracket. By doing so, the installation of the top bracket will be much easier since now you have the exact spot.
After doing so, you just attach the bottom and the top of the wheelbarrow to the brackets and look proudly at your finished product.
Final words
For the best wheelbarrow of our choice, we have picked out The Ame​​s Companies Jackson M6t22, Wheelbarrow.
There is absolutely no better option than this wheelbarrow. It can take heavy loads with its sturdy steel frame and 6 cubic feet capacity.
We are sure you will enjoy this wheelbarrow as much as we do and carry out the gardening work with ease.