Are you tired of manually watering your garden every single day? I bet it feels like you are spending hours and hours covering every bit of the garden area while keeping the proper lawn care.
I think it's time you take a look at this little helper that will make your gardening a lot easier. With the innovative best wifi sprinkler controller, your gardening hours will be summed down to relaxation and not too tedious watering.
The importance of having this device cannot be stressed enough, especially if you are the owner of a large garden.
You can finally manage and control the watering schedule by not putting in the tiniest bit of effort. How is that, you wonder?
Well, take a look at the review below and find the best controller that can be managed via mobile or tablet devices.
After doing so, make sure you read our buyer's guide and finish the successful purchase on Amazon.
What is a wifi sprinkler controller?
A wifi sprinkler controller is a device that lets you control your garden sprinkler.
It does this by automatically connecting to the sprinkler itself. This is made possible through the use of a wifi connection, giving you control over the watering of your plants even if you're inside the house or wherever you may be.
Thanks to the many technological improvements that are popping out of existence from time to time, these wifi sprinkler controllers have become better and more effective.
What are its benefits?
1. Monitoring
When it comes to using a wifi sprinkler controller, you are experiencing the best of garden monitoring.
This is because the watering process is literally in your hands. All you have to do is just use the device, and you can quickly monitor and control the amount of water that your garden will receive.
This also informs you if there are issues with your sprinkler system. For example, it will notify you ahead of time if a pipe is broken or if there is a crack or a blockade on the pipes. It's through this that you can quickly act on it when it comes to maintenance measures.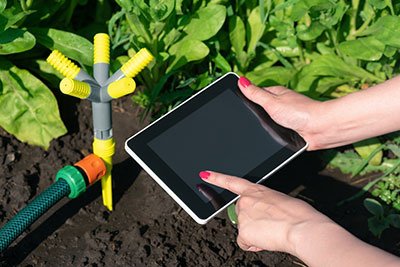 2. Weather forecasting
Not only do these sprinkler controllers give you total control and convenience over your garden watering chores, but they also give you the latest weather updates.
There are already a lot of wifi sprinkler controllers that have these features. This makes it easier for you to control or adjust the amount of water your garden receives at a certain time of day.
This also assures you that you won't flood your garden if it's raining in your home and you're far away from it.
3. Upgradeable
You don't need to worry about your device getting obsolete. That won't happen with the latest wifi sprinkler controllers present in the market today. This is because these are usually upgradeable, which means that you can update them if there are new upgrades to the system. 
And not only that, but most wifi sprinkler controllers also feature zones that allow you to change it based on the time zone that your garden is in.
4. Convenience
The best reason why wifi sprinkler controllers are highly recommended is that it gives you convenience. You don't need to go to your garden or physically be present just to turn on or turn off your sprinkler system.
You simply just have to get your device and press the buttons to activate your garden sprinkler. It's as easy as that.
This makes it a perfect device for people who are always busy or those that are out of the house most of the time.
Best wifi sprinkler controller on the market: My top 8 recommendations
The Rachio sprinkler controller is the best wireless system you will find in the market. Along with being convenient and easy to set up in your home, it also allows you to categorize the different areas into zones in your garden.
The Rachio smart watering system has a weather-sense technology that is adjusted by your phone's weather settings. The system is easy to install and compatible with Android and iOS users.
This sprinkle controller comes in options of eight or sixteen-zone settings, and you can choose whichever fits the size of your lawn better. All in all, you will not be disappointed with this smart home controller.
We mentioned that the smart sprinkler is easy to install, but did we mention the locations of installation? You can enjoy using this sprinkler system, both indoors and outdoors, and be sure that your new device is safe at all times.
The Rachio Smart Sprinkler Controller allows you to control and customize the watering schedule based on the grass and soil needs. It contains all the essential information that keeps your lawn vital and fresh.
Pros
Indoor and outdoor installation
Works even if the internet connection is down
Cons
Insufficient technical support services
We have chosen the Netro Smart Sprinkler Controller for plenty of positive features that give it an advantage over the other items on Amazon. Firstly the easily-installed system can be used effortlessly in residential irrigation.
The low water bill and healthy garden are just two of the numerous advantages of this smart sprinkler controller. As it has an advanced watering algorithm, the system controller only waters your garden when evaporation is minimal. It creates small watering circles that get deeper into the root.
As a result of that, it prevents watering when it is unnecessary or if the temperature of the soil is not suitable. A healthier garden will arise since it promotes deep root repair.
If you are not used to a bunch of confusing buttons and functions, do not worry. Netro automatically adapts to local weather data and creates an optimized watering schedule. Also, the controller keeps track of sunlight temperature and moisture levels for successful irrigation.
The modern design makes it blend into any interior. It easily connects with your phone and supports up to 12 zones and a master valve.
Pros
Adapts with local weather data
Compatible with Android and iPhone
Easy home installation
Clear app instructions
Next on our list is the Orbit WiFi sprinkler controller that is compatible with both Android and iPhone users and Amazon Alexa. The impressive technology of this controller can set automatic delays whenever there is a chance of rain or low-temperature weather.
Every home benefits from a controller that keeps their garden fresh and their budget in control. The B-hyve is designed to use its power economically and reschedule the watering when it is unnecessary. With the use of Catch Cups, the Orbit controller saves up to 50% more water than usual sprinkler controllers.
You can control all the settings via phone or at the timer. Quickly set the automatic watering, traditional programs, or advanced settings-all within a few minutes.
For peace of mind, the unit can be installed indoors or outdoors in a secured weather-resistant cabinet. This keeps the sprinkler controller safe at all times.
The water sense of smart technology is there to inspect the soil type, sun, shade, and slope. On the base of this information, it begins the watering process and treats your garden the way it deserves.
Pros
Water-resistant cabinet case
Customizing schedule
Cons
Water delay can cancel the entire schedule
We have another sprinkle controller from B-hyve just to show you the quality and diversity that the brand offers. This sprinkle controller differs from the previous model in a few features.
Let's take a look at a quick WiFi sprinkler controller comparison and see which model fits your needs best.
The B-Hyve sprinkler controller comes in a sleek and straightforward design that easily fits into any indoor interior. This is a wall-mounted system that allows both Android and iPhone users to enjoy its capabilities fully.
For all of you Amazon Alexa owners out there, you will be happy to know that this controller is compatible with the system. B-hyve offers the choice of the best smart home sprinklers in eight or four-station models. Just like the previously reviewed models, this sprinkler joins forces with the weather data to create a consistent watering schedule.
Smart watering is supplied at all times. This smart irrigation controller aligns with data to provide an adequate amount of watering for your plants or lawn. Based on local weather data, the controller works to your benefit by not spiking up the water bill and using the water smartly.
Pros
Compatible with iOs, Android and Amazon Alexa
Smart irrigation
Cons
The app can be tricky to set up
Did you ever expect a sprinkle controller to have safety features to it? We were pleasantly surprised when we found out that Aeon Matrix Yardian Sprinkler Controller contains a security camera that is a careful observer of everything that is going on in your yard.
For the sprinkler, we have nothing but words of praise. It can be compared with any other item on our WiFi sprinkler controller reviews in terms of having general features. These features include the weather data and the watering by the app.
It is proven to lower up to 50% of the water bill since it uses the smart watering system for your home. Another notable feature is that the system detects local weather restrictions and makes sure you don't overwater the lawn when you are not supposed to.
The feature we all admire is the control of the security camera and sprinkle controller via phone or voice control. The system is compatible with the iPhone and Android, as well as with Alexa.
You can easily set up and install your new device and keep your lawn fresh and the backyard safe with security detail.
Pros
Security camera
Voice demands
Available as a 12 zones model
Cons
The instructions on the app can be confusing
An unstable internet connection can be one of the most irritating things nowadays. How do you expect to get the best smart sprinkler controller if your Wi-Fi is unreliable? Well, for that reason alone, we have chosen the RainMachine Touch HD-12.
For this sprinkle controller, you do not need a constant WiFi connection. If you do not want your data to be stored on the cloud, then the Rain Machine is the perfect system controller for you. The device requires an internet connection only to download weather forecasts.
A Water-Sense technology comes in the 12 or 16-zone model. Amazon offers you to choose between the two less expensive models that have fewer zones.
The overall installation is simple; however, this device differs from other products on our list. Unlike the other sprinkler controllers, this one does not automatically create a watering schedule. Instead, you have to input the time of watering and the duration of watering for each zone.
If you plan on installing it outside, we would not recommend it. The device is not waterproof, and it would be much safer for indoor home installation.
Pros
Suitable for those with unreliable internet
Does not save data on the cloud
Cons
The app is confusing
Not waterproof
The Rain Bird is a well-known name when it comes to smart sprinkler controllers. All the control is in your hands when it comes to this sprinkler system.
Plenty of weather factors are included when it comes to making a schedule for the RainBird WiFi sprinkler controller. As with other smart home sprinklers, the automatic watering schedule is possible.
The local weather forecast is not the only feature that affects the schedule. The Rain Bird smart sprinkler takes into consideration climate changes, soil type, temperature, and many other factors that will give you optimizing watering.
Apart from this, manual watering is also made possible. When we mentioned control, we meant that the ability to change each zone, time, or frequency is in your hands. You can easily set up your desired features and have the sprinkler run whenever it suits you.
The Rain Bird smart sprinkler system is compatible with both iOS and Android users, as well as Alexa voice command. For the ones who love professional lawn care, you will be pleased to know that this system can control multiple timers.
Pros
Considering various weather factors
Personalized zones, frequencies and timers
Can control multiple timers
The last on our list of best smart sprinkler controllers is the Blossom 0080-AWICD 7 Zone Wi-Fi Smart Sprinkler Controller. The easy setup and control aren't the only positive features of this irrigation controller. Here are a few highlights of this handy device.
The Blossom smart sprinkler is simply controlled via mobile devices at all times. Once you download the app, you can start controlling the watering system of your home. The app is user-friendly, with clear, straightforward instructions.
Also, you can set up the watering of individual zones and give every bit of attention to your yard. With the help of Xona technology, the smart system determines the ecosystem of the grass and soil and delivers the appropriate amount of water.
Also, on the dryest, hot summer days, you can be sure that the lawn will be taken care of.
With weather analytics, Blossom gathers local weather data and provides an optimized watering schedule for your garden. The installation is under 15 minutes with simple wiring. Also, note that this is only for indoor installations when you make your purchase.
Pros
Easy installation and setup
Watering schedule
The app is simple to use
Cons
Only for indoor installation
Buyer's guide for smart sprinkler controllers
Buying a sprinkler system can be one of the best investments for your garden, but how easy is it to choose the perfect model?
Since there are a lot of quality models on the market, it can be overwhelming for customers to select a suitable device.
With the assistance of our buyer's guide, we will make your choice much easier, and you will know what to look for in a controller.
1. Location
Firstly, figure out where you want to install the sprinkler system. Smart sprinkler controllers can be installed indoors or outdoors, depending on their installation settings.
If you decide to install it indoors, you prevent any risks of damaging the device. Also, many of them come in sleek and modern designs so that they will blend in with any interior design.
Controllers that are installed indoors offer advantages since they can be plugged into any power socket. Outdoor controllers often require additional wiring, and most of them are not waterproof.
2. Zones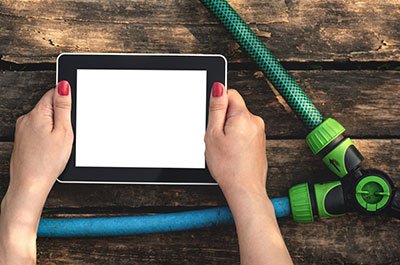 As you noticed, smart sprinkler controllers can cover numerous zones of your lawn. 
Most yards have a couple of areas that require proper but different care. Not all parts of our garden can be treated in the same way, hence the zones. By creating different zones, you are covering all the essential areas in the yard by their soil type, temperature, or sun and shade covering.
Most of the controllers on our list can cover up to 18 zones. Therefore, it is always important to measure the size of your lawn before you make your purchase. Make sure you cover all the important ranges and pick the best sprinkler or irrigation system.
3. Forecast data
For smart sprinkler controllers, it is crucial to have a device that syncs up with the local weather data.
Once you set up the weather data, you are decreasing your water spending at the same time. Let's say there are chances of rain. Then, the sprinkler will not run, and you will save a couple of bucks on your bill. 
Also, the weather interrogation system considers other essential factors such as humidity level, soil temperature, etc.
4. Operators
Make sure that the controllers are compatible with either Android or iOS systems. Most of them have voice controls such as Alexa, which makes the commands that much easier.
You can operate and control your best smart sprinkler via mobile device at all times.
5. Water Awareness
If you are looking to cut some amount on the bill, look for controllers that promise to reduce the water and energy bill. 
It is always convenient to have a budget-friendly and economical feature of the sprinkler irrigation controller.
FAQs
How long do sprinkler controllers last?
Although we cannot put the exact number on the longevity of sprinkler controllers, we are positive that these devices will serve you for a long time.
All the products on our list are made by different manufacturers that offer quality by their standards. With proper installation and service, your sprinkler system will serve you adequately.
How do you install a wireless smart sprinkler controller?
Always read the instruction manual before you attempt to install the device yourself. We cannot lay out the instructions for installing a sprinkling system because all controllers require different steps for installation.
Installing a sprinkling system is done in under 30 minutes for some models, but you do need to be careful. Seek professional help if the instructional manual is vague.
Final words
The Rachio Smart Sprinkler Controller, Wi-Fi Enable, won us over in a second! Our top choice goes out to this controller by many features. We found its advantages in the controllable watering schedule as well as a vast range of zones.
If you prefer having a trustworthy device that you can control via a mobile device, you will be amazed at the Rachio pick.
Bring the watering of your lawn to a higher level.
Rachio WiFi Smart Lawn Sprinkler Controller, Works with Alexa, 8-Zone (2nd Generation) (8ZULW-B)*
5-STAR RATINGS. Amazon's most- and highest-rated Wi-Fi sprinkler controller.
Avoid watering in the rain. Exclusive weather intelligence automatically skips unnecessary watering with features like rain skip, wind skip, freeze skip, and more.
Control from anywhere with the easy-to-use app. Run sprinklers, view upcoming schedules, and observe your estimated outdoor water usage.
Experience fast DIY installation. Rachio Smart sprinkler controllers replace 99% of existing sprinkler controllers. Install in 30 minutes or less with no special tools needed. Our in-app installation...
Deliver all the water your plants need; no more, No less. Rachio creates tailored Smart schedules based on the specific needs of your lawn, including plant type, soil type, sun exposure, and more.