Are you looking to purchase a new or used tractor but are unsure about how to pay for it?
Tractor purchases are significant investments that should be well thought out. Be sure your buying objectives line up with your financial resources, financing alternatives, and loan or lease eligibility!
It might be exhausting to research several tractor kinds, check about at neighborhood dealer stores, and investigate loan options.
Fortunately, we'll offer practical advice on how to finance your next tractor in this blog post, allowing you to feel comfortable making informed investments in your farm machinery.
Take Away Key Points:
When looking to buy new or used farm equipment, farmers and agribusinesses should consider tractor equipment financing and find a suitable financing option.
There are various important factors to bear in mind when looking around for the best tractor financing program possibilities, including the interest rate, repayment period, and ability to postpone payments.
It's crucial to consider any fees connected with tractor financings, like origination fees or late fees for missed payments.
All farm equipment financing is based on receiving credit approval. Check to see if you are a client who qualifies for a loan before making any purchasing decisions.
If you wish to avoid interest payments, the best way for financing a tractor is cash. Search for your local dealer to see the offers they have.
How does tractor financing work?
A tractor or other piece of farm equipment can be purchased through tractor finance, which involves taking out a loan.
Usually, banks will provide financing for tractors, both new and old. The value of the tractor, your creditworthiness, and your ability to make payments are just a few examples of the variables the lender will consider when determining the loan amount.
Typically, while asking for a loan, you must fill out an application and submit supporting documents such as a credit report, government-issued identification, and proof of income.
You will be given terms, such as an interest rate and repayment plan, once your application has been approved.
You will get the money to finish the transaction after all the documentation is signed. After then, you are in charge of making regular monthly payments up until the farm equipment loan is fully repaid.
Contact your lender directly to go over your choices if you discover that you are unable to make payments or would like to pay off the farm equipment loan sooner.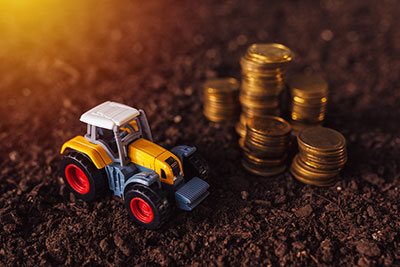 Meeting your tractor funding objectives
When it comes to financing your new tractor, you have a variety of alternatives, including conventional bank loans, government financing initiatives, and online lenders.
The majority of banks provide unique financing for tractors and other farm machinery. The terms and conditions of these loans often include a number of factors, such as interest rates and available repayment schedules.
Farmers seeking financial assistance to buy a new tractor might turn to government financing programs like the Farm Service Agency (FSA).
You can also finance equipment effectively by leasing a tractor or another piece of agricultural machinery.
For individuals who wish to keep their monthly payments low, leasing has proven to be the best choice.
For people in need of a new tractor, there are internet lenders that offer quick and simple access to credit approval and down payment financing offers.
Making the proper loan application
Identifying the amount of cash you will require for a down payment is the first stage in the procedure.
Make sure to include this in your budgeting since most lenders want a down payment of at least 10–20% of the tractor's cost.
Additionally, if you make a higher down payment, some lenders will provide unique incentives like reduced interest rates, monthly payments or flexible repayment options.
1. Bank loans for funding tractors
When you are certain of the upfront sum required, it is time to begin exploring your financing choices.
Banks are frequently a smart place to start because they frequently offer loans with affordable rates, flexible periods, and repayment options that work with most budgets.
Compared to what commercial banks offer, government financing programs, like those provided by the FSA, can offer funding options with cheaper interest rates, as well as competitive rates and more flexible terms.
It's crucial to think about the type of loan you need when applying for a bank loan for farm equipment financing.
Typically secured loans may be more challenging to be approved for without excellent credit because they usually require some sort of collateral, such a house or car. Unsecured loans are simpler to obtain approval for, but they may have longer payback terms, greater interest rates, and interest payments than secured loans.
It's also critical to consider the particular specifications banks and finance businesses have for loan applications. Before granting you credit, the majority of banks will ask for your credit report, proof of income, and other supporting papers and financial statements.
Understanding your credit score in advance can help you ensure that you are eligible for the best rates so you can afford to pay your monthly bills on time.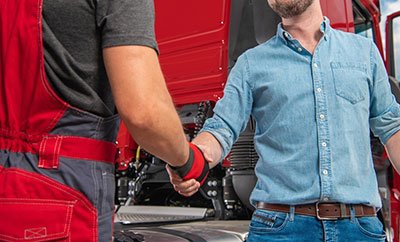 2. Finding an internet lender for tractor financing
Finally, online lenders can be a good choice if your credit score precludes you from receiving loans from traditional banks or the government.
Online lenders are becoming more and more popular for consumers looking for financing to purchase a new tractor. These loans usually have fewer restrictions or requirements than traditional bank loans and can provide rapid and easy access to cash.
While searching for internet lenders, the interest rates should be your first consideration. Comparing different lenders is necessary to ensure you're getting the best deal possible. It's also critical to take into account other factors, including loan amounts, repayment terms, expenses, and customer service ratings.
Although these loans typically have higher interest rates and shorter repayment periods than other options, they could still be worth taking into account if you don't have access to other funding sources.
Furthermore, it's crucial to avoid online lenders with excessive interest rates or fees because they may end up costing you more money overall.
Financing companies & financing programs
1. USDA agricultural loan financing programs
Via the USDA's Farm Service Agency, farmers looking to purchase a tractor, whether new or used, have access to loans and other financing options (FSA).
They also offer different ways for farmers to pay for farm equipment that are made just for them.
These financing packages include operating loans, loans for farm ownership, microloans, and emergency loans. Just like with any other program and companies, you must first receive credit approval before deciding on your financing options.
The USDA is one of the easiest tractor financing options for beginner farmers.
2. Midwest farm credit
Farm Credit Mid-America is a national agricultural lending cooperative that helps farmers, agribusinesses, and people living in rural areas in Indiana, Ohio, Kentucky, Tennessee, and Mississippi and offers loans and other financial services.
Tractor Supply provides financing options for certain projects and purchases. These are financing arrangements with a maximum term of 36 months that are interest-free if paid in full within 12 months. They also provide extended payment plans with fixed APRs beginning at 5.99% and terms up to 60 months.
Common myths about tractor loans
There are a few common misconceptions about tractor loans.
One prevalent misconception is that finance can be utilized to cover the entire cost of a new or used tractor.
This is incorrect; lenders will only fund a portion of the cost depending on your income and creditworthiness.
Another common misconception is that getting a loan accepted is difficult. As long as you meet the standards of the lender, you can get authorized even if they may have various requirements.
Last but not least, some people believe that interest rates are constant and will remain the same regardless of the lender you choose. Before agreeing to a loan, it's wise to shop about and compare offers from other banks because different lenders actually offer different rates.
Tax consequences and other things to think about before getting a farm equipment loan
There are a few more aspects that should be taken into account while obtaining a loan. This covers details like loan fees, interest rates, and payback conditions, as well as tax repercussions of borrowing money.
Depending on your circumstances, some loans may be tax deductible. For further information on this, make sure you speak with a tax or accounting expert.
You should be aware of any additional costs before signing any documents so that you can plan your budget accordingly. Origination and late payment fees are two instances of these costs.
The repayment conditions, including the interest rate, period, and other loan-specific aspects, should also be considered. Check that your present financial condition and long-term objectives are in line with these standards.
Equipment financing: New vs. Used tractor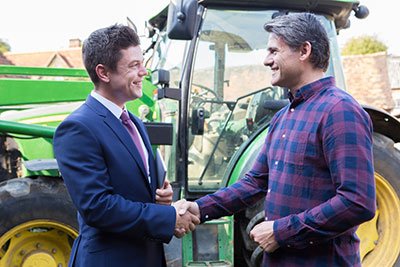 A tractor, whether new or secondhand, can be financed. Purchasing a new or used tractor can be confusing since different lenders provide different loan terms and interest rates.
A new tractor may be easier to finance than a used tractor, but this does not always imply that it is a good value. The costs and conditions for both types of tractors will be heavily influenced by your financial situation and credit score.
But, many current tractors include cutting-edge technology and features that can help you speed up and simplify your operations.
Compare lenders before making your final selection to guarantee you get the best loan rate possible.
FAQs
How hard is it to get a tractor financed?
Depending on the lender and your personal position, financing a tractor might be difficult. Your credit history is important in deciding whether or not you will be accepted for a tractor loan.
If you have ever missed a payment or defaulted on a loan, your chances of being approved may be diminished.
How long can you finance tractors?
The longest term available for financing a tractor is seven years.
On the other hand, the term of the loan can be constrained or restricted in some way, depending on the lending institution and your circumstances.
It is extremely important, before to obtaining a loan, that you completely familiarize yourself with all of the terms and conditions so that you are aware of any potential limitations.
How do I get finance for a tractor?
If you wish to finance a tractor, you must first examine your credit report. Therefore, before asking for a loan, you should research several lenders to get the best terms and have all of your financial information ready.
To be safeguarded, you should consider assets as loan security.
Can you get a 10 year loan on a tractor?
Depending on the lender, a loan for the purchase of a tractor may be available for up to 10 years.
Lenders typically evaluate your eligibility and whether or not they will provide you a loan of this length based on your credit score and other considerations.
What credit score is needed to finance a tractor?
Depending on the lender, a different credit score may be required to financing equipment. Generally speaking, though, the higher your credit score, the more likely you are to be approved for a loan and able to make your monthly payments.
When deciding whether or not to grant financing for a tractor, the majority of lenders will take into account your total financial situation and credit history.
Does tractor supply do financing?
Tractor Supply offers financing alternatives for particular projects and purchases. These are financing agreements with a maximum length of 36 months that, if paid in full within 12 months, are interest-free.
They also offer extended payment plans with fixed APRs starting at 5.99% and periods as long as 60 months.
Who has the best tractor financing?
Your particular situation and needs will determine the best tractor financing solution for you. Finding the best rate and payment plan for you requires comparing various lenders and their loan terms.
Who finances used tractors?
If you want to buy a used tractor, there are numerous equipment financing options available.
Used tractors may be financed through banks, credit unions, internet lenders, and independent financing groups, but the conditions of each loan will vary depending on your lender and credit score.
Final thoughts
The best option for farm equipment financing will be determined by your unique requirements and credit status.
Comparing several lenders and loan terms is required to find the best rate and payment plan for you.
When it comes to financing used tractors, you have the choice of going with any of the following: banks, credit unions, internet lenders, or independent financial organizations.