If you're new to gardening, you might have come across the term "grow tent." So, what exactly does it mean? A grow tent helps create an ideal indoor environment for growing your plants.
In order to raise a healthy plant, you need to set up a controlled environment. This includes temperature, humidity, and lighting, among many others. These factors can significantly affect the development of your crops.
Having your own grow tent can help you handle and manage your plants better. You can replicate the outdoor environment within the comfort of your own home.
If you think you're ready to set up your first grow tent, this article is for you. Learning the tricks and tools on how to set up a grow tent inside your home is not as complicated as you think.
You don't need rocket science to be able to figure this out on your own.
Here are the tools that you'll need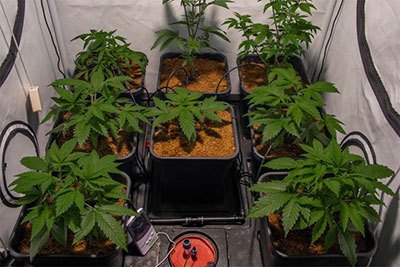 – Potted plants
– Lights (LED lights, reflectors, hangers, straps)
– Ventilation (Carbon filter, fan)
– Ducting, duct clips
– Odor control
– Temperature gauge
– Basic tools
Step-by-step guide
When you're setting up your grow tent, you need to have a reliable interior and exterior structure. You should develop a functional system that will help you produce an efficient growing process.
1. Set up the grow tent
Assemble the tent and fabric. Make sure that you use a tent that has enough vertical space to accommodate the height of the plant that you want to grow. 
Your tent should be wide enough to cover your plants and the extra equipment needed.
2. Mount the lights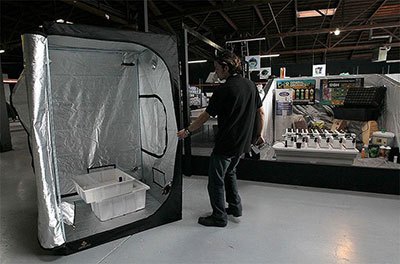 Your lighting system will provide your plants with the necessary nutrients it needs for them to grow properly. Make sure you pick the right lighting equipment that is most suitable for your grow tent. Keep the holders in place and the wirings organized.
The right amount of lighting exposure will help your plants thrive in a controlled environment better. If your equipment produces too much light, you'll have to install a bigger ventilation system to keep the heat from burning your plants.
On the other hand, lack of proper lighting won't do your plants any good either.
You can use low LED lights to illuminate your plants. It's easier because all you have to do is attach the holders to the fixture. Plus, LEDs don't require heavy ventilation.
Your tent space will be able to determine the right amount of lighting you need in your tent. Smaller tents don't need huge lighting equipment.
3. Install the ventilation system
Set up the extraction fans with the carbon filters attached to them. The carbon filters the air passing through it to produce fresh, healthy, and clean air, which also helps neutralize odors.
In order for your plants to thrive in a controlled environment, you need to create a proper air circulation system to keep them fresh and healthy.
If your tent is too hot, your plants may wither and die. This is why you need to set up a well-ventilated atmosphere to allow your plants to breathe freely.
The temperature and humidity inside your tent play a crucial role in the success of your planting project.
The air should be refreshed twenty times an hour to prevent molds and mildew from forming, as well as to avoid excessive heat and humidity.
You can calculate the ventilation requirement by measuring the area of your grow tent and the number of lighting fixtures you installed. Once you get the numbers, you'll be able to identify the recommended airflow and ventilation.
You'll need a fan, carbon filter, and ducting to be able to control the odor in your tent. This is useful and appropriate, especially when you don't want your room to smell like soil. The odor may actually depend on the type of plant you are raising.
Installing a fan will help generate a steady flow of air to cool down the grow tent. Use this formula to calculate the volume of air you need to produce per hour.
Length x width x height = n
n x how many times the air must be refreshed per hour = volume of air per hour
Dialing in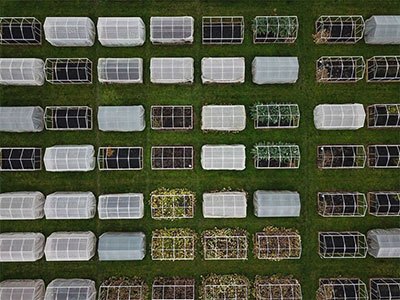 Once you've successfully set up your grow tent, the next step is dialing in. This means you need to determine the right balance between the temperature, humidity, lighting, and other conditions to maintain a consistent growth process.
Installing an environmental meter will help you monitor the progress of your plant's growth and determine if your equipment is properly working.
Regularly check if all your tools are in place to avoid any mishaps. Observe the lighting and ventilation system you've set up and see if it is helping your crops grow healthy. This will help you decide if you need to make any adjustments to the lights, fans, filters, and ot​​her tools.
Growing your plants
Using a grow tent to raise and breed healthy plants has many advantages. Creating a controlled environment will help you operate and manage your crops better. You can study and observe how your plants are reacting to the measured setting.
This is practical and useful, especially if you live in a location that has extreme weather conditions. You won't be able to cultivate healthy plants in your backyard if it constantly rains day in and out. The same thing applies if the weather is too hot and dry. Your precious greens may not be able to survive the heat.
A grow tent may seem like a challenging project to take on. However, with the right tools and knowledge, even beginners like you will be able to breeze through it without having any issues. Sometimes, you may need to experiment to see what works best for your plants.
If you find this guide helpful, please share it with your friends. We'd love to hear your ideas and suggestions on how to set up a grow tent successfully. Leave us a message below, and we'll be more than happy to answer you back.