Imagine coming to a BBQ party at your friends' house, only to see their garden hose scattered around, lying on the ground like a snake. It's quite unpleasant, right?
Having a garden hose reel is not just about efficiency. It also has something to do with your house's appearance and general decoration.
Having a beautifully decorated garden and front lawn will leave your friends mesmerized, and it'll also help with throwing the best parties in the neighborhood.
That is why we have prepared a top ten list of the best garden hose reel on the market. You don't know how to choose the right one?
Well, we have that covered, too. Check out the buyer's guide below and stay worry-free.
Best gardening hose reel reviews: Top 10 list
First up is the very best product that we were able to find, the customer favorite, AMES 2388340 Side Mount Reel, 100-Foot Hose.
The Ames company is one of the most trusted gardening manufacturers in America, and it has been for ages, specifically from 1774. You know you cannot go wrong with a product from such a well-established company.
This garden hose reel is both efficient and good-looking, perfect for lawns, gardens, and front yards. It has an integrated hose guide that aligns the hose with the reel to make the winding easier and much more practical.
Furthermore, the reel is fully assembled, and it is wall mounted. The mounting itself is easy for everyone since it requires drilling four holes, and voila! Just hang it, and you're good to go.
When it comes to the length, it holds up to 100 feet of hose, and it has a secure spin grip to make your job a whole lot easier.
Also, when you order this product, you'll get a leader hose, which is an excellent addition to such an affordable reel.
And finally, a hose clip that's integrated onto the reel provides a place to land your hose when not in use.
All in all, it's a fantastic product for a meager price that you will surely enjoy having in your garden – it comes with a beautiful design and efficiency!
Pros
100-foot wall mount hose reel
It comes fully assembled
A hose clip
Integrated hose guide
As for our runner-up, get ready for the best retractable garden hose reel on the market, the GARDENA Retractable Hose Reel 82-Feet With A Hose Guide.
The way this retractable hose operates is by having an integrated steel spring that delivers a forceful and even retraction – something that all reels should have. Plus, it also features a hose guide that aligns the hose with the reel to prevent twisting and tangling that may occur.
Do you want it hanging off the wall? No problem.
It has a guide bracket that allows this reel to be wall mounted, and it is adjustable to the sides – it swivels 180°. Once the summer is over, you can safely remove the hose reel from the bracket and protect it from frost.
One of the most annoying things with hose reels is the spillage that occurs after you've connected the hose to the reel. After you've bought this device, there will be no more worrying about that. Just connect the hose to the anti-drip device, and you're good to go!
The reel comes fully assembled with everything you need in the package, which means it's ready for immediate use.
Just bear in mind that the nozzles for this reel are not the standard type, so you probably won't be able to use your own that you have at home. Aside from that, this reel will make your home look like a designer's garden.
Pros
Retractable garden hose reel
180° swiveling
Anti-drip device
All accessories included
Are you excited about the next product on the review list? You better be because we're introducing you with the 400-foot hose the AMES 2380500 4-Wheel Steel Wagon, 400-Foot Hose.
Extensive gardening requires the very best, and you won't go wrong with this one. If you own a large garden, this will be the number one solution for you since it has a 400-foot capacity. Of course, it's not just the capacity because to do your job right, you need maneuverability and motion, which is why this hose reel comes on wheels!
If you're serious about your gardening, the best has to be durable, and this one is. The wagon has full-on steel construction – something you surely need while surrounded by water. Considering that water is the leading cause of rust, steel construction will undoubtedly keep you safe.
The downside is the price, but if you look at the benefits that you'll get from owning a steel reel wagon, it certainly pays off.
Standard hose reels tend to tangle the hose and twist it, thus creating a perfect scenario where your hose might become ruptured. A steel reel wagon eliminates that threat.
Also, it's important to mention that this reel is quite easy to assemble and install. Once you're done, you'll feel the charms and pros of this garden reel in no time.
Pros
400-foot capacity
Maneuverability
Steel construction
Easy assembly and easy to use
Next in line for a retractable hose reel review is the RL Flo-Master 65HR8 Retractable Hose Reel, the one that will charm you.
When we talk about reliable hose reels, this product is bound to come up.
First off, it features automatic rewind options that are possible because of the integrated spring. Once you're rewinding the hose, the automated guide system will help you keep your hose intact and prevent it from overlapping during retraction.
Furthermore, this hose reel has a 65 ft. 5/8 inch capacity with an included hose stopper. Even though 65 feet may not seem like much in comparison to other products, what you'll get in return is the reliability that this hose reel offers.
Also, the best hose pipe requires an excellent 8-pattern nozzle, like the one that comes included with the RL Flo-Master package. Adjust it to your individual needs – from shower, mist, soak to jet, and more.
It's easy to install and wall mount; plus, an excellent addition is that it swivels a convenient 180 degrees, thus making it versatile and comfortable.
The only thing that might concern you is the construction of the reel itself. Some customers have claimed that housing is not durable enough when exposed to harsh environments.
Aside from this, you'll be getting an excellent device for a fair price.
Pros
Automatic rewind
8- pattern nozzle for the best hose pipes
65 ft. 5/8 inch capacity
Wall mount
Easy to use
When it comes to retractable hose reel reviews, Gardena products are certainly at the top. That is why the GARDENA Retractable Garden Hose Reel 50-Feet is the next in line.
Once you feel like you've done plenty around the garden, and it's time to retract the hose, you often feel like that's the worst part of your chores. You have to bend down, gather the hose in its entirety, and carefully put it back together.
Well, with this Gardena product, all you have to do to put it back is a short pull, the lock becomes deactivated, and the hose is drawn back into the housing.
You might wonder, "What if it gets tangled?" No need for that. The automatic guide system will prevent it from twisting and tangling during the entire process.
Also, you should know that this hose reel supports a 50-feet long garden hose. It might not seem like much, but if you have a medium-sized garden, you probably won't use a hose larger than this one.
All you'll need for an easy install will be included in the package once you order this hose reel, including the additional parts to keep your reel wall mounted.
It is quite pricey, but it'll be worth it. You will feel the pressure of sprinkling the lawn come right off your shoulders.
Pros
Automatic lock activation/deactivation
Hose guide system
Easy install
Extra accessories
When it comes to garden hose reels, Suncast's products are what everyone talks about. Say hello to the Suncast Hose 100 ft Removable Reel.
If you want to make your garden look like it was decorated by a professional, this is the garden hose reel to get. It has a simplistic yet fashionable, conservative design that fits well with most gardens. Plus, it's easy on the eyes.
When it comes to efficiency and practicality, you can wall mount it, put it on the side of the house, or even install it on the fence. This versatility comes in quite handy if you have a smaller garden or yard.
You can also remove it quickly, which is excellent once the summer is over, and you need to store it over the winter. It does not support automatic retraction, but it does have a crank handle that enables you to rewind the hose quickly and effortlessly.
However, if you want to buy this device, you should know that the mounting base is much smaller and weaker than in Suncast's previous products. If this is a deal-breaker for you, reconsider your decision.
Otherwise, this device is perfectly suitable for everyday use and will not make you regret buying it.
Pros
Simplistic design
Fully assembled
100 feet capacity
Has a crank handle
Garden hoses have several uses, one of which is the beautiful touch they bring to your garden and lawn. And when it comes to design, Liberty Garden products certainly have that covered. Take a look at the Liberty Garden Products 703-1 Multi-Purpose Steel Garden Hose Reel.
Aside from looking gorgeous, the first thing we should note is the hose capacity that this device has, which is 200 feet of 5/8-inch hose that it can support.
Furthermore, it's essential to know about this device's durability, which is enormous.
It is a heavy-duty garden hose reel that consists of 13 gauge industrial steel with a weather-resistant strength powder-coated finish. What this means is that you won't have to worry at all if it gets wet during the rainy season or in harsh conditions.
It also includes a 5-inch leader hose, plus all brass/galvanized hose connections – it's not all about the looks! However, you should know that the mounting hardware is not included, so you'll have to see a dealer about that or contact customer service.
But it does come fully assembled, and it will undoubtedly make your home look stylish and help you with your everyday garden chores. Just make sure to wipe it down regularly to avoid rusting, and it will get the job done!
Pros
Stylish
5-inch leader hose
200-feet capacity
13 gauge industrial steel construction
Cons
Mounting hardware does not come with the package
Make sure to clean it regularly to avoid rust.
If you liked the previous product, you'd surely enjoy at least reading about the next one. We give you the Liberty Garden Products 708 Steel Decorative Wall Mount Garden Hose Reel.
Similar to its predecessor, this product has a fantastic design and a sweet overall touch when it comes to decorating your garden. It is relatively small, does not consume a lot of space, and fits nicely into any garden or lawn.
As for its specifications, it can hold up to 125 feet of 5/8-inch garden hose, which is probably more than you'll ever need. Of course, Liberty Garden is well known for the durability of its products, and this one is no exception.
It has a steel construction with a weather-resistant powder coat finish, similar to the previous product, but an excellent little addition is the top storage shelf. It comes in handy once you're doing work around the garden and you need a place to put your tools away.
It also comes with a 5-feet leader hose, a great addition for all the best hose reels. Also, if you take a closer look at the reel, you'll notice the subtle touches and extensions that make this device truly unique.
Just make sure to clean it and take care of it regularly to avoid rusting in time, which is a common problem with garden hose reels. Aside from this, it's as good as it gets!
Pros
125 feet of 5/8-inch garden hose
Weather-resistant powder coat finish
Unique design
Moving on, we have another reliable Suncast product that will not leave you hanging, the Resin Durable Storage Reel with Crank Handle.
There is an abundance of garden hose reels online, and choosing the best is never easy. However, if you go with reliable manufacturers, you probably won't regret your decision. For example, this product with a sturdy resin design makes sure that the garden hose on the reel lasts for a long time.
Even though it does not have automatic rewinding, a crank handle is integrated into the reel, which enables you to quickly put the hose back into the housing without much trouble. A sweet addition is a reinforced system that keeps the hose tightly connected to the reel so as to avoid any spillage and create a tight seal.
The reel is safely stored in a box which makes cluttering a problem of the past. Not only does it help you avoid random hose scattering, but it's also a great place to store gardening supplies, such as nozzles, scissors, gloves, and tools.
It might seem quite robust at first, but once you get used to it, it will become a great addition to your garden and provide quite a view for your guests.
Pros
Sturdy design
Reliable manufacturer
Crank handle
Extra storage
Easy to use
Finally, the last product up for review is the Hoselink Automatic Retractable Garden Hose Reel with a 7-Function Spray Gun.
If you want to buy a hose reel that will get the job done, but you're not sure whether it's tested and well-received with the customers, don't spend too much time worrying about it. This is the one you should get.
This Amazon's Choice product lets you hold up to 82 feet of the hose while ensuring that it won't get tangled up or twisted in the process.
It has an automatic rewind system that indeed proves to be better in comparison to a traditional reel, where you have to use a crank to wind the hose onto the reel manually. Not only does it do that job for you, but the spring that allows for this to happen is made out of high-quality materials.
When it comes to installing this device, it's as simple as it gets. Simply attach the bracket to a wall, connect the reel to the bracket, and start hosing down the lawn once you've attached the hose to the tap.
It may seem quite expensive at first, but quality devices will never be cheap. If you don't want to look back and think about the problems you had with past devices, just invest in this one and make your chores seem like a piece of cake!
Pros
82-feet hose capacity
Automatic rewind
High-quality spring
What's the best strategy for choosing a hose reel? Buyer's guide
As you can see for yourself, there are quite a few products on the market. But the main question that you should ask yourself is, "What exactly do I need?"
Fantastic hose reels have many great features that distinguish them from bad ones, and we're going to list some to help you with your search. Stay tuned!
1. Retractable or manual?
It's quite a problem. It's debatable whether hose reels that have automatic winding are better.
They do eliminate the need to do it yourself, thus saving time and effort, but if you don't go for a quality one, chances are they will have some issues in time. 
However, manual rewinding gives you a chance to control the entire process, but it's tiring and consumes a lot of time. 
In the end, bear in mind how much money you're willing to invest and what is your end goal: efficiency or just something to get the job done.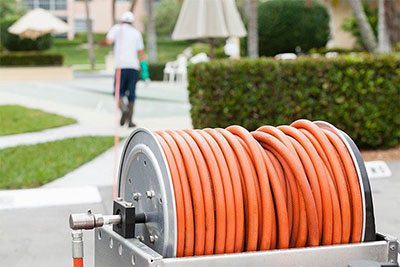 2. Reel cart or wall-mounted reel
This one depends on what you need.
In terms of practicality, you should opt out of a wall-mounted device. It offers much more space and maneuverability than reel carts do, except for the fact that reel carts have much larger capacities.
Also, wall-mounted reels are much more aesthetically pleasing to the eye than reel carts.
So, in conclusion, wall-mounted reels are probably the best fit right now for everyone looking for the best garden hose reel.
3. Materials
A common problem that arises from the extensive use of this device is rusting.
General exposure to water, combined with environmental factors and the weather, creates a perfect scenario where your hose reel becomes rusty.
One way to avoid it is to pay attention to the way you use it, clean it regularly, and protect it when the weather is terrible.
Or, you can choose a hose reel that is made out of industrial steel or even 13 gauge steel that ensures durability and longevity in the long run. 
Some wall-mounted hose reels are also constructed out of plastic, which is a no-go.
The benefits of having a garden hose reel
1. Prevents knotting
The very first benefit that you'll get out of using a garden hose reel is that you won't have to worry about the knotting that usually happens.
Knotting is also called kinking. This is when your hose folds, which then blocks the water from passing through it. This is a very irritating thing.
When this happens, you need to straighten up the hose and fix the knot or kink so that water can again flow through it.
But with the help of a garden hose reel, the tendency of knotting or kinking decreases because the hose is placed in a proper place. When you place it on the garden hose reel, the hose is coiled up properly.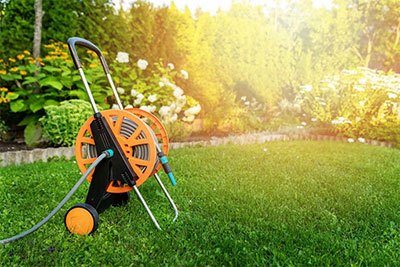 2. Safeguards your safety
It is an undeniable fact that you are at risk of accidentally tripping down when you're using a hose to water your plants.
This happens because the hose usually forms a lump on the ground. You can't easily notice this lump because it is small. Because of this, you can easily trip over it, which might then cause further injuries.
With the help of a garden hose reel, you don't have to worry about that because the unneeded part of the hose is tightly coiled up on the reel. This means that its entire length won't be spread entirely throughout the ground.
It's neatly tucked up on the garden hose reel. When you're using the hose, you just pull it and use the length of the hose that you're going to need.
3. Prevents leakage
Another cool thing about having a garden hose reel is that it prevents leakage.
This is because your hose is positioned properly on the reel. This then reduced the tendency of any leakage or spills because the gravity is not pulling the water to go out of the house.
If there is any water left inside the house, they just stay there until you open the water source again.
4. Prolongs service life
You prolong your hose's service life when you place it on a garden hose reel. This happens because your hose is neatly coiled on your garden hose reel. This means that they are not that exposed to the environment.
The chances of them getting damaged, like having a rip or hole due to a stone or being stepped over or rolled on by your car, are reduced to a minimum.
Your hose is in a safe place when you put them on a garden hose reel. Based on research, a garden hose reel can even extend the service life of your hose by more than three times.
5. Improved efficiency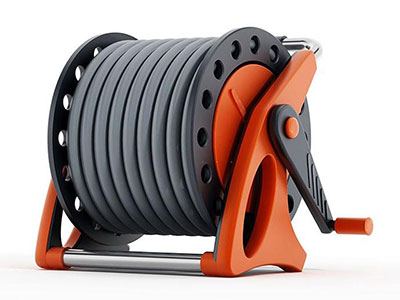 With the help of a garden hose reel, you can easily control the hoses. It's up to you how much of the house you're going to need. If you want to cover a greater area, you can just pull it effortlessly.
It helps you become more efficient in watering your plants because of the proper placement and pulling mechanism of your hose.
FAQs
What is the best kink-free garden hose?
Right now, the best would have to be the Teknor Apex Neverkink, 8844-100.
It contains a micro shield that prevents mold and mildew; plus, it's the customer favorite and is quite affordable.
Does any good come from owning expandable garden hoses?
In old age, the answer to this question would have certainly been NO.
However, nowadays, there are quite a few quality options on the market, except you'll probably have to chip in some bucks to make it worth your while.
But, if you want them, there certainly are some options, for example, the Aterod's 75 feet Expandable Garden Hose.
Final thoughts
Garden hose reels are always a lovely addition to your gardens. They help with the work, add a nice touch to the yard, and overall look nice.
However, when you're out there choosing and buying, you certainly don't want to settle for an average hose reel. Everyone wants the best, right?
And that one is the AMES 2388340 Side Mount Reel, 100-Foot Hose.
Even though it does not support the same capacity that some industrial cart reels do, the overall combination of specifications, durability, and price is off the charts for this one.
Besides, it's a customer favorite, so you know you're not going wrong with this one.
To conclude, we live in a technologically advanced era where scientists work each day to make our lives easier. One of those innovations they introduced to us is the garden hose reel.
Try it and see for yourself!
AMES 2388340 ReelEasy Side Mount Reel, 100-Foot Hose Capacity*
Plastic hose reel comes FULLY ASSEMBLED and MOUNTS EASILY to the wall
Holds UP TO 100 FEET of 5/8-inch garden hose
Primary hose and nozzle are NOT INCLUDED
6-FOOT LEADER HOSE is included
INTEGRATED HOSE GUIDE aligns the hose with the reel to make winding easier