Owning a garden is a dream of almost all homeowners, but not many people can fulfill it, especially those who live in crowded cities.
Don't worry! A hydroponics system will make your dream come true. Spend some bucks on a kit, and you will have an indoor garden to grow plants and fresh greens as you want.
Check out this article for the best hydroponics system review. We have spent much time and effort in compiling this list for you, so read on!
What to grow in hydroponics systems?
Anything you want! From greens, herbs, and vegetables to house plants, hydroponics systems can grow them all as long as their sizes permit.
In case you still need some hints, we have some recommendations below.
– Herbs: Basil, mint, cilantro, rosemary, coriander, lavender, catnip, parsley, etc.
– Vegetables: Lettuce, spinach, cabbage, peas, cauliflower, celery, green onions, etc.
– House plants: philodendron, spider plant, peace lily, etc.
Good things you can get in using a hydroponic system
1. Nutrients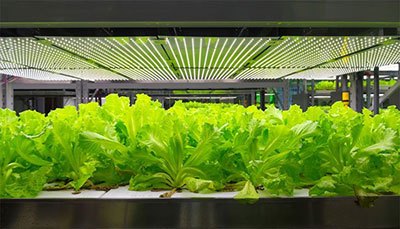 There are a lot of good things you can get out of using a hydroponic system. But one of the best things about it is that your plants can get more nutrients.
It is because the environment where it is living and thriving is specifically enriched with nutrients and minerals.
The plant lives inside a controlled environment that continuously supplies it with a healthy dose of nutrients.
2. Water-saving
It's with the use of a hydroponic system that you can save water. According to studies, hydroponic systems can use more than two-thirds less water compared to if you were to plant it in your garden.
You'll save lots of water and also lots of money as a result.
3. Affordable
Most people prefer using hydroponic systems on their plants because they don't have to spend a lot of money for the plant's cultivation.
Compare that to the price of having to buy soil, pot, fertilizers, herbicides, and all of that gardening stuff.
In using a hydroponic system, you don't have to worry about those because everything is included in the package.
4. Higher yields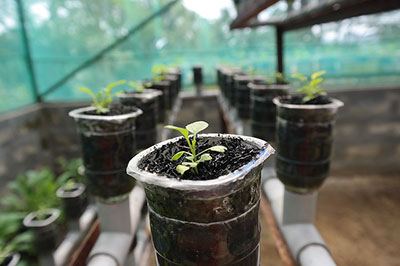 The healthier and more nutritious surroundings that the plants are in are what make them healthier. And what happens when they're healthier? They tend to produce higher yields.
So if you're into vegetation and want to increase your vegetation yields, using hydroponic systems is what you need to do.
5. Space saver
When you're using hydroponic systems, you don't have to worry about the space or the place where you're going to place your plants.
These hydroponic systems are space savers because you don't have to spread them out in the garden's soil. You just place them in a controlled environment, and they're good to go.
It's as simple as that.
The best hydroponic system you cannot miss
Topping today's list is the AeroGarden Harvest, which is pretty popular amongst gardeners as one of the best countertop gardens. As its name suggests, you can grow a garden of plants, fresh herbs, and vegetables right in the kitchen with this product.
It comes in the perfect size for a family, featuring six pods for growing mint, parsley, basil, Thai basil, dill, and cilantro. Each pod has a label indicating the herb's name, germination time, and ideal areas for growth. Is that enough for a tasty salad?
Growing has never been easier with this all-water system by AeroGarden. All you need to do is to fill the reservoir with water and nutrient solution, set the time for the system to water itself, and you are good to go! That is a completely no-mess system – perfect for in-home gardening.
"What about the sunshine?" You may ask. The answer lies in the 20W LED lighting system that provides artificial sun rays to help the plants grow quickly and naturally.
Don't worry about your utility bill, though, as these LEDs do not require too much electricity.
Last but not least, the control panel is there to improve the overall ease of use further. It will let you know when to add water and nutrients, as well as turn the light on and off automatically. Rest assured that no water is allowed to come into contact with the LED lights.
Pros
Perfect size for a family
Easy-to-use control panel
Full-spectrum 20W grow lights
Cons
Expensive for a starter kit
Flimsy feel
Unlike other products above, this is a passive hydroponics garden kit by Hydrofarm, which uses no pumps or other electrical components in growing. It is best for lettuce, greens, herbs, and many more plants.
There is a lot to love about this system.
First, it uses no electricity, so no worries about the high utility bill.
Second, it comes with eight holes for growing plants, which is enough for you and your family. For an extended family, you might want to grab one more kit.
Next, it is super easy to use. Set up the reservoir, fill it with nutrient solution, cover your roots, and you are ready to grow fresh herbs and greens with almost zero effort.
Last but not least, the kit includes all essential tools to start your garden, including one reservoir tray, one lid, one on-off bottle with a cap, six drain plugs, eight net cups, eight root wraps, and 50g of nutrients.
You can use the system either indoors or outdoors. If possible, grow your seeds outdoors to take advantage of the natural light. Otherwise, you need to equip the system with grow lights to make sure the plants develop naturally.
Pros
No electricity used
Complete starter kit
1-year warranty
You might be surprised to know that this Shung Ru kit doubles as an indoor garden and a reading lamp! It sounds strange at first, but once you try it, you will see that it is a great idea.
The thing features a full-spectrum light to serve its 2-in-1 purpose. There are red and blue LEDs that resemble natural sunlight intended for professional planting mode; blue is for the growth of stems and leaves, while red is for flower blossoms.
In reading mode, eight white LEDs will light up with three customizable levels. The arm of the light is also adjustable to meet your reading needs. Isn't it convenient?
It is equipped with other useful features as well to facilitate the growing process. For example, the LED grow lights are automatically turned on and off for lighting and sleeping. Irrigation is totally automatic, too. The red light will flash, and the machine will beep to remind you of refilling the water.
Don't worry about having to refill water constantly! The reservoir can last about 2-3 weeks before it runs out of water and needs refilling.
The only minus of this Shung Ru kit lies in the instructions, which do not tell us how to plant seeds. We hope the manufacturer can improve the manual soon.
Pros
Multi-functional as a reading lamp and indoor garden
Full-spectrum light
Automatic lighting and irrigation
12 planting seed pods are more than enough for you to get started, right? All 12 pods are made of non-toxic materials, ensuring that the plants grown are safe and healthy to consume. Aside from that, this Moistenland kit got plenty more to offer.
The thing is constructed with a highly efficient 22W LED lighting system, which provides a full spectrum of lights to support the photosynthesis process of your plants fully. Unfortunately, the settings are not customizable.
There is a control panel to turn on/off the LED light automatically. In particular, it will automatically turn off the light after 16 hours of constant use and turn it back on after 8 hours of rest, creating a cycle of 24 hours. That way, it sets the perfect light time to help your plant photosynthesis.
On top of the system lies an air circulation system that mimics the natural breeze. The plants will feel as if they are in nature and grow more efficiently. Meanwhile, there is a water pump in the tank for effective water circulation.
With all these supportive systems, your plants can grow 5 times faster than those grown in the soil! Rest assured that you can enjoy fresh greens all year round now.
Pros
12 growing spaces
22W LED lighting system
Air and water circulation system
Cons
Not customizable light settings
At first glance, this DWC hydroponic bucket kit might look a bit dull. However, you will be surprised that it features a unique design that combines deep water culture with a top-feed aerated recirculating drip.
Such a design uses less water and nutrients and grows your plants faster. This is because the plants use only enough water and put aside the rest for later use. The key thing is water does not evaporate in this system.
All in all, this is arguably one of the most efficient hydroponics systems regarding water use.
Like the SavvyGrow system, this Atwater kit contains everything you need to get started. You will receive a 5-gallon bucket, bucket lids, water level indicator, air pump, air stone, drip ring, water column, etc. There are many more to come, which you can check via the product details.
It is so easy to use that you can build the whole farm without looking at the instructions. All that you have to do is to set up the kit, mix the nutrients, plant the seeds, plug in the pump, and be done!
There is little to complain about this kit, except for the fact that the air pump seems not as powerful as we expected.
Pros
Water-saving system
Complete growing it
Easy to set up and use
Cons
Unattractive look
Not powerful air pump
This is a hydroponic drip system with 12 outlets for growing plants by One Stop Outdoor. It comes with one vinyl tubing, 12 drip stakes, 12-outlet bubbler manifold, 12 bug plugs, 8 caps, and 12 converter barbs. Everything is made of rugged material to withstand the test of time.
Keep in mind that you need to buy the pots separately.
The system uses drip emitters to allow water and nutrients to pass through and reduce clogging.
It is pretty to assemble, and the best thing about drip systems is they allow you to plug off any pods that are unused. You will save a lot of water by doing so.
On the flip side, the pods look unattractive and take up a lot of space. It is not an ideal option if you live in a small house.
Pros
Rugged materials
Automatic water system
Easy to set up
Cons
Pots sold separately
Take up much space
Another innovative product! This time, it is a 2-in-1 innovation by Back to the Roots.
This tank is a scaled-down hydroponics system that consists of a fish tank and a micro-greens garden on top. Thanks to the self-cleaning cycle, it requires almost no maintenance.
Everything is included in the kit: organic micro-green seeds, grow stones, fish food, and coupon, as well as D-Klor and Zym-bac. What you have to do is to pick out your finned friend and start growing micro-greens right away.
It makes a great gift for children, and you can teach them how to grow their 'pets' and plants at the same time!
To top all the goodies off, the thing is 100% guaranteed to grow. If your micro-greens do not grow for any reason, you will get a free replacement or a full refund. The fish would be happy swimming if the tank were a little bigger. It is quite small and hard to clean at times.
Pros
Self-cleaning cycle
Fun to watch
100% guaranteed to grow
Next, we are going to recommend a decent option by Viagrow. It is a 4-site system, which means there are four openings in one bubble bucket. We deem this an innovative idea.
The thing is designed for both rooted seedlings and cuttings. In other words, you can practice transplanting or veggie propagation with this water culture hydroponic system.
As an added perk, it uses Viastone grow rocks for planting. Such a growing medium offers a lot of benefits, for example, speeding up blossoms. In addition, Viastone grow rocks help to boost the quality of your plants.
This product comes with a 5-gallon bucket, four net cups, an air pump, an air stone, and tubing. However, it does not come with nutrients.
To make up for that, the manufacturer provides an easy-to-use PH test kit, allowing you to test the PH level of the nutrients. According to the PH indicator, red means low PH, blue means high, while yellow to yellow-green is ideal.
Pros
Complete starter kit
Designed for rooted seedlings and cuttings
Trusted PH kit
Cons
Nutrient solution not included
No manual guide
Let's bring the garden indoors with this complete growing kit by SavvyGrow. It is the perfect deep water culture hydroponics system for beginners or children and teachers doing projects in class.
This starter kit contains everything you need to grow your own organic plants, including airstone, rock wool, air pump, bucket, water indicator, tube and clay pebble, and instructions.
In particular, the powerful air pump and two air stones ensure your plants get enough oxygen to grow. Meanwhile, the clay balls serve as the growing media.
In addition, there are six buckets included, each of which holds 5 gallons of water. That being said, you will have a bucket for each plant you grow.
The whole system measures 16×10.8 inches with six holes for growing plants. It is thick and durable, featuring a locking lid to keep the interior away from any light sources. Also, the darkness will prevent algal growth inside the reservoir.
What about the drawbacks?
Well, this product does not look as stylish as the AeroGarden above. It also lacks a lighting system, so you will have to place the reservoir in a well-lighted area.
Pros
Complete kit with all essential tools
Powerful air pump and reliable air stones
3-5 times faster growing speed
Cons
No lighting system
Confusing manual guide
If six growing holes are not enough for you, take this Homend kit into consideration. It grows up to 11 plants at a time, which you can harvest all after 4-8 weeks only. Isn't it efficient?
The reservoir is made of food-grade PVC, measuring 16.9×11.9×6.6 inches. The spacing between the two holes is 2.2 inches, enough for each plant to grow fully. There is a 1.2-inch air pump equipped to supply air for your veggie.
In the package, you will find an English manual that you can consult before setting up your own garden.
Also, there is one buoy deck, one buoy, one bubble stone, one check valve, one set of silicone hose, tweezers, and 11 planting sponges included in the purchase. Note that it does not come with seeds.
Want to know the best part?
Feel free to set up this hydroponics system indoors or outdoors to your liking.
On the whole, this is an inexpensive way to grow greens right in your house. Note that it is small and not suitable for large plants.
Pros
Affordable starter kit
Useful English manual
Indoor or outdoor use
The things you should pay attention to while choosing the hydroponics systems
Don't jump to buy a hydroponics system before reading the buying guide below. Check it out!
1. Type
There are several types of hydroponic grow systems on the market, including drip systems, water cultures, aeroponic systems, ebb, and flow systems, etc.
We will tell you the details about these three most popular types in the following part.
Drip system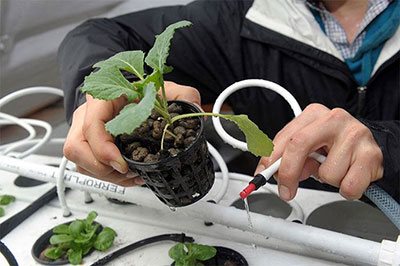 This is one of the most efficient hydroponic systems that many gardeners love.
It mainly consists of a pump and a timer, you set the timer to control when the pump supplies the nutrient solution to the plants.
The plants will only use adequate nutrients, and the rest go back into the base for later use.
Pros
– Ease of assembly and use
– It offers more control in irrigation
Cons
– It tends to clog
– Not for large plants
Deep water culture
In this system, multiple pots for growing plants are held on a floating platform on top of a container. The air stones in the platform will bubble the nutrient solution in the container, thereby supplying oxygen to the plants.
Like the ebb and flow system, a deep water culture DWC system is best for growing leaf lettuce.
Pros
Affordable price
Ease of assembly and use
Water-saving system
Cons
Not for large plants
Aeroponic
This is known to be the most advanced hydroponic grow system.
Aeroponics hang the plants in the air and use a timer-controlled pump to mist them with water and nutrient solution every few minutes.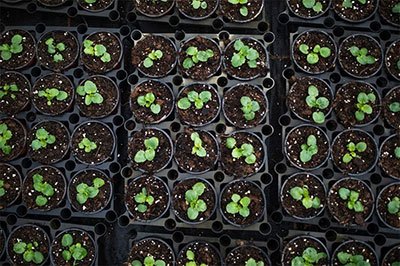 Pros
– High water efficiency
– The most advanced system
Cons
– Pricey
2. Size
Make sure the indoor garden fits the space you arrange for it. Also, check out the size of the bucket kit carefully to choose which plant to grow in it.
Do not let the plant outgrow its bucket.
3. Automation
Most advanced hydroponic systems come with automation features such as auto lighting and self-watering. All you need to do is to set up the whole thing, and it will do the rest for you.
You do not have to care for the plants often except for refilling the water sometimes. Of course, automatic units are expensive, but the convenience is worth it.
4. Features
Aside from automatic functions, there are additional features to improve the overall ease of use further.
For example, some products have a reminder to remind you when to water and add nutrients.
A few advanced kits even come with voice assistants so that you can control them via Alexa. Impressive!
5. Price
Price is an essential factor that you need to consider when buying anything, and the hydroponics system is no exception.
As said above, advanced items are more costly, but they offer more convenience. Depending on your budget, you should be able to pick up the most suitable option.
Besides the retail price, you need to pay attention to the hidden costs of operating the system as well. For example, if the system uses electricity to grow your plants, make sure it is efficient unless you want your bills to double at the end of the month.
FAQs
What is the easiest hydroponics system to use?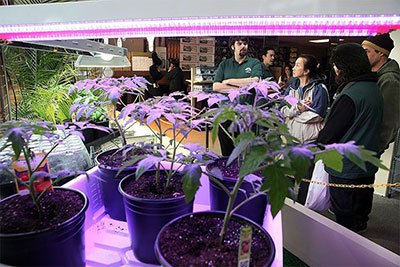 All of the above systems are easy to use.
As for us, we love those with automatic features as they save many hassles from taking care of the plants.
How many types of hydroponic systems are there?
As said above, there are many different types of hydroponic systems, including deep water culture, drip system, aeroponics, ebb and flow system, nutrient film technique, etc.
Which hydroponics system is best for tomatoes?
Almost all products on the list are. We recommend the SavvyGrow DWC hydroponic system as it is easy to use and affordable. If you want a more advanced system, you can try the AeroGarden Black Harvest.
Parting thoughts
You see, hydroponics systems are an innovative idea for indoor gardening. They are mess-free, convenient, and 100% efficient. Refer to the buying guide to pick up the best one out of the 10 products above.
Want to know our pick? It must be the AeroGarden Black Harvest. We love it because it has a perfect size for a family. It also incorporates lots of automation features to provide maximum ease of use and convenience.
Thanks for reading until the end! Do not forget to like and share this post with your fellow gardening enthusiasts.
Sale
AeroGarden Harvest with Gourmet Herb Seed Pod Kit - Hydroponic Indoor Garden, Black*
INCLUDES GOURMET HERB SEED KIT (6-POD) - Genovese Basil, Curly Parsley, Dill, Thyme, Thai Basil and Mint & a 3oz bottle of our patented, all natural Plant Nutrients (enough for a full season of...
ALWAYS HOMEGROWN: FRESH & SAFE - Up to 6 plants grow at a time, up to 12 tall with this indoor garden. Grows in water - no soil, no mess, made simple
EASY TO USE (GROW) - control panel tells you when to add water, reminds you when to add plant food (included), automatically turns lights on and off for your indoor herb garden
5X FASTER THAN SOIL - High-performance, full spectrum 20-watt LED high efficiency grow lighting system in your herb garden is tuned to the specific needs of plants to maximize photosynthesis,...
PERFECT GIFT FOR ANYONE - Give the gift of growing fresh herbs & veggies all year round in this indoor herb garden. The AeroGarden Harvest is the perfect gift idea for men, women, dad, mom, grandma,...