We, people, need extra nutrition to grow up, and plants, too, since they are living objects. Although it is okay to let them create their rooting hormone, it takes quite a long time.
So, why don't we take care of them with the best rooting hormone?
As a gardener, we bet you know how sensitive the plants are. By using a rooting hormone, it encourages the stem to develop roots, create new plants as well as protect them and cuttings from disease or fungus.
But if you are still wondering how this product can improve the success rate or what the best pick on the market is, let's help you in this post.
There is no time for hesitating. Get the answers now.
Take away key points:
You can find the best root hormone products and choose your own rooting hormone for faster plant growth
The rooting hormone picks are rich in various ingredients and nutrients to make your plants grow richer and stronger
They vary in form, so choose according to your needs
The benefits of using rooting hormone
These are the benefits the best rooting hormones offer:
1. Increase root volume
The best thing about rooting hormones is that they are very effective in increasing the root volume of your plants. It does this thanks to the effects of the release of a hormone that it does when it makes contact with the soil and the plant.
This is what makes these very useful if you want to have bigger and healthier plants.
It's in having bigger and more roots that the plant can absorb more water and nutrients from the soil, in turn making them healthier.
2. Stimulates root creation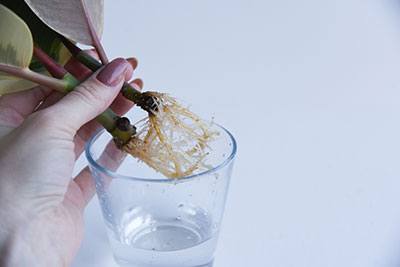 One of the common problems of some plants is that they are not naturally inclined to have a lot of roots.
It's because of this that they experience being limited regarding their capacity to absorb water and nutrients from the soil and their surroundings.
With the help of rooting hormones, root creation is stimulated, and the plant produces more roots. It becomes more welcoming and tolerable of taking in more nutrients.
3. Makes plants stronger
When plants absorb a lot of water and nutrients from their surroundings, it becomes stronger. They become more tolerant of the different changes in the environment.
Whether it's cold or too hot, the plant won't mind because they can survive through it.
They become sturdier and more resilient to changes. That's what gives them a longer lifespan compared to the other plants, which aren't given any rooting hormones.
4. Greener color
Though this might not apply to all plants because each plant has its different genetic makeup, it still applies to many. By becoming better at absorbing water and nutrients from the soil, your plant becomes healthier.
And when they become healthier, they get greener. It's this change that most people resort to rooting hormones because it makes their garden or lawn look much better.
Best rooting hormones for root growth 2023: Our 7 picks
If you need the best rooting hormone for your needs, check our list below and find your own rooting hormone pick. Our best rooting hormones won't let our down.
$ – HydroDynamics Clonex Rooting Gel
Best gel rooting hormone model for stem cuttings and propagating plants. The gel rooting hormone unit is ideal for its full coverage and plant extracts with amino acids make the rooting hormone product ideal for quick results.
The rooting gel has a short lifespan.
$ – Garden Safe Take Root Rooting Hormone
Best rooting hormone powder for its active ingredients to ensure your hormone garden needs faster root growth. The rooting hormone powder is effective in preventing pests from ruining your current stems and cuttings.
Still, the best rooting hormone powder is not the best option for edible plants.
The Hormex rooting powder is ideal for its hormone concentration on the full root systems. These types of rooting hormones are better than artificial rooting hormone types due to their harmless applications to all plants and stems. The best rooting hormones are effective and efficient.
However, these types of rooting hormones are slow in the process.
$ – Doff 75g Hormone Rooting Powder
Best rooting hormones in powder form for organic ingredients and all plants. The rooting hormones work well with different edible plants, and you can easily apply them to the stems to fully cover all parts.
Yet the natural plant hormones might be slower for some plants than other types of rooting hormones.
$$ – Rooting Gel for Cuttings – IBA Rooting Hormone
An excellent liquid rooting hormone for your plants. The liquid rooting hormone is ideal for its hormone concentrate and active parts such as indole 3 butyric acid that work with all plant parts, ensuring healthy growth from scratch. The liquid rooting hormone is affordable.
Anyhow, this liquid rooting hormone has design issues.
$ – Hydrofarm DG00201 Liquid Hormone
Best liquid rooting hormone for different types of plants. The hormone concentrate ensures the refreshing, strengthening, and healthier growth of the plants. The liquid rooting hormone is also great for quick results and moist-growing medium design.
Nonetheless, the liquid hormone might leak and might be toxic, unlike other rooting hormones.
$$ – Quick Clone Gel
Best gel rooting hormone for the quickest results. The gel rooting hormone is more advanced than other gel rooting hormones due to its effective technology and indole 3 butyric acid covering the plants in full.
You must apply the rooting hormone in small amounts.
Brand: Clonex
Form: gel
Coverage: full
Best for: nutrient uptake and propagating cuttings
In terms of clone gel, HydroDynamics Clonex rooting gel is the best pick that is created for beginners and pro growers.
Based on the latest tech, this water-based cloning gel does an excellent job of recovering the stems from the cuts as well as enhancing root growth.
Besides, the Clonex hormones and the compounds can improve the recovery, push the development, and protect the young plants.
Is there anything else?
After testing this product, we also recognize that the amount of minerals is higher than usual. Relying on that, it can offer extra benefits, including boosting the new roots and making them more resistant to potential damage.
To use it, you need to dip the cutting into the gel so that it seals the cut (remember not to dip it directly). After that, pot it up in the potting medium and let it root for one or two weeks (as long as the condition is favorable).
One thing that we want to remind you of is to check the product carefully since its lid is a bit loose. And if the gel leaks when you store it in the refrigerator, it will go bad soon.
Pros
Excellent performance
High level of hormones
Plenty of minerals and nutrients
Easy to use
Made in the USA
Cons
Loose lid, check carefully
Short shelf life, not until 2 years after opening the bottle
Brand: Garden Safe
Form: powder form
Coverage: full
Best for: the active ingredient of the rooting powders
If you prefer your unit to have more Indole-3-butyric acid and all that for an affordable price, Garden Safe 93194 is an excellent pick.
As the rooting hormone powder, it stimulates rooting from the cuttings. Moreover, it promotes root development in plants naturally as well as keeps them strong.
What's more, you don't have to worry about pests since it is able to keep them and diseases away from your plants.
Although this rooting powder is advertised to be suitable for most plants, such as flowering and tree plants, we are not sure whether or not using it for edible ones is okay.
Overall, it is easy to use. All you just do is cut the plant and then apply a bit of moisture to the end of the cutting. After that, dip it in the product, remove the excess powder, plant, and water it, then wait for the results.
Pros
Suitable for some tree and flowering plants
Effective in promoting the growth of roots
Even good for seeds
Good for control pests
Super easy to use
Affordably-priced
Cons
Not ideal for edible plants
Avoid putting too much powder, or the plants will be rotted
Brand: Hormex
Form: powder
Coverage: full
Best for: the rooting process to stimulate plant growth
Hormex Rooting Powder is an effective and economical rooting compound that encourages quick root development in plants. It is the perfect solution for those looking to start new plants from cuttings.
The rooting hormone powder is made with safety in mind, so you can be sure that it will not harm your plants or the environment.
We have used Hormex powdered rooting hormone on a variety of plants, including roses, tomatoes, and peppers. We found that the powdered rooting hormone was very easy to use and did not require any special preparation or mixing.
After applying the Hormex root hormone to the root cuttings, we noticed that they began to develop healthy roots within a few days. This was much faster than using other powder rooting hormones we had tried before.
The results were also impressive; our cuttings took root quickly and grew into healthy plants with strong root systems.
We also found that the powdered rooting hormone was very cost-effective; a small container lasted several months and provided enough rooting hormone for dozens of cuttings.
Overall, we highly recommend the Hormex root hormone as an effective and economical way to start new plants from cuttings. It is easy to use, provides quick results, and is very affordable compared to other rooting compounds on the market today.
Give it a try, and see how it will promote root development.
Pros
promote root growth
plant growth
for stem cuttings
root cell development
growth hormone
Cons
slow rooting powders
might miss a liquid
Brand: Doff
Form: powder
Coverage: full
Best for: plant cuttings to grow roots effectively
My personal recommendation for the best powder rooting hormone is Doff Natural Rooting Powder. This product is good for improving the growth of the cutting since it has all the nutrients that the plants need.
Besides, it delivers an explosive development of roots as well as promotes root branching and fine roots in a short time because it is a clean product. Plus, it helps the stem to develop healthier and whiter.
This Doff powder can be used for all edible and ornamental cuttings.
Also, it is suitable for both outdoor and indoor use, but make sure you use it right after you begin the cloning process and continue to apply it when the plant is growing.
Many professional gardeners recommend this product and have reviewed it as a highly effective product with a success rate of 99%.
The powder formulation contains all the growth hormones. It is an organic product and can be used all year round.
Pros
Good for growing roots
Perfect for transplant
Suitable for edible and ornamental plants
Can be used all year round
Organic
Cons
May work slower on some plants
Brand: Midashydro Products
Form: liquid
Coverage: full
Best for: hormone liquid concentrate to stimulate root growth
Another best-rooting hormone on our list that a lot of users are satisfied with its performance and quality is Midas Products Rooting Gel Hormone.
Instead of using Indole-3-butyric acid, this product has an IBA hormone, which is described as superior in terms of cloning. Thanks to this active ingredient, you can recognize that cloning is quicker than ever.
Plus, it is a gel-like form that cuttings easily absorb and makes them grow healthy. Though some reported that the gel is a bit sticky, as long as you are careful when using it, everything will be okay.
The most interesting thing is that this Midas gel rooting hormone is suitable for all kinds of plants. It includes essential nutrients to support the development of the plants and keep them healthy as prescribed.
And to make buyers completely confident that they are investing their valued money in a good product, the company offers a money-back guarantee. That means if you are unhappy with it, you just ask for a refund.
How about using it?
As mentioned above, make sure you pour out the contents into a small bowl to dip the cuttings (not dip them directly in the bottle).
Pros
Quicker propagation of succulents
Fast results thanks to IBA hormone
Crucial nutrients for plant development
Suitable for all types of plants
Money-back guarantee and excellent customer service
Cons
The gel is a bit sticky
The bottle's cap is poorly designed, hard to open and close
Brand: Hydrofarm
Form: liquid
Coverage: full
Best for: propagating plants
Similar to the Doff Natural Rooting Powder, Dip 'N Grow DG00201 is another highly concentrated liquid rooting hormone.
But the good news is – it can be diluted. Make sure you read the info on the dilution guide so that you get the right amount for each different plant.
For beginners, you need to be careful because you may meet some troubles when mixing on your own. Besides, avoid taking too much solution since you cannot restore it after pouring it out after a few hours.
When it comes to the active ingredient, this rooting hormone is a bit different compared to the others. It has two rooting auxins, including IBA and NAA, which are famous for inducing root development.
Moreover, it avails alcohol as a solvent to sanitize itself. Relying on that, you don't need to sterilize the container you are using to apply the solution to the plants.
In terms of application, the Dip 'N Grow DG00201 is, of course, simple to use. Wonderfully, it offers space for equal absorption by the plants.
Just remember that it can vaporize and become toxic if you use it with poor ventilation. So be careful, please.
Pros
99% success rate
Quicker root development
Two powerful rooting auxins
Self-sanitizing
Good instructions to follow
Longer shelf life up to 3 years
Cons
Some reported of leaking
Toxic for the air
Still complex to use for casual gardeners
Brand: Quick Gel
Form: liquid
Coverage: full
Best for: hormone concentrate to grow roots quickly
There is not much to say about Quick Clone Gel since this one truly stands out for delivering much quicker results.
The first thing that this natural rooting hormone attracts us is its organic elements brewed in tea.
Importantly, you will find no kind of artificial touch here. Instead, it includes over 60 different ingredients, such as vitamins, minerals, nutrients, etc., to stimulate root development better.
Another interesting thing is that the gel formula is thick and fast-acting, offering a safer choice than powders or liquids in terms of spillages.
And using the Quick Gel rooting hormone is similar to other gel types; that is, put a small amount in a separate place, dip the fresh cuttings, and then plant them. You can dip them into the water first to get a better result.
One more outstanding feature is that the Quick Clone Gel is EPA registered and suggested to clone almost all kinds of plants like trees, roses, bonsai, cactus, tomatoes, and so on.
The big drawback that we found is the higher price. However, its quality is worth your money for sure.
Pros
Highly effective
Quick results, from 5 to 10 days
100% natural ingredients
Easy to stay on the stems
Ideal for a variety of plants
Cons
Expensive
Just applied in small amounts
Buyer's guide: All about rooting hormones
Here's all you need to know about the rooting hormones and how the rooting hormone solutions work:
1. What is a rooting hormone?
As mentioned above, plants can make their own rooting hormones after a while.
When being cut, a plant basically forms callus cells over its wound and then creates hormones known as auxins, which inform callus cells to turn themselves into root cells and begin the rooting process so it can survive.
This explains why some can clone with ease.
Meanwhile, some don't manufacture enough during the cloning process or even cannot root without a stimulating product.
Hence, you need to synthetically make auxins and apply them to the cutting so that it offers a strong signal to start rooting.
Aside from helping the new cutting struggle on their own, it also encourages stronger and quicker root growth as well as protecting the cuttings from fungus and disease.
As a result, a rooting hormone (in an organic or synthetic form) is used normally by gardeners when propagating. Simply dip the cuttings in your chosen product and then pot them up.
2. How many types of rooting hormones out there?
a. Liquid
If you are going to manage a large number of plants, liquid rooting hormones will be an excellent choice since they are helpful for use in hydroponics.
There are two forms, ready-to-use and concentrated:
– A ready-to-use form allows you to use it right out of the bottle. However, you should pour it into another container instead of dipping the plants directly into the bottle.
– Meanwhile, the concentrated form has to be diluted.
Generally, the liquid rooting type is convenient. But remember that it may come with a shorter shelf life and need to be refrigerated.
b. Powder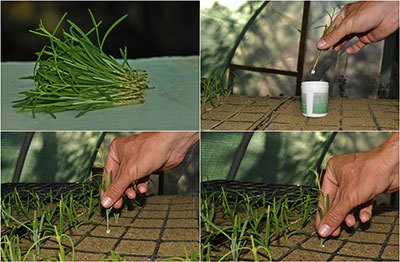 If you need a more self-stable rooting hormone, the powder version is the best choice. Moreover, it doesn't require refrigeration.
Although the root powder type is less efficient than the liquid version since the cutting texture quickly takes up more hormones in the water form, it does a great job with its longer shelf-life, cost-effectiveness, and sanitation.
To make the rooting powder stick to the cuttings well, you need to dip them into the water first. Then pour the powder into a separate plate or bowl to avoid contamination. After that, dip the wet cuttings and shake off any excess.
c. Gel
If the powder rooting hormone is used widely by commercial gardeners, the gel type is preferred by indoor and professional ones.
It's because the rooting gel delivers thicker coverage and higher convenience on the cuttings. It sticks strongly, helping the cutting soak up as much of the hormone as possible.
However, this type is not the cheapest choice, nor can you combine your solutions. Besides, it needs to be refrigerated, and if any incorrect storage happens, it can split or lose its texture.
Another important note is not to dip the cuttings directly in the gel bottle since it may spread disease and cause contamination. Remember to pour a small amount into a bowl or plate and then place them into like other versions.
FAQs
Are rooting hormones safe?
Yes, rooting hormones are safe to use.
Rooting hormones are synthetic chemicals that stimulate root growth on plant cuttings and mimic the natural hormone auxin. However, it is important to read the product label for specific instructions and precautions before using any rooting hormone products.
Some products may contain pesticides, so it is important to check the label for active ingredients and follow all safety instructions.
What is the natural rooting hormone?
The natural rooting hormone is Indole-3-Butyric Acid, which is found naturally in plants and promotes the development of roots on the most popular home, garden, and greenhouse plants. It works by stimulating the growth of adventitious roots, which are new roots that form from existing plant parts like stems and leaves.
Do cuttings need rooting hormone?
No, you don't need to use rooting hormone for cuttings.
Cuttings can sprout roots on their own with the proper conditions and care. However, when used correctly, the rooting hormone can be beneficial in helping plants that are more difficult to propagate.
What is best for rooting: gel or powder?
For larger cuttings, powders are usually best as they provide a more shelf-stable option. Gels are better for small or delicate cuttings, while liquids are best for difficult-to-root plants.
Additionally, growers often experience faster root initiation when using Hormex Rooting Powder compared to a root hormone gel.
Does the rooting hormone work on all plants?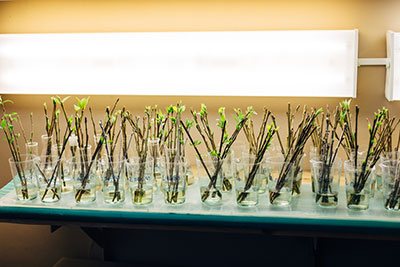 It depends. As mentioned above, most plants can create their roots without rooting hormones perennials. However, some still need the rooting hormone, and some even cannot root without it.
What can I use instead of rooting hormone?
You can use cinnamon, aloe vera, honey, willow water, apple cider vinegar, aspirin, and saliva as natural rooting hormones.
Can you use honey as a rooting hormone?
Yes, you can use honey as a rooting hormone!
Honey contains natural compounds that act like rooting hormones, helping to stimulate the growth of new roots on the cutting.
Studies have shown that honey is an effective alternative to synthetic rooting hormones.
Honey has anti-bacterial and anti-fungal properties which help protect the cutting from rot and disease while it grows new roots.
Can I use cinnamon as a rooting hormone?
The answer is No. The so-called cinnamon available from stores or online doesn't have rooting hormones. All it includes are some antimicrobial properties that help to prevent fungal development, not for forming roots.
Can you add rooting hormone to the soil?
Yes, you can add rooting hormone to the soil.
Rooting hormones are synthetic chemicals that mimic auxin, a natural plant hormone that encourages root growth. When added to the soil, rooting hormones can help stimulate root growth in plants and increase the odds of successful propagation.
Does rooting hormone have an expiration date?
Yes, rooting hormone does have an expiration date.
The U.S. Forest Service advises that it is only good for 18 to 24 months, while most manufacturers suggest their rooting hormone product's shelf life is between 2 and 3 years.
It is important to check the date on the container of the rooting hormone to ensure it has not expired.
How can I make the rooting hormone at home?
If you love the idea of making a natural rooting hormone, you can try it with some ingredients.
Let's show you a simple way to do with honey to get vigorous and healthy root growth:
– You need to boil two cups of water first
– Then add a tablespoon of organic/processed honey
– Mix all together and let it cool to room temp
– After that, dip the cuttings into the solution and propagate.
Time to get the best choice for your plants
No matter which the best rooting hormone you go with, remember that you are doing the right thing for your cuttings. Since we put so much effort and time into the list above, you are guaranteed to get the best product.
However, in case you want the winner, we highly suggest the HydroDynamics Clonex Rooting Gel.
It is not only a good rooting stimulator that contains excellent ingredients but also comes with an affordable price that you can pay instantly without worrying.
If you agree with us, order now and get a great experience.
Summary
Hopefully, you can choose the best rooting hormones and stimulate root growth in your gardens.
Your preferred rooting hormone products will be ideal for multiple plant species, such as fruit trees, woody plants, hydroponic plants, herbaceous plants, and other plant propagation.