Cannabis, or any other plant in question, all deserve the best conditions to grow and prosper and thrive. The key to maintaining this ideal environment is the soil that helps speed up the entire process.
The right pH level, organic remains, and nutrients, particles of rock and clay are all crucial to balancing the exact amount of things needed for successful growth.
That is why we're here to help and display you the best soil for cannabis on the market. It's a tricky plant that demands a lot, but once you find what suits you and the conditions required, you'll grow those buds to perfection.
Stay tuned and check our buyer's guide, which will help you make the final call.
The benefits of using potting soil for cannabis
1. Specially formulated
One of the best things about potting soil is that they are specially formulated for specific plants. This means that they will surely work out well for your type of plant.
There are a lot of varieties of potting soil that cater to the needed nutrients of specific plant types. With this, you are assured that your plant will grow in its best form.
2. Holds moisture
The other cool thing about potting soil is that they are very good at retaining moisture. It's because of this that you don't need to water your plant regularly. If you're the kind of person who's always busy, then specially formulated potting soil is what you need.
These feature some moisture control characteristic that holds the water in the soil for extended amounts of time.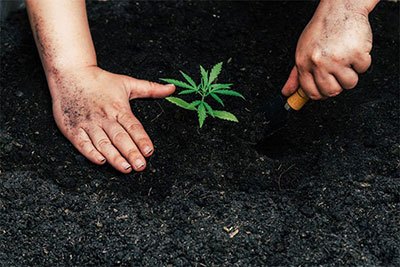 3. Sterilized
What's great about potting soil is that it is assumed to be sterile. When you use these for your plants, you don't have to worry about fungi buildup or insect and pest infestation.
Your potting soil contains compounds that won't tolerate these kinds of unpleasant manifestations. In using potting soil, there's no doubt that your plant will grow healthy.
The best soil for growing cannabis: Top 7 picks
Is there a nicer way to start our list than with the best product out there? We give you the Mother Earth HGC714837 Perlite Mix For Indoor and Outdoor Use.
The reason we see this one as the best potting soil for cannabis comes from the fact that the combination of coco+perlite creates a perfect environment for gardeners to feed the cannabis without worrying about overfeeding or overwatering the soil.
The mix itself consists of a 70% of compressed coco pith and fiber blend with an additional 30% of perlite that accounts for better drainage and oxidation.
Furthermore, you can use this soil mix both indoors and outdoors, thus making it perfect not just for cannabis but other plants as well, such as vegetables, flowers, and decorative plants.
Coconut coir, which is the main component of this mix, is fantastic for growing plants due to its water retention properties, and in combination with perlite, it creates a potent blend that your plant will prosper in.
All in all, there's no regretting it with the best organic soil for cannabis!
Pros
The best soil mix for cannabis
Coconut coir and perlite
Water retention
Price to quantity ratio
Moving on, we give you a product that you'll certainly want in your gardening shed, Fox Farm FX14240 Happy Frog Potting Soil.
As we've seen in the previous product, the potting mix that Mother Earth uses has proven incredibly potent and beneficial to plants. However, other mixes have extraordinary growing capabilities, such as this one. The combination of soil microbes and mycorrhizal fungi has proven to be crucial in the early life of potting plants, especially cannabis plants.
Also, the outcome of using this soil mix results in a stable and robust plant structure and enhanced production of leaves and flowers. As far as cannabis goes, this is crucial in maintaining a healthy bud and leaves that produce an exceptional product.
However, this product is the most potent when you use it for container plants and not in the ground. Aside from this, a mix that is excellent in pH values that helps cannabis plants prosper is something you don't want to miss out on.
Also, it's incredibly affordable! The ratio between the price and quantity of the product you'll be getting is bound to catch your attention.
Pros
Best nutrients for cannabis soil
Growing capabilities
Soil microbes and mycorrhizal fungi
Affordable
Cons
Only for container plants
As for our third product, we present you the Fox Farm Ocean Forest Mix For Garden And Plants, a super soil mix that can be used for all plants out there, including cannabis plants.
This Ocean Forest super soil is filled with sea nutrients that are ready to use right out of the bag for both your indoor and outdoor plants. With a pH value that varies from 6.3 to 6.8, this cannabis soil is in a perfect balance, not too acidic for your buds to prosper in.
Moreover, this mix comes with a free set of Pearson's Protective Gloves. As you all know, gardening can be quite messy and even dangerous at a time if you're not careful enough. That is why the addition of protective gloves is a nice gesture for all gardeners out there.
Also, it's essential to know that the balanced mix of nutrients that this super soil has is efficient for growing not just cannabis but other plants as well.
However, the price might be a bit over budget for most people that are familiar with the costs of these products, but in the end, it'll be worth it.
Pros
Protective gloves
Sea nutrients
Indoor and outdoor use
Super soil
Next in line is a powerful and potent soil for growing cannabis, the Roots Organics ROD75 Growing Media.
When you think about all the best nutrients that cannabis plants could ask for, a lot of organic soil substances come to mind. However, this product has the right amount and balance for most of them.
Accumulated excrement that comes from bats, bat guano, is a potent addition to this potting mix that gives it the ability to grow plants at high speed.
Furthermore, it has excellent worm castings, green sand, mycorrhizal fungi, glacial rock dust, and soybean. All of these nutrients together help bring quality life to your cannabis plants.
Furthermore, it's essential to know that pumice and perlite are already blended in this organic potting mix, thus providing a sufficient drainage system.
Also, it comes in a neat camouflage bag with the organic potting mix ready to go right out of the package.
However, since it's universal, you should pay close attention to how much of this product you're using and the right proportion. If you use it more than the recommended, it can cause water retention alongside fungus spread and ruin your product.
Overall, it is a great product that you should look into!
Pros
Best nutrients for cannabis in soil
Bat guano and worm castings
Drainage system
Cons
Too much of the product can cause water retention and fungi.
Have you ever thought about how large and unnecessary bags of potting soil are? You surely have since they all come in large sizes and waste too much of your space. That is why the Organic Plant Magic Potting Soil with Earthworm Castings is small in size but significant in terms of efficiency.
This bag of super soil is compressed to preserve space, but it also expands up to 7 times its size once you add water to the growing mix.
The formula, combined with the nutrients required to make this type of potting soil super soil, works incredibly fast and delivers water and the right amount of nutrients to your plants twice the time it takes for regular potting soil.
Also, if you're growing a large number of cannabis plants, you can mix this super soil with your regular garden soil and still get the same results. Otherwise, you can use it independently, and it'll do the trick.
However, some customers claim that this product is a bit overpriced since they can get a similar amount of coconut fiber mix for a lower price.
Still, they work differently, and some people might find a better use for this cannabis soil than the coconut mix.
Pros
The best soil for cannabis indoor
Expands seven times its size
Combination of nutrients
Growing potential
Are you ready to mix your super soil? Here's your main ingredient, the Super Soil Organic Concentrate.
Even though this type of soil does not function by itself, all you have to do is add some regular potting mix to it and some water, and you're good to go. Five pounds of this thing eventually amounts to 25 gallons of containers of super soil.
The great thing about it is that after you add the potting mix, there's no more hassle. This concentrate is filled and enriched with all the major nutrients needed for healthy development, ranging from organic earthworm castings to coconut water powder.
The price may concern you at first, but once you consider how much potting soil you'll get in the end, it's a reasonable sum.
However, be thoughtful and read the instructions since the concentrate is quite potent, and if you use a lot without adding enough potting soil, there is a risk of injuring and burning your plants.
So, try to look at the right ratio between the number of cannabis plants you're growing and the mix you're adding.
All in all, you won't regret using this concentrate for your potting mix.
Pros
A large amount of potting mix
Major nutrients
Potency
Cons
Too much of the product can damage your cannabis plants.
Finally, we've come down to the last item on the list. And it's a product that is mentioned in all cannabis soil reviews, the Coast of Maine Platinum Grower's Mix.
The reason all herb enthusiasts love using this growing mix is the high-performance growth that comes along with it. And it's all thanks to the miraculous nutrient mix in the soil itself.
Coco fiber, composted dark bark, perlite, and worm castings all work in cohesion to deliver the best and the most premium for your bud friends. Furthermore, the addition of mycorrhizal encourages growth and provides you with absolute efficiency.
Also, these ingredients have shown to be quite useful when it comes to water retention and overall drainage and aeration when they are put in a consistent growing medium.
Moreover, this blend can feed a single cannabis plant through its entire cycle in a 15-gallon pot, which is a massive deal with products like this.
Overall, it's a great product, just bear in mind that it might be too potent for seedlings, and you should use it once the plants have grown a little. Other than that, it's a perfect friend to your plants.
Pros
Nutrition mix
Balanced
High-performance growth
What potting soil encourages the best growth spurt? The buyer's guide
Growing cannabis plants is a delicate job. It requires patience, knowledge, and a pleasant environment. You can control the setting, knowledge can be acquired on the internet, but patience you can overcome.
By investing in a powerful and potent medium that helps your plants prosper, you will achieve something that nature cannot do in half the time.
Take a look at some points to consider when you're buying a super soil mix.
1. Potency
Of course, strength is an essential aspect of this product, probably the most important one. However, incredibly powerful soil mixes can quickly destroy your plants if you're not careful enough.
All the best mixing soils have instructions based on the potency of their nutrients in ratio to the number of cannabis plants you're growing. Also, pay attention to the size of your plants.
As we've seen, seedlings are not quite healthy to handle dominant soil concentrates, and therefore they should be taken care of carefully, and once they are larger, you can use the mix freely.
2. Nutrients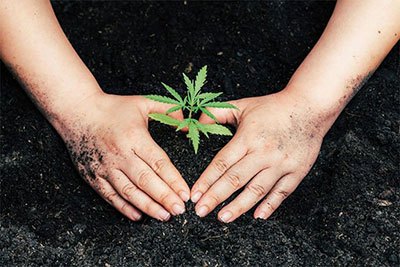 The most important thing to know about nutrients is never to overstep.
Even though they are crucial in maintaining healthy growth, all plants are different, especially cannabis depending on the climate and the area you're nurturing it in. 
So, pay attention to the list of nutrients that your mix has and compare that to the conditions where your plant is growing.
But, if you're looking for simplicity, coco fiber is a constant that will do amazing things for your plants.
3. Price
Many potting mixes can be quite expensive due to the number of added nutrients and the manufacturer.
However, suppose you're growing cannabis in more significant numbers. In that case, you should invest a bit more money since the premium brands are quite potent, and their design is targeted toward broad distribution.
However, if you're growing it for domestic purposes, you'll be quite satisfied with the mid-range ones, and you'll save quite a few bucks.
Final thoughts
Overall, any kind of organic mix will do the trick for you. They are created to speed up the process of growth in herbs in general, not just cannabis, and they do it in a natural, organic manner.
However, if you're looking to get the best one because your herbs deserve the highest quality possible, you've got to go with the Mother Earth HGC714837 Perlite Mix For Indoor and Outdoor Use.
It's a customer favorite when it comes to potting mixes for cannabis, and even though it does not seem trustworthy at first glance, it has the perfect blend of nutrients combined with coconut coir and perlite.
If, however, this does not suit you, you'll do fine with both Fox Farm FX14240 Happy Frog Potting Soil and Fox Farm Ocean Forest Soil For Garden.
Based on the climate and area that your herbs are growing in, one of these Fox Farm products should do the trick for you. Actually, all the products on this list have a lot to offer, which is why they are considered the best soil mixes on the current market.
Don't waste your time and leave things to chance when you can do something about dominant super soils.