Every homeowner looks for the perfect gardening tool. Whether it is to mow the lawn, prune the branches, or vacuum up the fallen autumn leaves.
But what happens when you mow the lawn entirely, but the edges are not as neat as you would like them to be?
This is where we introduce the best lawn edger. Lawn edgers are helpful tools that have a spinning or a straight blade that helps you achieve the perfect garden look.
However, since there are plenty of models on the market, we narrowed the options to only the best offers. If you are setting some money on the side for an ideal gardening tool, make sure your purchase pays off.
Below you will find our top 11 picks of the best edger for lawns as well as a helpful buyers guide.
Take away key points:
Different lawn edgers are available: shear edgers, spade edgers, stick edgers, earthquake edger models and other models.
The gas, manual, or electric models have their sets of advantages/disadvantages so choose according to your needs.
Always refer to the crucial factors to consider to find the best model for your cutting standards.
Top 11 best lawn edger reviews on the market
When you need the best lawn edgers for your perfect garden, take a look at our reviews below. You will find something special for your lawn needs. Let's start.
$$ – Worx WG163 GT 3.0 20V PowerShare 12″ Cordless String Trimmer & Edger
Best battery-powered model, for maximum strength, power, and robust applications. Precise and easy to control for optimal use.
But, not for large areas.
$$ – BLACK+DECKER 2-in-1 Landscape Edger and Trencher
Best performance due to versatile design and rotary edges. Different cutting standards for effective operations.
Still, not too deep cutting.
$ – AMES Saw-Tooth Border Edger with T-Grip
Best manual model due to adjustable depth and width when cutting. Requiring more physical effort, but it's ideal for flower beds and other hard-to-reach areas.
$$$ – Troy-Bilt Gas Edger
Best for heavy-duty structure, offering reliable and durable design. It lasts for an extended time and it's secure for more robust uses. Versatile for different needs.
$$ – WORX WG896 12 Amp 7.5″ Electric Lawn Edger & Trencher
Better than other electric edgers due to ergonomic design for comfort benefits. The most effective and efficient model, reducing working hours in half.
However, it's hard to install.
$ – Fiskars Long-handle Steel Edger
The best construction with advanced design technology, keeping you optimal when working for an extended time. Sturdy and durable without easy damage.
Anyhow, it requires frequent sharpening.
$ – Greenworks 12 Amp Electric Corded Edger
Easy to set up and use. The model is ideal for different light and heavy-duty tasks.
Nonetheless, the model is hard to steer due to the fixed handle.
$$ – CRAFTSMAN Lawn Edger Tool
Best compact design to store away easily. Strong and reliable for more robust applications and different external factors. Highly resistant to pressure.
Nevertheless, it has a misleading cutting guide.
$ – Toro 51480 Corded 14-Inch Electric Trimmer/Edger
Toro is the best budget-friendly option with a good quality performance and parts, generally speaking. You can easily manage it and finish your tasks.
But, the overall quality is not that great.
$$$$ – McLane 101-5.5GT-7Gas Powered Lawn Edger
Best gas powered edgers with motorized power, ideal for large lawns. The system allows quick and efficient task completion, and the edges leave no traces when cutting.
The drawback is the price tag.
$ – Truper 35195 Rotary Lawn Edger
Best rotary edgers for their adjustable wheel and different cutting options. Lightweight and easy to use and adjust to your needs.
Not for heavy-duty tasks.
Brand: Worx
Power source: battery powered
Dimensions: 36.34″L x 5.47″W
Weight: 6 pounds
Best for: a perfectly manicured clean edge
A compelling piece of machinery comes from Worx.
The WORX PowerShare string trimmer edger can be used in various ways and pay off the money you invested in this electric lawn tool.
It operates as a string trimmer and as an edger with wheels. With an innovative push-button command feed spool system, you get an instant line feed.
By adjusting the cutting height or width, you will be getting full control of the outcome. Surely, you will be getting the most satisfying results with this one.
It gets its power from two rechargeable 20V lithium-ion battery packs. The power source from the batteries allows you to share the batteries with other tools of the WORX family.
The rubber wheels are there to provide a comfortable and smooth push along with the lawn. This electric lawn edger has a head that tilts from 90 degrees, which means you can get those tricky areas in your garden.
Also, you will be getting a charger with your purchase that ensures you never get let down by the power source of this lawn edger.
Pros
Cordless power edger
Rubber wheels
Tilted head
Cons
Not suitable for larger lawn areas
Brand: BLACK+DECKER
Power source: corded electric
Dimensions: 30 x 10 x 12.5 inches
Weight: 13. 1 pounds
Best for: rotary edger features
If you prefer a tool-free assembly, this is the garden edger for you. For a fantastic price, you will be getting a 2-in-1 product from a trustworthy brand.
The Black+Decker tool turns from an edger to a trencher in a matter of seconds. With the help of the pull-up edge guide, you can easily convert your new machine into a multi-functional helper.
This grass edger tool is packed with power for most heavy-duty tasks. Its power comes from a 12-amp motor, which is suitable enough for tall grass or weeds. Moreover, the adjustable blade is another fantastic feature of it.
You can adjust the blade into three different positions and control the high or style of the cut how you want. Since this is an electric model, the storage part has never been more convenient.
The model does not take up too much space, while the extension cord is sucked into the cord retention area.
With this lawn edger, it doesn't matter if you are right or left-handed. The handle position is in a way that provides excellent leverage and flexibility in any case.
Pros
2-in-1 tool
Suitable for heavy-duty
The handle fits both left and right-handed users
High-torque motor
Cons
The cut is not deep enough
Brand: AMES
Power source: Manual
Dimensions: 39.27″L x 1.49″W x 14.05″H
Weight: 3 pounds
Best for: straight edge and cutting width
We have another manual edger from the trustworthy Ames company. The AMES Saw-Tooth Border Edger has many advantages over the previously mentioned manual models. Let's take a look.
For any heavy-duty tasks or rough or soggy soils, go for the Ames edger. The fantastic build quality and the serrated blade are all you need when you plan on gardening the entire day.
The lawn edger is easy to maneuver due to its T-Handle, which provides a secure grip. Place both hands onto the handle and begin to edge with ease.
This one has an arched serrated tooth blade and steel handles that slide right into any type of soil. The impressive footplate is there to deliver the most precise cuts and result in neat lawn edges.
Since the blade is small and the overall size of the lawn edger is convenient, you can use it near flower beds.
You can use the lawn edger to cut either straight or curved edges. All of this is possible due to the 15-gauge steel blade that will help you achieve an envious lawn look.
Pros
Manual
Affordable
Steel blade
Suitable for flower beds
Cons
Requires more effort to edge
Brand: Troy Bilt
Power source: gas powered
Dimensions: 13.88″L x 14.63″W
Weight: 20 pounds
Best for: strong & reliable construction
If you want perfect lawn care, choose the Troy Bilt gas-powered lawn edger. This walk-behind lawn edger is one of the best gas-powered lawn edgers due to its powerful motor.
The gas-powered edger uses a 4-cycle engine with 30cc and produces less noise than other gas-powered lawn edgers. Thus, the lawn edging is effective and efficient for your needs.
The walk-behind lawn edger is also valuable for the four-cycle benefit. Unlike other gas edgers, the TB walk-behind edger never mixes gas and oil. So, the TB gas lawn edgers cannot cause any accidents and will cut straight as you push the lightweight edgers forward. So, the TB gas lawn edgers easily adjust to your needs.
The best lawn edgers also use the SpringAssist technology to help you with the easy-pull start, and the variable speed trigger helps you with the optimal speed and cutting width for easier use and optimal performance.
The cutting depth is ideal for grass roots, pavement edges, small yards, a large yard, and other places where you need stronger shear edges to perfect your lawns.
Thanks to the prime and go starting system, the Troy Bilt walk-behind edger starts instantly, in two steps, and you don't need too much time to use and adjust it to your needs. The walk-behind edger is effective and efficient for reducing working hours.
As the Troy Bilt best lawn edgers use heavy-duty cutters, the blade depth, and the cutting depth are both ideal for sidewalks and driveways. You can manage them effortlessly.
Pros
cutting depth
adjustable
safe
durable
Brand: WORX
Power source: electric edger extension cord
Dimensions: 22.6 x 14.1 x 11 inches
Weight: 14 pounds
Best for: ergonomic design
The following electric lawn edger has incredible strength and reliable performance. Thanks to the cutting width, cutting depth, and strong electric motor, the WORX electric lawn edger offers 4700 RPM. Unlike regular electric lawn edgers, the WORX model stands out for its durable and heavy-duty performance.
In addition, you will find the versatile cutting depth of the best lawn edgers. They offer 1, 1.25, and 1.5 inches of the blade cutter width, and different depths for a straight line of cutting. So, the cutting line indicator tells you how to cut and hold onto the line without any issues.
Thanks to the reliable and strong design, the WORX electric lawn edger lasts for an extended period. You can use it during the whole year, without any issues.
The edger will not get damaged by external forces, impacts, or pressure, and you can easily adjust it to your needs. The telescoping shaft is versatile and you can manage it to meet your standards and preferences.
The D-grip handle uses an ergonomic design along with the shaft. Thus, the edger offers multiple height and length options to meet your standards. The shaft and the handle will not create extra pressure, pain, or discomfort to your body and back, and you can use it comfortably for an extended period.
Finally, the WORX model is ideal for different cutting surfaces since it allows you to cut deeper on small yards, medium, or large yards without any help or extra tools.
Pros
adjustable
durable
reliable
Brand: Fiskars
Power source: Manual
Dimensions: 3 x 7.88 x 38.62 inches
Weight: 2.2 pounds
Best for: flat blades and blade angle
With Fiskars Steel Edger, you can save time, energy, and money and still enjoy your gardening moments.
Again, we wanted to deliver traditional models to those of you who don't want to be bothered with cables or gas fillings. This Fiskars lawn edger may require a bit of an effort, but we guarantee you the hard work will pay off.
This tool is terrific for any delicate or heavy-duty tasks that require precise cuts. You can create those sleek and sculpted edges, approach carefully towards the flower beds without damaging them, and so much more.
We were impressed by the sleek design and the efficiency of the overall too. The ergonomically designed lawn edger is meant to lessen back strain and provide significant leverage. It does require time to get the job done, but hey, think of it like including a workout in gardening.
Have we mentioned how simple it is to create those sharp edges? Simply grasp the handle and center your foot against the blade. Push down, and you are good to go. No more messy cables that get in the way of your gardening.
Pros
Affordable
Manual lawn edger
Steel construction
Cons
Needs sharpening frequently
Brand: Greenworks
Power source: electric outlet
Dimensions: 22.75 x 19 x 11.75 inches
Weight: 17.82 pounds
Best for: adjustable cutting depth
This review could not go any further without mentioning at least one Greenworks product. This time, we are talking about the Greenworks 12 Amp Electric Corded Edger.
All of the features you want from a trustworthy edger, this one has them. The Greenworks corded edger is powered by a 12-amp motor, which we already learned about. The engine has impressive power against any heavy-duty task.
Moreover, the model contains a double-grip system that gives it leverage in comfort, and it is also easy to use. However, the model features a tricky handle that not everyone finds enjoyable.
Although this handle offers a pivoting grip, it is a one-handle model that is tricky to maneuver sometimes. But let's move on to the positive features.
The 7.5″ double-edged blade provides robust edging and is wear-resistant. The wheels on the tool also give an easy and smooth push while you tidy up the lawn.
The integrated cord lock is there to prevent any accidents from happening. Also, the feature retracts the cord while it is not in use, so you can safely store the edger.
Pros
12-amp model
Suitable for heavy-duty
Cord lock
Double-edged blade
Cons
Handle makes the edger tricky to steer
Brand: Craftsman
Power source: corded electric
Dimensions: 14.39″L x 9.55″W
Weight: 11.5 pounds
Best for: compact design
Our next electric lawn edger will blow your mind with its powerful motor. The Craftsman's edger uses 12 Amph high torque to cut tough turf and other places requiring more strength and optimal performance.
The external forces, pressure, and impacts cannot damage the inner and outer parts, and the lawn edger will last for an extended period. So you can use it for multiple heavy and light-duty operations, and the construction remains durable, strong, and reliable.
You can forget about the discomfort and pressure while trimming! The edger uses ergonomics with a comfortable and adjustable handle to meet your comfort needs. You can easily manage the height, grip, and other features to hold and push the edger forward without any issues. There won't be any extra pressure on your hands or body, and the edger follows your commands.
Due to the line-cutting guide, the Craftsman edger offers precision and control while edging. You can easily trench around borders or edge around hard surfaces for maximum precision and without any issues. You cannot damage the edges so soon.
Besides, the three different blade setting options will allow you maximum control in cutting for detailed edging. For this reason, the trimmer will be both effective and efficient for different applications.
When you don't use the lawn edger, you can easily store it away. The trimmer offers a specific VERSARACK hook to store it away with the VERSARACK system. The edger won't take up too much space.
Pros
Compact
Versatile
Adjustable
Strong
Brand: Toro
Power source: corded electric
Dimensions: 48″L x 14″W
Weight: 7.5 pounds
Best for: cutting width and edging line
The Toro Corded 14-Inch Electric Trimmer/Edger is another dual tool that gets the job done in minutes. The model packs less power than the Black+Decker edger, but let's go over some of the positive features that give it an advantage.
This corded electric edger is powered by a 5-amp motor that is suitable for any medium-level gardening tasks. It can handle tall grass with a 14-inch dual-cutting line.
However, take your time when you are dealing with tricky jobs, the model is powerful enough to manage them, but you shouldn't overburden it.
A feature that takes the lead is one step behind. What it does is that it turns from an edger to a trimmer in seconds. With a simple push-button, the conversion allows you to roll along smoothly and prevent any scalping.
The rust-free aluminum shaft provides an added reach, but it is also durable to withstand any pressure from trimming.
Overall, if you are searching for an affordable model that has a decent power range and is a 2-in-1 product, look no further than this edger.
Pros
Affordable
Easy to use
Trimmer and an edger
Cons
The automatic feeding line is not impressive quality.
Brand: McLane
Power source: gas powered
Dimensions: NA
Weight: NA
Best for: adjustable blade height and large lawn
Here comes a model for the right heavy-duty tasks that never lets down. The McLane Gas Powered Lawn Edger is there to make your lawn maintenance more manageable.
The lawn edger is a motorized string trimmer that is designed to get as close as possible to any curve and still deliver in neat cuts.
This may look like a cumbersome machine, but you would be surprised how it is easy to maneuver and control—the edger cuts at any angle, whether it is vertical or horizontal. The smooth run is provided by the wide rubber wheels that give the edger a light push across the lawn.
The cutter head uses sealed precision ball bearings with 2″ x 9″ spring steel blade.
Also, the blade can be easily adjusted and tilted in any way you like. Therefore, you can cut at the desired height without reaching for extra tools.
The entire body and build are made out of durable material, which is rust and corrosion-resistant, delivering in long service.
This is an ideal landscape edger for all of you who have more extensive lawns and dread spending hours on gardening.
Pros
Trimmer and an edger
Adjustable blade
Motorized power
Brand: Truper
Power source: Manual
Dimensions: 57.62 x 5.81 x 3.25 inches
Weight: 3.8 pounds
Best for: edger blade, adjustable shaft, and blade depth for thick grass
For all of the gardeners that prefer traditional models or lawn edgers, we have reviewed the Truper 32100.
This lawn edger tool has a dual steel blade. The wheel blade gets as close as possible along the edge of the lawn, giving the lawn a crisp look.
The role wheel delivers impressive traction, which allows you to run over the lawn smoothly.
You can also use it around flower beds, but we don't guarantee it will provide the neat trim you desire.
There are no interruptions when you are operating this edger. The 48-inch long handle is there to provide easy maneuvering and reduce any back strain. The shaft of the edger is made out of wood with a smooth finish.
Mainly, the build quality of this Truper manual lawn edger is impressive when you consider its price of it. It runs smoothly through flat surfaces, but you do need to put in a bit of effort when dealing with thicker growth.
To ensure you end up with clean cuts, go over the area that is tricky a few times. Apply pressure, and you have yourself a neat-looking lawn.
Pros
Affordable
Manual
Dual-cut blade
Cons
May struggle with a thick growth
Buyers' guide for the best lawn edgers
Garden edgers can be your best companion when it comes to tidying up the lawn. They get as close as possible to every corner and have quite a few advantages over using just a lawn mower.
Using a lawn mower can help you get that crisp look, but can it help you get the crisp edges you always wanted?
Here is a helpful guide to make your purchase much simpler.
Types of lawn edgers
1. Manual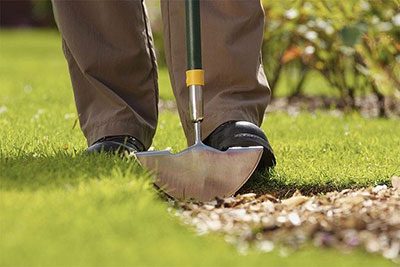 Manual lawn edgers are an excellent option for those who don't want to get tangled around the extension cord or worry about gas fillings. They are the most affordable option, but they have their pros and cons.
Let's start with the pros. You can use them on smaller gardens, don't have to worry about maintenance, and you can get as close to the flower beds as possible.
Some of them have rotary wheels, and some have a curved blade at the bottom that needs a push. However, these models require you to put in a bit of work into gardening. For more extensive lawns, we recommend the following one.
2. Gas-powered
Gas-powered is one of the best options for a larger grass area. They run on power motors that get the job done in no time. However, get ready to hear some significant noise when you run them.
They are also a lot more expensive and require maintenance. A 2-stroke or a 4-stroke model can power it. The 2-stroke one runs on oil and petrol mix while the 4-stroke one runs on plain petrol and emits more power.
3. Electric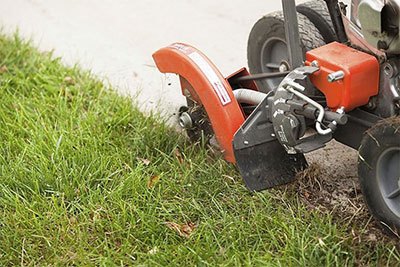 Electric lawn edgers can be cordless (battery-operated) or corded with an extension cord. They are a great deal if you have a medium-sized grass area and do not want to splurge on petrol models.
The tricky part is the power supply. You can take cordless edgers anywhere, but be sure you check the battery life.
For corded ones, you have to have a socket nearby, and sometimes that is not an easy job to find or reach.
Cutting height
If you get an edger that has a cutting height adjustment, know that you have made the right purchase. It is all about those finishing touches when you are cutting grass.
An adjustable blade can be set in the desired way to cut according to your grass standards. Of course, the grass level in your garden is not the same everywhere.
That is why you need an adjustable setting for delicate areas such as flower beds.
Easy to use
If you plan on splurging on an expensive model, make sure you get all the comfort out of it. For manual ones, check if the handle is ergonomic. 
For other models, make sure they have rubberized wheels so you can get an easy and smooth push across the lawn.
Also, check if the model has one handle or two. It will make your job much easier if you opt for a model that gives you full control over the gardening tasks.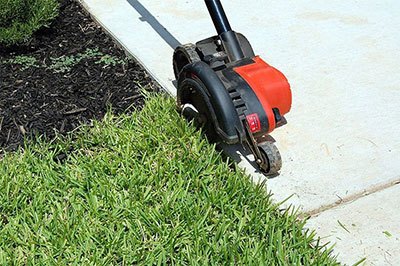 Multifunction
This one is not as necessary, but it is a great feature to have. As you notice, there are lawn edgers models that are a 2 in 1 product. You can get an excellent power edger and a trimmer for a fantastic price.
The multi-functionality of a tool has always been a plus. With an edger that is also a line strimmer, you can tidy up those annoying long grass hairs that stick out.
FAQs
Are electric edgers any good?
Electric edgers are a popular choice among gardeners and landscapers for their convenience, ease of use, and ability to produce clean and precise edges.
They are also generally affordable and do not require gas or oil to operate, making them more environmentally friendly.
What is the best manual lawn edger?
As the best manual edger, we have chosen the AMES Saw-Tooth Border Edger with T-Grip. The steel blade and the T-Shaped Handle are only a few of the advantages this one has over the electric edgers.
Check out the review of this lawn edger if traditional modes are your preference.
What is the best tool to edge a lawn?
The best tool to edge a lawn is, of course, a lawn edger. However, picking the right edger is not that easy. There are various models on the market.
You need to check if you are more of a manual or electric, or gas type when it comes to tools. See our buyers' guide to help you ease up the choice.
What is the best battery-powered lawn edger?
The best battery-powered lawn edger is the WORX PowerShare Cordless String Trimmer Edger since it doesn't need a power outlet or electrical outlet and the lightweight lawn edger uses different battery packs for optimal performance.
When is the best time to edge your lawn?
The best time to edge your lawn is in the spring or fall when the grass is actively growing. This will help ensure that you get a clean, crisp edge and that the grass will fill in any gaps quickly. 
How deep does a lawn edger cut?
Lawn edgers are designed to cut at depths ranging from 0.5 inches to around 3.5 inches, depending on the type of lawn and soil conditions.
Most common lawn edgers only cut to a maximum depth of 1 ½", although some can reach up to 2-6 inches deep and 1-3 inches wide.
When edging, it is recommended to aim for a 2-inch deep channel for best results.
What is the difference between a lawn trimmer and an edger?
The main difference between a lawn trimmer and an edger is the purpose they serve.
A lawn trimmer is designed to maintain boundary lines and trim grass in tight spots that a lawn mower can't reach, like along a fence, under decks, or near delicate plants and shrubs.
On the other hand, an edger is designed to cut edges and create boundary lines. It has a vertical spinning, metal blade that cuts through thick grass and roots.
Should you edge your lawn before or after mowing?
If you are using a manual edger, it is best to edge your lawn before mowing. This will help ensure that the edges of your lawn are clean and even, making for a more professional-looking cut.
On the other hand, if you are using an electric edger, it is best to edge your lawn after mowing. This will help ensure that any grass clippings left behind from mowing do not interfere with the edging process.
The best lawn edger is…?
The best lawn edger is the Worx WG163 GT 3.0 20V PowerShare 12″ Cordless String Trimmer & Edger. The battery-powered model is ideal for its performance, power, and reliable uses, for more heavy-duty and light-duty tasks. Plus, it's affordable for more users.
Sale
Worx 20V 12" Cordless GT 3.0 String Trimmer & Edger Weed Trimmer (Batteries & Charger Included) -...*
[TRIMMER & EDGER 2-in-1] Easily converts from a string trimmer to a wheel edger in just seconds.Lithium battery energy content : 27 watt_hours
[INSTANT LINE FEED] Innovative push button Command Feed spool system for instant line feeding. Plus, Free Spools for Life
[SAME BATTERY, EXPANDABLE POWER] The same battery powers over 75+ 20V, 40V, and 80V lifestyle, garden, and power tools in the Power Share family
[BATTERIES INCLUDED] 2 powerful and lightweight 20V Power Share MaxLithium batteries come with this tool and can be used on any other tool in the WORX PowerShare family
[HEAD TILTS 90°] So you can trim and edge on sloped terrain, and get to tough-to-reach places
Final words
We hope this article helped you understand the best lawn edgers better, and now you can choose your perfect model. Regardless of the type of lawn edger you select, you cannot go wrong! All these lawn edgers are ideal for all your lawn needs, so don't worry.