All those long hours in the garden can be tiresome, especially if you don't have the appropriate footwear that fits the weather conditions. The best garden does not have to be as dull. It should fulfill its therapeutic purpose but with proper attire.
By this, we mean that now is the time when you treat yourself to the best gardening shoes.
Why spend a few fewer dollars and continually end up disappointed? See what we selected and find your perfect pair of shoes, boots, or clogs.
Take the time to discover what fits your needs the best.
Take away key points:
Best gardening shoes are ideal for different gardening needs and tasks
They keep your feet and body optimal and pressure-free for more prolonged uses
You can find patch ankle boots, slip-on shoes, or other boots to meet your needs and keep your feet optimal
Top reasons why you should wear garden shoes
Here are the crucial benefits the gardening shoes offer:
1. Protection
The very first reason why you should wear garden shoes is that these provide you with protection and security.
It protects you from getting foot sores or scratches, knowing that there are spiky roots or rough surfaces that can make your feet bleed.
With the help of garden shoes, you can prevent all of those unfortunate things from happening.
2. Comfort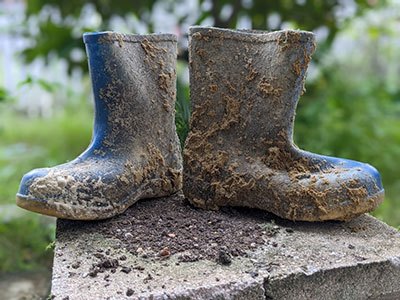 The other important reason why it's best for you to wear garden shoes is that these provide you with comfort. You'll find it more comfortable to garden because you're stepping on something that's soft.
Your feet won't hurt when you wear these because they are made for your comfort. You won't have to worry about gardening for long periods of time when you wear these on your feet.
3. Improved productivity
You also become more productive when you wear garden shoes. This is because it provides you with stability. It keeps you firm, and it makes it easier for you to continue with your gardening.
Your life just becomes easier when you wear garden shoes. It enables you to do more things because you can easily move.
4. Hygiene
Another cool thing about wearing garden shoes is that it gives you good hygiene. This happens because it protects your feet from catching dirt.
We all know that there are insects, dirt, and mud in our garden. And we can easily come in contact with it. To avoid that from happening, we can simply wear garden shoes.
Best gardening shoe models money can buy
Best for performance and overall design with or without socks. Maximum comfort due to ventilation system.
Not for the high arch, unlike other shoes.
$ – Sloggers Waterproof Premium Clog
Best women's choice with the better overall construction and more waterproof design. Not slippery ad other gardening shoes.
But might release odor if wet.
$ – Sloggers Womens Cow-abella Mint Green
Best water-resistant model for various garden needs and demands. Ideal for multiple uses and durable design.
Still, they are not for warmer weather.
$ – Sloggers Waterproof Garden Rain Boots
Best gardening boot models for your needs. The tall boots are better than other ankle height boots as they cover more of your leg in wet needs. The gardening boots are weather and waterproof for more uses. The waterproof boots are also adjustable for different tasks.
Yet the gardening boots require wearing socks.
Best Amoji unisex garden clogs for multiple uses and various tasks. The Amoji garden clogs are ideal for breathable design with ventilated standards. The Amoji garden clogs are also comfortable for further use.
Nevertheless, their sizes might be tricky.
$ – JBU by Jambu Women's Gwen Garden Ready Rain Shoe
Best looking models with adjustable wearing options for different tasks and requirements. Ideal for women and they cannot tear so soon.
Nonetheless, they might be a bit short.
$ – Backdoorshoes Waterproof Premium Garden Clog Shoes
Best for heavy tasks and excellent for multiple uses. Easy to clean and use again as they don't have the removable insole; they are great for muddy uses.
The shoes are a bit short for some users.
$ – TENGTA Unisex Waterproof Garden Shoes
Water and weather resistant with excellent traction to prevent slippery accidents. No pressure to your feet or body posture.
Although they are unisex, they are better for male users.
$ – SYLPHID Men's Garden Shoes
Best for comfort benefits and adjustable design for different tasks. Durable and reliable for multiple uses.
Anyhow, they don't have half sizes.
Brand: Crocs
Material: Ethylene Vinyl Acetate sole
Style: garden shoe
Best for: material rubber for wearing shoes
Did you expect this review to continue without a pair of Crocs? We didn't think so. These pairs of shoes are a favorite to many, not just gardening fanatics.
Many give them a round of laughter, but let's be honest. You cannot find a lighter pair of gardening shoes that support you and are comfortable at the same time. These are among the best garden work shoes you can buy.
They may look silly but do not be fooled by the look. These gardening shoes are made of rubber, meaning they won't get squishy over time. Also, they are waterproof, so you don't have to worry about damage if they come in contact with water.
What we love about them is the heel strap. The strap surrounds your heel, all while keeping the foot safe. They proved to be great for yard work or washing your car. Believe us when we tell you they will become your favorite around the garden.
During the summer days, you can expect them to get a bit dirty. They have airy holes, after all. But you know what? They are straightforward to wash off with a hose.
Cons
Uncomfortable if you have a high arch
Brand: Sloggers
Material: Rubber
Style: garden shoe
Best for: fully waterproof material for heavy and light gardening
Another pair of garden clogs amazed us with its comfort. This brand delivers only quality footwear that guarantees your feet feel their best, even during dull moments.
Again, this Sloggers model is perfectly suitable for colder days. Since they do not have an open-toe or breathable holes, they are great for keeping your feet warm and cozy.
You could still use them on the warmer days, but perhaps, it would be better if you opted for a model that has more ventilation. Nonetheless, this shoe has an anti-microbial sole that retains freshness and keeps any germs or bacteria away.
Surely, they will last you for many seasons. These garden clogs are made out of 100% recyclable material, and if you wear them out, simply replace them with the manufacturer. They will send you a new pair of gardening shoes right away while they recycle the old pair.
What we appreciate the most is they are lined with moisture-wicking that is designed to keep your feet dry all day. The fast-drying padding is also easy to clean off and maintain during the gardening seasons.
Pros
Made out of recyclable material
Lined with moisture-wicking
Cons
They can release odor if wet
Brand: Sloggers
Material: Natural rubber
Style: garden shoe
Best for: waterproof material for slip-on shoes, and heavy-duty gardening work
If you are looking for 100% waterproof gardening shoes, we recommend women's Sloggers. Not only do they come in various designs, but they provide maximum waterproof protection and comfort as well.
Apart from providing comfort, these gardening shoes are 100% recyclable. The composed materials found their way into the sole and the upper lining, making this model vegan-friendly.
For all those days when you are pruning, mowing, planting, and the weather just isn't serving you right, you know you need a pair of sloggers.
Also, they proved to be a fantastic option as a work shoe. Whenever you are running errands, we are sure you will find a design that fits your liking.
The functionality and fashionability are not the only positive features here. The Sloggers cradle your foot and provide traction in muddy and sloppy conditions. At the end of an exhausting gardening day, simply wash the shoes with a hose and let them air dry.
What more could you want from a gardening shoe that keeps your feet dry and supported? Go and get your desired design right away.
Pros
Various designs
Provide excellent traction
Recycled material
Cons
Not as suitable for warmer days
Brand: Sloggers
Material: Synthetic, rubber
Style: rubber boots
Best for: heavy-duty garden work in wet conditions, and waterproof boots for arch support
Again from Sloggers, we have another model, but this one is a bit different. This time we are talking about garden boots that are waterproof and keep your feet dry at all times. This pair of shoes amazed us in many ways; let's discuss a few features.
The Sloggers garden boots include an "All-Day-Comfort" insoles that are 7 mm thick at the heel and about 5 mm thick at the ball of the foot. In this way, they provide the ultimate arch support and keep your feet elevated at a suitable angle.
Like their previous competitors, they are easy to clean off since the rubber can be wiped off with a cloth. These rain boots are easy to slip on and can be customized in various patterns and designs.
This model of rain boots is as well made out of 100% recyclable material, making them vegan-friendly and a favorite to many gardeners.
These garden boots also include a stitched-in fabric that makes the lining of them comfortable and easy to slip on.
But we are sure that once you slip them on and feel the comfort, you will prolong the gardening hours with pleasure.
Pros
Easy to clean
Waterproof rain boots
''All-Day-Comfort' insole
Cons
Best worn with long socks
Brand: Amoji
Material: Ethylene Vinyl Acetate sole
Style: gardening shoe
Best for: flexible rubber for slippery surfaces and food arch support with ventilation holes
Unlike the previous Sloggers model we reviewed, this model will suit you on warmer days. They are the ideal companion for those summer months when you spend the entire day in the garden.
The Amoji Unixes garden clogs are among the best gardening shoes in our selection because they offer breathability. In the hot weather, the last thing you want to do is wear heavy shoes that provide no breathability whatsoever.
You want to give your feet the best treatment even if you plan on spending the entire day gardening. These garden shoes have a unique design with an open weave that provides more comfort and less sweating.
Because they have holes, they are much easier to dry. Therefore you avoid any mildew development. As for cleaning, you can easily spray the hose on them and let them air dry. They also come in eleven different colors, all waiting for you to pick your favorite pair.
Also, many have commented that these clogs are even more comfortable than Crocs. Since they have a non-slip design, they are perfect for providing you with all the support you need.
Pros
Available in eleven different colors
Non-slip design
Offer breathability
Easy to clean
Cons
Sizes may vary that standard options
Brand: JBU
Material: Rubber
Style: gardening shoe
Best for: wet grass with cotton lining for good traction and heavy-duty tread for arch support
Upcoming is a classic garden shoe. We are sure that one of you ladies has at least one pair of the Jambu Women's Gwen Garden Shoes. If not for gardening purposes, then at least for those casual strolls around the block.
These gardening shoes keep your feet comfortable at all times. The rubber toe design and textile upper are just one of the few advantages that these gardening shoes have.
They come in various designs and prints that you can choose from. As we already mentioned earlier, you should consider purchasing them, even if it is just for casual walks. At first glance, these do not also look like typical garden shoes.
JBU garden shoes are a stylish addition to anyone's footwear closet. Plus, they are entirely vegan, while the memory foam is there to support the cushioning. Comfortable stepping is secured with this pair.
The faux-suede outline makes them water-resistant. Note that they are not entirely waterproof, but they still hold up well if they get in contact with water.
The solid construction and well-built are the features that make these garden shoes the favorites of the majority.
Pros
Stylish
Water-resistant
Rubber toe point
Brand: Backdoorshoes
Material: Ethylene Vinyl Acetate sole
Style: garden shoe
Best for: muddy or mucky conditions
Are you looking for a comfortable, lightweight, and waterproof gardening shoe? Look no further than Backdoorshoes®!
Their range of premium garden clogs is made from eco-friendly expanded foam making them very durable and shock-absorbent. They also come with a no-split guarantee for one year.
The best gardening shoes are perfect for both men and women who want to enjoy the outdoors without having to worry about soggy socks or wet feet. You can wear socks with gardening shoes, but you can also wear them with your bare feet.
You can keep your feet completely dry even if you work with water, as the waterproof construction makes the feet safe from wet conditions.
The slip-on gardening shoes use recycled materials for completely waterproof construction, and you can efficiently complete gardening tasks.
The material is soft, and rubber-like, and provides excellent arch support so your feet stay comfortable all day long. The cactus green design is stylish and perfect for any outdoor activity.
The shoes are easy to clean too – just rinse them off with a hose or wipe them down with a damp cloth after each use. They're also lightweight so you won't feel weighed down when you're walking around in them. Plus, they come with free delivery!
We highly recommend these Backdoorshoes shoes if you're looking for something comfortable, waterproof, and stylish. They'll keep your feet dry while still looking good – what more could you ask for?
Pros
good arch support
slip on gardening shoes
waterproof materials
affordable price point
Brand: Tengta
Material: Rubber
Style: garden shoe
Best for: male gardeners, even though they are unisex
The following gardening shoes are designed to keep your feet protected from mud and puddles, while also providing a fashionable style. The soft sole and snug, stretchy neoprene lining ensures warmth and insulation in cold weather. Plus, the waterproof exterior makes them easy to clean.
The TENGTA Unisex Waterproof Garden Shoes also provide excellent traction on wet surfaces with their sturdy, non-slip outsole. This makes them perfect for any outdoor activity, whether it's gardening or car washing.
The Tengta gardening shoes are also incredibly easy to put on and take off, making them ideal for those who don't want to spend too much time getting ready for their next outdoor adventure.
Their rubber sole is similar to that in classic crocs, so they are not soggy shoes or cause slippery accidents. You can wear socks with gardening shoes as these slip-on styles also use a cotton lining adjusting to your feet needs. They are obvious wear for avid gardeners.
The best gardening shoes are an excellent choice for anyone looking for a reliable pair of shoes that will keep their feet dry and comfortable in all kinds of weather conditions. They're stylish yet practical, so you can look good while still staying safe outdoors.
Plus, they come in a variety of sizes so you can find the perfect fit for your feet. You will find the shoes reliable for different tasks.
Pros
comfortable gardening clogs
waterproof materials
good traction
no accidents
for different gardening tools and conditions
Cons
no half sizes
only for men
Brand: Sylphid
Material: Rubber
Style: garden shoe
Best for: comfort benefits
If you're looking for a comfortable and durable shoe to wear while gardening, camping, or walking the dog, then the SYLPHID Men's Garden Shoes are the perfect choice.
Made of waterproof nylon and featuring an easy on/off design, these gardening shoes are lightweight yet sturdy enough to handle any outdoor activity.
The breathable upper material keeps your feet dry and comfortable even in wet conditions with maximum ventilation and airflow. The non-slip rubber sole ensures maximum traction on slippery surfaces, so you don't have to worry about slipping or falling.
The unit is a great garden shoe for multiple lighter and heavy gardening needs. The heel measures approximately one centimeter, providing just enough support without being too bulky.
These best gardening shoes are also incredibly versatile; they can be used for a variety of activities such as gardening, lawn care, camping, and yard work. They're also great for everyday use since they're easy to slip off when needed.
Plus, the 100% waterproof top-to-bottom construction keeps your feet dry no matter what kind of terrain you're walking on. The toe cap is also resistant to external pressure, and you can easily adjust the shoes to your standards.
Overall, the SYLPHID Men's Garden Shoes are an excellent choice for anyone who wants a reliable shoe that can handle all kinds of outdoor activities. They're comfortable, lightweight, and waterproof – making them ideal for any situation.
Pros
water and weather resistant
excellent traction
adjustable and versatile
Cons
no half sizes for smaller legs
Types of gardening shoes for gardening tasks
Now, you have read the review, but you are still wondering about the difference between clogs, boots, or shoes. No worries.
Let's sum up which one is which and make your choice easier.
1. Garden clogs
Clogs may have the least coverage out of these three models. They usually have a low heel and are easy to slip on.
Some models, like Crocs Classic, have a strap at the back of the heel, offering more support.
2. Garden shoes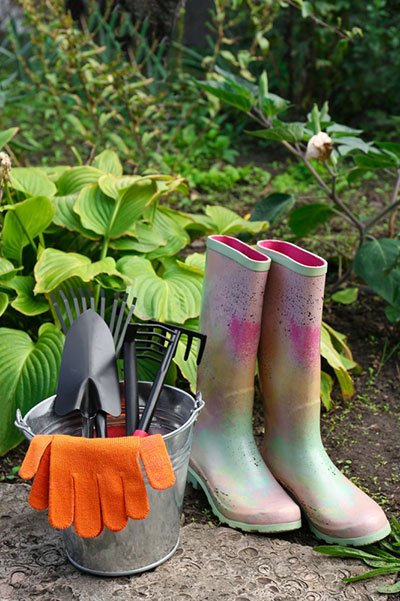 Garden shoes are the model you see every day. They also can have heel or ankle support and insoles that make them comfortable and wearable for hours.
3. Garden boots
Garden boots are going to be your best friend in the stormy weather. They are designed to be waterproof and often made out of latex or rubber.
On the market, you can find ankle boots or knee boots that protect you further up. Boots have a rigid insole but protect you from mud better than any other model would.
Garden boots are perfect for farm work, especially during the autumn time when you expect rain every other day.
Buyer's guide for best gardening shoes
Also, we are going to cover a few features we think are crucial for successful garden shoe purchases.
1. Easy to wear and take off
When it comes to garden shoes, you don't need to be all fancy with them.
What we mean by this is that convenience is your top priority, which is why your garden shoes should be easily worn and taken off.
It's preferable if you buy one that can easily be slipped into your feet or something that doesn't need to be tied.
2. Waterproof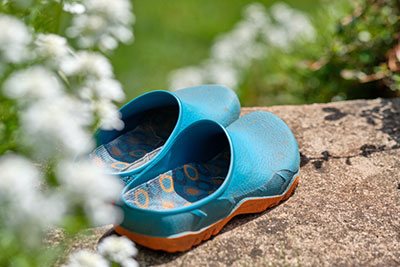 Before you set your eye on a particular model, check if those garden shoes are waterproof as well. Most of the best garden shoes for men or women are waterproof, but that quality isn't always the best.
Think about it.
Waterproof shoes have less ventilation for them, and this could be uncomfortable for warmer days. Of course, we have selected models such as Amoji Unisex Garden Clogs that are waterproof but also have airy holes that give you breathability.
If you don't plan on watering the plants every day, then waterproof quality isn't that necessary. For boots, however, you do need to search for a waterproof feature.
Also another positive feature of waterproof shoes is that they are easy to clean off. After a long day on a muddy surface, the very first thing you should do is clean the boots with water and then dry them off.
The longer they stand dirty, the harder it will be to clean them off. But if you do so right away, they will look as fresh as when you slipped them on.
All you need to do is turn the hose on and spray them away. Then, it is preferable to wipe them with a cloth and let them air dry. After that, your shoes are ready for numerous garden quests.
3. Soles
Next, you need to find the right bottoms for your boots or shoes. Insoles depend on what you plan to do in the garden. If you plan on doing light work, choosing softer and more flexible soles will be the best option.
However, other footwear, like boots, desires a tighter and more rigid insole. Since boots are most likely to be used in muddy conditions, preferably, you should choose a thicker sole. They prevent the boots from slipping and also keep them warm.
4. Perfect fit
This is the general rule when it comes to buying shoes – the fit. The same principle applies when it comes to buying garden shoes because you need to make sure that it fits you perfectly.
You surely don't want to wear something that wobbles and is easily removed from your feet. That would surely be a hassle, wouldn't it?
Choose one that has the exact size. It's recommended that you first try it on before buying it.
5. Design and looks
The last but certainly not the last thing you need to factor in is the design and look.
It's wise of you to choose one that isn't only durable and fully functional but something that is also visually pleasing.
It makes you feel better when you're gardening.
FAQs
Do garden spike shoes work?
Yes, garden spike shoes do work.
Garden spike shoes are sandal soles with spikes attached that are designed to make holes in your lawn to allow more water and air to reach the roots of your plants. This helps promote healthy growth and can help reduce the amount of time spent on lawn maintenance.
The sharp nails on the shoes make it easy to penetrate the soil while walking, allowing for more even distribution of aeration throughout your lawn.
Do you wear socks with sloggers?
Well, it depends on which model you choose.
If you opt for garden boots, you should wear longer socks. When you wear shorter ones, they tend to slip and leave half of your foot bear, and who wants that?
Also, you can wear socks with Sloggers that are plain garden clogs, but your feet might get a bit sweaty.
What shoes does Laura from garden answer wear?
Laura from Garden Answer wears Nike shoes. They are the most comfortable garden shoes she has ever worn and provide the best support for her.
She recently posted a photo on Instagram of her toe finally making it through the end of her favorite gardening shoes.
Does Tractor Supply have garden shoes?
Yes, Tractor Supply has a wide selection of garden shoes.
From Sloggers Women's Waterproof Comfort Rain and Garden Shoes to GroundWork Women's Garden Clogs, you can find the perfect pair of shoes for your gardening needs.
What are the best gardening shoes for hot weather?
The best gardening shoes for hot weather are the Crocs Classic clog. They are the most ventilated ones with ventilation holes to keep your feet optimal.
What shoes should I wear to the garden?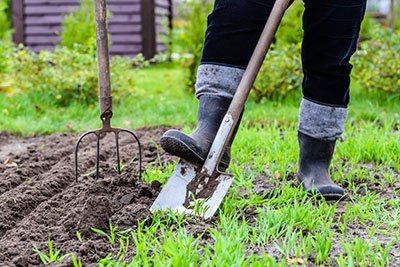 We have selected seven different models of gardening shoes. All that is important is that you pick your favorite model and design. Also, make sure that the garden boots or shoes fit your standards.
Also, they vary in their features, so keep an eye on whether they are waterproof or not, have insoles, and other significant additions.
What are the best shoes for yard work?
For light yard work, we would recommend JBU by Jambu Women's Gwen Garden.
They are lightweight, stylish, and can provide comfort and slight arch support when needed.
Do you wear socks with sloggers?
Well, it depends on which model you choose.
If you opt for garden boots, you should wear longer socks. When you wear shorter ones, they tend to slip and leave half of your foot bear, and who wants that?
Also, you can wear socks with Sloggers that are plain garden clogs, but your feet might get a bit sweaty.
Final selection
The best shoes are the Crocs Classic clog. They are made of rubber with maximum ventilation to keep your feet optimal in summer and hot weather. They allow your skin to breathe fully and you can wear them with or without socks.
You can see their best performance for heavy and light-duty tasks.
Sale
Crocs Unisex-Adult Classic Clogs (Best Sellers), Black, 9 Women/7 Men*
Crocs For Women And Men: The Crocs Classic Clogs Are Not Only The Most Comfortable Shoes For Women And Men But Also Easy To Clean Just Using Soap And Water And Allowing For A Quick Dry.
Lightweight And Fun: The Crocs For Men And Women Feature Lightweight Iconic Crocs Comfort. Ventilation Ports Add Breathability And Help Shed Water And Debris Quickly.
What Size Should I Buy?: These Men'S And Women'S Crocs Offer A Roomy Fit And We Recommend Ordering A Size Down To The Next Largest Whole Size.
Designed To Fit: These Slip-On Clogs Are Easy To Take On And Off, While Being Extremely Durable. These Crocs Even Offer Pivoting Heel Straps For A More Secure Fit.
Shop with Confidence: Crocs products are backed by our 90-day manufacturer's warranty for high quality and authenticity. Terms and conditions apply
Final words
Hopefully, you can find the best gardening shoes, be it ankle boots, gardening boots, slip-on shoes, or similar units.
Most gardening shoes are made of water-resistant materials, so choose wisely to select the best footwear.