When it comes to cutting foliage in far reach, nothing beats having the best pole saw. With a quality pole saw you won't have to take out the stepladder and wield the chainsaw or bow saw at dangerous heights to do your gardening jobs.
This handy tool turns to trim and pruning into all but a piece of cake. And even if you are new to it, it won't take much time to realize how useful it can be.
Are pole saws any good?
A high-performance pole saw can do wonders for your garden. As the name suggests, it is a chainsaw connected to a pole that allows a higher reach when pruning, trimming, or cutting.
Thanks to its design, gardeners or landscapers can chop down very high branches with little to no effort while still having both feet on the ground.
It eliminates the hassle of having to climb up and down a ladder and moving the ladder base to different locations, thus making it safer and more effort-saving.
Pole saws also come in many types to meet different needs – from light-duty trimming to heavy-duty works. All in all, regardless of what you plan to do, you can always find a pole saw that fits the bill.
And the best thing is, as compared to a regular chainsaw, a pole saw is much easier to use. While a chainsaw has its own edges when cutting trees on the ground, a pole saw is an ideal choice for higher-up branches.
It just needs a bit more practice than a hand pruner, but you won't need to be a trained arborist to be able to operate it for your property maintenance.
In-depth reviews of the 10 best pole saws in the market
Every other model comes and goes, but Greenworks PSPH40B210 will always remain to be the first pick for the best pole saw in 2023.
It deserves to be the best-rated pole saw as the machine offers the most versatility when it comes to garden trimming.
Besides the 6-foot standard pole (which can be extended to more than 10 feet), it also comes with a hedge trimmer attachment.
So, whether it is frequent lightweight maintenance or a periodical heavy-duty landscaping job, rest assured that Greenworks PSPH40B210 will be able to lend you a helping hand.
Furthermore, Greenworks PSPH40B210 offers both with and without battery options. In case you need an update from your previous Greenworks, the "without battery" package would be a real deal to save the budget.
And as it runs on battery, there would be no cord included. So, needless to say, Greenworks PSPH40B210 will provide you with more portability when moving around with the machine.
Another feature proving its all-inclusive package is the flexible pivot that can be adjusted from 8 different angles. This gives you more control when dealing with branches growing in tricky diagonal directions. 
However, the battery of Greenworks PSPH40B210 is reported to be quite hard to remove and reattach. It also loses its prime power gradually when being used over the long run.
One tip for maintaining the Greenworks battery life is to try to charge it fully and exhaust it after every use. Besides, storing the battery in cool and dry places is also a helpful way to extend its life.
Pros
Suitable for both light and heavy-duty pruning/cutting jobs
Available to choose with or without battery package
Can trim and prune in different angles and heights
A comprehensive package with the main tool and attachment
High portability
Cons
Battery removal can be difficult
The battery lasts shorter over time
#2. Sun Joe SWJ800E – Best manual pole saw for cutting thick branches
Sun Joe SWJ800E has been rated as one of the best cordless poles saw options for quite a while. With the powerful 6.5 amp motor, those thick branches casting too much shade won't be much of a challenge.
The automatic oil lubrication is also a praiseworthy addition. The self-lubricating system makes it easy to cut more branches with less effort.
And with the extendable pole up to 15 feet height, even those thick canopies up high will be taken down with no difficulty.
As a manual pole saw, Sun Joe SWJ800E does not require any technical knowledge or experience from its user. Therefore, this pole saw can be a great introduction for anyone new to the job.
Designed with the newbie-friendly concept in mind, Sun Joe SWJ800E is easy to operate. There won't be too many vibrations or shocks while holding it.
One note when using the Sun Joe SWJ800E is that try not to exhaust it too many times in a day when there's too much heat in the motor. Doing so may shut it down pretty quickly.
Pros
Well handling for thick branches
Automatic oiler for more effective performance
Extendable pole to reach out for higher branches
No shocks or vibrations when working
Cons
Cannot perform for a long time
May shut down when the motor gets too hot.
It would be an absolute blunder to miss out on WORX WG309 as the best electric pole saw for sturdy handling. WORX WG309 is packed with a rotatable handle and 40 chain links, which facilitates easy pruning and trimming.
And when it comes to the sturdiness, not only the ergonomic handling but also the overall smart design of the machine are worth mentioning.
The auto-tension system in WORX WG309 creates consistency during its performance. The grip also provides enough friction to reinforce this consistency, so it's hard to lose your hold even on very wet days.
The extension pole is easy to attach and detach. And you won't need to tighten the pole saw by yourself. Simply press the knob, and the electric pole saw will take care of the task on its own.
This electric pole saw can be a helpful buddy that you can work with for a really long time before running into any performance problems.
However, one downside of this machine is oil leakage. This electric pole saw needs proper and regular maintenance to keep this issue at bay.
Pros
Ergonomic and comfortable grip
Consistent performance
Auto-tension system for longer using time
No need to tighten the saw manually
Cons
Regular maintenance is necessary
Oil leakage can happen without proper care
#4. BLACK+DECKER LPP120B – Best long-lasting and interchangeable battery
BLACK+DECKER LPP120B is a good example of quality and durability. Quite comparable to the Greenworks PSPH40B210, this pole saw is also packed with a 20-volt lithium-ion battery. However, the battery on BLACK+DECKER LPP120B is known to be more durable and pretty much interchangeable.
To be more specific, it won't be a tough task to cut about 100 ½ – 1-inch branches with just one single charge. Besides, this saw comes with a distinct design allowing it to make the best use of its battery.
However, it's worth your notice that the battery is not covered in the warranty policy of the BLACK+DECKER LPP120B pole saw.
Many pole chainsaw reviews from real-life customers have shown that the BLACK+DECKER LPP120B's body is easy to control. The 10-inch long bar offers a decent length for most small and medium-scale jobs.
One pity on the machine is that it does not come with an automatic oiler. It is up to you to oil the chain and the bar, which can sometimes leave quite a mess behind. The long and the short BLACK+DECKER LPP120B is thus a better option for people with prior experience in chainsaw maintenance.
Pros
Durable battery life
Powerful cutting performance
Easy-to-control body
Excellent for small or medium-scale gardening jobs
Cons
Need more experience in maintenance
No automatic oiler
#5. Fiskars 394631-10​​01 – Best lightweight foot extendable pole saw
Our next pick for the best pole pruner is Fiskars 394631-1001 – a simple tool for many different operations. A surprising fact: this pole pruner only weighs 4.39 pounds.
Despite its humble weight, Fiskars 394631-1001 has an extendable trimming system that can reach up to 16 feet. You can thus still use it to deal with high branches without having any torture on your back and arms.
With a lightweight design, Fiskars 394631-1001 is an excellent choice for pruning and trimming those small and bushy branches that keep bursting in growth after one or two months. But bear in mind that the 15-inch Wood Zig saw blade can only help you with thicker ones, not some heavy-duty jobs.
Fiskars 394631-1001 is built with the so-called "power lever technology", which allows more cutting power with easier transfer.
Along with the lightweight design, the unique oval-shaped pole can help reduce the flex during extension, giving you more control over the cut direction.
This pole saw is 100% manual, with no gas, electricity, or battery involved. Still, sometimes you may have to put up with the minor inconvenience of the extension lock. It also requires proper cleaning after every use.
Pros
Very lightweight
Suitable for light-duty gardening jobs
Simple transferring way
Ease of direction control
Cons
Need cleaning after use
Inconsistent extension lock
The Remington RM1035P has long been a hidden gem in the industry of pole saw for sale. It is a two-in-one system that comes with both a cutting head and a conventionally-style chainsaw.
As compared to other competitors, Remington RM1035P is not quite competitive in the battle of long-reach capability. You will find it most comfortable to just average around a 10-foot pole.
As you extend it longer, that handle may be compromised, and you may feel it hard to steer it in your expected direction.
With the non-slip and non-rotation materials, this pole saw gives you the possibility to deal with faraway branches with little effort. And you can easily detach the cutting head and convert it into a chainsaw without any extra tools.
Not just giving a 2-in-1 functionality, Remington RM1035P also makes sure its function delivers the best results. The telescope design includes flip and locks clamps so that the operator can adjust the pole without any hassle.
But there is one little drawback. As compared to other models, the Remington RM1035P is quite heavy, making it hard to hold it up for a long time.
Pros
Available with both cutting blade and chainsaw
No need for any tool for attachment
Prune in comfort
Highly adjustable pole
Cons
Quite heavy on the pole
May not hold up well for a long time
MAXTRA 2-Cycle is really a beast in the pole saw competition. The 2023 version has come with many upgrades to the engine.
The powerful 2-stroke 42.7cc engine will give you a professional-grade cutting performance without any idle issues.
And even though it is a strong engine run on gas, its technology has been passed by EPA, certifying that it releases fewer contaminants into the air and won't do any harm to the human body.
With this big-guy-quality power, MAXTRA 2-Cycle Gas-powered Pole Saw can cut 7-to-9-inch branches with ease. If you are very demanding in your gardening job and you want the result to be professional-grade, this is the best gas-powered pole saw to consider.
As a heavy-duty tool, the weight has to be compromised. So if you expect a compact design in such a titan, sorry, but it will not be a good fit.
However, this gas pole saw is packed with a carrying bag, which would provide a means to increase portability.
One disadvantage of almost all gas-powered pole saws is the noise, and this machine is no exception. If you run this Herculean machine for the whole day, the chances are that the engine will be quite noisy.
Pros
Powerful engine
EPA certified
Has a portable bag
Professional-grade cutting performance
Cons
Not lightweight
Noisy when running for a long time
Next up is the best seller from Ryobi ONE+, a pole saw of choice by many homeowners.
One great feature this Ryobi Pole Saw has is the fact it can be extended to 6.5 or 9.5 ft. It also features an 8 in.bar with a chain that can trim branches up to 6 in. dia. Even if you have a problem with tight spaces, you can trim the branches without any hassle.
The pole saw features a chain and an automatic bar, so you can always monitor your oil levels. Another excellent feature is that the battery can be recharged in 30 minutes. Also, when purchasing it, you will get the 18-Volt compact Lithium-ion battery and a charger.
This pole saw is really shooting for the stars.
Not just the pole length, the blade is also a selling point that makes Ryobi ONE+ a real deal for anyone looking for far reach extension. It has an 8-inch blade, which gives you the performance you expect when tackling a wide area of branches/ bushes.
Furthermore, everything is backed by a 3-year warranty, so you can be sure the Ryobi 18-Volt Lithium-ion Pole Saw is ready for any task.
However, be careful when trying to trim different types of trees; some types can be a bit of a problem for this pole saw. Oak can stop the motor sometimes, but it does very well on pine.
Pros
Wide extension range
A three-year warranty
Big blade for wider coverage
Suitable for big bushes/ branches with big shades
Cons
Not effective on every type of trees
WEN 4019 Telescoping Pole Chainsaw is one of the budget pole saws sold with features of great value. The Oregon chain runs up to 36 feet per second, giving it the ability to clear brushes smoothly.
When it comes to brush clearing, a common concern is engine fatigue. However, this pole saw weights only 6.7 pounds, which means it is lightweight enough to limit fatigue during operation.
The safety feature on WEN 4019 Telescoping Pole Chainsaw is worth noticing. The design allows for easy pole adjustment and emission-free operation.
Pruning around the house won't come with any risk while using this saw, and there should not be any skeptical feelings about its safety quality.
WEN 4019 has a shoulder strap and an ambidextrous safety switch to clear away your concerns about accidents when doing the work. It is also equipped with a scabbard to protect the blade and chain between jobs.
While this pole chainsaw overall is a well-balanced and easy-to-set-up tool, it will need proper positioning to get the job done. Plus, it may get quite tricky to hold the blade and cut the path at the same time.
Pros
Smooth cutting performance on brushes
Hardly any fatigue when running
Comprehensive safety features
Easy to assemble
Cons
Hard to position
Can be hard to maneuver
DEWALT DCPS620M1 Pole Saw is one of the best tree pruner deals on the market these days. And if you are already on the 20-V platform with not too much demanding a job, this pole saw should be the choice.
The brushless motor on DEWALT DCPS620M1 can do up to 96 cuts/charge on medium pine woods. In other words, this saw is a choice for almost all decent pruning tasks on a regular basis.
DEWALT DCPS620M1 has a battery that is quite comparable to other battery-powered pole saws in this top list. Use it to cut several limbs and small branches, and the battery is still far away from the exhaustion point.
Speaking of its features, DEWALT DCPS620M1 is another option for cordless chain saws, giving it a competitive quality in portability. It won't be much of a tough task to carry it around and multitask with it.
This pole saw also offers an impressive warrant policy for up to 3 years. Now, DEWALT is a reliable brand with positive exposure throughout the market. Therefore, you can totally have faith in its products.
A disadvantage of DEWALT DCPS620M1 is that even though the pole is extendable, it still has a limited reach. It is more suitable for pruning trees under 10 feet.
Pros
Suitable for small-medium cutting job
Durable cutting grip
Easy to carry around
Reliable with decent performance
Cons
Short pole length
Limited cutting reach
Buying guide for pole saws
When deciding to get a pole saw, there are some important features you need to take into account. This buying guide is to help you choose one that suits your needs. 
1. Weight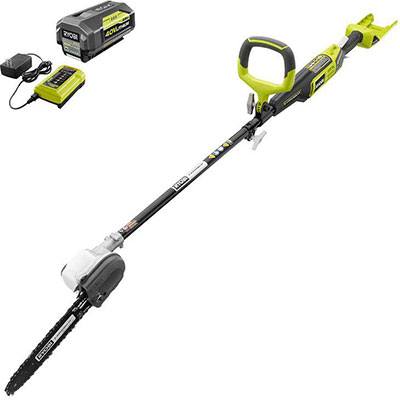 Your own strength can somehow compromise the weight of the machine.
However, the pole saw should also be lightweight enough for easy handling and operation because no one will ever want to deal with the hassle of waving it too much or dropping it to the ground. 
2. Safety features
Even the most well-trained professionals may end up with some accidents when using heavy-duty tools.
Good grip, durable materials, emergency stop, automated safety system, and robust body should be the features to focus on when considering the quality of a pole saw.
Also, not all pole saws come with the same extension method. Make sure you read the instructions from the manufacturer well enough and operate the machine with extra care to free you from any possible accident or injury.
3. Design
Design plays a vital role as it can decide the ease of use and the durability of the machine.
While we all want it to have a certain degree of compact design, the machine still needs to be well-functioning enough to deal with the stubborn branches up high. 
4. Power
A pole saw can be manual, gas, electric, or battery. Either of them can be the go-to choice depending on your workload and work frequency.
Gas-powered pole saws or electric pole saws are stronger but less portable if they are not cordless.
If you have to move around a lot while trimming and pruning, it is advisable that you go for the battery pole saws offering more flexibility.
5. Pole and bar length
As a rule of thumb, the longer the pole is, the higher you can reach to cut the trees. Also, a longer bar will make it easier to cut thicker branches.
Notice the height and thickness of the tallest branches you usually need to deal with so that you can choose a suitable pole saw for your work. 
6. Automatic oiler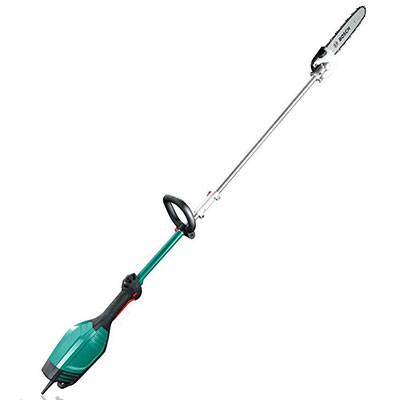 The cutting end of a pole saw is quite similar to the chainsaw. It thus needs lubrication on a regular basis for best performance. If there is an automatic oiler, the maintenance will be much simpler and does not require much effort. 
7. Price
The budget is also a concern. Thankfully, when it comes to pole saws, the price range is wide, and you have countless options.
However, it should never be one of your excuses for buying a cheap yet rubbish tool that can't really get any job done. You'd better always start with the quality you expect first, then align it to the budget range, never vice versa.
Tips for using the pole saw
– Always wear the proper gear – helmet, goggles, ear muffs, respirator, and clothes for sawing works (work gloves, boots, pants, and leg chaps)
– Use it for what it is for – Red the manual and make sure you use your pole saw for the proper purpose. For example, some pole saws are not designed to cut thick trunks that are more than 5 inches.
– Check your working condition – A pole saw should not be operated when it's rainy, wet, windy, or in the dark. You should also check the wood quality to see if there is any damaged area posing a danger to your operation.
– Always keep the pole saw upward – While holding the pole saw, it's advisable to make it as vertical as possible. This angle will reduce the pressure on your holding hands and allow the blade to cut faster.
FAQs
What is the best Stihl pole saw?
Stihl is a brand with various product lines for pole saws. The best Stihl, according to research and customer review, is the PP 800 Telescopic Pole Saw.
What is the longest pole saw you can buy?
From these pole pruner reviews, the longest pole saw is the Silky HAYAUCHI Manual Pole Saw. If you are brand-conscious, the Remington RM1035P Pole Saw is also a good choice. 
How far does a pole saw extend?
The pole's length decides how far the tool can extend. Most pole saws average around 6 feet. Extendable poles can reach up to 10 feet or more.
We have the Silky HAYAUCHI Manual Pole Saw even offers 21 feet of pole length. 
How thick can a pole saw cut?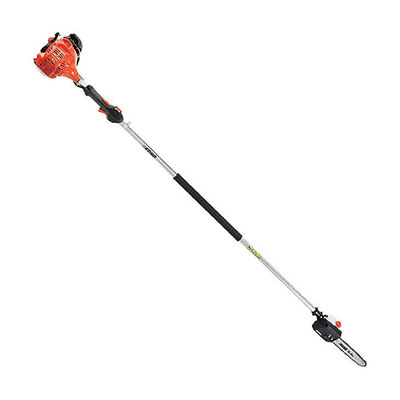 The answer depends on the bar's length of the pole saw. Most of them can manage 4-inch-or-less trunks.
But some heavy-duty tools like the MAXTRA​​ 2-Cycle Gas-powered Pole Saw can cut up to 7-inch branches. 
How long can a pole saw be?
Most chainsaws have a length of 5 – 10 inches. The most popular option, the Greenworks PSPH​​40B210, has a sawing length of 8 inches or about 20 centimeters. 
Time to choose the one from the best pole saws above!
If you have a lot of trees, hedges, and branches on your property that are out of reach from the traditional garden pruning tools, a pole saw will be a great help. And we just walked through the 10 best poles saw options for your buying consideration.
If we have to go home with one of the best pole saws mentioned, our recommended choice is the Greenworks PSPH40B210 Cordless Pole Saw, as it offers the best value for money.
It has the flexibility you need for both basic and advanced cutting works. The pivot, cutting blade, and chainsaw help you fully harness your gardening job.
And the best thing is, the learning curve is not steep at all. You will soon feel the beat and get on well with the machine. 
Thank you for reading through the detailed review on all 10 poles saw products, and we hope it's now easier for you to settle down with your buying decision.
Sale
Greenworks 40V 8" Cordless Polesaw + Pole Hedge Trimmer Combo, 2.0Ah Battery and Charger Included*
40V COMBO KIT – This polesaw / pole hedge trimmer combo kit allows you to keep your trees and hedges trimmed and healthy, enhancing your curb appeal
8" BAR AND CHAIN (POLESAW) – for easy trimming of branches
20" BLADE (POLE HEDGE) – dual action blade for optimal performance, and trimming of tall hedges. 7-position pivoting head for trimming at multiple angles
EASY ADJUST TENSIONING - for quick tightening of the polesaw chain
AUTOMATIC OILER – applies oil to the bar and chain to ensure durability and extend the life of the chain