Making sure that your garden is maintained properly might sound easy.
But in reality, it's not. It needs a lot of preparation, technical know-how, and the right equipment to make sure that your garden or lawn is in its best shape.
One way to do that is by having the best rear tine tiller. In this article, we're going to help you choose the perfect one for you.
Why should you have a rear tine tiller?
1. Easy to use
These rear tine tillers are very useful if you want to till your land.
It's because it's very easy to use, and it won't surely stress you out due to its wheels being connected directly to the engine. This means that you don't have to move a muscle in moving the wheels. The engine does it for you, thus making the whole tilling job easier.
It's as simple as that. You don't have to worry about getting your arms and hands exhausted because you don't have to do it on your own.
2. Safety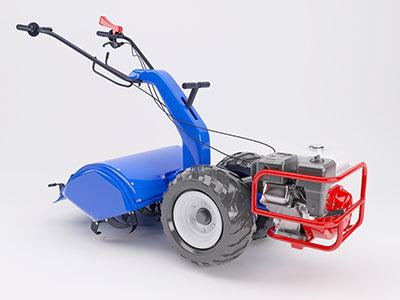 Another cool thing about these rear tine tillers is that they're very safe to use. Why is this so?
Well, it's because it is specifically designed to till the land and just that. And because of it, its mechanism, design, and overall build are made to till. One proof that it speaks of safety is its side and rear shields.
These shields make it safe to use because it protects you from sudden jerks or unforeseen incidents.
3. Versatile capability
What we mean by versatile capability is that these rear-tine tillers are fully capable of taking on any soil.
It doesn't matter if it's loam soil, sandy soil, or whatever type of soil you can think of. It can work on it effortlessly. That's what makes these machines reliable when it comes to land tilling.
They can take on different heights on various soil types. That's how capable they are.
4. Stable for use
These rear tine tillers are also stable to use. This means that you will become more productive and efficient in using it. This leads to faster working time and a greater area covered.
It's because most of these tillers feature big treaded wheels that can roll on different types of terrain. It also helps the tiller become more stable in tilling the soil, making it more comfortable for you to use.
There are fewer vibrations, thus, less stress on your part.
5. Great for re-tilling
Then there's its capability of re-tilling the soil. It can do it due to its counter-rotating tines. This means that its tines can turn and rotate in the other direction, which is the opposite of the wheels.
Not only does this make re-tilling possible, but this also makes the whole task of tilling very tough ground easier.
You don't have to worry if the ground is very compact and hard because these rear tine tillers perfectly do fine with it.
Top 6 best rear tine tiller reviews
When the harvest season has ended, and you want your land to be ready for the next one, the YARDMAX YT4565 can help you without effort.
This robust machine has a 6.5-inch cultivating depth and an 18-inch cultivating width, which means your project will be done at once.
With such a massive cultivating width, you will need fewer passes to break all the soil on your lawn. Nonetheless, the cultivating depth is a bit lower than our criteria. In general, it is still sufficient to plow through soft earth.
On top of that, you can have a total of seven adjustments within this 6.5-inch cultivating depth. As such, you can have more control over the machine to complete different projects.
A smart technology here is that the 13-inch tines on this tiller have the ability to self-sharpen. Every one of us also knows that sharp tines are a must-have to get the job done properly, and sharpening them is quite time-consuming. Then, this is really a significant advantage.
While most people worry about steering a powerful tiller on harsh terrains, this user-friendly device permits you to use it with solely a single hand.
If you feel uncertain about the rugged area you are going to dig, just stand on one side of the tilling machine and navigate it.
Regarding safety, there is a rear shield plus a customizable side shield to safeguard your body from flying objects. Overall, this product brings about peace of mind for its users in any case.
Pros
Easy to balance and steer
Self-sharpened tines
Various depth adjustments
Extensive cultivating depth
Cons
Cultivating depth is not so good
In spite of its compact frame, the Earthquake Victory 29702 CRT can provide monstrous power, just like a full-sized model. Thus, it is ideal for both small and medium gardens.
It has a series of outstanding features, such as balanced maneuverability in the row and the sod, that allow easy one-hand control.
Furthermore, the 16-inch cultivating width combined with the 10-inch tilling depth offers easy tilling ability on most types of grounds. And the dependable 196cc Kohler engine will supply enough power for almost all kinds of gardening tasks.
If you want to till your land thoroughly, the Earthquake rototiller has both forward and reverse gear options. Although the tiller does not have adjustable speed or power, it allows you to walk in reverse without having to lift it and turn in the opposite direction.
Meanwhile, the tines counter-rotate to dig the land more efficiently. So the chances are that you do not have to plow the soil more than once.
Pros
Incredible stability and balance to enhance ease of use and safety
Agricultural tires feature optimal traction on all terrains
Vertically adjustable handlebar adds extra convenience
Reverse gear eases and expedites tilling
Powerful engine with high torque
Counterweights deliver superb control
Cons
The device utilizes manual start instead of an electric start
While the majority of rear tine tillers tend to cost you a small fortune, the Champion 100380 is an excellent option at an affordable price for everyone to buy.
The first thing that captures our attention must be the massive 19-inch cultivating width. This is the largest cultivating width of a tiller at present.
Imagine how useful this machine will be when you have a big garden to take care of but too little time to do that. Tilling the whole garden will take you only a few passes in several hours.
Plus, the 8-inch cultivating depth is also very impressive. You can seed just nearly any kind of plant on your well-plowed land. 
Thanks to self-propelling tires, the equipment will ease your burden of steering the tiller. You just need to use minimum force to push it forward.
Finally, if there are any issues happening, you can still take advantage of the two-year warranty that the manufacturer provides. So there is nothing to worry about.
Pros
Extra-large 19-inch cultivating width
Impressive 8-inch cultivating depth
The wheels are self-propelling
Budget-friendly
It comes with a 2-year warranty.
Cons
Some models have issues with broken parts
Handling hard rock is easier than ever with the Troy-Bilt Pro-Line 21D-655A766. With huge 13 x 5-inch AG tires and the brawny 160 cc Honda GC160 engine, it is an unstoppable machine on all terrains.
You must think we are just kidding, but this beast really has 10-inch bolo tines that can penetrate the ground to a 6-inch depth and a tilling width of 16 inches.
Thus, it is understandable why this appliance is so heavy, weighing up to more than 171 lbs. Because of this high weight, the Troy-Bilt Pro-Line 21D-655A766 will have no difficulty in getting more traction on slippery surfaces, and its tines will not get piles of dirt underneath.
Moreover, the machine also offers up to four forward, two reverse, and one neutral speeds for better versatility. You can move forward like a flying jagger, backward slowly, or walk with a neutral speed.
Unfortunately, although it can be maneuvered with solely a single hand, the bulky size and heavy weight will require users to use a lot of force.
Besides, its lack of counter-rotating tines and high cost do not allow us to rank it higher on our list. So, it is just ranked fourth in our top 6 best rear tine tillers.
Pros
Powerful 160 cc Honda GC160 engine
Durable 13 x 5-inch AG tires
The 6-inch tilling depth and 16-inch tilling width are wonderful
Multiple speed settings
Cons
There are only forward rotating tines
Very pricey
If you merely have a small garden to look after, the Craftsman CMXGVAM1144036 is an ideal option.
Although its modest 14-inch cultivating width is far inferior to other products, this dimension also simplifies the management and navigation of the device.
With a 10-inch length, its steel tines are a little lesser than other tillers, too. But anyway, it is engineered to handle light-duty tasks.
Thankfully, the machine still provides a 7-inch cultivating depth, which is decent to get your job done.
As for convenience, the product features a self-propelling option to aid users. What you need to do is simply guide the tiller in the proper direction rather than push it manually. During hot and tiring days, such an automatic function will be extremely handy.
When it comes to safety, the tiller has a tine shield to block any flying particles that may damage the device or hurt you.
Although you are not prone to meet any problems, the two-year warranty on the product plus the lifetime warranty for customer support will still be a remarkable bonus.
Yet, we have a note for you. If you intend to use this rear tine tiller to handle heavy-duty tasks, forget about it. The Craftsman CMXGVAM1144036 should only be used for light-duty jobs but nothing more than that.
Pros
Very lightweight and compact
Easy to maneuver
There is a self-propelling option
It comes with a two-year warranty
Cons
Only suitable for light-duty projects
Husqvarna CRT900 is a nice choice if you want a heavy-duty unit to finish your demanding jobs.
Despite the fairly high price, the device proves that it is worth it with sturdy components, awesome power, and high performance on all terrains.
The 205cc Briggs & Stratton engine can be operated in seconds to deliver sufficient power to crush all types of sod and soil.
For enhanced stability, balance, and safer operation, the heavy wheels come with Chevron tires and a counterweight feature. This also helps the tiller to have good traction and work well even on rugged or uneven grounds.
In addition, the counter-rotating tines enable gardeners to either prepare the yard for cultivation or dig deeply. Meanwhile, forward and reverse capability gives you more maneuverability as well as control.
Apart from all of the above characteristics, the adjustable tilling depth and moderate 14-inch tilling width will ensure a beautiful garden, even if you are just a beginner.
Pros
205cc Briggs & Stratton engine for heavy-duty projects
Adjustable tilling depths
Counterweight wheels improve balance and traction
Reverse gearbox supports maneuverability and control
Chevron tires increase traction and grip
Cons
Somewhat costly
The handle should be better wielding
What makes a good rear tine tiller?
1. Big wheels
The first thing you must consider when choosing a rear tine tiller is its wheels. The wheels should be big so that they can easily work on different terrains of various soil types. Having big wheels means that it can easily cross even the muddiest of soil.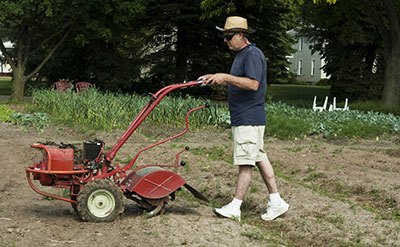 But then again, it's not just the wheel's size you have to focus on because its texture and quality are also important considerations to make. It would be better if the wheels featured a texture that is built for the rugged outdoors.
This makes it even more capable of tilling any ground. Then there's the element of quality, which determines the lifespan of the wheels. You surely don't want to replace your wheels soon.
2. Durable body construction
The body construction is another important consideration to make. Make sure that the material it's made of is of high quality or premium quality so that you'll know that this will last for a long time.
You obviously don't want to buy a new rear tine tiller after just a few years because that will surely be a waste of money.
See to it that the body is sturdy and can take a lot of beating.
3. Comfortable handles
You want to be comfortable when using a rear tine tiller. One way of ensuring your comfort sees to it that its handles are comfortable to hold.
You use the tiller by holding and controlling the handles. It's where your body gets in contact with the machine, which is why it's important you take notice of this element.
It's best if the handles feature a soft padding cushion that gives you a good grip. This makes it comfortable for your hands. It would also be nice if the handles featured an ergonomic design so that you'll have a perfect grip on them.
4. Powerful engine
The engine is another important consideration to make. It's what makes these machines effective and highly useful.
Make sure that the engine is powerful enough to take on even the hardest of grounds or soil types. The engine is where the tiller's power comes from, making it a vital component to consider.
However, it's not just about brute force when you're talking about the engine's capability.
You also need to consider its efficiency and its emissions. Is it safe for the environment? Does it spew out a lot of smoke?
It's by asking these questions that you can avoid buying a rear tine tiller that has an engine that wastes a lot of fuel.
5. Justifiable price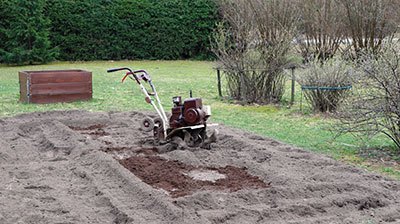 Instead of using the word affordable, we used justifiable in describing the price. The reason behind this is that we don't want you to get affordable rear tine tillers that are of low quality.
We want you to get something that is worth the price. So it's still a good buy if it's expensive as long as it has a ton of great features and is made of premium materials.
This is what we mean by justifiable price. But take note that there are a lot of rear tine tillers sold on the market that is affordable yet have similar features and quality to the more expensive ones.
So you might want to remember that when choosing one.
Conclusion
After comparing all the advantages and disadvantages of each product, we have decided to choose the YARDMAX YT4565 to be the best rear tine tiller.
Although perhaps this garden tool does not offer the deepest tilling depth or widest tilling width, it still gets the highest score overall.
The device can handle both light and heavy jobs, the tines are self-sharpen, the two shields are highly protective, and the traction on all terrains is good.
The only downside is its short tilling depth, but this will not matter too much.