Tending the plants in your garden is an important activity you need to do.
Not only does it make sure that your garden will look good, but it also ensures the proper growth of your plants. You can do this by trimming your plants.
In this article, we're going to show you the best trimming scissors you can use to do just that.
Why do you need trimming scissors?
1. Maintain optimal plant size
One of the best reasons why it's important for you to have trimming scissors is because it helps maintain the optimal size of your plant.
It makes sure that it doesn't become an overgrown plant because that would surely be a big hassle for you.
It's by using trimming scissors that you are able to cut out the unnecessary branches easily or stems that are growing from your plant every now and then.
Different plants grow in certain ways, which is why you need to check how their growth progresses regularly.
And if things aren't going the way it's supposed to, then don't hesitate to use your trimming scissors.
2. Safest way to tend your plants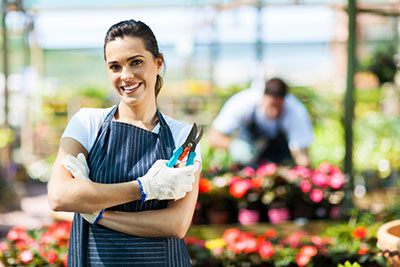 Safety is a big concern when it comes to tending your plants.
What usually happens with gardeners is that they easily get pricked by the plant's thorns. This is especially true if you're pruning plants that are tightly placed with one another.
And not only that, but it's also pretty likely that you'll get scratches or even cut your fingers when using some kind of bulky gardening scissors.
With the help of trimming scissors, you don't have to worry about any of those.
These are specifically designed to trim plants, and that's what makes these really safe to use.
3. Comfortable to use
Then there's the comfort factor. These trimming scissors are comfortable to use because, then again, they are made for the specific task of trimming your garden plants.
This means that the way its handles are designed and shaped and how its leverage and various mechanisms work are all in sync with each other.
This leads to a comfortable and easy-to-use user experience. These are made for the purpose of making the trimming task easier for you.
You won't experience any arm or hand aches or get calluses and bruises from holding these trimming scissors for too long.
4. Fine attention to detail
When you're using trimming scissors, you benefit from their precision.
It's because cutting specific parts of the plants is possible, even if that means a few inches down to certain millimeters of the stem.
There's no stopping you from doing those precise cutting and trimming tasks.
That's what's great about these trimming scissors; they're pretty attentive to details. This also makes them great tools if you're into ornamenting your garden plants.
Top 5 best trimming scissors you can get
If you are looking for handy trimming scissors that can help you with detail cuts, this GROWNEER pruning shear is worth considering. It possesses a lot of features that can tick all your checkboxes for an excellent pruning shear.
The first thing we like about these lightweight scissors is the ergonomic design. It is a built spring-loaded pruning shear that opens automatically. Hence, you will save a lot of effort while using this handy gardening tool.
Moreover, the non-slip rubber grip enhances your comfort as well as aids in reducing fatigue during work. It also has a safety lock to keep the sharp blades closed neatly. We praise this feature as the tool only gets ready when opening the lock. It will help you avoid accidents, as well.
When it comes to the blade, this pruning shear with a stainless steel blade is suitable for precision cutting and quick snips. If you clean the blade after every use, it will stay sharp for an incredibly long time of use.
Pros
Built spring-loaded pruning shear
Ergonomic design with a secure locking mechanism
For both right and left-handed users
Cons
The spring is too tight and easy to fell out
Among the 5 products in this list, this Haus & Garten hand pruner has the best design. Also, it is one of the prior options for the best trimming scissors.
When purchasing these scissors, you will get handy and ergonomic pruning shears that can significantly shorten the cutting time. First, it has a classic design with a razor-sharp curved blade that can enhance your cutting performance.
If you are medium or large hand size, the scissors will fit you perfectly. Moreover, they feature a long handle grip with an anti-slip red cushion and shock-absorbing pads to reduce fatigue and wrist strain.
With the 1-inch cutting capacity, you can use these scissors to deal with small and medium branches. Besides, the sap grooves can prevent debris from sticking to the bypass blades. Thus, you don't have to spend time cleaning the blade after use.
Also, these advanced trimming scissors possess a micro-metric adjustable system that optimizes precise cuts with manual blade adjustment and alignment. It allows you to have clean cuts with a maximum cutting capacity of 1 inch, depending on the type of wood.
Pros
A curved blade to enhance cutting performance
Ergonomic design with well-padded handle grips
Micrometric adjustable system
If you want reliable pruning shears that can last for several years, these Fiskars 91095935J scissors might be an excellent choice.
The scissors have an all-steel design that provides great durability for lasting value. Also, the blade is coated with a low-friction coating to offer it a shiny metallic look as well as help it resist rust.
The sharp and robust bypass blade allows the shear to glide through wood effortlessly. Moreover, it features a sap groove to keep the blade clean of debris and sap. The non-slip grip and easy-open lock protector aid in avoiding accidents while tending the plants.
With a maximum cutting diameter of ⅝ inch, this hand pruner is ideal for dealing with stems and light branches. Moreover, it is such a lightweight and versatile tool to help you tackle various gardening tasks.
One of our experts said that he felt so lucky to have this tool in his gardening toolbox. As it is compact and lightweight, he could use it without the fear of fatigue or wrist strain.
The only drawback is that you will still need more powerful shears to deal with thick branches.
Pros
Self-cleaning sap groove
Low-friction coating blade
All-steel design
Cons
Not suitable for cutting thick branches
For those who have smaller hands, it is quite hard to use typical pruning shears as it might be too harsh for you to cut with one hand. But the thing will change when you purchase these Fiskars 99216935J trimming scissors.
The scissors have been awarded the Arthritis Foundation Ease-of-Use Commendation for their user-friendly design. Even if you are someone with arthritis or limited hand strength, you can use these compact scissors to tend the plants around your garden with ease.
They feature a soft and long grip and an easy spring-action design that will gently open the blades after cutting. Thus, you don't have to use a lot of strength as well as experience hand strain.
Apart from the micro-tip blade allowing you to have a high-precision cut, the stainless steel blades stay sharp and durable after several times of use. All of those features make these compact scissors an ideal option for multiple gardening tasks.
Pros
A versatile tool for multiple uses
User-friendly design for people with arthritis or limited hand strength
Easy action spring-action design
Cons
Not powerful enough for thick branches
Last but not least, this VIVOSUN hand pruner is worth considering with its many outstanding features.
Not to mention the reasonable price, these pruning shears with high-quality stainless steel blades can offer you a relatively long service. Also, they are coated with titanium to prevent the blade from rust and maintain their sharpness.
These scissors feature quality snips that allow you to have precise cuts for your roses, annuals, vegetables, and small flower gardens. Besides, the long and narrow tips provide you with extended reach to difficult areas.
With the spring-action design and a comfortable grip handle, this hand pruner is ideal for working for a long time without hand strain, fatigue, and wrist pains – moreover, the closing latch with a black switch aids in keeping the blades together and avoiding accidents.
The best thing we perceive about the scissors is the bold color. Even if you have a big box with several types of gardening tools, the nice color helps you find the scissors in a matter of minutes.
Pros
Quality snips with stainless steel precision-sharpened blades
Comfort grip handle
Lightweight
Bold and nice color
Cons
Alignment problems with the blade tips
What should you consider when choosing to trim scissors?
1. Blade
The first thing that you obviously need to consider is the blade. The blade is the whole point of why you're getting trimming scissors.
You need something that can easily cut and trim your plants to your liking.
And what part of the scissors gets in contact with the plant? It's the blade.
It's for this reason that you need to make sure that the blade is sharp and is made from high-quality material. If it easily gets dull, then there's no point in using one.
2. Lock and cover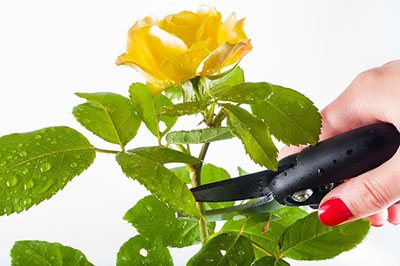 As we've said earlier, it's important to ensure safety when using trimming scissors. That's why having a blade lock and a couple of shear blades covers is recommended.
If you're choosing one, it would be best if you'll choose something that has these features so that the chance of you getting cuts, bruises, or some type of injury is less.
These protective features will surely make the plant trimming task easier for you.
You'll also have the peace of mind of knowing that you're not going to bleed when using it.
3. Weight
Weight is another vital thing to consider. This is also where the comfort levels depend.
The lighter the trimming scissors, the more comfortable you'll get in using them. With this, it would be better if the trimming scissors of your liking were light ones.
Not only is it easy to carry and use, but it also lets you have better precision in trimming the specific parts of the plant.
Precision and the level of detail depend on the weight of your scissors, so you might want to keep an eye on that.
4. Brand
The brand of the trimming scissors is also where you'll see if it's durable or not.
It's where you'll know if it's a quality product or just some crappy thing that'll get destroyed after a few usages.
Know the brand and research the internet. Ask yourself questions like, "Is the maker a reputable company?" or "What do other users have to say about the product?"
It's by asking questions like these that you get a grasp on the worth of the product.
Positive reviews and testimonials mean that the trimming scissors are worth buying.
5. Handle
It's recommended that you choose trimming scissors that have comfortable handles.
Those that have non-slip grips are what you need to get, especially if you have sweaty hands.
There are also ergonomically-shaped handles that fit perfectly well on your hands. 
Take note that the handles have a very big effect on your user experience because it's where your body gets in contact with the scissors.
6. Spring feature
You might have noticed that when you use ordinary scissors, you need to bring back the blades in contact with each other every after the winch.
If you take away that need, the whole trimming experience would surely be way easier. And that's just what a spring feature does.
The trimming scissors that have this feature have a spring that is built-in on it. This then automatically flexes the scissors back to starting position with every cut you make.
This reduces your hand fatigue and makes the whole trimming experience easier for you.
Conclusion
Apart from hand pruners, handy trimming scissors are a must-have item for gardeners to keep their bushes well-manicured. A compact tool like the GROWNEER 3-Pack Pruning Shear can help you tackle most detailed gardening tasks with several features:
– Ergonomic design with an anti-slip grip handle
– A spring-assist operation to reduce fatigue and strain
– Sharp blades with micro snips for precise cuts
We strongly recommend this GROWNEER 3-Pack Pruning Shear to you. Try it and share with us how it works by writing the comments below.
Thank you for reading!
GROWNEER 3 Packs 6.5 Inch Pruning Shears Gardening Hand Pruning Snips Gardening Scissors with...*
Make Precise Cuts: Hand pruner is ideal for trimming, shaping and other quick snips on small plants. You can easily make precise cuts with one-hand and without damaging the other vital stems and...
Reduce Hand Strain: Pruning shear are built spring-loaded, so that they automatically open which greatly reduces hand fatigue. Ergonomic design rubber grip will make it easy to work for long periods...
Ultra Sharp Blades: These snips come with straight stainless steel blades for precision cutting. High grade blades are sharp and durable.
Safe and Easy Operation: These snips feature a secure locking mechanism that keeps your blades protected and closed when not in use. The design of these pruning snips are perfect to use whether you...
Widely Used: Perfect for harvesting or trimming herbs, flowers, house plants, hydroponics, bonsai or other cutting needs in the garden, greenhouse.