The durian tree (Durio zibethinus, syn. Durio acuminatissima) is a tropical fruit crop that is adapted to elevations up to 800 masl having an optimum temperature of 25-35 C, relative humidity of 80%, and annual rainfall of 1,500-2,000 mm which is well distributed throughout the year.
It prefers deep, sandy loam and clay loam soils with high organic matter and which are well-drained and slightly acidic (pH 5.5- 5.6).
In the Philippines, durian trees are grown as a mono-crop or intercropped with coconut and other fruit trees.
The durian fruit is popular in the tropics due to its strong aroma and unique taste.
Many find it repulsive but for those who relish the fruit, it is often described through the following saying: "It smells like hell, but it tastes like heaven."
The characteristic odor of the fruit is from thiols or thioethers, esters, and sulfides.
Practical tip: To get rid of the durian smell from the mouth and fingers right after eating ripe fruits, the empty shell is reserved for later use.
A common practice is to pour water into the hollow cavity on the inside of the empty shell. This water is used to rinse the mouth and hands.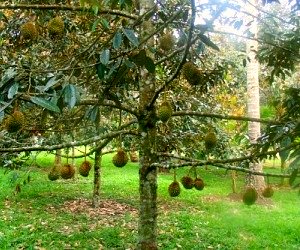 The edible part of the durian fruit (technically a capsule) is the fleshy aril that surrounds the seed, representing 20-35% of the fruit weight.
The flesh is rich in carbohydrates, proteins, vitamins (thiamine, riboflavin, and vitamins A and C), and minerals (calcium, phosphorus, potassium, iron).
The flesh is eaten fresh or processed into jams, marmalade, spread, pastilles, or flavoring for ice cream, candies, cakes, and rolls.
It is preserved by drying into "durian cake" or by boiling with sugar; it is also frozen or chilled in suitable packaging.
Native to Southeast Asia, durian trees are commercially grown in Thailand producing 900,000 to 950,000 tons of fruit, Malaysia (400,000 tons), and Indonesia (200,000 tons).
Durian is also grown on a small scale in the Philippines and other countries in Southeast Asia, mainly for domestic consumption.
Most durian orchards in the Philippines are located in Mindanao.
In 2003, the volume of production in the Philippines was about 40,000 tons, mainly from Southern Mindanao.
The durian tree is a large tree, up to 40 m tall.
Trees grown from seed often mature 7-12 years after planting; clonal trees in 4-5 years.
Flowering occurs in 2-3 weeks, and the inflorescences formed from older branches.
Pollination is largely done by nocturnal, nectar-feeding bats and possibly by moths.
In Thailand, early maturing cultivars are harvested between 95 to 105 days after bloom while late cultivars are harvested after 130 days or more.
Harvest seasons are quite short, generally lasting for 2 to 3 months only per year, although there are smaller harvests in other months.
In Thailand and Malaysia, peak harvest is between June and July; in Indonesia, October to February; and in the Philippines, August to September.
However, it has been observed that the harvest period varies with elevation and cultivar. Orchards in low elevations tend to produce fruits early.
Fruit yield is variable.
But in Thailand and Malaysia, good orchards produce 10-18 tons per hectare annually.
This corresponds to a durian tree having about 50 fruits weighing 1.5-4 kg each.
Commonly Grown Cultivars/Varieties of Durian Trees
In Thailand: Gaanyao, Montong, Kob Picul, Chanee, Luang, Kradoom Tong, and Chompoosri.
n Malaysia: D2 (Dato Nina), D10 (Durian Hijau), D16, D24, D98 (Katoi), D99 (Kop Kecil) D116 (Batu), D117 (Gombak), D123 (Rim 2/Chanee), and Hew 3;D145 Tuan Mek Hijau/Beserah D158 Kan Yau/Tangkai Panjang, D159 Mon Thong/Bantal Mas, D169 Tok Litok, MDUR78, MDUR79 and MDUR88. 
In Indonesia: Sitokong, Bakul, Mas, Sitebel, Simanalagi, and Simadat.
In the Philippines, the following local varieties have been recommended by the National Seed Industry Council (NSIC): Alcon Fancy, Arancillo, Atabrine, Duyaya, GD 69, Lacson Uno, Lacson Dos, Mamer, Nanam, Oboza, Puyat, Sulit, Umali, and UPLB Gold.
Dr. Pablito P. Pamplona (2006), a renowned fruit expert, noted some differences in the performance of durian trees under high and low elevations (>800 and <400 masl, respectively) in Calinan, Davao City.
He noted that the Puyat and Duyaya varieties performed equally well in both elevations but Arancillo produced bigger fruits at the higher elevation.
D24 and MDUR88 appeared healthier in high elevation.