A wildling is a seedling that grows naturally in the wild. Plentiful can be found on forest floors.
However, the term is now used broadly to include those which grow from seeds that fall under the canopies of adult trees, shrubs, and palms that are intentionally cultivated.
These naturally growing seedlings can be the best choice as planting materials if available, easily accessible, and affordable.
Where there is an immediate need for potted seedlings grown in the nursery but supply is scant or uncertain, access to sources becomes valuable.
Personal experience by the author also revealed that with Robusta coffee (Coffea robusta L.) having stems approximately as thick as a common pencil or over, flowering may be advanced, that is, within a year.
In contrast, it may take three years for young nursery-grown seedlings to mature.
In addition, these planting materials may be the only reasonable resort where the cost of nursery-grown seedlings is beyond the means of a farmer.
Why indeed should a poor farmer be excepted from growing coffee on his farm when there are seedlings growing in abundance on nearby farms which can be harvested at will at little or no cost?
Wildlings can be potted into polyethylene bags immediately upon arrival.
With due care, it will only take a few days for the seedlings to form new roots and sprouts.
These can also be directly planted on the field especially if the source is nearby.
To ensure high survival, it is preferable to transplant during the rainy season particularly on a day with low light and the soil is wet.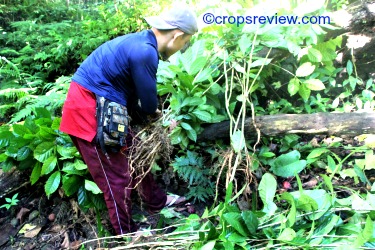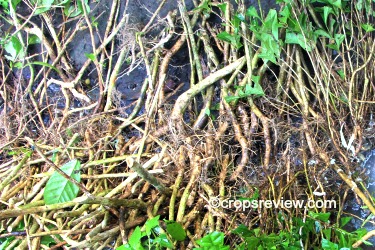 The massive use of these planting materials as bareroot for direct planting is best in farms that are frequented by rain and where the ambient temperature is not so high.
This is so because these planting materials are prone to water stress and heat injury.
Whether potted and temporarily raised in a nursery or directly planted on the field, the seedlings can be transformed later into a superior variety by grafting.
Where Wildlings Come From
These plants arise from mature fruits (i.e. coffee berries) or seeds (as in pine trees) that fell on the ground or from depulped fruits (i.e. coffee beans) excreted by animals.
Growth, in fact, is exceptionally thick in some places that the vegetation becomes a groundcover.
I saw this in some farms at Basag, Monkayo, T'boli, South Cotabato, Philippines where coffee trees were old and tall.
I also discovered a similar view around a dead stump of a big molave or tugas tree (Vitex parviflora) at Tinoto, Maasim, Sarangani.
The view was so spectacular that it remained in my mind.
Each plant was old and dwarf and potentially a good specimen for small bonsai (click here to read an article about molave bonsai).
Plant Collection
Back in November 2000, we collected Robusta coffee wildlings on a farm at Basag.
The plants were uprooted by hand, sometimes necessitating the use of a digging bar (bara) to loosen the soil.
The roots were pruned and the leaves were trimmed.
A day after, the uprooted plants were transported to the Mindanao State University-Fatima Campus, General Santos City (MSU-GSC), and immediately potted individually into plastic bags.
The survival rate was almost 100%.
Outplanted in the following June-August, many of the plants started flowering after only 5-6 months. The wildlings must be old.
Although they were seasonally slashed during weeding, they have resumed growth.
Further, there are plenty of Arabica coffee trees (Coffea canephora L.) growing in Mount Matutum.
The seedlings that grow naturally under the canopies can be used as planting materials in highly elevated farms where the variety suits well.
I happened to be there at Kinilis last year at the foot of the volcano close to Polo, Polomolok, South Cotabato, and Dole Philippines.
The seedlings were easy to uproot as the soil was moist and soft and I left with a sackful of the planting materials.
We also collected wildlings of Robusta coffee at Datal Tampal, Malungon, Sarangani Province in August 2017.
The planting materials were used in establishing a coconut project intercropped with coffee and chili or hot pepper (click here to read the second page).