So, if you're reading this, you're probably in the following situation – your old tractor tires have worn out, and you need new ones.
Now, there are so, so many choices, ranging from standard R1 tires to F1 tires, with a lot of different designs in between.
Supposing you're a layman when it comes to tractor equipment, this probably has you confused and left with no idea how to move on.
Well, for all of you that aren't well-versed in the agricultural industry terms, we're here to shed some light.
We'll give you some info on how to buy tires and where to look for them, and we'll also review the six best tractor tires from our team.
Hopefully, this article will be just enough to get you back out there into the field.
Let's go!
Top 6 Tractor Tires – General Overviews
Before we get all technical and reviewy, we'd like to equip you with some basic info on the products we'll include in this article.
$$ – MaxAuto Tractor Tires for Lawn Tractor and Mowers – 2 pieces
If you'll be working on grassy fields, like golf courses, this set of two tractor tires will be your best friend – no slippage, great traction, and excellent value for money.
$$ – Carlisle Trac Chief Lawn & Garden Tire – 1 piece
You don't want to hassle? – this is the tire for you.
It's a perfect pick for skid steers and traditional tractors, it fits almost all models, and it can be used in various fields.
All in all – this is one of the best all-around tires you can get.
$$$ – Carlisle Trac Chief Bias Tire – 1 piece
Construction sites require some massive vehicles and machines, which consequently require strong accessories.
Well, if this 2130 lbs tire doesn't do the trick, we don't know what will.
$$ – Harvest King Front Tractor Tires – 1 piece
If you're looking for a replacement tire without a rim for your Harvest King tractor, this is the best one.
It's got a 6-ply ply rating with an 85 index rating, and it can even support 1140 lbs of weight. Great, right?
$ – Carlisle Farm Specialist Tractor Tire – 1 piece
Are you looking for a tire that can provide traction and it's not expensive? That's what you'll get with this 28-inch Carlish Farm Specialist tire.
Also, it's got a universal fit, which you must like.
$ – Russo Commercial Turf Lawn Mower Tires – 2 pieces
Driving on road surfaces with a tractor or a loader has never been more comfortable than with this set of tires.
They're durable, lightweight, and the most affordable item on our list.
Best Tractor Tires 2022: Our Exclusive List!
1. MaxAuto Tractor Tires for Lawn Tractor and Mowers – The Best Lawn Tractor Tires
Brand: MaxAuto
Rim Size: 8 inches
Diameter: 16 inches
Type: Tubeless
Rating: 4-ply
In most cases, the tires you'll use on most surfaces will need to excel at three things – superior traction, speed rating, and the appropriate tread pattern that will help you run over all types of surfaces.
Well, search no more than the MaxAuto Tractor Tires for Lawn Tractor and Mowers.
Here we have a set of two R-3 tractor tires or turf tires, as they're popularly known.
They're generally used as lawn and garden tires, but they're also known to be efficient with slippery and wet surfaces, which is great when it's been a rainy night, and you want to tend to your lawn first thing in the morning.
They got a 5.5 mm tread depth, A3 speed rating, and a 28 psi tire pressure.
When it comes to the rating, all you should know is that you can maintain a speed of 9 mph without needing to worry about the overall tire life.
These front tractor tires can easily be mounted on most models that have the same dimension requirements, and they've got a 4-ply construction.
Overall, their dimensions and tire size allow the user to be carrying heavy loads with a much smoother ride than you'd expect.
Mowing grass is also something you'll be able to do as they're quite durable when exposed to muddy and murky areas.
They don't have a very aggressive tread design, but they will work on both solid and loose soil.
Honestly, there's not much we can say regarding its flaws – it's perfect.
We'd recommend every lawn worker to purchase these tractor tires, including our friends and family.
Pros
Perfect for lawn tractors
R-3 turf tires
Steering control
Works on various types of soil
2. Carlisle Trac Chief Lawn & Garden Tire – The Best All-Around Tractor Tire
Brand: Carlisle
Rim Size: 10 inches
Diameter: 18 inches
Type: Tubeless
Rating: 4-ply
The most popular tires nowadays are universal, i.e., the ones that let you work on solid turf, sandy soil, and even grass.
Well, you won't find a more universal tire than the Carlisle Trac Chief Lawn & Garden Tire.
Even though this tire is advertised as a lawn and garden tire, it doesn't differ that much from your standard tires.
It's got an excellent grip, and it's great for general-duty skid steers and more compact tractors.
If you take it for a spin on uneven turfs, you'll see that its rim guard protection will be more than enough to secure proper handling and better traction than you're used to.
It's got a solid tread depth of 24 millimeters and a 10-inch rim size, which makes it a non-winter tire, just in case you were wondering.
They're not as durable as industrial tires, but they do have a longer tire life than most R-3 tires, which tells a lot about the overall longevity of this product.
Carlisle has always manufactured and distributed quality tires, so it's no wonder that we have such an offer in this review list.
We do want to mention that all the weight that can be put onto these tires shouldn't exceed the manufacturer's recommendations as they are intended for compact tractors.
Comply with the load capacity, and you'll be set.
Pros
Suitable for different terrains
24 mm tread depth
Work on hard surfaces
Half the price of most premium tires
3. Carlisle Trac Chief Bias Tire – The Best Heavy-Duty Tire
Brand: Carlisle
Rim Size: 14 inches
Diameter: 14 inches
Type: Tubeless
Rating: 6-ply
Here we have another Carlisle product, and it's a real treat.
Since one of the main cons of the previous one was the load index, we figured we should include a tire for heavy loads.
Here's the Carlisle Trac Chief Bias Tire.
The capacity or load index of this new tire is an incredible 2130 lbs.
Thanks to its powerful grip and excellent stability, you'll be able to load your tractor with accessories such as grapples for excavator buckets, and you won't see any indentations on the tires.
They are non-winter tires, so it's best not to test them in cold or rainy weather, but they should give you a better ride than most tires on any other turf if the weather conditions are good.
Moreover, this is a universal fit – no more thinking about technicalities, numbers, and models.
Simply mount these bias-ply tires and tread on.
Also, it surprisingly weighs only 26.7 lbs, which is not that much for bias tires.
If you own a tractor with the same dimensions for back and front tires, you might notice that the weight distribution for this model doesn't benefit the front-end loader.
They are best used as back tires or replacement tires, so that's the only flaw we can tell from this position.
Pros
A sturdy tire
Load index
Universal fit
Rear tractor tires
Cons
Not that durable compared to previous tires
4. Harvest King Front Tractor Tires – The Best Tire For Replacement
Brand: Harvest King
Rim Size: 16 inches
Diameter: 26 inches
Type: Tubeless
Rating: 6-ply
It's truly not a lousy idea to get some replacement tires, even if you've already bought brand new tires.
Most default tires that come with the tractor get worn rather easily, which is why we've found the right tire for you.
Here's the Harvest King Front Tractor Tires.
The first fact that surprised us was how resilient these tires are.
Even though they're not that wide and they have a standard grip, it's been noted that they can support more than 1200 lbs with no bulges on the sidewalls.
Furthermore, you can buy tubes separately for them, and most standard-sized tubes should work with no issues.
However, make sure not to over-inflate these tires as they have been known to struggle with proper PSI pressure.
In case you run into trouble figuring it out, there are PSI websites that can help you figure out the exact pressure you need for certain dimensions, models, and weight of your loader.
Now, we wouldn't really recommend them as your primary choice for the best tire since they won't really work with heavier tractors.
You should, however, have no issues mounting and using them with standard skid-steers, loaders, and mowers.
Pros
No side slip
Great durability
Holds up on hard surfaces
Can compete with many tire brands
5. Carlisle Farm Specialist Tractor Tire – The Best For Value
Brand: Carlisle
Rim Size: 16 inches
Diameter: 28 inches
Type: Tubeless
Rating: 6-ply
We know that some of these tractor tires can be quite expensive due to their tread design or tire brands, and in most cases – it's not worth it.
However, we think we've found a tractor tire that truly represents the correct ratio when it comes to value for money.
Here's the Carlisle Farm Specialist Tractor Tire.
This three-rib design tire has won the hearts of many when it comes to agriculture.
It's mostly used as a replacement for wagons, carts, and tankers, but it can fit most pull-behind machines thanks to its universal fit.
It's a tubeless tire with an incredible weight capacity of 3520 lbs. Pretty impressive, right?
In the right hands, this is the right tire, especially when you know it comes from a line of quality tire brands from Carlisle.
It's got a large diameter, 28 inches, which is more than you'll probably even need for a tractor.
Due to its size, we'd recommend getting a tube if you experience problems while inflating the tire.
Some customers had issues with the nozzle getting sucked into the rim, so it's something to keep in mind.
So, what's the catch?
In our opinion, there isn't any. It is, however, a specialized tire that not everyone will find a proper use for.
So, if you're seeking a slightly larger product that's not a radial tire, this might be your new replacement.
Pros
Universal fit
3520 lbs capacity
Tread design
Not aggressive
6. Russo Commercial Turf Lawn Mower Tires – The Best Affordable Tractor Tires
Brand: Carlisle
Rim Size: 15 inches
Diameter: N/A
Type: Tubeless
Rating: 4-ply
We're down to the last product on this list, and then we're off to the buyer's guide.
We've saved a neat product that you have to check out. It's the Russo Commercial Turf Lawn Mower Tires.
This is a set of two commercial-grade tires that are perfect to use as lawn tractor tires or as a replacement for mowers.
They won't really work on muddy soil or uneven turf due to their design, but they can let you finish the job quickly.
They are quite lightweight and measure 15×6 inches, which is great for a mower or a compact tractor.
Also, if you're using a quad, they can be mounted as both front and rear tires.
Now, they are the most affordable items on this list, but there's a reason for it.
Firstly, you won't be able to perform your classic jobs around the yard or the farm. Secondly, their overall durability is not what you'd think.
On the other hand, the price speaks for itself, as this is the tag for both tires.
So, to keep the story short – they're great to have as a replacement, and anyone should own a pair like this around the barn or in the garage.
Pros
Excellent for replacement
Lightweight
Perfect for lawns
Cons
Quality compared to the previous products
Read more —
Keep Everything Running With The Best Air Compressor For Tractor Tires
All the Necessary Info About the Best Tractor Tires – Buyer's Guide
On the one hand, owning and maintaining a healthy tractor seems like a piece of cake, especially when it comes to accessories like tractor tires.
I mean, they're tires, right? How wrong can you be if you don't pick the best one?
Well, a lot.
A quality tractor tire can "set the path" that'll determine how your entire afternoon of working will pan out.
If you don't have the proper support in tires, you'll see how quickly you'll get mad and drop everything.
So, here's a bit of info about tires and features we believe the best products have. Stay tuned!
What types of tires are there?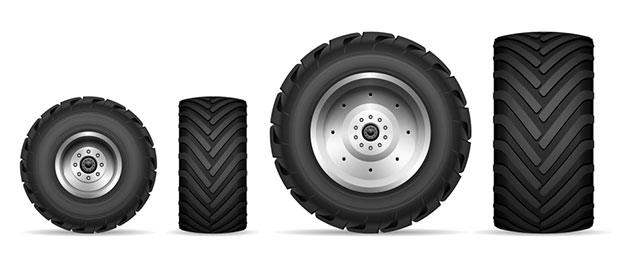 Well, nowadays, there are too many types to cover them all here. However, for the purposes of this blog, we'll include some of the most common designs.
Firstly, we have the classic R1 tires – farmer's best friends.
Due to their tread design and construction, they're perfect for farm work and finishing chores around the backyard.
They don't really hold up on hard surfaces, but there are other tires you can get for such activities.
Speaking of which, the ones you'll undoubtedly use for hard surfaces are F-3 tires.
Generally used in heavy-duty industry, these tires won't really fit most tractors, except for some larger ones or Fergusson combines.
If you want to do some row cropping, the best set of tires you can get is the R1HA set of tires.
Finally, we'd mention the all-around F-2M tires that are mostly used by farmers nowadays. If you have a stubborn field that needs plowing, this is what you need.
What should you know?
Don't let the markings and the symbols confuse you.
Even though these types differ in design, there are some universal features that every farmer should be able to recognize.
Here are some of them.
1. Construction
You've probably seen the terms bias and radial thrown around this article, and you might've been confused.
In essence, radial tires offer the better quality of the two. They are more enduring and don't succumb to overinflation that easily.
However, they're the more expensive kind, which is why most of the items on this list are bias tires.
In essence, if you're getting replacement tires for the first time, we recommend you go for bias models.
2. Application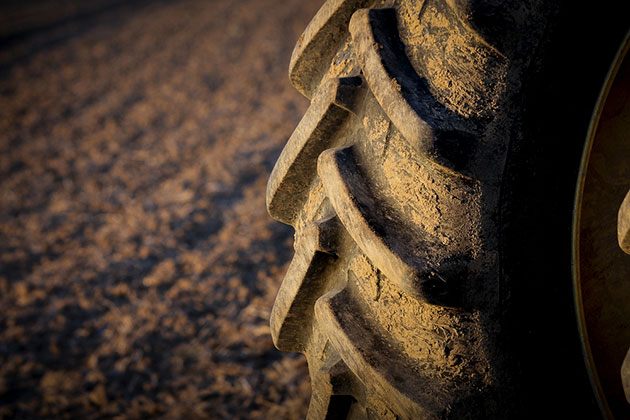 This is closely connected to what we said about types of tires.
Based on the application, you'll choose the appropriate set of tires.
If you're going to be working on your lawn, the best idea would be to get the classic R1 tires.
On the other hand, there are high-flexion tires (VF tires) that are incredibly bendy and work very well on uneven turfs.
So, essentially, it all depends on what you'll be using your machine for.
3. Pricing
Well, this is something we're all interested in – laymen or not.
Generally, bias-type tires go anywhere from $50 to $100, depending on the brand, manufacturing capacity of the firm, design, and so on.
Radial tires, however, are a bit more expensive, and you'll generally find models between $100 and $200, again, depending on the model of tractor you're going for.
FAQs
Are Titan tractor tires any good?
Absolutely yes.
However, they are the more premium brand of tires, which we wouldn't recommend to beginners or laymen just looking to have their tires replaced.
They are, undoubtedly, quality tires.
How long are tractor tires good for?
This truly depends on two factors – usage time and preservation.
If you're using your tires on a mower to do chores around the house, your tires can last for decades with good maintenance.
Now, depending on the quality of the said tires, the time until they're completely worn out shouldn't be before 8,000 hours of usage.
What is the best brand tractor tire?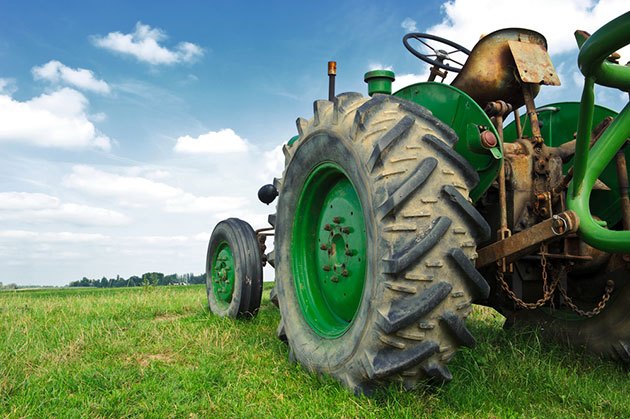 There are many quality manufacturers, such as Titan, Michelin, or Carlisle.
What does a tractor tire cost?
Overall, there's no need to invest more than $100 apiece.
If you know you'll be using the tires on "tricky" turfs, then it's not a bad idea to invest a bit more.
What are the best tractor tires?
Well, it really comes down to what you'll be using the tires for.
If we're looking at this strictly from a universal perspective, then we'd say it's best to go with the MaxAuto Tractor Tires for Lawn Tractor and Mowers.
They offer excellent versatility; they're easy to mount, affordable, and yet highly well constructed.
After consulting with many customers, we have to give the edge to this MaxAuto set of tires.
Sale
MaxAuto 2 Pcs 16x6.50-8 Turf Tires for Lawn Tractor Lawn Mower Riding 4Ply Tubeless*
【Parameter】Tire Size: 16x6.50-8", Tire Load Range: 4PR/B, Tread Depth: 0.22"/5.5mm, Rim Width: 5.38", Section Width: 6.5"/167mm, Overall Diameter: 16.19"/415mm, Speed Index: A3, Max Load:615lbs@28...
【Feature】Turf Tech tread is made to give you better traction on grassy surfaces, especially on hills where the potential for slippage exists, without causing harm to the turf itself.
【Compatibility】Heavy duty 4 ply tubeless tire, 16X6.50-8, 16x6.50x8, 16-6.50-8, 16x6.5x8 tires is widely used on many kind of lawn mower, riding lawn mower, lawn tractor, garden tractor, garden...
【Package Include】Set of 2 16x6.50-8" lawn mower tire. Tire only - Wheel not included.
【Note】Prior to purchase, please check the size of the original tire on your vehicle to ensure the size of the tire to be purchased is correct.(16x6.50-8)
Final Thoughts
Naturally, there are many more tractor tires on the market, including bias and radial tires.
These are some of the picks that we really liked and believe to be the best on the market right now.
If you can offer any suggestions, we would really love to get in contact and update our list with some of the best tractor tires out there.
Thank you for reading.