Are you in the market for a new grease gun but don't know where to start your search? The Lube Shuttle grease guns are some of the most reliable, user-friendly guns on the market and have gained quite a following among tractor owners.
We're taking an in-depth look at these popular models so you can decide if they could be the perfect addition to your garage. We'll cover everything from specs and features to performance tests, and more!
Read our reviews to discover why LubeShuttle is becoming one of the top names in manual grease guns today.
Take away key points:
Lube Shuttle is one of the most popular grease guns on the market
It offers a new, advanced design, preventing messes and leaking
Read the reviews below to learn more benefits and advantages
The bottom line: Overall, the Lube Shuttle model is a trustworthy grease gun for all applications and heavy-duty tasks. The operating pressure won't create extra issues or cause accidents with air gaps and pockets. The grease gun hose is flexible for different gear parts, and you can quickly finish the lubrication process. so, the Lube Shuttle will be a good investment for more robust applications.
You can find it HERE for an average price, and the Lube shuttle grease gun will not let you down.
Air-Tec Lube-Shuttle Pistol Grip Grease Gun Kit*
Anti-Mess Grease Pump: Single-hand held grease gun with zinc-plated steel barrel provides a more clean and efficient way of greasing
Kit Includes: A one-hand pistol grip grease gun, 500mm high-pressure nylon hose, 10 AirTec G200 multipurpose grease tubes, and 4-jaw hydraulic coupler
High Pressure Capability: Grease gun pistol ensures function under pressures as high as 300 bar (4,350 PSI) and multiple braid burst pressure of 1,000 bar (14,450 PSI)
Saves Cost and Effort Thread-in cartridge leaves no air gap, mess, or wasted grease; requires one hand and no extra time for labor
Versatile Grease: Great for use in industrial and manufacturing applications, AG and heavy construction machines, as well as recreation and automotive applications
Key features:
– Mess-free: 5/5 – Grease gun uses the advanced grease flow technology to ensure no excess grease
– Durable: 5/5 – The new construction is ideal for different heavy-duty tasks and heavy equipment
– Ease of use: 5/5 – The grease gun is easy to load and use, it reaches all hard-to-reach areas, with easy maintenance
– Adjustable: 5/5 – The grease gun matches different grease fittings, so you can easily oil all tractors & implements
What we like
maintenance
working pressure
ease of use
adjustability
advanced technology
durable construction
Air Tec Lube Shuttle grease guns: The revolutionary tractor tools!
Let's review the Air Tec Lube Shuttle grease gun together, to find its benefits and disadvantages, so you can choose the best solution for your tractor.
Shall we?
1. Lube Shuttle grease gun: Mess-free uses
The Lube shuttle grease gun uses an anti-mess pump, unlike other competitors (Lock N Lube, RYOBI, and other grease guns).
An anti-mess pump is a perfect option for your needs since it allows you to grease with only one hand. So, the new-style grease gun is easy to use and efficient.
Thanks to the zinc-plated steel barrel, the grease gun provides a cleaner and more effective way of greasing our tractor and other equipment.
In addition, the comfortable level handle offers better user control of the applied grease. This way, you won't have any excess or bulk grease that you need to clean water, and the overall maintenance will be quick and effortless.
2. Lube Shuttle high-pressure capability
The Lube Shuttle greasing gun is ideal for tractor protection due to its operating pressure. The new-style grease gun offers 4,350 PSI for regular use. Now, some models – Lock N Lube, Lincoln, DEWALT, and similar grease guns might offer more working pressure.
However, the Lube Shuttle equipment also includes the other greasing type with multiple braid burst pressure of 14,450 PSI. This way, the lubricated tractor and implements can start their job instantly, and there won't be any leaks or grease stuck inside the joints.
You can also replace the old thread of grease cartridges/grease tubes, and the grease gun is ready for instant use once again. In addition, the gun and hose will not block the grease inside. So once you press the trigger of the pistol, the grease will come out with the trapped air. There won't be accidents with the air gaps and pockets.
3. Lube Shuttle reusable & recyclable grease cartridges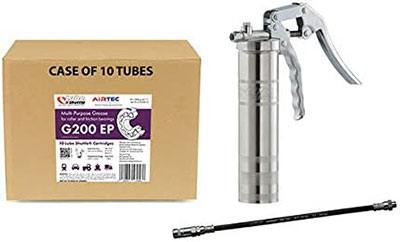 Grease cartridges in the Lube Shuttle grease gun are reusable and recyclable. The grease cartridges are an environmentally friendly choice for greasing tractors, as there won't be more wasted grease and mess once you complete the greasing process.
The Lube Shuttle grease cartridges are designed for multiple uses, helping to reduce waste and save money. Thus, they are more beneficial than the old-style grease gun models, such as Lock N Lube, Milwaukee, and similar grease guns. You can also recycle the Lube Shuttle grease cartridges when they reach the end of their life cycle, further reducing environmental impact.
The benefits of using Lube Shuttle reusable and recyclable grease cartridges in grease guns are numerous. They help to reduce costs associated with purchasing new cartridges each time a tractor needs to be greased.
Additionally, the Lube Shuttle cartridges help reduce the amount of waste created from single-use products. Reusable and recyclable grease cartridges also provide a more consistent lubrication process, as you can reuse them multiple times before needing to be replaced or recycled.
4. Lube Shuttle grease gun: The advanced design
The advanced construction is another crucial benefit making the Lube Shuttle grease gun stand out among competitors. The Lube Shuttle tractor protection contains a durable and sturdy construction, long-lasting and leak-resistant for multiple and more robust uses. So, the best grease gun is helpful and valuable for different operations.
The Lube Shuttle gun is made up of a zinc-plated steel barrel, which provides corrosion resistance and durability. Thus, nothing can damage the design so soon, and you can easily operate it regardless of the equipment or weather conditions.
The Lube Shuttle gun's anti-leakage design helps ensure that no greases are lost while the gun is being used or stored on the wall. This makes it ideal for those who need to do frequent greasing jobs without having to worry about mess, leak, or wasted grease.
Of course, the Lube Shuttle uses durability and reliable design even when temperatures and weather conditions are below the dropping point. You can use the Lube Shuttle gun during the whole year, and even if the temperature is below the dropping point, the grease tool will operate well. It will offer maximum protection and pressure to your tractor gear. So, you can rest assured nothing can go wrong with the wholesome lubrication process.
5. Lube shuttle: Ease of use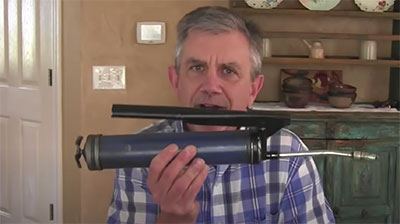 Tractor grease guns should be easy to use and helpful in tractor protection against corrosion and similar harms attacking your tractor gear and machines. For this reason, you should always choose the simpler protection models, as they are the best units to apply greases and keep your make your machines optimal. The Lube Shuttle grease is exactly that type of grease gun!
The Lube Shuttle is a helpful way to apply grease on your machines, as the grease gun is easy to use and operate. You can easily load the Lube Shuttle in a few steps.
Firstly, remove the cap from the grease tube, and push a little out the tp. Next, screw the into the grease gun. There's no need for additional tools to replace or remove the grease cartridge/tube or pull it out. Also, you don't need to pull out the cartridge or tube that is opened at both ends.
In addition, you will find the lock system and lock grease coupler to ensure the tubes and other parts are in their designated positions. So when you change the grease tubes/cartridges, you can easily add a new thread of grease and load the grease gun easily, with no leaks.
Once you remove or deplete the older thread old greases, you can easily add a new line and adjust the tube/cartridge to fit the grease zerks, caps, and different fittings. And thanks to its lock features (locking tip) there won't be any moving of the tube or cartridge.
So the Lube Shaft grease gun will prevent the leak and mess in general. There is no need to take apart the wholesome construction to refill or re-adjust it for the following uses.
Of course, the Lube Shuttle is a pistol-grip grease gun, so you can easily operate it with only one hand. The flexible hose is also adjustable and fits different bearings, zerk types, and screw models. Thus, the hose easily reaches tight spaces and other hard-to-reach areas.
You can use your other hand only as a support, but once you press the trigger, different greases (since the grease gun is adjustable) will fill the parts and machines under higher pressure, and there won't be more wasted grease. Old-style grease gun models do not have such benefits, so your purchase will offer maximum protection with minimum mess.
The Lube Shuttle will also not create any additional pressure or pain in your hands, and you can use it for an extended period.
6. Lube Shuttle comfort benefits
As the Lube Shuttle grease tool is a pistol-grip grease gun, and creates no mess, the gun will be comfortable and adjustable to your grip. The Lube pistol-grip grease gun uses an ergonomic design, reducing pressure or discomfort while holding it. It might be of heavier weight – 16 pounds.
However, the ergonomic design will reduce the overall heaviness and you won't be under pressure while using it. So, you can use the grease tool for an extended period, and adjust it to your needs.
7. Lube Shuttle: Versatility
Since the Lube Shuttle gun is an efficient tool causing no mess or leak, you can use it for different applications. The grease tool is ideal for:
– manufacturing and industrial applications,
– heavy construction and agricultural machines,
– and automotive and recreational applications.
So, you can it endlessly, ad the tool will be adjustable for more robust applications.
8. Budget-friendly: Yes or no?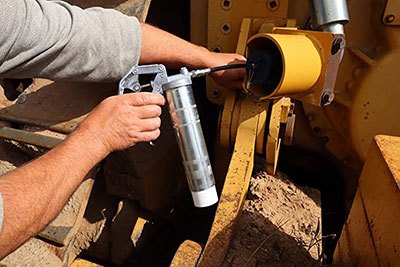 The Lube Shuttle tool might come with a higher price tag than other brands, but it's worth the investment. This premium German brand is focused on quality and designed to provide lasting lubrication.
Of course, there are different models available for lower price tags, including LUMAX, UTOOL, and similar models, but these guns don't offer mess resistance. They might offer the solid protection Lube Shuttle will. So, you should consider the overall quality and benefits first, and consider the price tags later.
Finally, you can check different reviews from various experts to ensure Lube Shuttle is a more advanced model, so it will be a good tip for your overall satisfaction.
9. Are there alternative options?
Similar to every other product available, the Lube Shuttle gun also has alternative options. One such model is the Lock N Lube tool.
The Lock N Lube model is battery-powered, offering supreme performance and durability. It offers up to 10,000 PSI, which is higher than our model in regular use. So, it's ideal for all heavy-duty applications.
Also, the Lock N Lube comes with a lower price tag (less than $100) making it ideal for wider customers. However, the downside is that the model is an old-type gun, and it will cause leakage at some point. It is good, you can use it for wider use, but it will leak eventually.
On the other hand, the AirTec model is leak-resistant and a bit more expensive. But, suppose you don't need to clean the mess and leakage after more robust use, it might be a better solution.
The same rule applies to the RYOBI cordless model. It has a lower price tag and comes with a powerful battery, as well as LED lights to work in dark conditions. The AirTec model lacks the lights, but it's more durable and leakproof, which you cannot say for the competitor. So, put your needs first, and then check the price and extra features.
10. Lube Shuttle: Pros and cons
Here are the overall features of the tool to help you make the final decision.
Pros:
Single-hand held model with zinc-plated steel barrel provides a more clean and efficient way of greasing
Li400 grease is designed for maximum protection and has a medium-weight base oil
No air gap, no leaking grease, no cleaning problems
Cons:
Can be expensive depending on where you purchase it from
FAQs
Where to buy a lube-shuttle grease gun?
You can buy it on Amazon, Walmart, and similar tractor-supplying websites. Another option is to visit your local supply stores and see whether the shops have these guns.
How much will you save by switching to Lube-Shuttle?
You will save over 80% of the greasing cost it is. The model will save you two full cartridges per box of 24, which is a standard for regular grease cartridges.
In addition, the gun will save you time, energy, and money as there won't be leaking, mess, or similar issues. You can finish your jobs quickly and efficiently.
What is the downside of a Lube-Shuttle grease gun?
The only downside you can find is the higher price tag, as there are more affordable models, but they might not be as premium quality as this one is.
Conclusion
To summarize, the Lube Shuttle tool is an ideal choice for multiple machines and different heavy-duty uses, regardless of the external conditions. The model uses a flexible hose that easily finishes the greasing procedure.
In addition, the pressure will release air in the air gaps easily, so there won't be any excess or bulk grease remaining inside the pockets. If you like it, order it now!
Air-Tec Lube-Shuttle Pistol Grip Grease Gun Kit*
Anti-Mess Grease Pump: Single-hand held grease gun with zinc-plated steel barrel provides a more clean and efficient way of greasing
Kit Includes: A one-hand pistol grip grease gun, 500mm high-pressure nylon hose, 10 AirTec G200 multipurpose grease tubes, and 4-jaw hydraulic coupler
High Pressure Capability: Grease gun pistol ensures function under pressures as high as 300 bar (4,350 PSI) and multiple braid burst pressure of 1,000 bar (14,450 PSI)
Saves Cost and Effort Thread-in cartridge leaves no air gap, mess, or wasted grease; requires one hand and no extra time for labor
Versatile Grease: Great for use in industrial and manufacturing applications, AG and heavy construction machines, as well as recreation and automotive applications