They should have started planting fruit trees and/or other perennial or permanent crops many years ago.
Their grandparents, their fathers and mothers, and they themselves should have realized long ago that their farms if only planted with the right crops, would have made their lives or the lives of their children more comfortable. 
Unfortunately for them, they did not and so they remain poor farmers whose main preoccupation is corn farming.
It's not that there's a tight cause-and-effect case, but it's what they say.
Such is the common sad revelation of many of those owner-occupants of underdeveloped rainfed farms in far-flung rural areas in South Cotabato, Sarangani Province, and General Santos City (SOCSARGEN).
I happened to be friendly with these farmers.
We call such a corn monocropping system 1-2-1-2 ( or A-B-A-B) meaning that you always start planting to be able to harvest and after harvest, you again repeat the same 1-2 cycle.
At times when rain fails to come, the cycle could even become 1-1-2.
For the outsiders, theirs is a monotonous, exceedingly tiresome, and difficult lifestyle.
Advantages of Planting Fruit Trees, Coconut, and Other Perennial Crops
It should not be too difficult to understand why they are now more convinced of the advantage of planting fruit trees, coconut, and other perennial crops. 
In the municipalities of Malapatan and Glan, Sarangani Province, the mountains had long ago been converted to wide hectarages of coconut plantations and so with the southern barangays.
The town of Glan celebrates yearly the Lubi-lubi Festival, after its main product coconut.
Lubi is the vernacular name for coconut. 
Our farm in Glan was planted to coconut more than 70 years ago. Most of those trees still remain standing and continue producing nuts!
In another farm with mountainous terrain, also within the province of Sarangani, corn is occasionally planted.
However, corn is rather used as a strategy to clear the cogonal land for the planting and subsequent maintenance of coconut and perennial fruit trees. 
It's just three years after we started planting fruit trees and coconut. Now some coconuts have started flowering (spathes have emerged).
A few guyabano and banana fruits were recently harvested.
Fruits of marang trees along the riverbank are fast approaching ripening stage.
The farmers we also hire occasionally as farmworkers are unanimous that coconut and other perennial crops raise the market value of farms. 
Mango is widespread in General Santos City and South Cotabato.
From 1999 to 2000 I provided technical assistance to various mango farms in Barangay San Jose.
For more than two years until 2002, I assumed the floral induction and management of up to 18 mango farms in Upper Labay.
Many of those who are not privy to mango farming could only gasp at the high prices of ripe fruits displayed on fruit stands and murmur regret for not having done the same to their farms.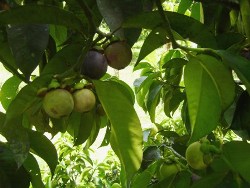 The Foresight of Some Farmers
I myself am amazed at the foresight – and luck – of some farmers who planted fruit trees although at the time of planting there was yet no established market for the product.
There's that farm in Tupi, South Cotabato with a portion that is planted to mangosteen under coconut.
The trees were already about 30 years old in 2009 but only a few trees had ever fruited.
About a month after I introduced fruit induction techniques, the trees flowered heavily.
The farm manager reported a net profit of about half a million pesos. 
Another farm in Polomolok, also in South Cotabato, generated a gross sale of about half a million pesos in 2012 from several durian trees mix-planted with mango, rambutan, pineapple, and a few stands of other perennial crops.
Expenses were minimal because the buyer supplied the harvesters at his own expense.
All the harvested fruits were deemed good and paid for. 
Caveat: Like other crops,  there are risks in planting fruit trees. Not all stories involving orchard establishment have happy endings.
With due diligence, however, the risks can be reduced to "calculated risks", the acceptable level of risk in entrepreneurial investments.
________________________________________________________________________________
The herein author provided free technical assistance to the above two farms in one fruiting season under the Consultancy for Agricultural Productivity Enhancement  (CAPE) program of the Department of Science and Technology.
The Technology Application and Promotion Institute (DOST-TAPI) and DOST XII are hereby aknowledged for implementing the program.
________________________________________________________________________________