Are you looking for reliable fencing contractors to help you with a new fence or repair an existing one? Do you want to make sure that your investment is going towards getting solid, lasting results and quality craftsmanship?
With the right contractor, it can be easy to ensure that anything from a picket fence to a security system will leave no doubt as to its durability. But how do you find the best possible advisor in this field?
We've gathered the essential tips on hiring a fencing contractor so that you can have peace-of-mind change and upgrade your outdoor area without any stress!
Take away key points:
Fence contractors can help you with the repair, installation, and customization of your fencing
They must have licenses and work experience to prove their reliability and high-quality work
Always ask for the price in advance and sign a contract to avoid future complications
Choosing the right fencing contractor for proper fence installation
If you need to find the right fence companies and contact a professional fence contractor for the installation process, read our guide below.
We've gathered all crucial information regarding fence contractors.
Who is a fence contractor?
Fence contractors are professionals who specialize in the fencing installation, repair, and maintenance of fences. They are knowledgeable about different types of fencing materials such as wood, composite, steel, and wrought iron.
Fence contractors can help you choose the right type of fence for your home or business. They will also provide advice on how to properly install and maintain the fence so that it lasts for years to come. Fence contractors can also help with custom fencing projects if needed.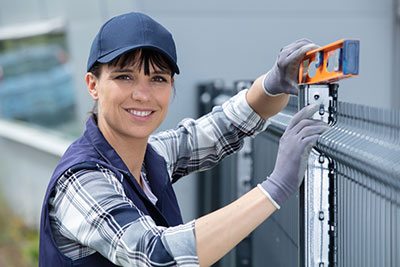 When should you hire a fencing contractor?
A fence contractor can assist with various projects, whether you need a new white picket fence or your current privacy wood fence needs repair. Their services include:
– consultation,
– design and material recommendations based on your needs,
– installation,
– customization,
– permits for building and zoning needs,
– maintenance and repairs of fence and gate,
– boundary and utility marking, as well
– design, building, and installation of fence gates.
How to find a fencing contractor?
Finding the right fence installer for your needs can be a daunting task. With so many options available, it can be difficult to know which one is best for you. Fortunately, there are some steps you can take to make sure you find the right fence installer for your fencing project.
First, research a local certified fence contractor in your area. Look at online reviews and ratings to get an idea of the quality of their work and customer service. You can also ask friends and family for recommendations or look up a local fence company on social media platforms like Facebook, and Instagram or look for them on the Better Business Bureau – BBB.
Once you have narrowed down your list to the right fence contractor, contact the fence company to discuss their services and pricing. Ask questions about their experience with different types of fence material, desired fence style, and installation techniques.
Make sure the fence builders have a valid state license, the insurance for your fence project, and are familiar with local building codes and regulations for the construction projects.
Finally, arrange a meeting with the best fence contractor to get a better understanding of their work ethic and professionalism. During this meeting, ask the fence builder to provide references from other homeowners so you can get an idea of how satisfied people were with their services.
It's also important to get a written estimate from reputable contractors before making any decisions so that there are no surprises with your new fence lines.
Steps before hiring a fence contractor
Here are some steps for general contractors, to determine the right company:
1. Check local laws to obtain permits
Before installing or making any modifications to a fence for your property lines, check the regulations in your area as a building permit may be required. Be aware of all these requirements, so your fence experts should handle the necessary permit applications and inspection coordination for quality work.
2. Inspect building sites
The cost of your fence design is largely dependent on the terrain where it will be built. Factors that can impact the cost include the presence of trees, boulders, and uneven grading.
Additionally, the accessibility of the site can also impact pricing. If the general contractor has difficulty bringing large equipment to the installation area from their parking spot, the cost to install a fence can increase.
3. Ensure the fencing companies are reliable
When considering hiring a fence contractor, it is important to ensure they possess the appropriate qualifications for your particular project.
You should check if the contractor holds the necessary licenses to build, install, and maintain your fence by state requirements. These requirements may differ depending on location.
While having a college degree is not necessarily required to become a fencing contractor, many may have gained training through trade schools, the fence installation school program, fence contractor business school, business bureau, and different work experiences.
Your general contractor must hold general liability insurance to protect you from any issues that may arise during the installation process to be a good contractor.
Additionally, it may be beneficial to consider whether the contractor is affiliated with trade groups, such as the American Fence Association. Most fence contractors are likely to stay up-to-date with the latest developments and best practices in the industry.
4. Learn average costs to choose the affordable price
To help you prepare for getting cost estimates from fencing contractors, it's important to understand the average expenses associated with fence installation.
Many homeowners can expect to pay between $1,500 and $8,000 for fence installation depending on various factors. One of the significant considerations is the total length of the fence, as materials are typically sold per linear foot. The average cost varies widely depending on the type of material chosen.
For example, a vinyl fence can cost between $10 to $35 per foot, while barbed wire fencing ranges between $1 to $6.
Nationally, the average rate of fencing contractors for labor is about $50 per hour, with the majority of projects requiring between 24 and 72 hours of labor.
5. Ensure multiple estimates
When it comes to hiring a fence contractor, it's important to obtain cost estimates from multiple contractors. This approach will provide a reliable and comprehensive idea of the average cost range and help you weigh the trade-offs between quality, convenience, and cost.
Fence installation is a competitive industry, and most contractors will be able to offer you an estimate quickly. A quality estimate should involve a visit to your home from the contractor to evaluate the site. This visit can often happen without your presence since it's an exterior job, but you can interview at the same time.
It's essential to get the estimate in writing. Beware of contractors who rely only on verbal agreements. Get a written contract the company offers to install a fence for your home improvement. If you notice the sales representative or the upper-level management avoid using contracts, avoid them.
For instance, if you need to repair your old fence, you can visit a local hardware store for the Do It Yourself Project and avoid waste removal and similar complications. You can repair your own fences and improve your property without any installation training or contractors. But, this is only if you notice something wrong with the companies.
Additionally, ask how long the estimated price is valid so that you can appropriately weigh your options before making a decision to install a fence.
Questions to ask fencing contractors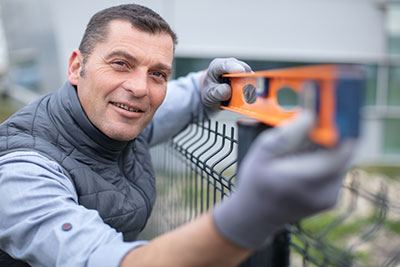 Contact each contractor and ask some essential questions. These include:
– Can you show me a portfolio of your work?
– Can you provide references?
– Will you take care of obtaining the necessary permits?
– Will the company contact the utility locator before installing the fencing?
– How does zoning affect the installation?
– Will you handle grading?
– What is your installation process – a couple of weeks, several weeks, or months?
– How large is your crew?
– What is the expected timeline?
– How do you structure fees in the fencing industry?
Having a contractor answer these questions will help you better evaluate them and make a decision based on reliable information.
What to do before the fencing project
Here are some steps to take before you start your fencing installation:
1. Know the warranty details
It is important to have a clear understanding of the warranty offered by your contractor before the start of work. It is recommended to ask if the warranty covers materials, along with labor, and if the materials themselves have their own manufacturer's warranty.
The length of the warranty is also crucial and should match the expected lifespan of the wood, steel aluminum fence, etc. The industry standard is three years, but some contractors may offer warranties that last up to nine years. It should be noted that handypersons are less likely to offer warranty coverage for your custom fence.
2. Prepare for their arrival
Preparing for the installation team's arrival is essential to ensure a seamless start to the project. Before their arrival, make certain that your pets are kept away from areas where the installation will take place.
Clear your yard of any equipment, tools, hoses, toys, or other debris that may hinder the work process. Remain accessible to the crew if they have any questions, while simultaneously staying out of their way to keep the installation moving efficiently.
What to do after the fence installation?
Below are steps to take after the job is done:
1. Complete the payment procedure
Typically, home improvement contractors receive payment after the completion of the work or after most of the work has been done, except for the deposit paid earlier.
It's crucial to honor your end of the agreement and appreciate the professional's hard work by making timely payments within the predetermined timeframe.
2. Leave a review & tell your friends about your contractor
Having gone through the process of finding a reliable fence contractor, you understand the work entailed in that.
You can help friends, neighbors, and even strangers save themselves from trouble by recommending the contractor you worked with. You may also leave a review or share the contractor's information with anyone who might be interested.
FAQs
How much does it cost for 200 ft of fencing?
The cost of 200 ft of fencing can vary depending on the type of fencing material used. On average, it can cost anywhere from $2,000 to $20,000 for 200 ft of fencing.
Chain link fence installation typically costs between $1 and $6 per linear foot, while wooden privacy fence installation can cost as much as $22. Aluminum is considered to be the most affordable metal fencing and is priced per foot at around $20.
What do you call someone who puts up fences?
Someone who puts up fences is called a fence builder or a fence contractor.
How to become a fence contractor?
Becoming a fence contractor does not require any formal qualifications, but some employers may prefer job seekers with a high school diploma or GED. To become certified as a fence contractor (CFC), you need to have 3-5 years of experience and ongoing training, depending on your educational background.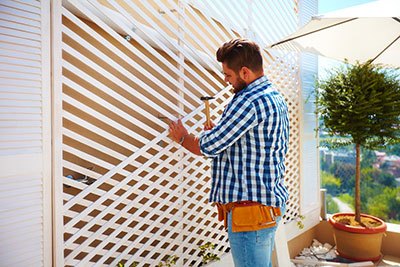 Do fencing contractors need to be licensed?
Yes, fencing contractors must be licensed to install and repair fences.
How much do fencing contractors charge?
Generally speaking, basic wooden fences start at around $10 per linear foot while more complex projects such as wrought iron or composite fencing can cost up to $50.
Do fencing companies offer to finance?
Financing a fence is possible, and there are several options available. One way is to obtain a fence loan, home equity loan, or use credit card to borrow funds from a financial institution.
Alternatively, you can borrow directly from the fence retailer that will be installing or repairing your fence.
Summary
Your contractor must have a license and work experience to help you with your fencing projects. This is a good sign they are reliable and provide good-quality work for your fencing needs. Look for them at official companies sites and local companies to find the best one for your property.