Vinyl fencing has become a popular option for many homeowners in recent years, due to its potential cost savings, lack of maintenance, and ease of installation. But when it comes to selecting the right fence for you, there are both advantages and disadvantages to consider first before making a final decision.
In this post, we'll explore the pros and cons of vinyl fencing so you can make an informed choice and provide your home with lasting security and beauty. Read on to learn more about why vinyl may be the best fence option for you!
Take away key points:
There are different benefits and drawbacks vinyl fences offer, but they are the most popular due to their general maintaining tips and durability
You can compare them to other fencing units and types to discover what your best choice is
You extended the lifespan if you regularly maintain the fences
These are the pros and cons of vinyl fencing: Best 2023 list
If you want to know about vinyl fences and their role in fencing options, as well as the advantages and disadvantages of vinyl fence for your property, read our guide below.
We have gathered all information in one place.
What is a vinyl fence?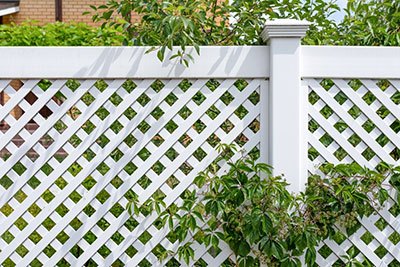 A vinyl fence is a durable and low-maintenance fencing option that is made from polyvinyl chloride (PVC), a plastic-based material.
Unlike traditional wood fences that tend to rot and require regular maintenance, vinyl fencing is a resilient product that can withstand the elements and last for years with little maintenance.
What is the role of the vinyl fence?
Vinyl fencing plays a crucial role in enhancing the security and privacy of your property. It is a reliable fencing material that offers durability with less maintenance. Vinyl fence material quality comes in various styles, colors, and designs, adding an aesthetic appeal to your property while keeping it secure.
Vinyl fences are perfect for homeowners who are looking for an affordable, long-lasting, and robust fencing solution. Picket fences provide superior protection, privacy, and durability, making them an ideal choice for residential, commercial, and industrial properties.
How to install vinyl fences?
Installing vinyl fences has never been easier. Follow these simple steps and enjoy a low-maintenance fence that will last for years.
Step 1: Plan the project
Determine the layout of your fence and measure the area where you want to install it. Consider the location of utilities and property lines.
Step 2: Purchase materials
Visit your local home improvement store or check out suppliers online for high-quality vinyl fence materials. Choosing vinyl privacy fence materials in advance helps reduce labor costs and you can plan on installing them in different yard types.
Step 3: Prepare the area
Clear the area of any debris and mark the corners where you plan to place privacy fence posts.
Step 4: Install posts
Dig holes for the posts and add a layer of concrete. Allow the concrete to set before securing vinyl fence posts in the ground. Add fence post caps. The fence post caps will add more stability, and ensure your new fence sits securely once installed.
Step 5: Install fence panels
Snap fence panels into place between posts, beginning at one end and working your way to the other.
Step 6: Secure fence panels
Use screws to secure fence panels to posts. Check for level and ensure panels are straight as you progress.
Step 7: Finish
Add any finishing touches such as gates, post caps, pound anchor pipes, interlocking pieces, or decorative lattice effects.
Tips for maintaining your vinyl fence
Vinyl fences are a popular and durable fencing option for many homeowners. However, like any other outdoor structure, they require regular maintenance to keep them clean and looking their best.
Here are a few tips for maintaining your vinyl fence:
– Clean it regularly: Vinyl fences should be cleaned at least once a year to remove dirt, grime, and other debris that can accumulate on the surface. A quick rinse with a garden hose can usually do the trick, but you may need to use a mild and mildew staining solution for tougher stains. They are also fire-resistant so, you need to keep them optimal so as not to break easily in extreme heat.
– Avoid harsh cleaners: When cleaning your vinyl fence, avoid using abrasive cleansers or materials that could scratch or damage the surface. Stick to mild cleaning solutions and a soft cloth or sponge instead. take care of stain solutions as well sic some algae stains, mold, or mildew staining paint types might be harmful to the titanium-dioxide fences.
– Inspect and repair as needed: Regularly inspect your vinyl fence for any signs of damage, such as cracks, chips, or bent rails. If you notice any issues, address them promptly to prevent further damage and ensure the longevity of your fence material.
Pros & cons of vinyl fences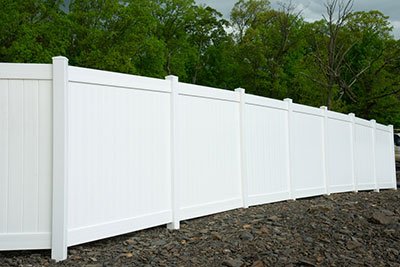 Below you can find the main benefits and drawbacks of vinyl fences, compared to other fencing systems. You will find pros and cons for each category.
1. Design features
Vinyl fences come in a wide variety of styles, providing homeowners with several options to personalize their fences. Some of the most popular ones include: picket fences, privacy fences, decorative panel tops, neutral colors.
The interlocking design of vinyl fence material also enhances the fence's and property's curb appeal, which may increase your home's value if you plan to sell it in the future.
However, vinyl material may not suit everyone's preferences. Some homeowners may prefer the appearance of classic wood or wrought-iron aluminum fencing, making vinyl an unpopular choice for them.
2. Less maintenance
One advantage of vinyl fences is their ease of maintenance due to their plastic composition, making them easy to clean with a garden hose or soapy water for more stubborn stains.
Unlike wood fences, vinyl fencing does not require painting or sealing, which saves time and money. However, vinyl fences do accumulate mold, mildew, and algae at a faster rate, especially around sprinklers that keep the fence moist. Hence there is a need for more frequent cleaning.
However, if you need to repaint vinyl fencing due to an unremovable stain, finding an exact color match can be a challenge. You may have to settle for an off-color or repaint the entire fence, which translates to a higher price than the current cost. Additionally, finding a suitable paint type for vinyl is difficult, making it less likely for people to repaint their vinyl fencing.
3. Durability & sturdiness
Vinyl fences have many advantages: they are safe for small children and pets, durable, and can withstand different climates, unlike some other materials.
High-quality vinyl fences can extend their lifespan to 30 years with minimal maintenance. Additionally, vinyl fences are resistant to fire and pests such as termites.
Despite the positives, vinyl fences may have difficulty coping with weather fluctuations. Vinyl expands and contracts with temperature and humidity changes, which can lead to brittleness and cracking or shattering in your yard.
Vinyl is also not very impact-resistant, and events such as a tree branch falling on the fence during a storm or bumping with lawn equipment can cause shattering, which is expensive to repair, depending on the location of the damage.
4. Easy to install
When planning a home improvement project that involves fencing, installation is a crucial factor to consider. Vinyl fencing has a simple and fast installation process, (quicker than wooden fences), making it a convenient option for many homeowners.
However, it is not recommended to install the fence by yourself. It is still important to hire a professional fence company to ensure proper installation. A faster installation process reduces installation time and can save you money in the long run.
5. Few repair options
If any planks or pickets break in your vinyl fence, it requires a professional to repair it.
However, vinyl fencing is known for its durability. Made of polyvinyl chloride, the same material used in PVC piping, vinyl fences are sturdy and long-lasting. This compound is used in construction because of its ability to withstand high pressure.
While repairing a vinyl fence may be more expensive than repairing a wood fence, vinyl fences will not break easily, due to their sturdiness.
6. Price points
Vinyl fences now incorporate titanium dioxide in their construction, making them more durable, resistant to discoloration, and retaining their color even after decades. Since vinyl fences do not require staining and sealing every few years, homeowners can save money and time.
Despite the advantages of vinyl fencing, it comes with a higher upfront cost, which varies depending on factors such as the style, height, size of the yard, installation, and labor fees. Additionally, many companies prefer not to price jobs by the linear foot.
Replacing damaged vinyl fence components can also be costly since the material is more expensive than a wood fence, for instance. Vinyl fence panels interlock, so even a small crack may require replacing the entire panel, which is much more expensive than repairing a single board or post.
FAQs
What is the life expectancy of a vinyl fence?
Vinyl fence types will last between 20 and 30 years if maintained regularly.
Are vinyl and PVC fencing the same thing?
Yes, the vinyl and PVC fences are the same thing.
How do I choose the best fence for me?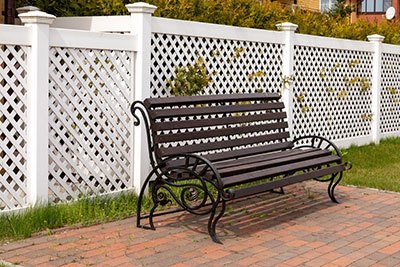 Follow the steps below:
– Clarify your needs and determine what you want your fence to accomplish.
– Set a budget for your project since fencing materials have different costs.
– Consider material available in the market.
– Check with your neighborhood's Homeowners Association (HOA) for specific rules and regulations.
– Verify the exact property line before building your fence to avoid legal issues with your neighbor.
– Hire a professional fencing company to ensure proper installation that meets your expectations.
What are the disadvantages of PVC fencing?
They are listed below:
– fewer customization options
– vulnerable to temperature changes
– less natural wood look
– reduced repair systems
– fading color
– up-front cost
– the necessity of a flawless installation.
How strong is vinyl fencing?
Is four times stronger than a wood fence in terms of flexibility, and five times stronger than tensile strength.
Summary
As you can see, there are different vinyl fencing pros and cons, and you can compare them with other fence types – wood fences, metal fencing, etc.
The ultimate choice depends on your personal style.
If you find vinyl fences and compare them with the pros and cons of different fence materials, you'll see why they should be your first option.