It's no secret that wooden fences can add beauty and value to a home. They increase privacy but also give a property charm and character. But with their undeniable benefits come drawbacks: natural elements such as rain, UV rays, and insects can all take a toll on the life of your fence.
That's why proper maintenance is essential if you want to extend its lifespan! If you're looking for effective tips to maximize your wooden fence, this guide is just what you need!
Find out today how to keep your fence looking new year after year with these easy yet reliable tricks!
Take away key points:
Different steps are necessary to keep your wood fencing optimal
You will find sealing moisture units, split rail, and other parts prone to damage, so you can use different preserves to prevent rot and decay of fences
By using multiple protective units, you can extend your wood privacy longer than expected
Extending the life of your pressure-treated wood fence: Best tips!
If you want to make your wood fence more durable and stronger, you need to perform proper maintenance and extend the life of your wood fence. You can refer to our guide below, to discover the best methods to keep your wood fence optimal.
General wood fence requirements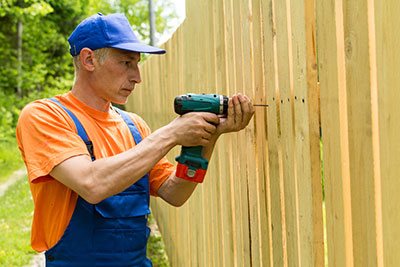 Wooden fences are a popular choice due to their resistance to decay and rot, as well as the variety of wood options available. To prevent decay and rot, as well as harmful UV rays, pressure-treat the fence posts that are in contact with the ground and exposed to moisture and insects.
The pressure-treated fence boards above ground do not require extra treatment for structural integrity. By pressure-treatment of wood, chemicals are applied to help protect it against water and insect damage.
If you plan to stain or paint a new fence, it is advisable to wait for around a year to allow the wood's chemicals to dry out. Painting, before the wood picket fence is dry, can trap moisture, leading to issues such as decay and rot.
Although pressure-treated wood types can protect against fungal decay and termites, they can still be affected by swelling, shrinking, cracking, and warping. Therefore, regular maintenance is essential for keeping your entire fence in good condition.
Build your wood fence with metal fence posts
Building a wood fence with metal fence posts is the top method for prolonging its lifespan. These fence posts are often the most vulnerable part of a fence because they are close to the ground and can absorb moisture, leading to rot, mildew, and insect damage.
Since pressure-treated wood posts are not made like they used to be, they don't last as long since chromate copper arsenate was banned. When several wood fence posts weaken at the ground, strong winds can cause the new fence to tilt or fall over.
However, building your new fence with metal fence posts eliminates this issue as they can last for decades and provide a stable foundation for your fence and extend the life of your wood construction.
Use a rot board to the bottom of your wood fence
Using a rot board, also known as a kickboard, when constructing a privacy fence can help protect the fence pickets from absorbing excess moisture. This board, mounted horizontally at the bottom of the fence, fills the gap between the fence pickets and the ground contact.
You can use it in combination with a cap board or cross-frame fence design. By having the rot board in contact with the ground, excess moisture absorption in the pickets can be avoided.
Often, the rot board is pressure-treated to extend its life, which can help the fence last much longer. For existing fences, there are steps you can take to prolong their lifespan.
Inspect your wood fences every year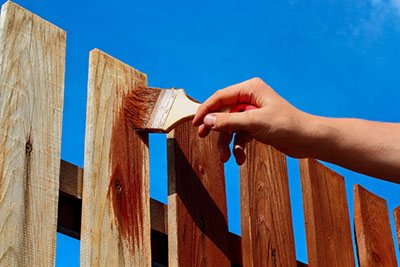 For ensuring the life of your wood construction, it's important to conduct a periodic inspection for any damage or rot. Repair or replace any broken boards, tighten screws, and hammer in nails as required.
Ensure each section of the pressure-treated fence is appropriately attached to the next one and that the posts are tightly fixed in the ground if any parts of the fence are leaning.
If the posts are in bad condition, restore them. Check your gate hinges and locks to ensure they are secure and correctly aligned. If necessary, use automotive grease. Repair cracks, change the loose nails for security, and ensure the proper drainage system to keep your wood dry if possible.
While pressure-treating wood can help protect it against moisture, it isn't entirely waterproof. To enhance the wood's lifespan, it's important to take measures to prevent moisture from accumulating.
Adjust sprinklers to avoid getting the fence wet, as this can lead to wood rot or the growth of moss on the wood. Also, you can avoid broken boards, and if you notice mold, you need to use a pressure washer and coatings to resist decay and mold.
In addition, using a power sprayer for the pressure-treated lumber and its water-repellant coating helps in reducing damage by UV inhibiting harm. Cut back bushes, and vines that hang on the fence, as they can add weight and hold onto moisture, making your fence wet and prone to loose nails and decay.
If you notice cracks, use a wood filler. You can buy them in different hardware stores, or make your shavings from the old lumber pile or sawdust.
Clean your wooden fences every two to three years
To maintain the appearance and quality of your wood fence, it's recommended to clean it every two to three years to prevent moss, mildew, dirt, and graying. You can pressure-wash them for better results.
After repairing any damages, scrape off any peeling paint or moss until the wood, such as western red cedar and other wood types are visible again. To deal with mold on the fence, mix 20% bleach with 80% mild detergent and spray it on the fence an hour before washing it. This helps eliminate mold spores and prevent their regrowth.
Finally, apply a UV-inhibiting, water-repellent coating. It will offer better UV protection. It will also prevent the sealing moisture from leading to decay and rot.
Paint or reseal your wood fence once you clean it
It's recommended to reapply paint or stain on your fence every three to five years to maintain its condition. Exterior oil-based stain or latex paint can be used to seal out moisture and prevent wood rot, as well as limit weathering.
Choose a fence stain or sealant that contains a UV inhibitor to keep the wood from turning gray. Allow the wood to dry for about a week before applying a fence stain or sealant, which is typically thinner than paint.
If you're looking for a fence stain option that requires less maintenance and lasts longer, consider vinyl fencing.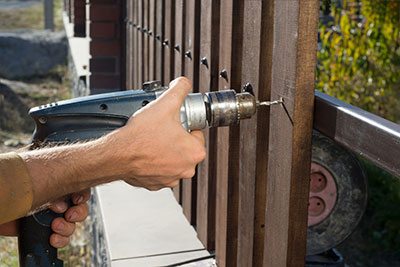 FAQs
What can I put on my wood fence to preserve it?
You can put wood oils, wood preserves, and fence paint.
What is the life expectancy of a wood fence?
Approximately fifteen years.
How do you extend the life of a wooden fence post?
Use asphalt emulsion to paint their bottom.
Conclusion
There are various methods to maintain your wood fencing properly. You can apply different techniques or consult free estimate companies to help you with advice.