Are you looking to build a sturdy fence but don't know where to start? Look no further, as we will help you with wood fencing and necessary supplies.
Whether it's ensuring the parts will fit together perfectly or finding an ideal type of material for your personal needs, we have everything you need right here!
From posts and panels to pickets and post caps – with our helpful advice, you'll be able to create a seamless wooden fence that fits in seamlessly with your home.
Take away key points:
Wood fencing parts include posts, in-fill boards, rails, gate hinges, and other main and extra parts to keep your fence stable and secure once it's installed
You can find different design options to choose the best model for your needs
You can also choose different wood types – lumber, redwood, pine, etc. to make your fences durable and sturdy without any wood rot
Wood fencing for all property owners: All you need to know
If you want to install a wooden fence in your yard, need a professional fence installation, and learn the reasons why you should install wooden fences to enclose your property, read the guide below.
We will answer all your questions.
What is a wood fence?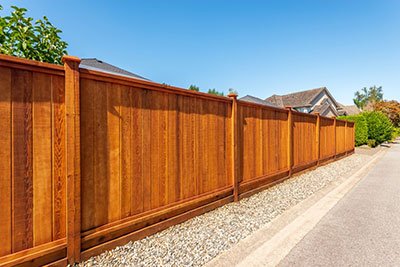 A wood fence is a type of fence made out of wood, typically cedar or pressure-treated pine, which is used to mark a property boundary, provide privacy, and enhance the aesthetics of a home.
Wood fences come in a variety of styles, including picket, post-and-rail, lattice, and more. They are a popular choice among homeowners due to their natural appearance and durability.
Reasons to use a wooden fence in your yard
If you're looking for a classic and natural-looking way to enhance your property's privacy and curb appeal, wood fence styles are the way to go. Here are some reasons why:
– Versatility: With many styles to choose from, such as picket, post and rail, lattice, and shadow box, you can easily find a wood fence that complements your home's architectural style and landscape.
– Durability: High-quality wood fences are built to last for decades, especially if you properly maintain them. Wood fences made of cedar or redwood are naturally resistant to rot and decay, making them a smart long-term investment in your garden and similar property.
– Affordability: Wood fence styles are often more affordable than other types of fencing, such as vinyl or metal. Plus, with proper care, you can extend the life of your wood fence and save money over time.
Main wood fence components
You can find the main and additional components of a wood fence style below:
1. Wood fence posts
The function of fence posts in a wood fence is to provide a foundation for the support of the other parts of the privacy fence. The fence posts must stand upright and be firmly secured in the ground to support the components of a wood fence.
The stability of your fence depends on the quality of your fence posts, which serve as the anchors for your ground fence materials. The above-ground size of your fence post can vary depending on your preferences, but typically, 4×4 or 6×6 wooden lumber is used for the main parts.
Bear in mind that a wood fence must be monitored and maintained over time, as certain pests like termites might infiltrate the fence and cause gradual damage to the wood and its security.
2. Backer rails
Backer rails are components of a wooden fence that can also be referred to as fence railings or backer rails. Backer rails are normally oriented horizontally and linked to each wooden fence post with a fence board. Typically, two or three fence rails are needed, but this number of components can vary depending on the fence's height.
The rails can be placed closer together or further apart depending on the type and design of the fence types. Traditional fence types usually place rails near the top, one near the bottom, and one in the middle to keep the fence pickets and panels stable.
3. Fence pickets
The privacy fence pickets form an integral part of a wooden fence as they constitute the main body of the fence and are what most people visualize when they think of a fence. At this stage in construction, wooden fence boards are necessary to complete your fence.
Pickets have variable styles and are available in different wood materials that have varying thicknesses, hardness, color, and patterns. However, the most common thickness for pickets is 5/8 inches, and the dog-ear fence style is among the most popular.
Nevertheless, it's crucial to verify and make sure that the measurements of your planned wooden fence are accurate before acquiring materials and other pickets.
4. Decorative wood fence gates
Gates serve multiple purposes such as providing easy access to and from backyards and frontwards, adding a decorative final touch to the fence, and serving as a chic method to secure fencing your backyard. To fulfill their purpose, gates require hinges to stabilize fencing in your yard.
5. Hinges
To attach gates to your wooden fence, hinges must be used to connect the gate to the fence's posts. T-hinges are the recommended hinges for wooden fence gates.
6. Latch system
To secure your property, it is necessary to have a latch for your gate that can ensure the gate is properly closed and secured. Although wood is typically the primary material used to build fences, there are alternative materials, such as vinyl, that create more house-style options.
Vinyl fences offer a broad range of colors and styles to choose from and require less maintenance than wood fences for your house. However, because of these benefits, vinyl fences can cost more than wooden fencing and be more expensive.
7. Kick board/mud board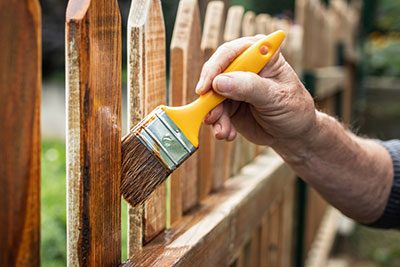 A kick board or mud board refers to a horizontal fence board installed at the bottom of a wood fence to shield the pickets from mud and water damage. It can also deter digging from dogs and protect the fence from scratches. Although this component is optional, it can be beneficial for certain privacy fences.
8. Cap board
A cap board is a wooden board that is placed on top of a fence to give it a finished look. It helps modernize the fence's appearance and usually looks better than the fence pickets' top edge. However, it is important to note that this is an optional feature and may not be suitable for every wooden fence design.
9. Decorative design ideas for privacy fences
Fencing pickets are the most visible part of a wooden fence, making it essential to choose interesting designs and styles. If you're undecided about your wooden fence picket style, consider some of the popular ones below:
– Angled
– Dog ear
– Flat top
– French Gothic
– Scalloped
– Lattice top
Benefits of horizontal wooden fences
Horizontal fences have become increasingly popular in recent years due to their numerous benefits. Below are some of the top advantages of installing a horizontal wood fence:
– Improved privacy: Due to the horizontal positioning of the planks, there are fewer gaps between each board, creating an effective barrier between your yard and the outside world. This ensures your privacy is maintained while adding an elegant touch to your property.
– Affordability: Wooden fencing is a more affordable option compared to other fencing materials such as steel or aluminum. This makes horizontal wooden fencing an ideal option for homeowners looking to install a durable yet cost-effective fence.
– Customization: Horizontal fencing allows for customization, giving you the flexibility to create a unique design that suits your taste and complements your property's style.
– Modern aesthetic: Horizontal wooden fencing is a contemporary and sleek alternative to traditional vertical fences, perfect for those looking to modernize their property's look.
– Long-lasting: Wooden fencing is a durable option that can withstand various weather conditions, making them a long-lasting investment for your property.
FAQs
What is the top piece of wood on a fence called?
The top rail is called capping.
What are the columns in a fence called?
The columns are called pickets.
What are the vertical parts of a fence?
Vertical parts are called spires.
How much did you pay for a wood fence?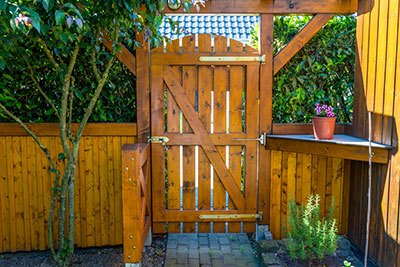 The average cost to install a fence is $3,300 but it depends on the type of wood – lumber, vinyl, redwood, pine, etc. and the professional fence installer company.
Do wood fence posts need to be set in concrete?
Yes, you should place the posts in concrete to make your fencing stable.
How to stain a wood fence?
Follow these steps:
– Clean the fence
– Allow the fencing to dry
– Load your sprayer
– Apply fence stain with the sprayer
– Re-load sprayer per need
– Clean the sprayer when you're done
– Allow fence stain to dry and re-apply in all designated places
How long does a wood fence last?
It will last around 15 years.
Conclusion
As you can see, the fence consists of three main parts and other extra parts to ensure easy access to your needs and keep your gate stable. You can try different designs to ensure your fencing is optimal for more robust use without rot.